Italy's winding roads, wealth of natural scenery and fleet of roadside trattorias make it an ideal setting for a road trip. And while weeks of romantic drives through rolling wheat fields may first come to mind, Italy's diversity primes it for shorter family adventures too. So load up the car and pack plenty of biscotti – we'll handle the rest.*
Fields of gold in Tuscany
The autumn is an especially pretty time to visit the Val d'Orcia in Tuscany
There are not enough superlatives to do Tuscany justice. It's a classically Italian landscape and arguably the quintessential road trip. Long, stretches of meandering roads curl around golden hillsides, all the while hugged tightly by rows of towering Italian Cypress trees. An enticing destination for all ages, whisk the family down to Florence, which will serve as your starting point. Here choose from a range of short drives; some options include, heading east towards the grassy hills of the Casentino Valley or south through the Chianti region towards the medieval hilltop town of Montepulciano. Cruise past crumbling monasteries and rows of emerald vineyards before you get to the medieval outpost of Siena, where you can all tuck into a plate piled high with pici – a fat spaghetti that's often smothered in a spicy garlic and tomato sauce or cinghiale (wild boar).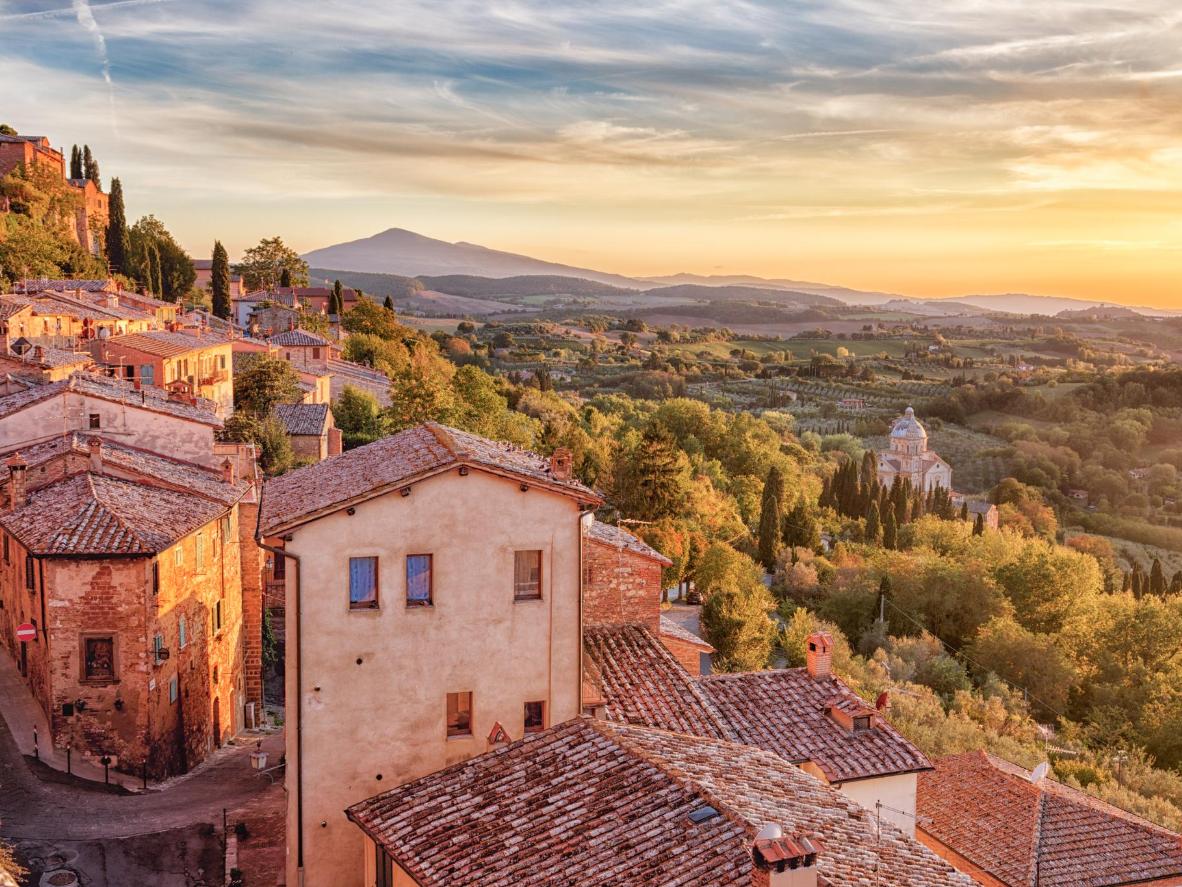 Make it to Montepulciano for an absolutely seductive sunset
From there, it's not long until Montepulciano. If you've planned your trip in the summertime, you'll be greeted with fields of beaming, canary-yellow sunflowers that line the roads and the wineries located just off them. A night in Montepulciano is on the cards and a family room at the lemon-coloured Villa Cicolina is a wonderful option. Wake up to views of pale olive groves and a dip in the swimming pool before you head back to Florence, spurred by the promise of endless helpings of gelato.
Great waters in The Northern Lakes
The Strada della Forra road along Lake Garda is an unmissable route
Italy's lakes are nothing short of sumptuous. All within a 3-hour drive of one another, here, rugged cliffs carve out glittering mirrors of water while sleepy lakeside villages are strung along the shore, cocooned by looping cliffside roads. Picturesque as it is, it has become something of a family destination too. Lake Garda, in particular, has seen an influx of families in search of a lakeside getaway. Make Garda your first stop, but certainly not your last, where you can indulge in the spa town of Sirmione and the Gardaland theme park.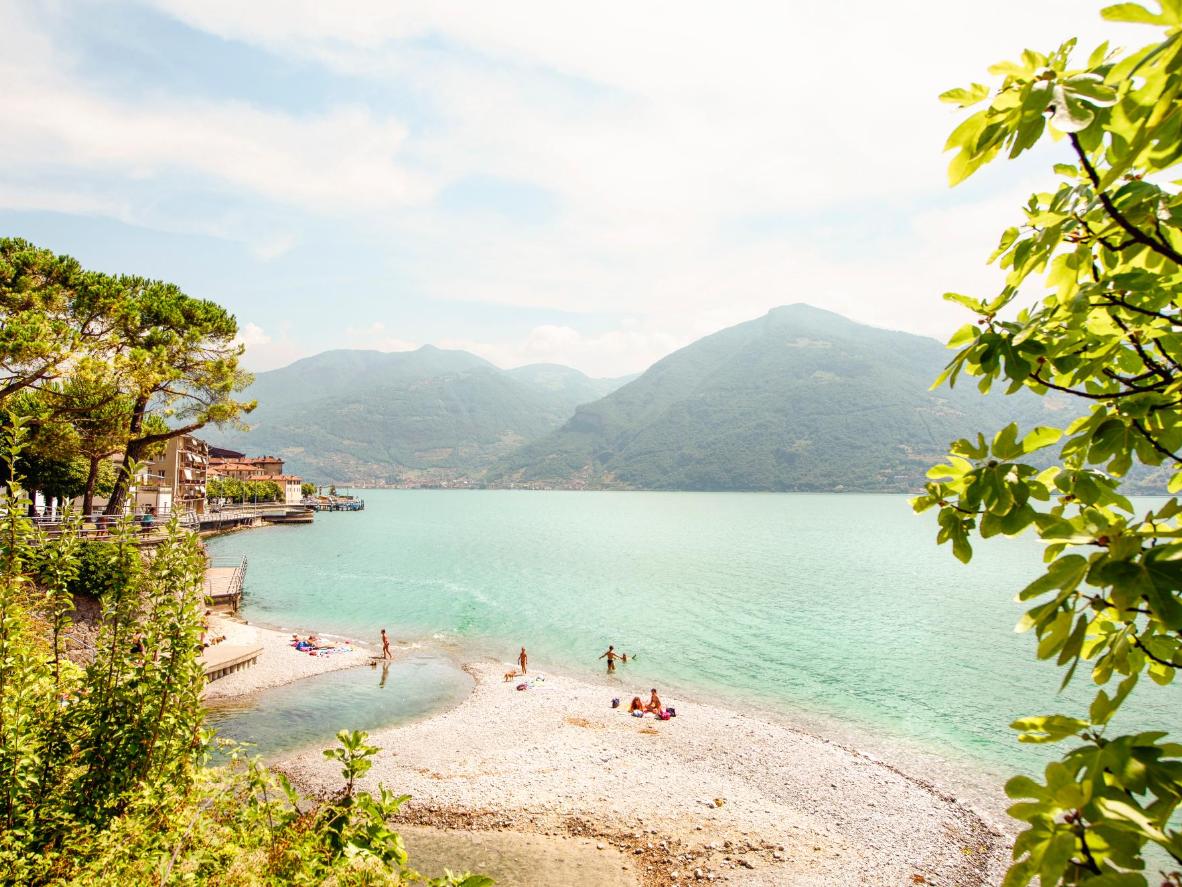 Lake Iseo is lesser known but no less spectacular than the other northern lakes
Beyond Garda, plan a route to Lake Iseo, perched shyly between Garda and Como. The smallest of Italy's lakes, it's less visited than its watery neighbours, making it the ideal spot to wander along the shore, skip stones and listen to the murmur of the waves. Spend the night at Hotel Ulivi, followed by an early start towards the majestic Lake Como, cocooned by a collection of brightly coloured villages, all wonderfully ancient and crumbling. The town of Bellagio has a natural gravitas to it; home to palatial villas and manicured gardens, it's a spot to stretch your legs and get some essential holiday pictures. Como has magnetic charm, so stay here another day or drift towards Lake Maggiore and the town of Stresa, where steaming bowls of homemade pasta and the Museum of Toys await.
Quiet towns in Puglia
Brindisi is home to a thriving food culture and a great place to pick up produce
Bashful Puglia is for families in search of quiet seascapes and good food, capable of converting even the pickiest of eaters. Otherwise known as 'the heel of Italy', it's sun-drenched olive tree country down here. For your road trip, Bari to Lecce via burgeoning Brindisi is the most popular and practical route. Start in historic Bari before driving straight for Polignano a Mare and its fjord-like coves. Arriving here, you'll crest the top of a pale viaduct overlooking one of Puglia's many pristine beaches. Spend an afternoon building sandcastles before a short hour's drive to Brindisi, stopping in Alberobello along the way, where the whitewashed stone Trulli huts signature to Puglia will provide the kids with a dose of fantasy.
Orecchiette con cime di rapa is a classic Puglian dish that's both delicious and healthy
When you reach Brindisi, prepare for a lively atmosphere. A port town teeming with life, it's here you'll want to tuck into some Puglian fare; while adventurous children may appreciate the Puglian olives and olive oil as much as the adults do, bowls of orecchiette con cime di rapa – ear-shaped pasta groaning with greens – are a nutritious crowd-pleaser. If you're eating at an osteria, ask for a 'menu bambino' for smaller portions that don't scrimp on flavour. A night at B&B Le Colonne is in order, which will gift you views of the harbour. The next day, set off for Lecce, a baroque town once described by an 18th-century traveller as 'the most beautiful city in the world.' Such enamoured descriptions won't pass either you or the kids by, so while away the afternoon wandering the Old Town, though lounging on the terrace at Azzurretta Guest House might be a welcome activity after the drive.
**These road trips can be shortened or lengthened depending on time and needs. We've provided itineraries for 2-3 days in most cases.