48 hours in Berlin may not feel like enough. But for those lucky enough to have a couple of days to spend in Germany's cosmopolitan capital, we've created a thorough introduction itinerary. From galleries and palaces to beer halls and bars, here's the best of Berlin to be enjoyed over two days.
Day 1
Breakfast at The Barn at Café Kranzler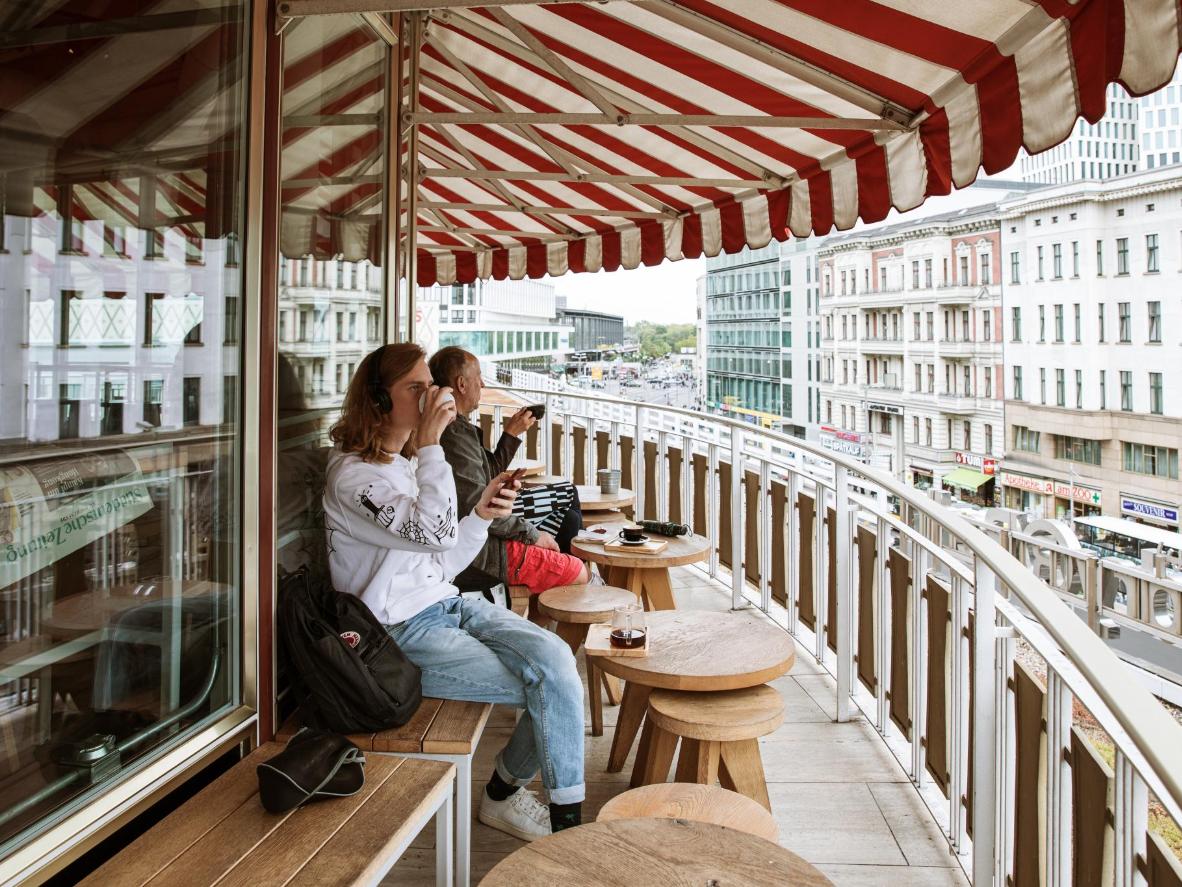 Cafe Kranzler, Berlin
An established and famous Berlin coffeehouse, The Barn at Café Kranzler offers customers freshly roasted coffee with sweeping views across one of Berlin's busiest streets – the Kurfürstendamm. Order a handmade cake to complement your quality brew, while people-watching and enjoying the view from the terrace.
The Reichstag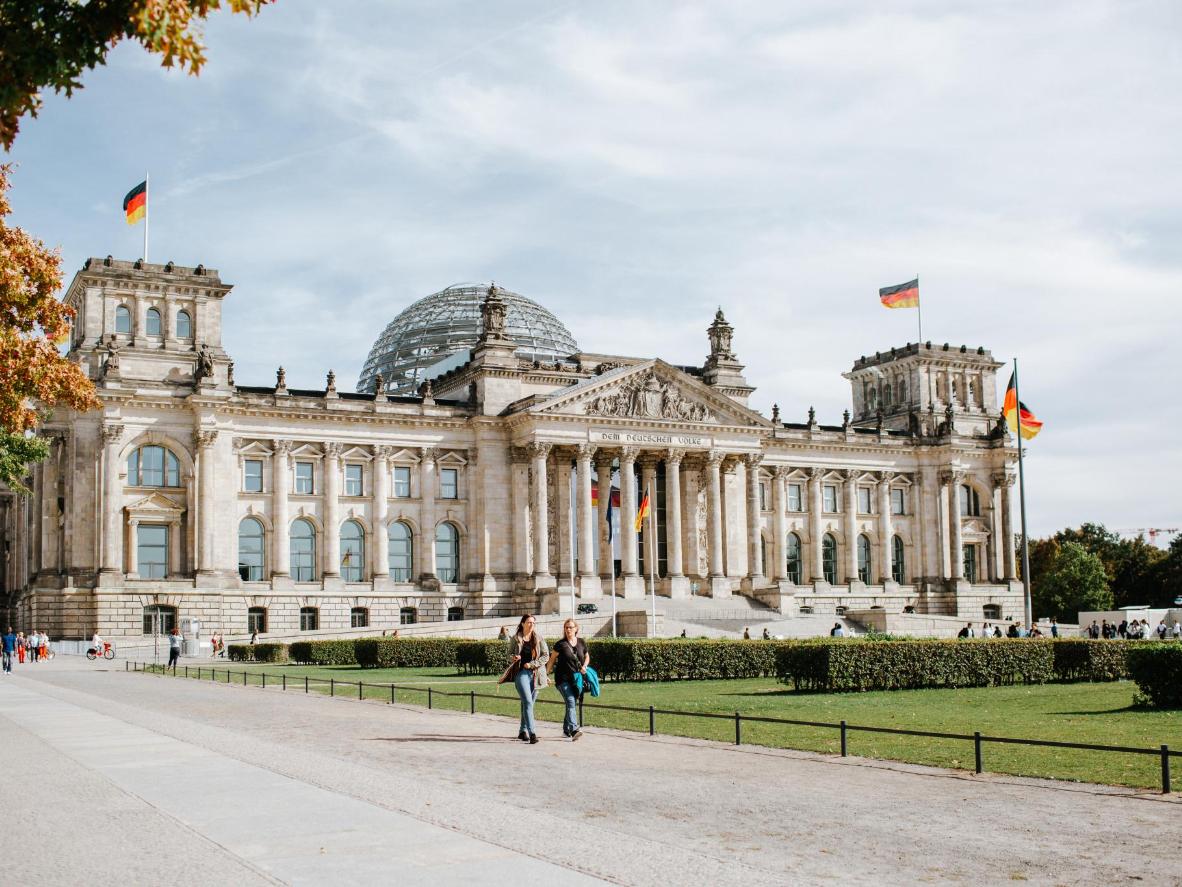 The Reichstag, Berlin
Start your day by heading to the historic Reichstag building – home of the German parliament and also one of the city's most popular tourist attractions, with a line that gets lengthier over the course of the day. So when in Germany, it's good to do as the Germans do and turn up early to make the most efficient use of your time. Be guided around the building by the free audio tour, which takes you up the spiraling ramp to the top of the Sir Norman Foster-designed glass dome for a magnificent 360-degree city view. There are also ever-changing art exhibitions and live debates hosted at the Reichstag.
The Brandenburg Gate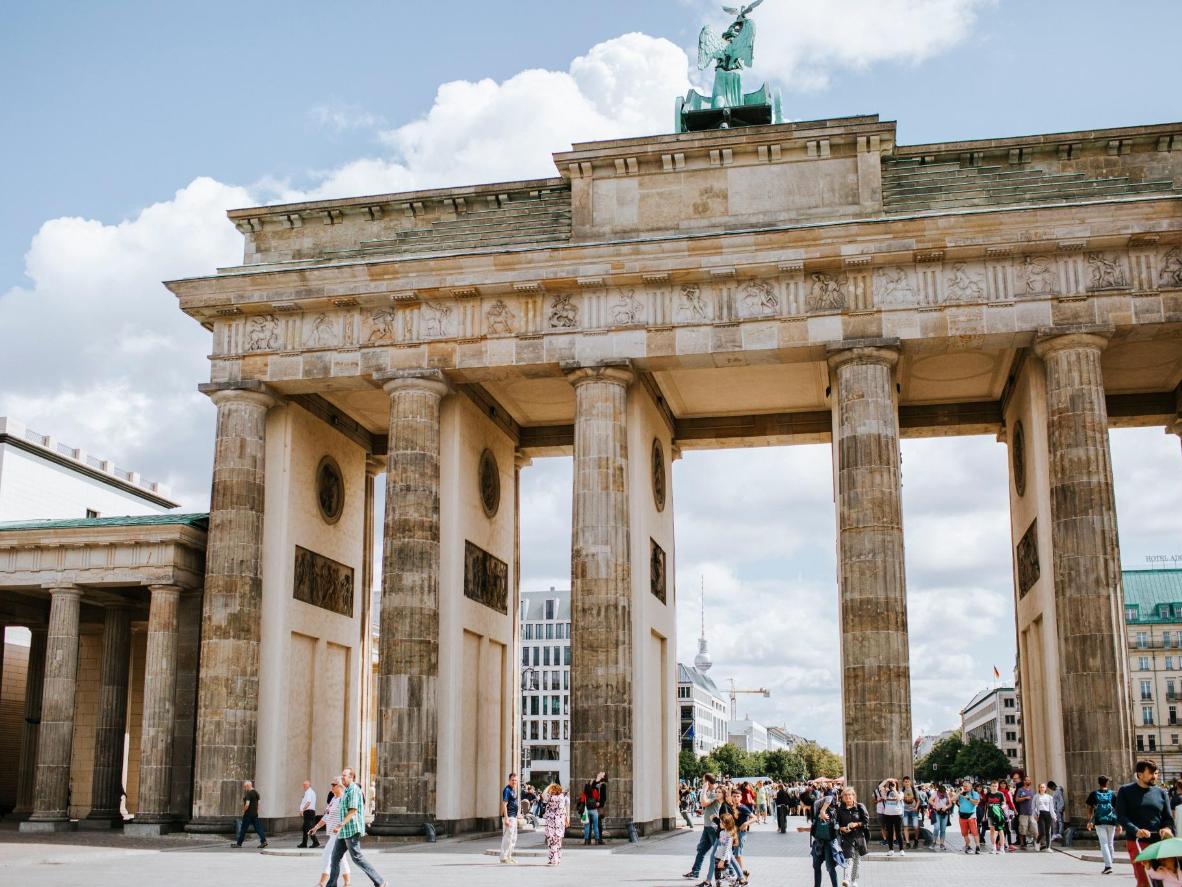 The Brandenburg Gate, Berlin
Just a six-minute walk from The Reichstag is the Brandenburg Gate, a historic symbol of unity that is Berlin's only surviving city gate and arguably its most famous landmark. For the best photo op, head down in the early morning before the crowds gather or at night, when the triumphal arch looks even more impressive illuminated against a dark sky.
Lunch at Hofbräu Wirtshaus Berlin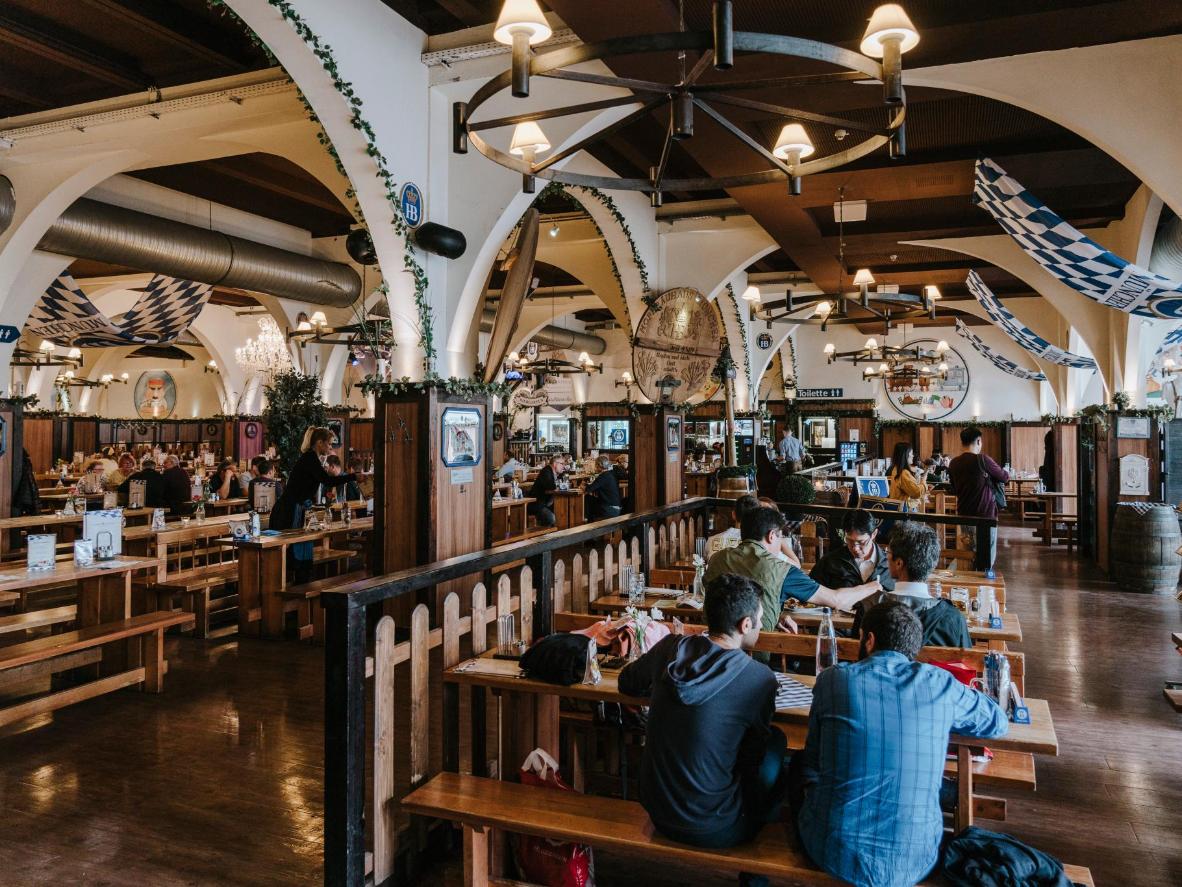 Hofbrau Wirtshaus, Berlin
Hofbräu Wirtshaus is Berlin's version of the famous Munich Hofbräuhaus. You can count on this large beer hall for a few things – big groups, big beers, meat-heavy meals, loud Bavarian music, and staff dressed in traditional Lederhosen and Dirndl costumes.
The Alte Nationalgalerie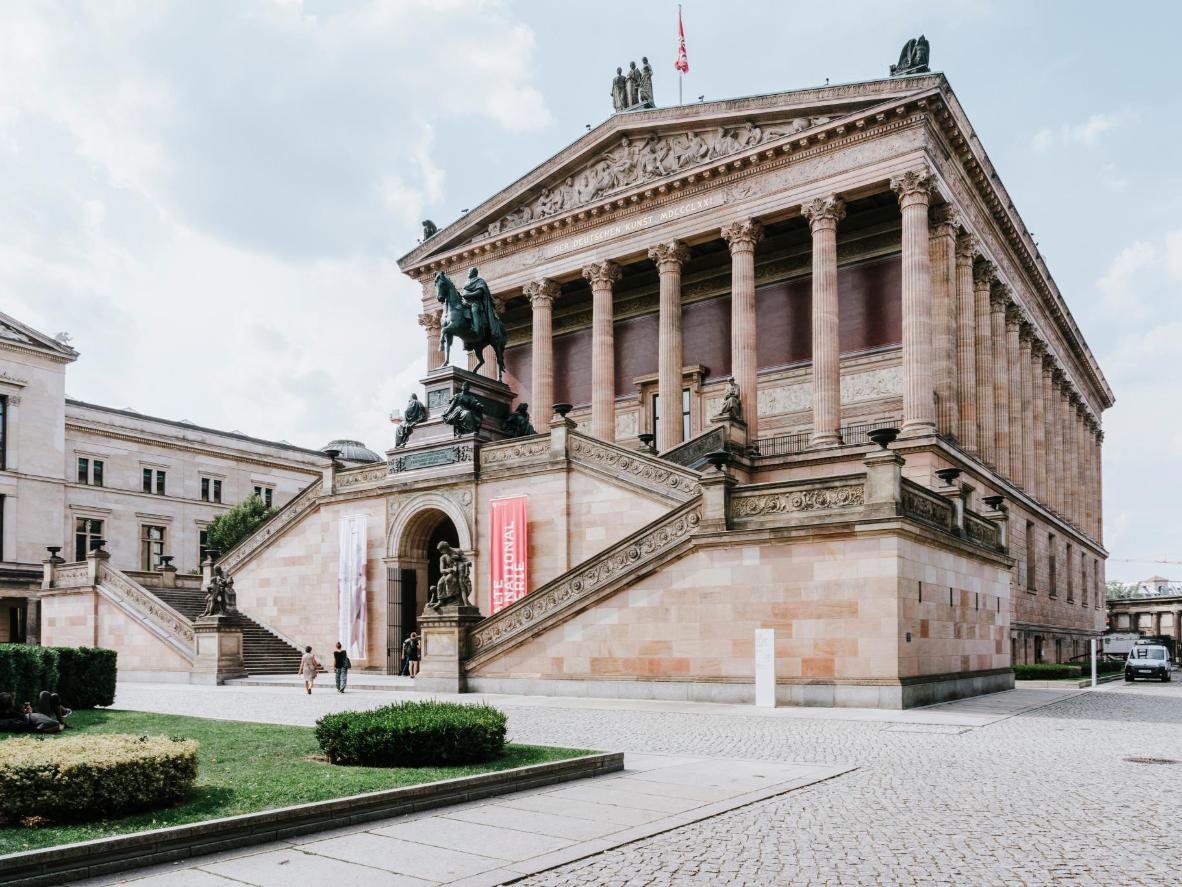 The Alte Nationalgalerie, Berlin
The Alte Nationalgalerie is one of the five museums located on Berlin's Museum Island, a UNESCO World Heritage site. Dating back to 1866, the gallery is a stunning example of Neoclassical architecture, designed to look like a Greek temple. Inside, you'll find masterpieces by the likes of Caspar David Friedrich, Edouard Manet, and Claude Monet.
The Berlin Art Market by the Zeughaus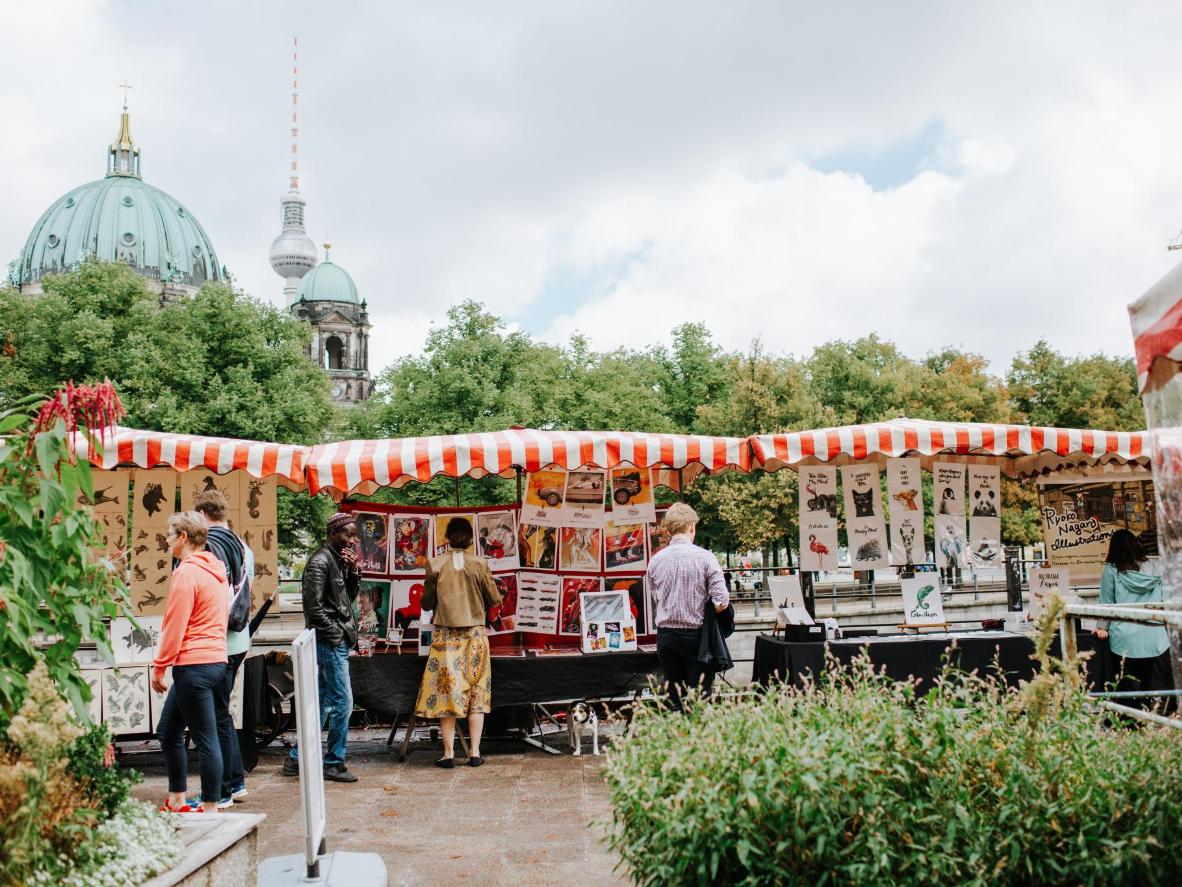 The Berlin Art Market by the Zeughaus, Berlin
After a visit to Museum Island, stop by this art market with a mix of local and international designers and artists selling their wares. Find everything from original paintings and sculptures to secondhand books and jewelry.
Dinner at Thuringer Stuben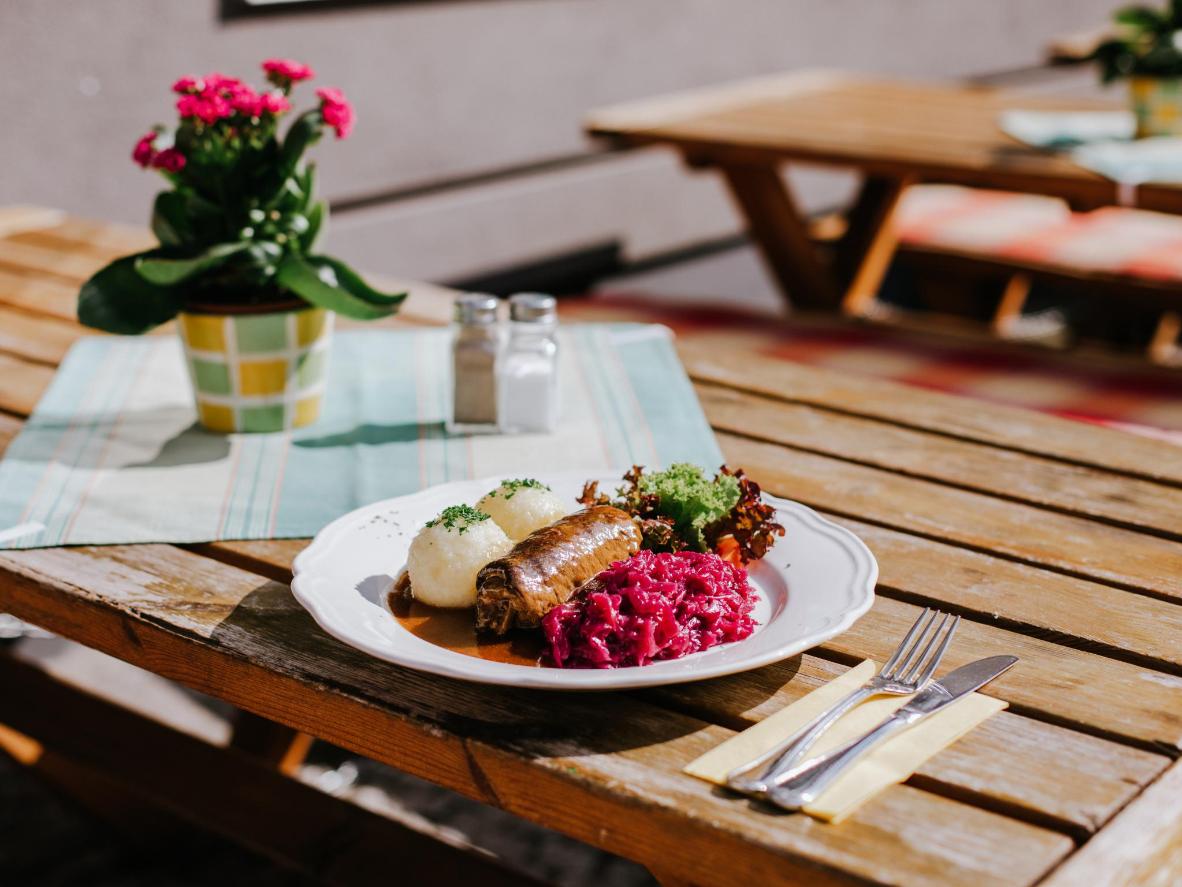 Thuringer Stuben, Berlin
The Thuringer Stuben rustic restaurant has been established for 25 years serving German cuisine, specifically from the region of Thuringia in the east. You can order classic dishes like roast pork knuckle, bratwurst, and sauerkraut, topped off with homemade warm apple strudel.
Day 2
Sanssouci Palace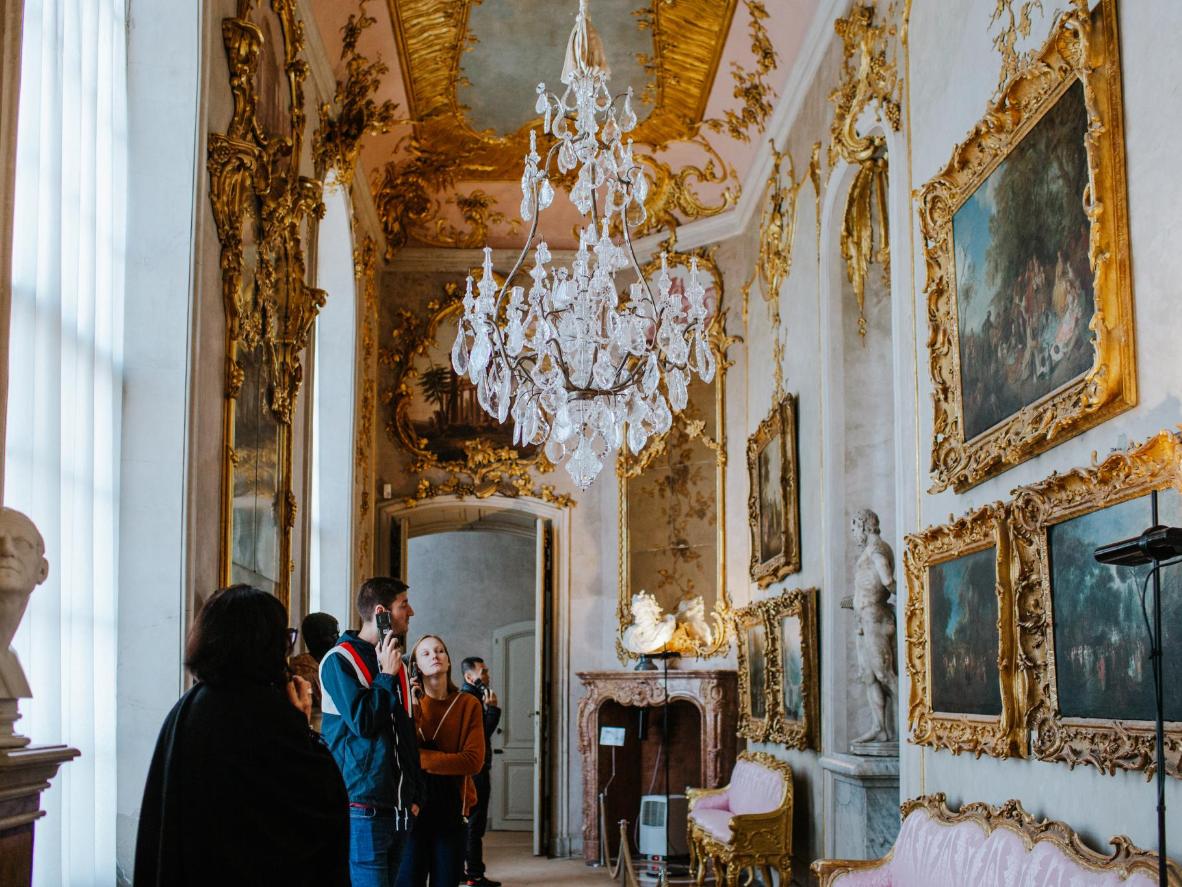 Sanssouci Palace, Potsdam
Spend the morning out of the hustle and bustle of the city and explore Prussian royalty at the 18th-century Sanssouci Palace in Potsdam, under an hour's train ride from central Berlin. The bright yellow villa and its surrounding gardens—which include terraced vineyards, a gold-laden Chinese pavilion, and a decorative grotto—were built as a summer home for Frederick the Great. The king's private retreat was a place for relaxation, earning it the name Sanssouci from the French phrase for "without a care."
Lunch at Markthalle Neun
Markthalle Neun, Berlin
After working up an appetite exploring the royal grounds, try a locally sourced lunch. Built in 1891, Markthalle Neun specializes in artisanal food. Open from Tuesday to Saturday, it draws tourists and Berliners in equal proportions – all jostling for the best European, Asian, and African eats in the capital. It hosts annual food events too. Be sure to check what's on when you're in town.
Schmittz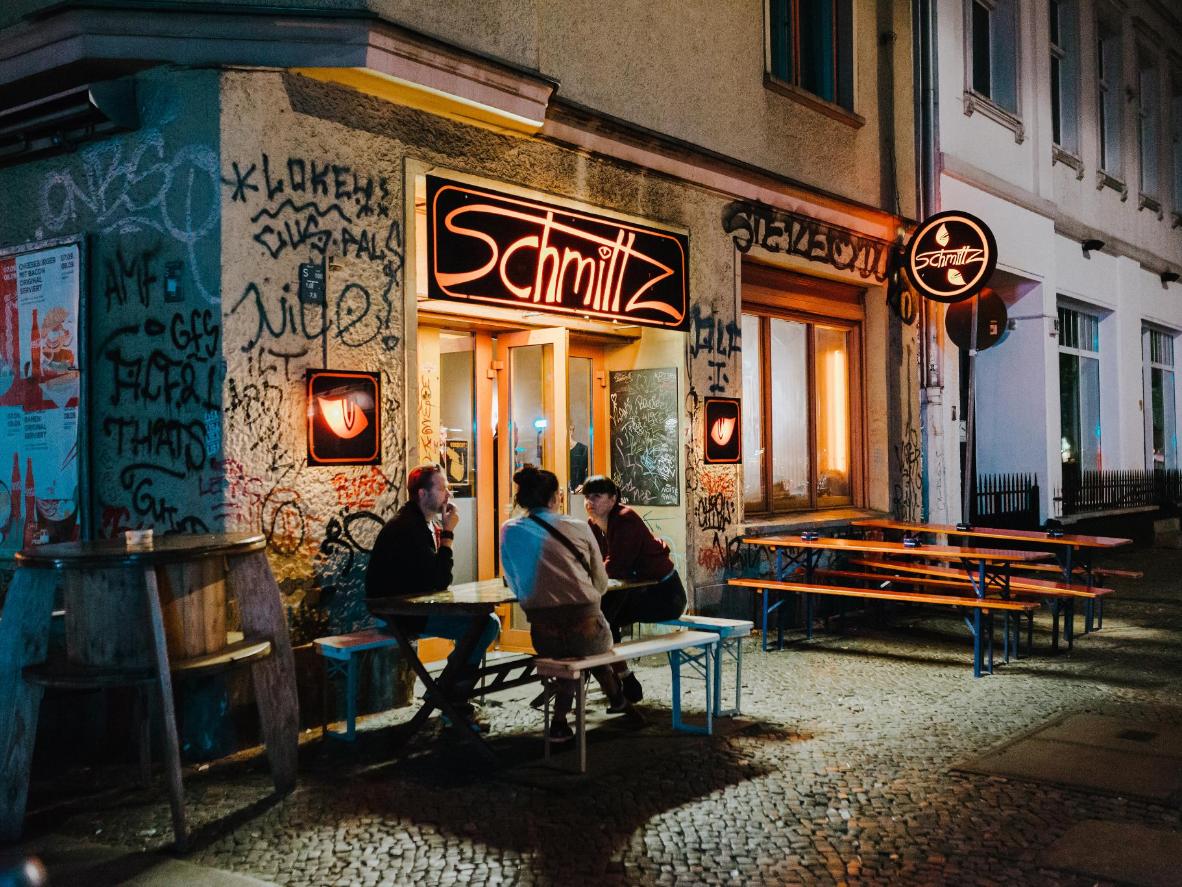 Schmittz, Berlin
Schmittz is a great place to keep up with the Bundesliga and Champions League at this sports bar. When the big game isn't on, regulars play darts and table soccer. Grab a paddle and join in the almost constant games of rotating table tennis.
Kino Central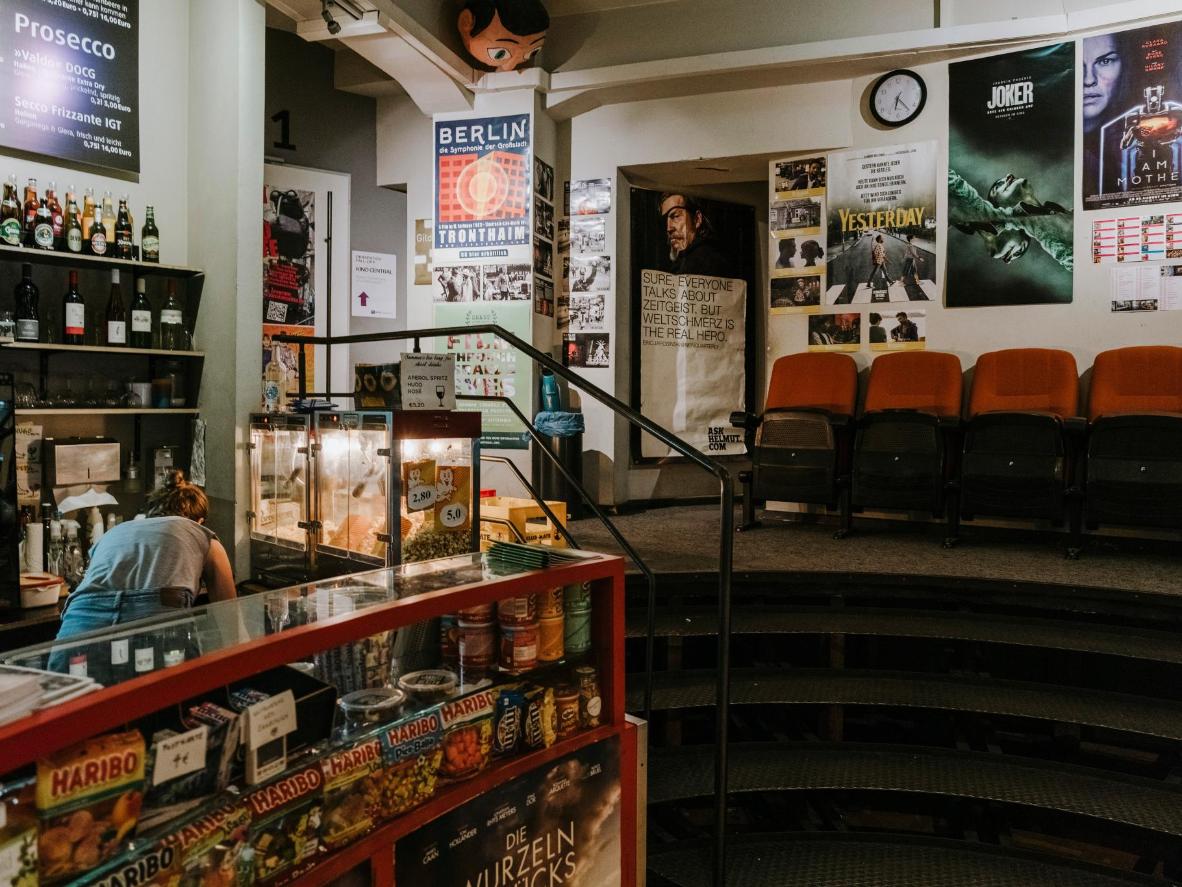 Kino Central, Berlin
Hidden in the back of a graffiti-lined courtyard, Kino Central is a petite cinema that lets you watch international arthouse films in a cool setting while sipping German beer. When the show's over, relax while sipping on German beer in the courtyard and admiring the street art that lines the walls.
Dinner at Hallmann & Klee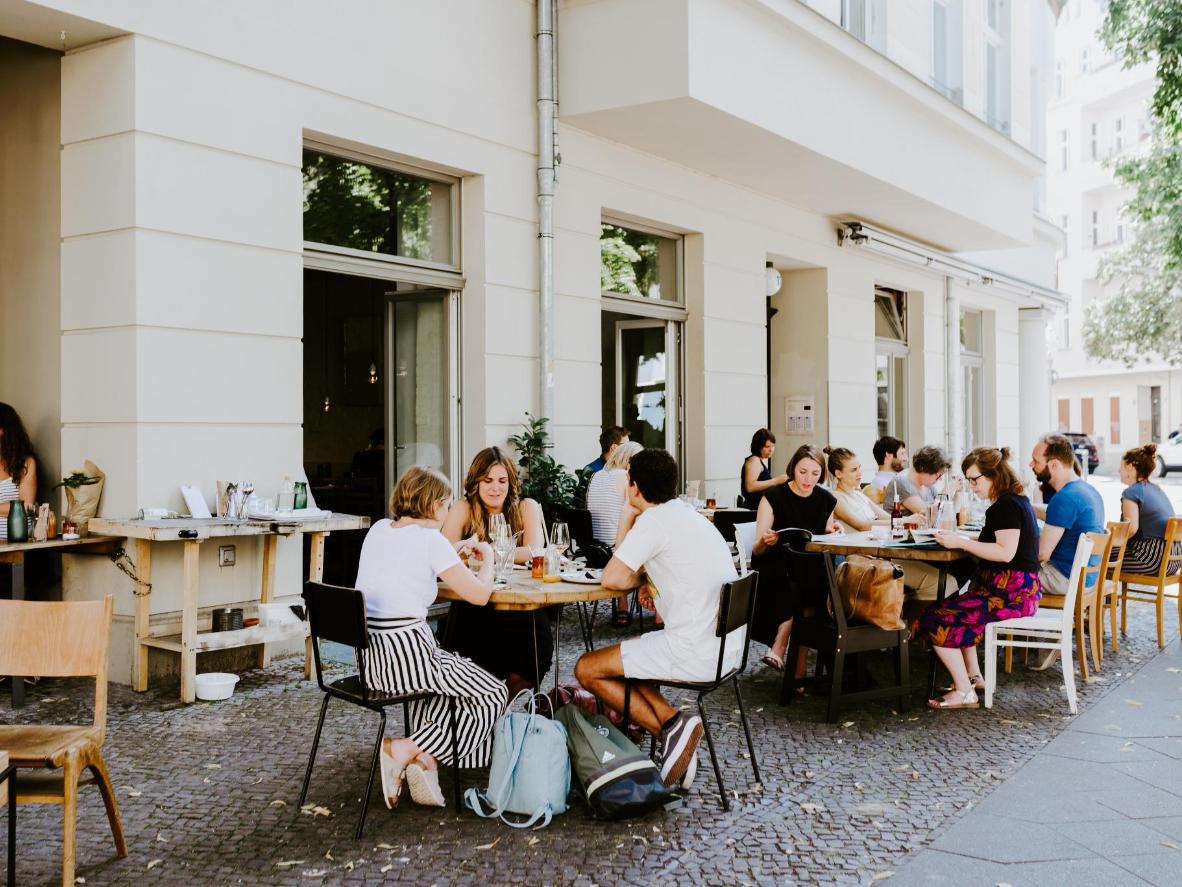 Hallman & Klee, Berlin
After a big day out, tuck into a selection of regional and seasonal produce from this Michelin-starred but unfussy Berlin restaurant's ambitious dinner menu. Enjoy all the creative but classic bistro-style dishes, but be sure to leave room for a sweet treat – think delectable flavor combinations like miso, banana, and sesame.
KitKatClub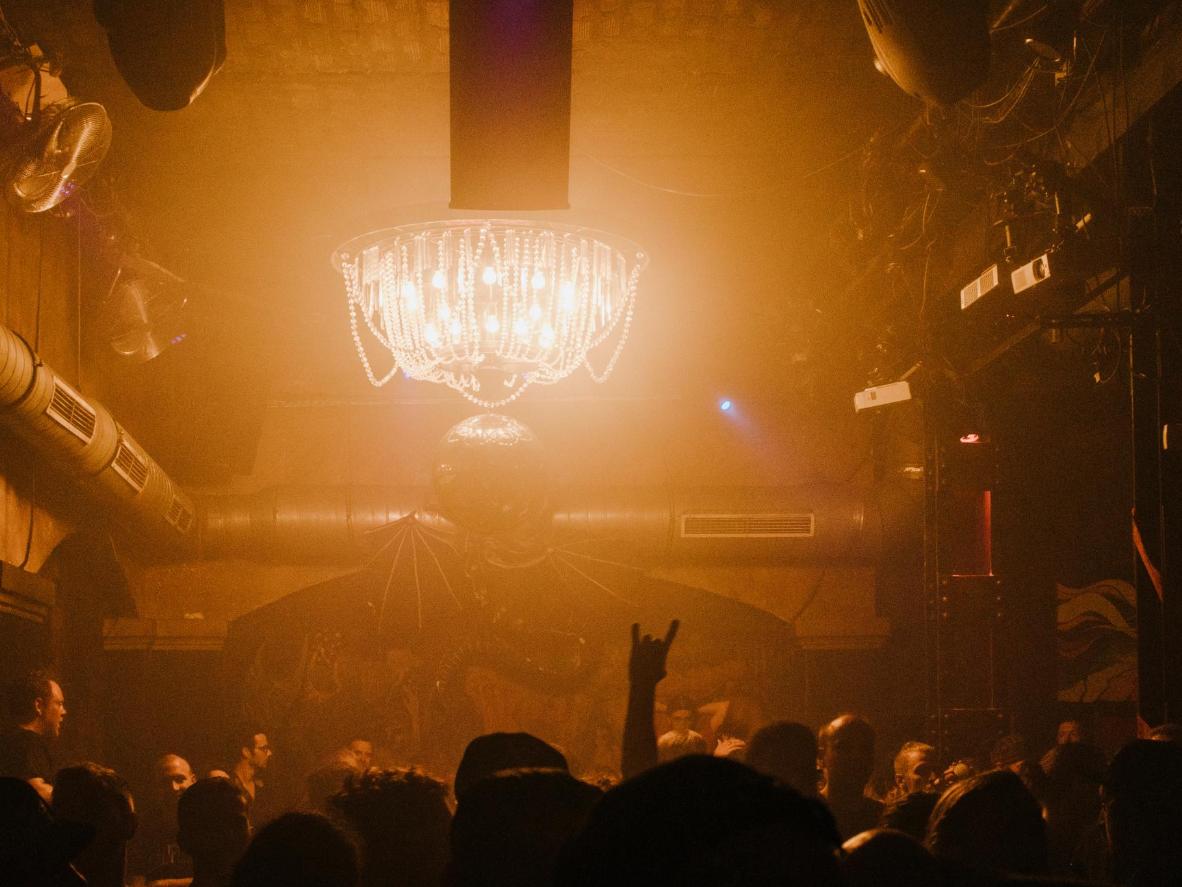 KitKatClub, Berlin
End your last night at the KitKatClub (just a 20-minute walk from Doyum) where revelers can expect to let their hair down to techno music and experience Berlin's famous and inclusive nightlife. This particular venue is a long-standing fetish club with a stringent dress code – that usually favors wearing as little clothes as possible. Enjoy the energy of the dance floor, discover the swimming pool within the club, and dance the night away in the LGBTQ+-friendly crowd.
Getting there
Berlin is well-connected thanks to the Brandenburg airport, as well as trains that arrive at and depart from the city's central stations from all over Europe. If coming into the city from the airport, you can take a taxi, bus, or U- and S-bahn train.
Where to stay
Hotel Zoo Berlin: A stylish stay just two minutes on foot from Cafe Kranzler.
Casa Camper Berlin: Modern decor and city views right in the heart of Berlin.
Hotel Adlon Kempinski Berlin: A revered, luxurious hotel in central Mitte.
Listen
Get in the mood for your Berlin city break with this playlist of top tracks about the capital.