Whether you like it rare, marinated and baked in a clay pot or smoky and grilled over charcoal, meat to many is both the centrepiece and highlight of any meal. Countries like Argentina and the USA have long carved out a reputation as epicentres for carnivores. But for the dedicated and deliriously meat-loving, these destinations prove that when it comes to meat there are lesser-known places worth going in search of.
North Macedonia
Tavče gravče is a bean-based dish baked with sausages in a clay pot
A landlocked country wedged in the Balkan Peninsula, North Macedonia is a nation that prides itself on its food, particularly meat – courtesy of its thriving agricultural industry. A popular North Macedonian dish is lukanci – thick pork and leek sausages, seasoned with paprika. It's best sampled in the village of Brajčino, located on the fringes of Pelister National Park with peeping views of Lake Prespa. Up here, fiery sausages are grilled on open fires, crowded with both wild and oyster mushrooms. You'll also find tavče gravče, a bean-based dish baked with sausages in a clay pot, not dissimilar to France's cassoulet. Lamb is also a mainstay of North Macedonian cuisine, so expect dishes like slow-roasted lamb shoulder saddled with locally foraged vegetables, or simply grilled meat patties with caramelised onions. Finally, head to the crumbling town of Kratovo, known for its labyrinth of bridges and towers, to sample pastrimaliji – a boat-shaped pizza bread filled with smoked pork and topped with hot green peppers and pork fat. After indulging, head for a lie down at Hotel Kratis.
Uruguay
There's no lack of grilled meat in these parts
Often overshadowed by the carnivorous culinary cultures of neighbouring Brazil and Argentina, Uruguay deserves a place in the hearts (and stomachs) of meat-lovers for its jumble of Mediterranean cuisines and South American flavours. Across the country, you'll find slabs of meat grilling over wood fires at dedicated restaurants called parrillas, while warm weather sees asados (celebratory or casual get-togethers) happen over barbecues where meat is prepared using traditional techniques. This involves hunks of steak, glazed short ribs and searing chorizo sausages being salted and seasoned with garlic, oregano and paprika before thrown on the charcoal, then simply taken straight off the grill and plated up (often accompanied with a side of Russian salad and a glass of local Tannat wine). Another essential (and enormous) eat for the truly meat-loving is the chivito; a steak sandwich loaded with ham, bacon, egg, cheese, salad, peppers, olives and mayonnaise. After a meal out in Montevideo, retreat to Hyatt Centric.
South Korea
Korean fried chicken is often marinated in a dark red and spicy marinade
While South Korea's plant-based cuisine is often lauded (think kimchi, japchae), its meat culture is up there with the world's best. Bulgogi (which translates literally to 'fire meat') is an irresistible national dish; beef or pork is marinated in a mix of soy sauce, sugar, garlic, sesame oil with an assortment of vegetables, before being grilled with green peppers, sliced onions and whole garlic cloves. Bulgogi is best enjoyed at a Korean barbecue restaurant, as is a style of barbecued chicken known as dak galbi (combined with a fleet of side dishes including scallion salad and kimchi). And for those who thought Kentucky Fried Chicken was the pinnacle of fried food, look out for the other KFC – Korean fried chicken. Crackly, golden and often doused in a dark red and spicy marinade known as gochujang chili paste, Korean fried chicken is heavenly. Grab a portion to go and wander around town before sleeping it off at L'Escape Hotel.
Kenya
Prepare to get your hands dirty when you dig into nyama choma
A rough translation of Kenya's national dish, nyama choma, is 'grilled meat' which should give you enough of an indication of where the nation's stomach lies. It's a meat-loving culture here and a trip to the frenetic capital of Nairobi is a whirlwind introduction to its carnivorous food scene. Make your first meal a dish called nyama choma and be ready to get your hands dirty.; goat is often the meat of choice for this (though beef, chicken and even crocodile can be found), grilled until it's laced in a gentle charcoal crust, served as a platter of bite-sized pieces, and eaten with your hands, washed down with a glug of local beer. And while barbecue constitutes most of Kenya's meat cuisine, you can also expect a range of meaty stews and chicken, coconut and turmeric dishes along the coast. While in Nairobi, Severine Cottages is a restful stay.
The Philippines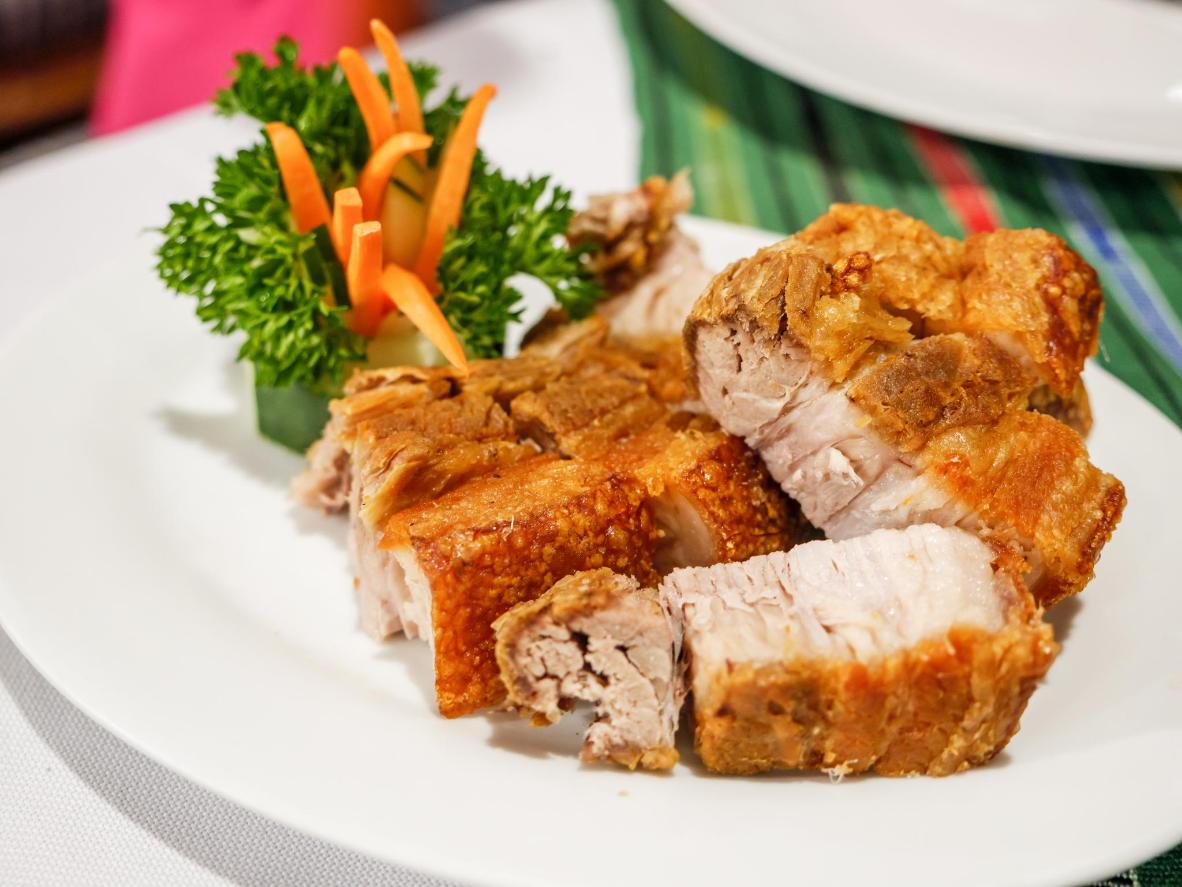 Lechon kawali is deep fried pork belly – indulgent and delicious
If tucking into an entire roasted suckling pig sounds like a culinary dream, the Philippines might be worth a visit. Dubbed lechón, this Fillipino pork dish is often prepared for celebrations or holidays. It involves an entire pig stuffed with herbs, scallions, local lemongrass and garlic being roasted over coconut husk charcoal. Once ready, generous slices of caramel-coloured pork are carved and served with a simple blend of soy sauce, chilli and citrus fruit. It's as much a visual as it is a literal feast. Though you'll find lechón across the country, the most popular variety of the dish can be found in Cebu City, so stay at the central Murals Hostel and Cafe. Other savoury Filippino highlights include deep-fried lechon kawali, the immensely delicious adobo (stewed chicken or pork in soy sauce, peppercorns, bay leaves and vinegar), the highest-quality local beef steak and the more daring option of oxtail soup, aka kare-kare.