Barbecue is essential to North Carolina's history and heritage. There's a long-lasting debate over which style of barbecue—Lexington vs Eastern—is the most delicious and representative of the state. Bookers can decide for themselves by taking a trip along the North Carolina Historic Barbecue Trail, a 20-stop route designed by the North Carolina Barbecue Society that maps some of the state's greatest barbecue joints. We've gone through the itinerary and highlighted the best.*
B's Barbecue, Greenville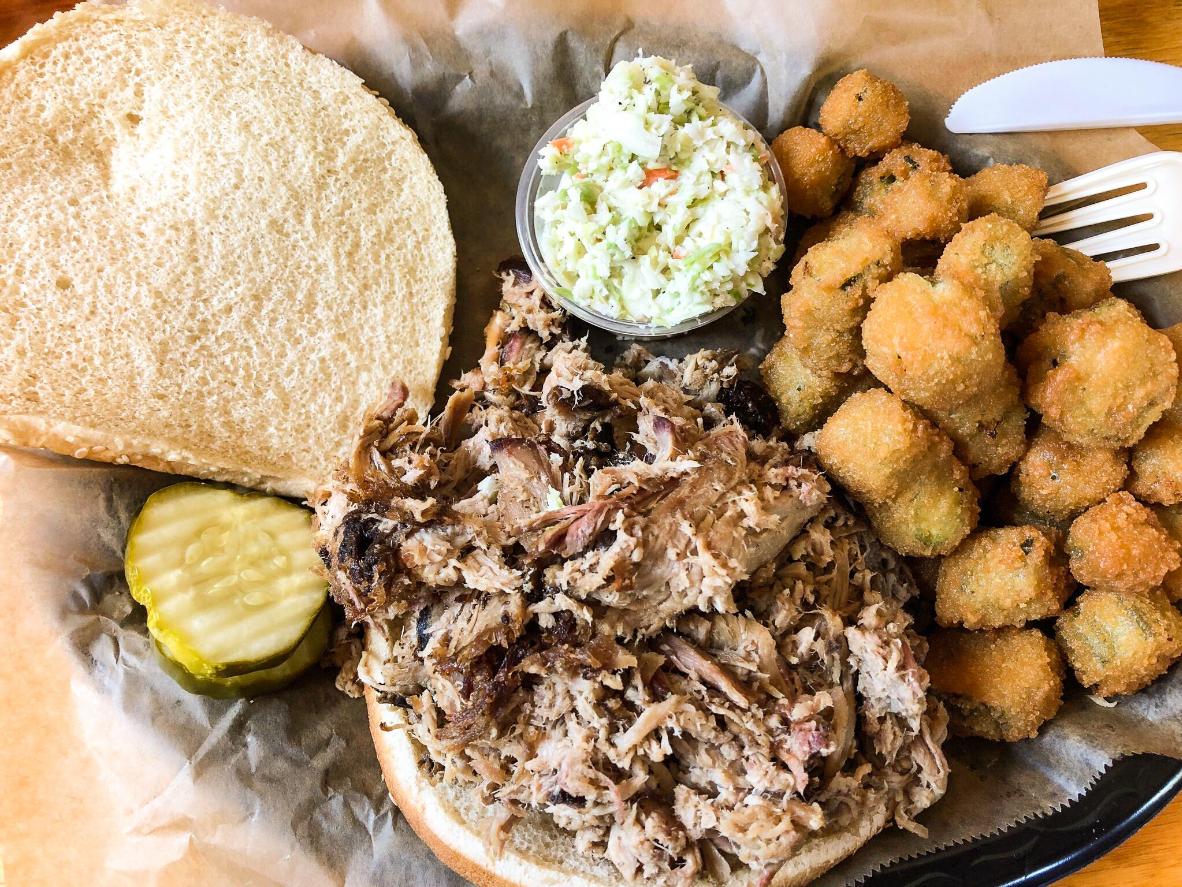 B's Barbecue is a champion of the Eastern style
Start off on the east end of the trail at B's Barbecue, which has been serving hungry crowds since the late 1970's. As you might guess by its location, it specializes in Eastern-style barbecue with a "whole hog" approach using all parts of the pig. The sauce is vinegar- and pepper-based, with a distinct lack of tomatoes or ketchup, giving the meat a uniquely sharp flavor. Based in Greenville, B's Barbecue dishes up exceptional pit-smoked pork. But chicken is the menu's real star, often causing lines that run well outside the restaurant's front door. Any Booker should head there early because once they sell out, they close up shop for the day. Get a head-start on the crowd by staying at the nearby Residence Inn.
Grady's Barbecue, Dudley
Come for the hickory smoked meat, stay for the hush puppies
Grady's Barbecue has all the stamps of a classic barbecue joint. It was named after and continues to be run by the same family, with nostalgic decor inside and an enormous barbecue pit out back. An intense amount of dedication goes into the culinary process here. The owner stokes the fire at 11 pm, then rises again at 4 am. It's also one of the few Eastern-style joints that actually splits its own hickory and oak logs for the pit, but the rich, smoky flavor is well worth the extra effort. Bookers should try the homemade tea, coleslaw, and hush puppies which are all as delicious as the meat. After dinner, spend the night at the Sleep Inn & Suites Mount Olive, just a 15-minute drive away.
Stamey's Barbecue, Greensboro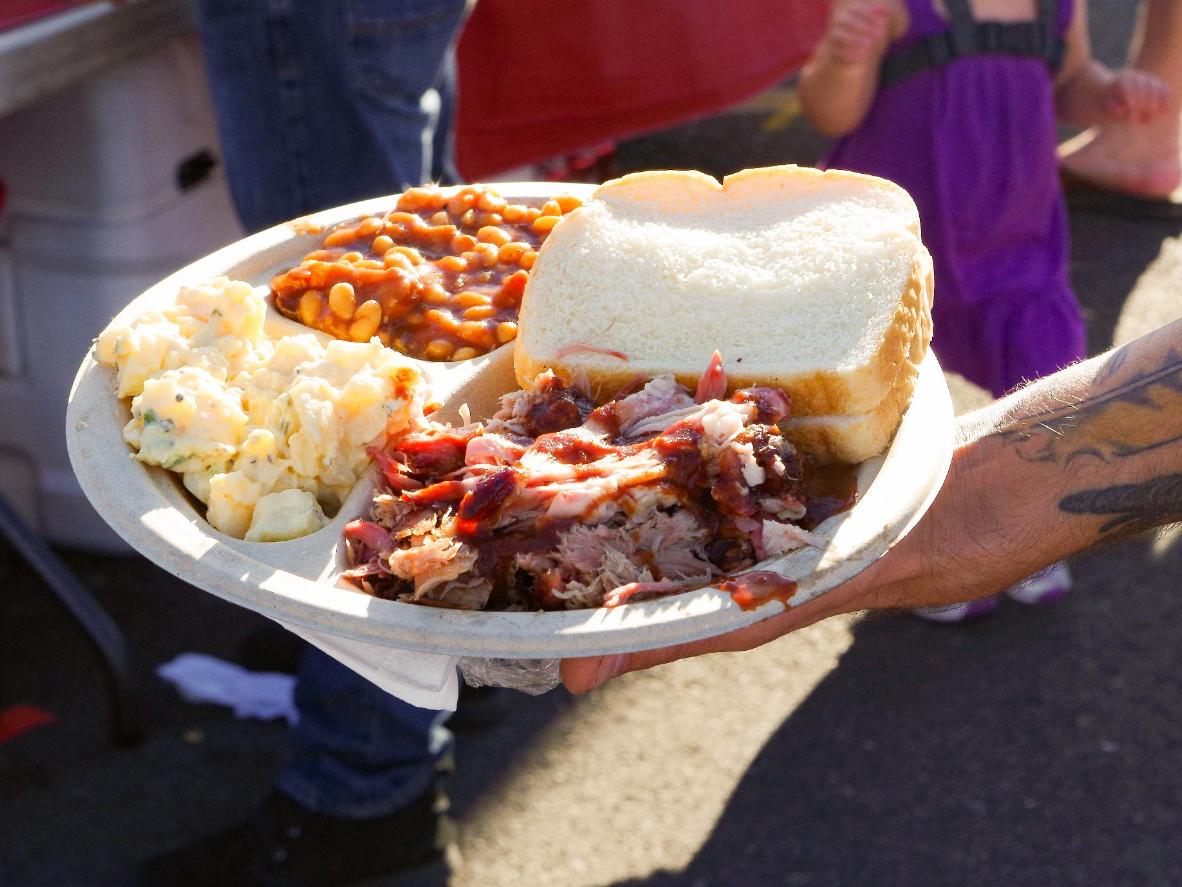 The meat's reddish color is typical of Lexington-style barbecue
Passing through the city of Greensboro, Bookers will notice a shift to Lexington-style barbecue, and Stamey's is the spot in town to try it. This style of barbecue has a distinct reddish color due to the tomato paste and ketchup used in this region. Not just the meat is red here, though. On the side, expect red slaw—coleslaw infused with barbecue sauce—as well as a variety of spicy red dipping sauces. Another difference is the cut of the pork. Lexington style focuses on the shoulder rather than the entire pig. Order a plate of pulled pork with all the fixings (you can't go wrong with crisp coleslaw and hush puppies) and some spicy dipping sauce for a peppery finish. There are 2 Stamey's locations, but the original is on West Gate City Boulevard, just a short drive from the Hampton Inn.
Real Q, Winston-Salem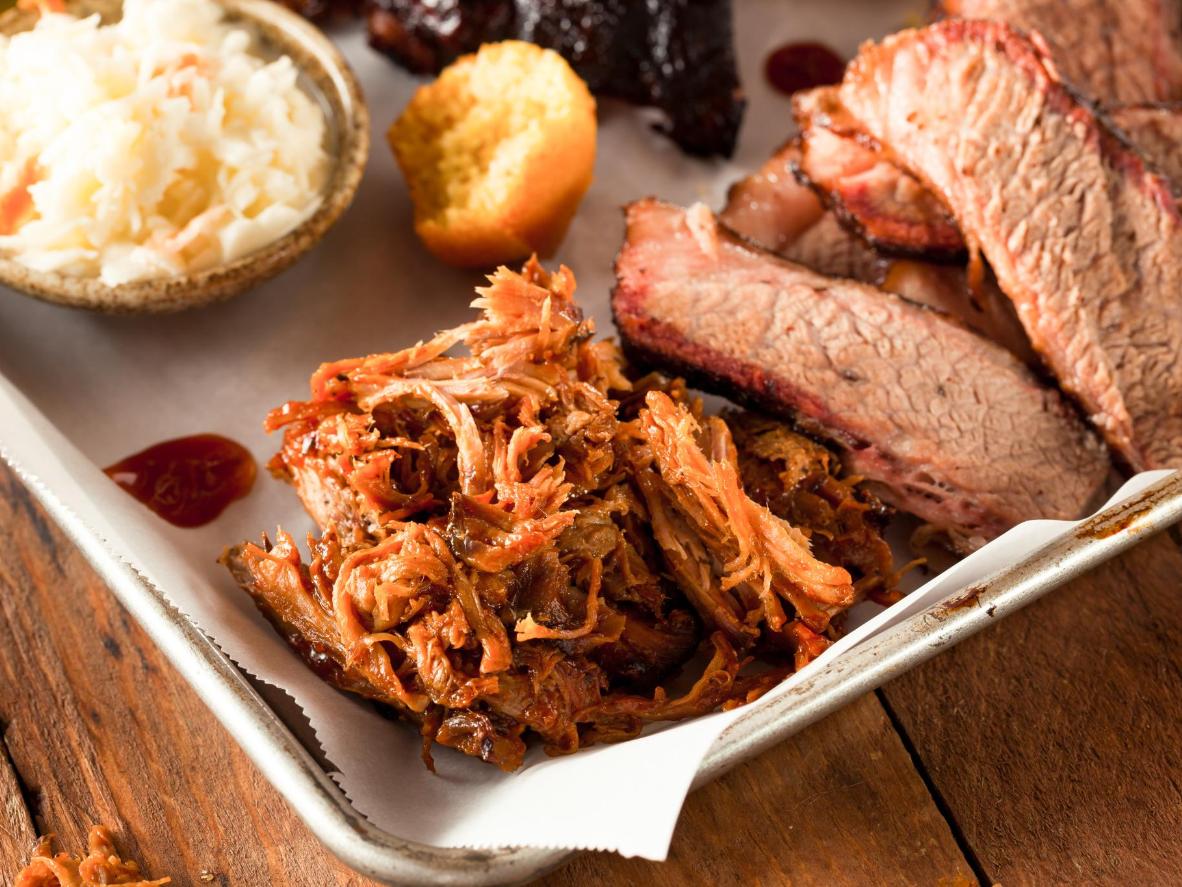 Pit-smoked pork with hearty helpings of coleslaw, fries, and hush puppies
Real Q—formerly called Little Richard's—is the real deal when it comes to barbecue. Their slogan is, "If it ain't over wood, it ain't as good," and they have the pit-smoked meat to prove it. The locals' go-to order is a smoked tower of pit-roasted pork, a mound of coleslaw, crispy fries, and golden hush puppies. Due to the barbecue's popularity, Real Q has opened a second location, but Bookers should save some room for dessert – their chocolate cream pie is decadent and delicious. Afterwards, sleep it all off at Home2Suites.
Barbecue Center, Lexington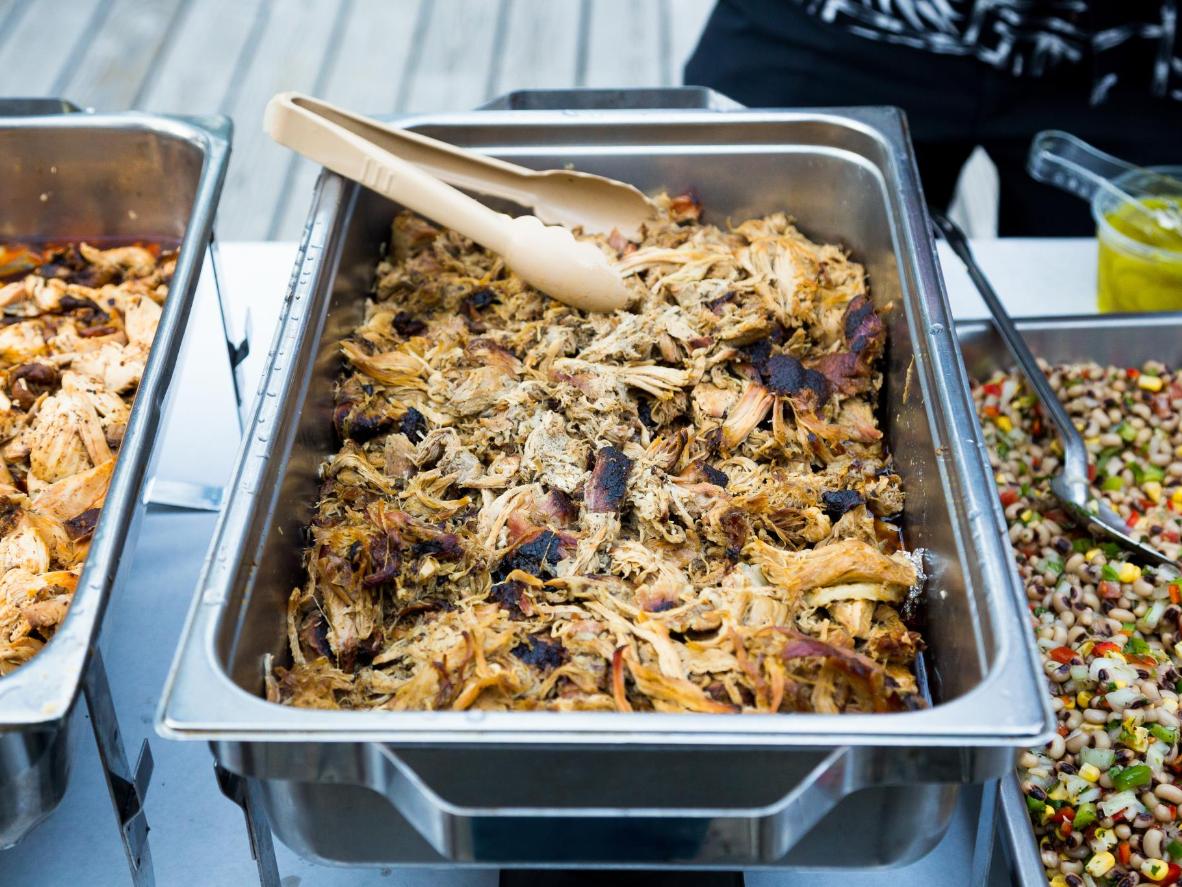 Lexington is an essential destination for all meat lovers
Lexington is the home to The Barbecue Festival, North Carolina's official and largest one-day meat festival. If you can't make it to the festival, then head to Barbecue Center, where the stacks of wood piled up outside feed the fire pit all day. Settle into a no-frills booth and order yourself a serving of delicious pulled pork – whether light or dark meat, it's up to you. Bookers recovering from the hefty portions should head over to the Holiday Inn Express just up the road.
BBQ King, Lincolnton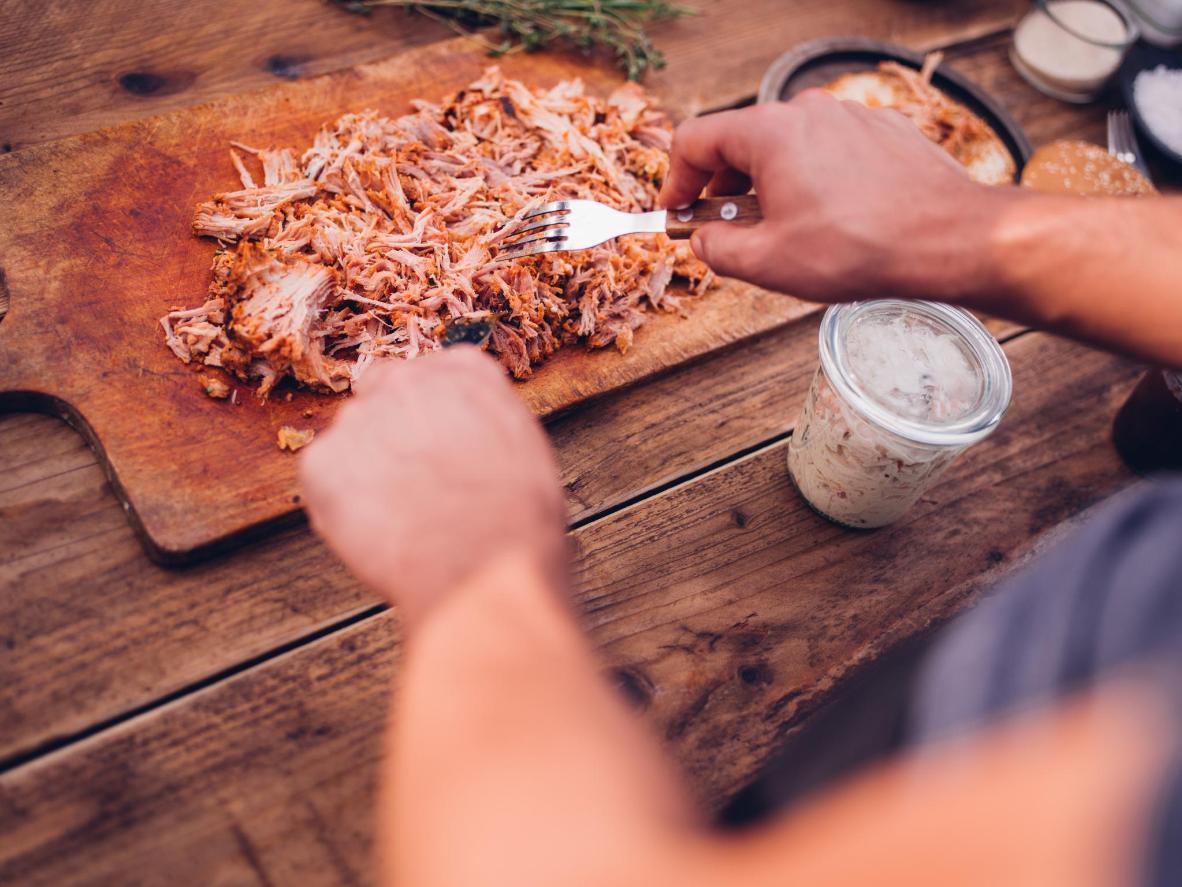 No meal is complete without a hearty dose of the fiery jalapeño sauce
Lincolnton's BBQ King's has a great atmosphere and even better food. The wood walls and ceilings draped with gingham curtains create a charming, old-fashioned feel. The pit-smoked pork is tender and nutty, while the coleslaw has a uniquely delicate taste from its celery seed. Whatever any Booker orders, no meal is complete without a splash of the classic red or fiery jalapeño sauce, which can pack quite the punch. Stay close to the action with a stay at this hotel.
Red Bridges Barbecue Lodge, Shelby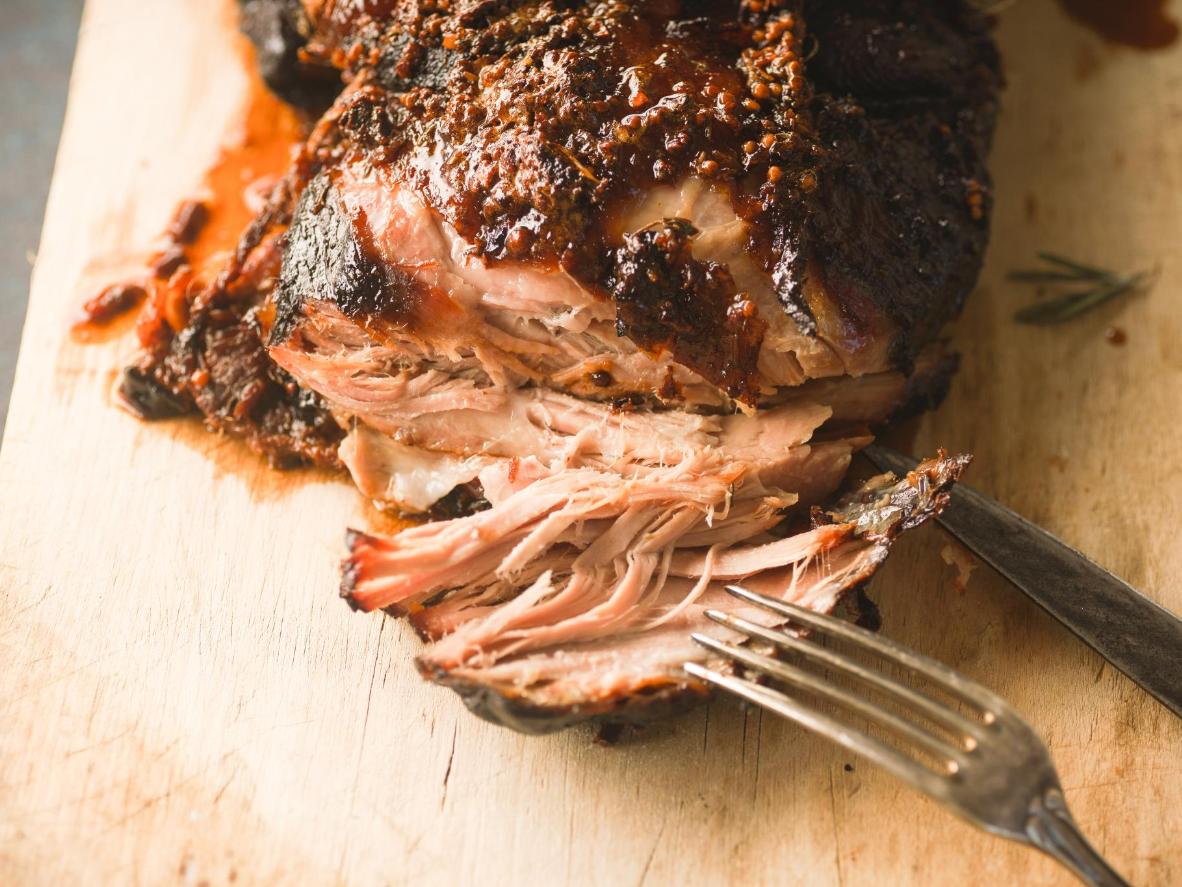 A legacy of supreme barbecue craft at Red Bridges Barbecue Lodge
Red Bridges Barbecue Lodge is the penultimate stop on the trail, yet again proving the best is saved for (well, almost) last. Its previous owner was trained by Warner Stamey of Stamey's Barbecue, continuing a legacy of supreme barbecue technique. The pork is served the way barbecue experts crave – woody and dark brown on the outside. Their crowning glory—the sauce—has an amber color and is both tart and sweet. Once you've had your fill, get some rest at the nearby Country Inn & Suites.
**Originally was 22-stop route, but Wilber's Barbecue in Goldsboro and Allen & Son Bar-B-Que are now closed.
#BeABooker and book your trip today.