Leaving its tumultuous history behind it, this ever-evolving megalopolis draws in curious travellers from all over the world. Some come for the art, some for the green spaces sprawled between ancient buildings and modern skyscrapers, and others for the flavourful food. With much to see, taste, discover and enjoy, we've created a sightseeing guide for your next trip to Mexico City.
Desierto de los Leones (Desert of the Lions) National Park
Explore the grounds and catacombs of this abandoned convent
Desierto de los leones – or the Desert of the Lions – was declared Mexico's first national park in 1876. With over 1,500 hectares of forest to wander around and the ruins of the Catholic Carmelite's abandoned convent to discover, this park is a must-see. The location was originally sought after by the monks as a tranquil, silent meditation retreat far from the city. And even though the city line is creeping closer and closer towards the park, you can still expect a relaxed, nature-filled visit. The park is open from Tuesday to Sunday. And the easiest way of getting to and from the park is by taxi, so try to arrange a meeting time and place to be collected from when being dropped off. Or you can stay close by at La Cabaña del Tata.
Ángel de la Independencia (The Angel of Independence)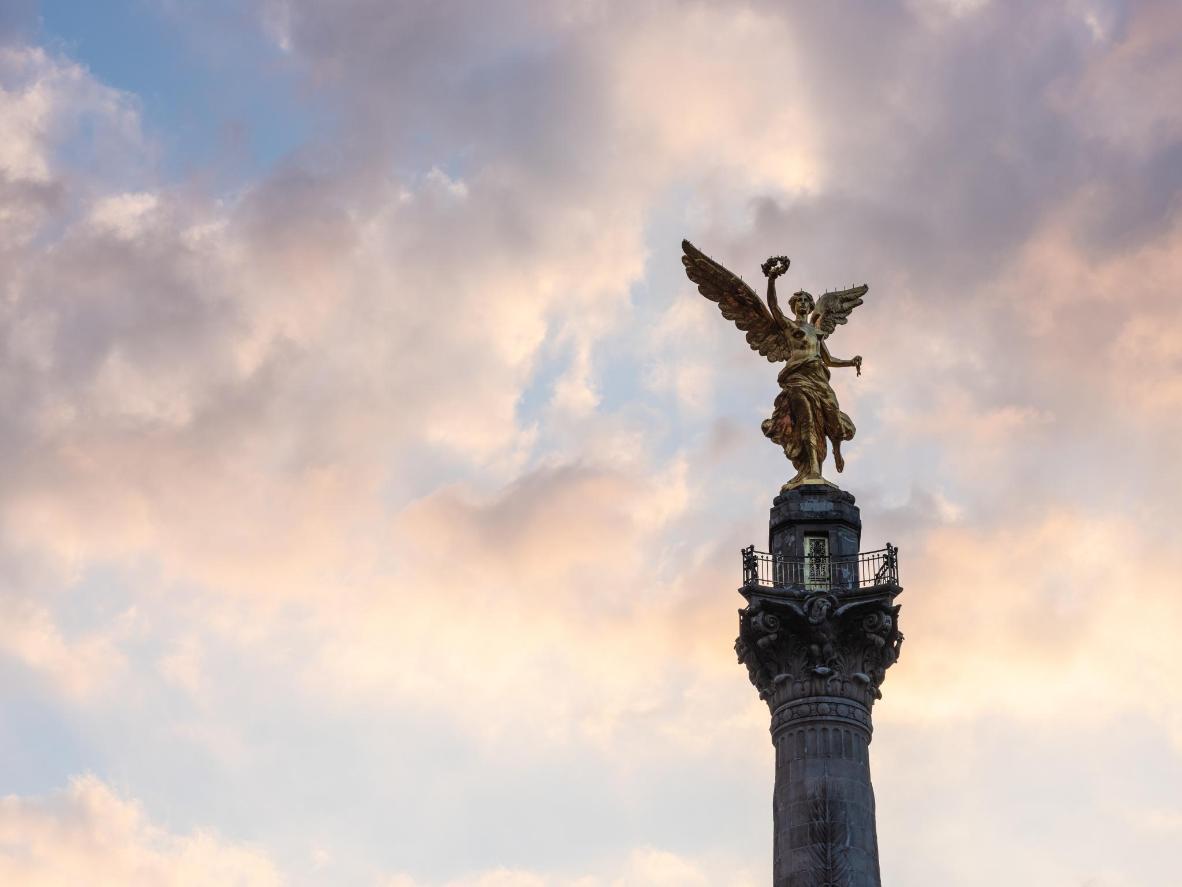 Climb the internal winding stairs of El Ángel for a 360-degree view of Mexico City
Standing in the middle of a roundabout on Paseo de la Reforma in downtown Mexico City is the Ángel de la Independencia – known locally as El Ángel. This 24-karat, gold-plated statue is of Nike, the Greek goddess of Victory, and is perched on top of a 6.7-metre-tall column. In one hand the goddess holds a laurel wreath as a symbol of victory and in the other, a broken chain to represent the end of slavery that was imposed during the three centuries of Spanish rule. If you want a fly as high as Nike, groups no larger than six can climb the building's internal winding stairs for a 360-degree view of the surrounding city. However, if you prefer to gaze at El Ángel from the comfort of your room, stay at Sheraton Mexico City Maria Isabel.
El Moro Restaurant
Enjoy all churros at El Moro, one of the original restaurants in Mexico City
The jury is still out regarding where churros originated but the one thing most people can agree on is that they're delicious. And the best place to find these crispy, sugar-coated, deep-fried treats in Mexico City is at El Moro, located in the neighbourhood of Centro Histórico. This restaurant has been serving up freshly made churros since 1935. Be sure to order as many as you can handle – and don't forget the dipping sauce; there's a choice of rich chocolate, dulce de leche (caramel) or condensed milk. You can also get a churros ice-cream sandwich, a frothy choc-mint milkshake or a cup of their famous hot chocolate topped with whipped cream. Whatever you order, you can't go wrong. Stay close by at NH Mexico City Centro Historico.
Palacio de Bellas Artes
Discover what the 'Cathedral of Art' has to offer
Palacio de Bellas Artes is known as the 'Cathedral of Art' in Mexico. Construction began in 1910 to celebrate Mexico's independence but due to the turbulent social movements of the Mexican revolution, it wasn't completed until 1935. This meant the building being built with a unique mix of architectural styles. The grand facade presents a combination of art nouveau and classical, crafted Italian marble. The interior has an art deco influence mixed with re-Hispanic lamps and columns. Take in many of the famous artworks as you wander to the main concert hall. Here you'll find the decadent scene curtain, which was made by the luxury jewelry brand, Tiffany & Co., in 1912. It's a mosaic of one million, 2cm-wide crystals that depict Mexico's valley of Iztaccihuatl and the Popocatépetl volcano. Be sure to look up at the circular stained glass showing Apollo and the nine muses. Spend the night 500 metres away at Hotel Histórico Central.
Parque la Mexicana
Take a walk around this eco-friendly park located in the city's business district
Whether you're visiting Mexico City for business or pleasure, head to Parque la Mexicana, an eco-friendly park found between the towering skyscrapers of the city's business district. Built on 69 acres of reclaimed land, the grassy landscape is peppered with 3,000 beautiful trees, rainwater-catching systems and solar-powered lights. There's much to do here, from watching one of the regular live music performances to going for dinner at one of the many bars and restaurants. And for the fitness enthusiast, there's the option of taking a jog or cycle along the many paths. Stay close by at AC Hotel by Marriott Santa Fe.