Escaping a northern hemisphere winter to catch some rays needn't be as expensive as you think – here are six of the most affordable destinations for travellers looking to find winter sun on a budget from December through to February.
December –
Mint tea in Morocco
The gates to the ancient medina in Fez, Morocco
December may be winter in Morocco but it's still sunny, mild and far quieter than peak season. Head to the country's cultural capital, Fez, which is home to the oldest university in the world (The University of Al-Karaouine, also written as Al-Quaraouiyine and Al-Qarawiyyin), a medina (walled city) filled with palaces and mosques, and a colourful leather bazaar with ancient, pungent tanneries that date back thousands of years. Thanks to a previous life as the imperial capital of Morocco, Fez has an air of faded grandeur and tradition but also feels humble and laid-back. The city is full of riads (traditional Arabic houses centred around courtyards), like the palatial Dar Seffarine, where mosaics and carvings cover the walls and floors, and you can have a morning mint tea in the December sunshine on the rooftop overlooking the medina.
Fireworks in Madeira
Appreciate Madeira's sunny, subtropical landscape in December
The four volcanic islands that make up the Madeiran archipelago are delightful in December. As a subtropical outpost of Portugal, visitors to Madeira will enjoy all the European traditions of the festive season but in sunny, t-shirt-and-shorts weather. The mosaiced streets of the capital, Funchal, are draped with lights, covered with decorations and filled with carol singers, while the New Year's Eve fireworks against a volcanic landscape and historic Portuguese buildings are something special. For self-proclaimed Scrooges, you can escape the commercial side of Christmas while exploring the island's mountains, forests, lagoons, pretty Portuguese towns, vineyards, windsurfing and sailing activities, and golf courses. Stay at Casa Da Avo Clementina in Funchal, just a short walk from the beach and a traditional Portuguese house lovingly renovated in honour of the owner's grandmother.
January –
Safari in Kenya
January is a great time to spot gazelles and other wildlife in Kenya
Though safari isn't strictly a budget travel option, January tends to be more affordable than Christmas time and Kenya tends to be more affordable for such a tour than other African countries. January is also a good time to spot wildlife in Kenya as it is both the dry season and the calving season, meaning that animals are often found congregating around watering holes and you'll see lots of newborns. And if you want to combine your safari trip with seeing the sublime Kenyan coastline, you'll enjoy hot and sunny beach days and the sea at its calmest and clearest. Check into Villa Luxury Suites in Diani Beach for a spot of sunbathing.
Tropical paradise in India
![Goa's beaches promise great weather and low prices in January
Once the New Year's Eve revellers and tourists on Christmas holidays have gone home, the beaches of southern India start to feel like a private tropical paradise. The state of Goa has long been a popular beach destination with its golden sand, palm trees, straw huts and easy-to-hire mopeds to get around. Stay just three minutes' walk from Candolim beach in Goa at Casa Da Praia, a large, white villa shaded by palm trees.
February –
Festival season in Thailand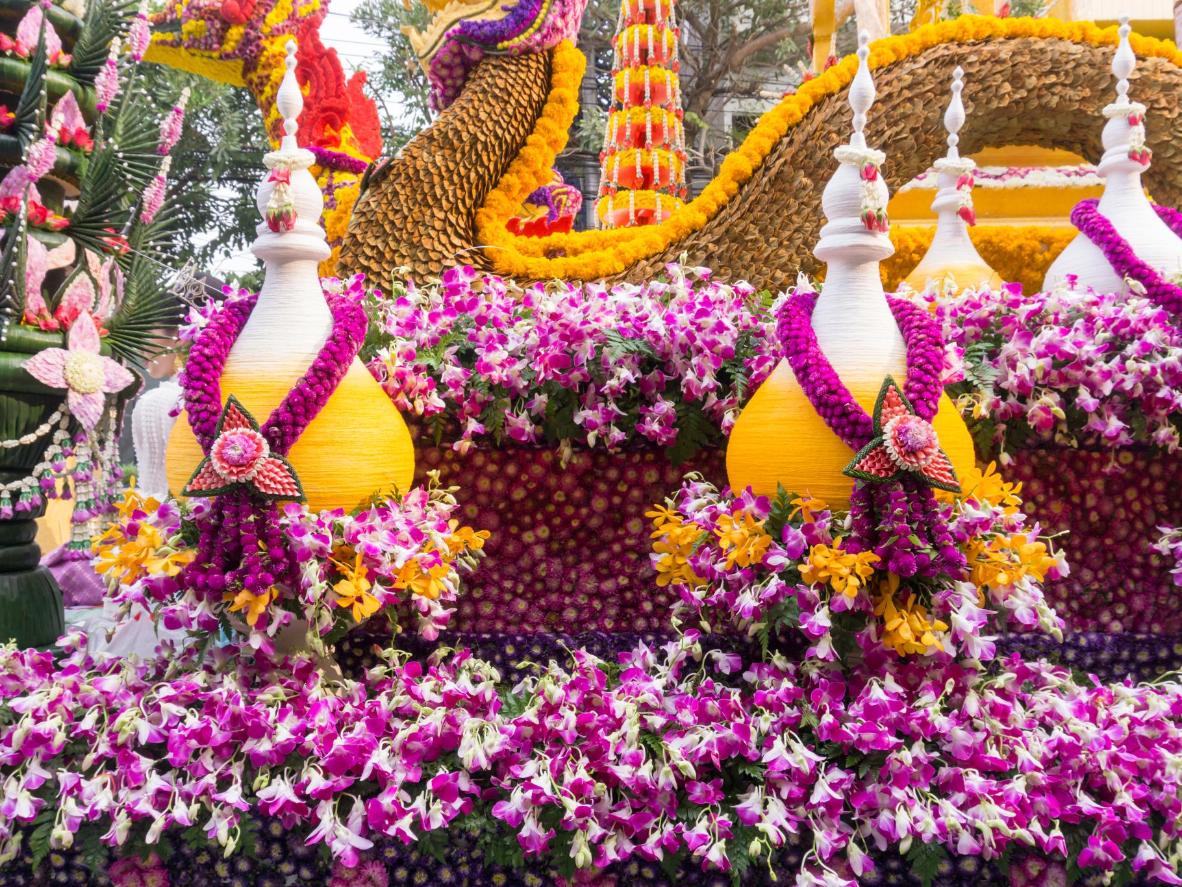 A decoration from Chiang Mai Flower Festival in February
February is in many ways the best time to visit Thailand, being right at the end of the high season. While the beaches get emptier, the weather remains excellent. There are a number of festivals to revel in; the Chiang Mai Flower Festival, the Chinese Lunar New Year and Buddhist celebration, Makha Bucha, when candle-lit processions take place around the temples. Phor Liang Meun Terracotta Arts Hotel is a highly rated hotel in the heart of Chiang Mai only 400 metres from the Chiang Mai Gate.
Get active in Cape Verde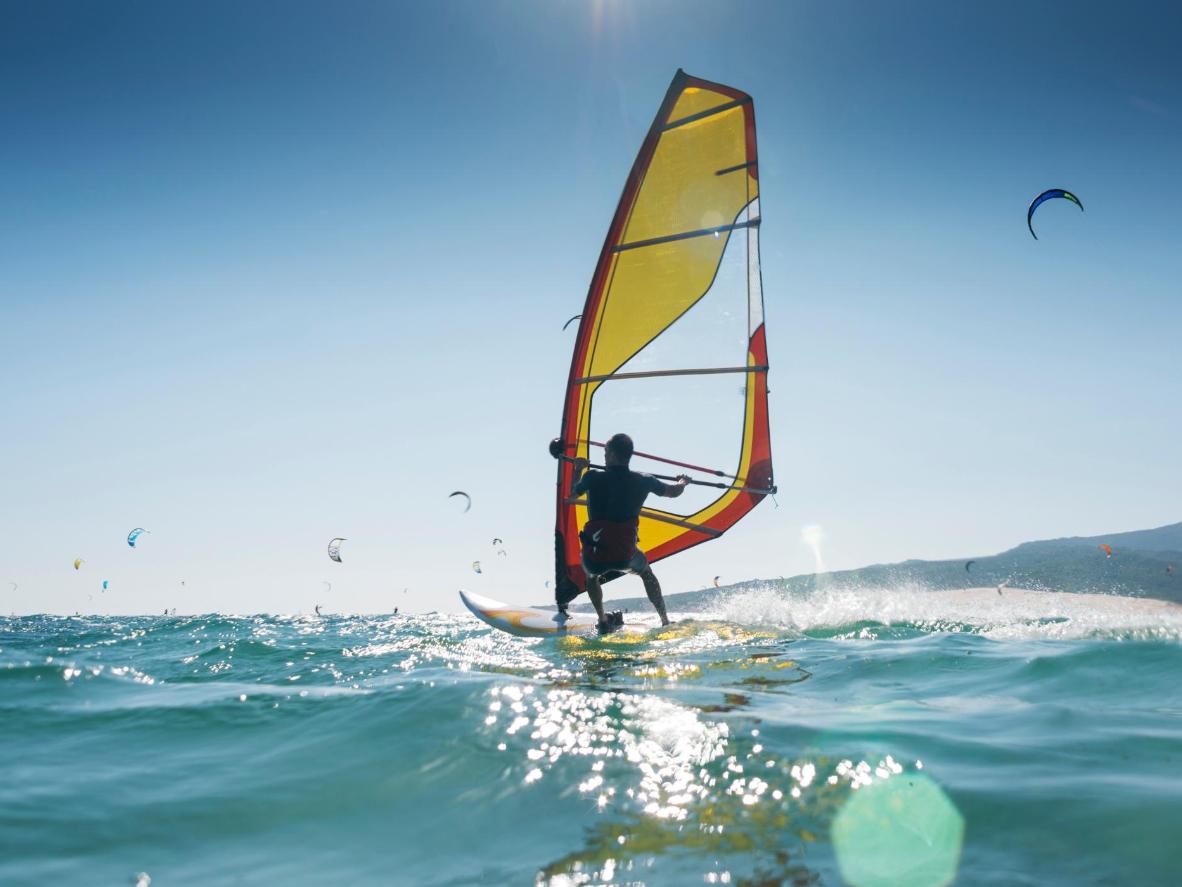 Windsurfing is a popular pastime in Cape Verde in February
A collection of islands off the coast of Senegal in west Africa, Cape Verde sees an average daily temperature of 22°C in February. The archipelago was colonised by the Portuguese between 1455 and 1461 but its nature remains largely untouched. There is plenty on offer for active travellers; deep-sea fishing, windsurfing, hiking and scuba diving to explore lava tubes and shipwrecks on the ocean floor. Cape Verde's massive annual Mardi Gras carnival, the Creole Carnival, almost always falls in February. Head to Mindelo on the island of São Vicente for the biggest parades, music, dance and loud, glittery costumes. And check into Kira's Boutique Hotel, the most highly rated accommodation in Mindelo.