Autumn is a fantastic time to visit South Korea – promising pleasant weather and seasonal treats like roasted chestnuts, hot springs, and hiking. But best of all is the golden scenery. With much of the mountainous landscape covered with forests, it's famous for its vibrant foliage.
Autumn also coincides with Korea's Chuseok holiday, a time when families gather, ancestral rituals are performed, and traditional games and activities take place. You'll find plenty of breathtaking places to admire autumn leaves in South Korea. To help you narrow down your options, here are six of the best.
Namsan Mountain and Changdeokgung Palace, Seoul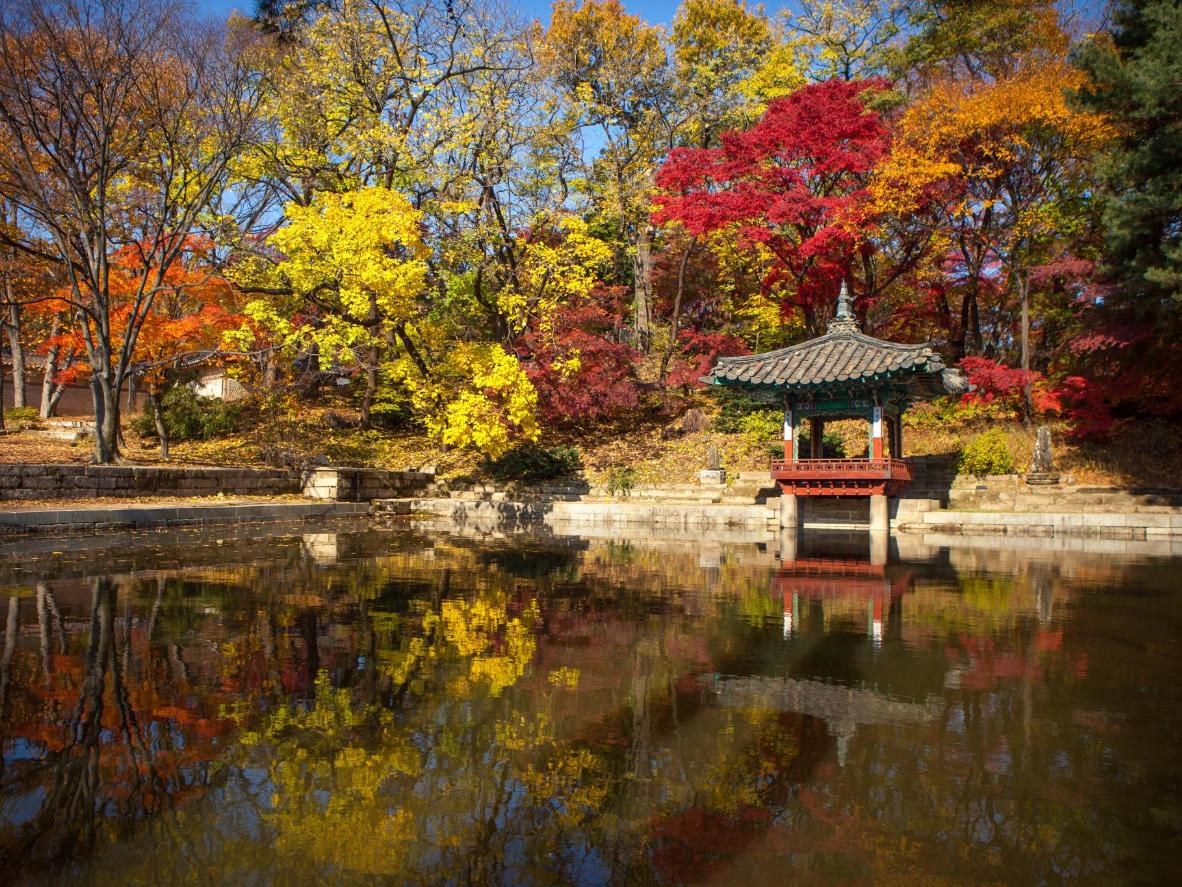 Witness ancient grandeur and autumn splendor at Changdeokgung Palace
The regal Namsan Mountain stands right in the center of Seoul, providing a panorama of the entire city – particularly in the fall when the view is transformed by a palette of vivid red, orange, and yellow foliage. It's surrounded by a huge park that's popular for hiking and topped by the towering landmark, N Seoul Tower.
Climb (or ride the cable car) up the mountain at golden hour to watch the sunset from the tower's observation deck. Look out for the 15th-century Changdeokgung Palace and its Secret Garden just below. With kaleidoscopic-like colors in the autumn, this special garden is home to plum, gingko, maple trees, and more. Stay at Moxy Seoul Myeongdong, located between the mountain and the palace.
Seoraksan National Park, Sokcho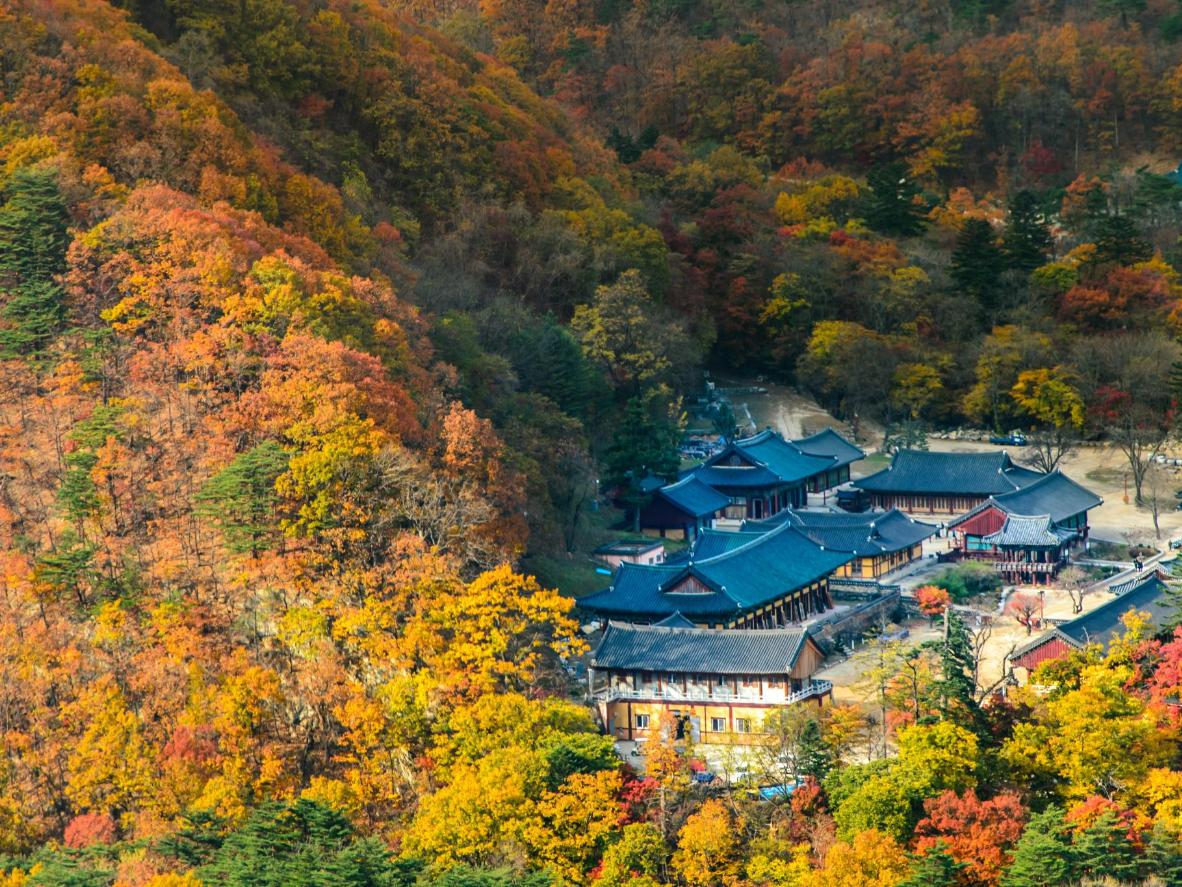 Enjoy hiking with views of ancient temples and autumnal forests in Seoraksan National Park
The mighty Seoraksan (or Mount Seorak) and encircling national park are often considered the top spot in South Korea for autumn scenery. It's a jagged, granite rock formation that juts out into the sky from the forest, with hiking trails crossing the crimson mountainsides.
The park also lays claim to a Buddhist temple that—although burned down and rebuilt—has stood here since the 7th-century. Plus waterfalls, fortress ruins, and a cable car (located three minutes from the park entrance) for those who want to enjoy the incredible views without the trek. Stay at Sono Felice Delpino and admire the mountains from the comfort of the outdoor swimming pool.
Bulguksa, Gyeongju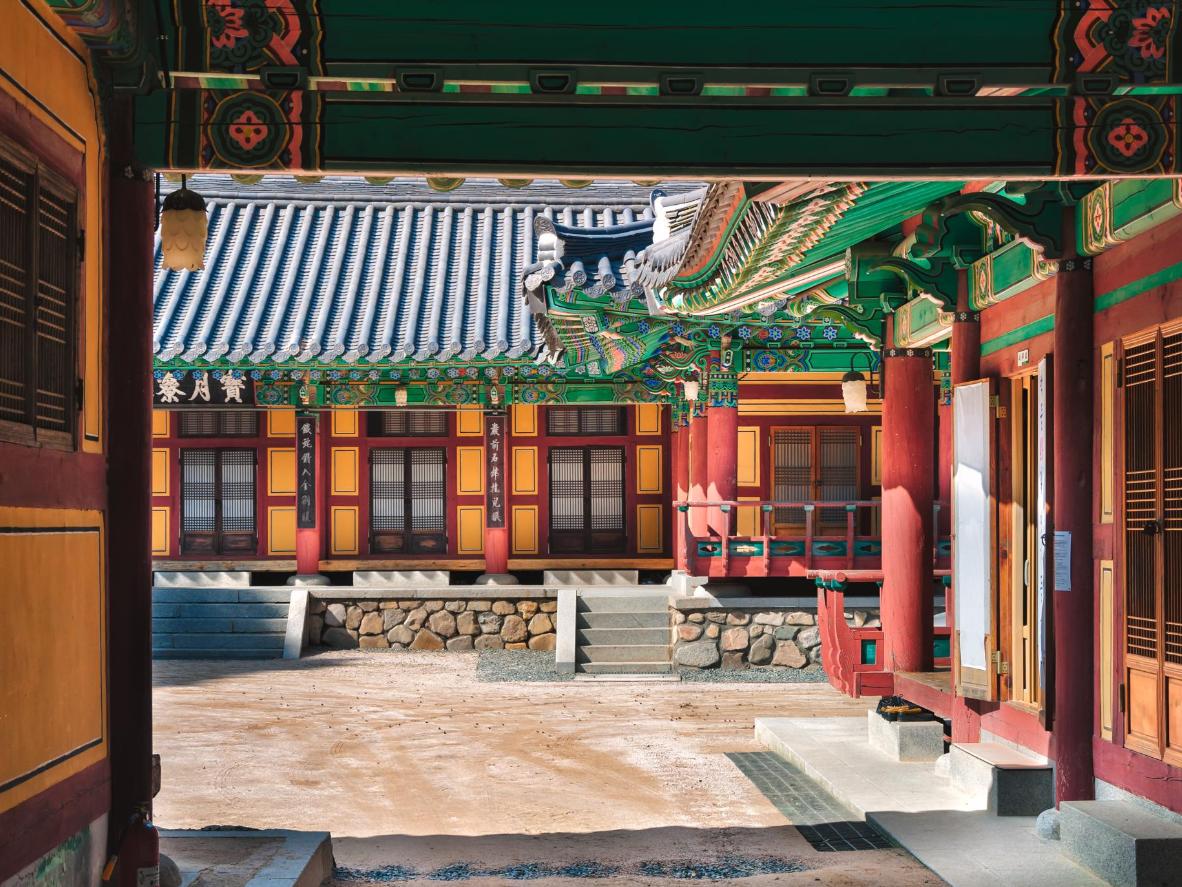 Discover traditional Korean architecture and history at Seokguram Grotto and Bulguksa Temple
For autumn leaves fluttering over ancient temples and pagodas, head to eastern Gyeongju. As the old capital of Korea, this city was once the heart of the Silla Kingdom and is still home to the UNESCO World Heritage Bulguksa Temple, built in 774 AD.
This historic Buddhist site can be found in the foothills of Tohamsan (Mount Toham), set on stone terraces and surrounded by pine forest. It's a vision in the fall, when the greenery turns red and gold. After admiring the temple's gardens, stone bridges, and serene lakes, stay close by at the highly rated Gyeongju Tiamo Pension.
Jeonju Hanok Village, Jeonju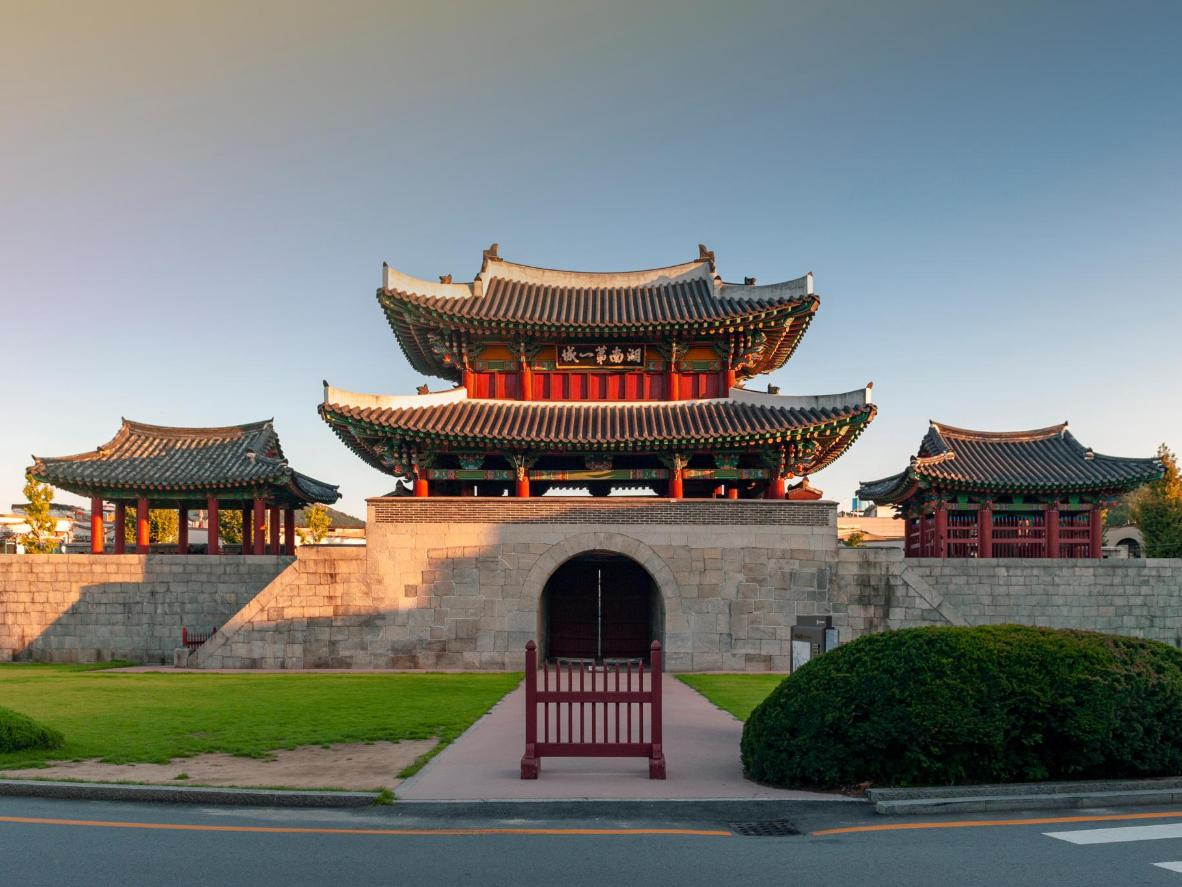 The Joseon Dynasty Pungnammun Gate has stood in Jeonju since 1768
Juxtaposed against the modern city of Jeonju, a visit to Jeonju Hanok Village feels like stepping back in time. The ancestral home of Korea's Joseon Dynasty family, this perfectly preserved collection of over 800 "hanoks" (traditional Korean houses) also boasts a cathedral, a Confucian temple, historic city gates, and the Gyeonggijeon Shrine.
Follow the Hanok Village Route past street vendors and traditional dance performances to observation decks where you'll enjoy one of the star local attractions – the view over the village's tiled rooftops. The best vantage point is Omokdae, a pavilion perched on top of a hill where Joseon Dynasty ruler, Yi Seonggye, celebrated a victory against Japanese pirates in 1380.
Autumn is a mesmerizing time to see the village and city beyond, dusted in shades of red and gold. While you're here, try a bowl of bibimbap, a delicious dish with rice, egg, vegetables, and Gochujang (chili paste) that's not only Korea's most well-known culinary export but more specifically, Jeonju's. Stay in an authentic hanok at the highly rated Yangsajae.
Danyang Para Village, Danyang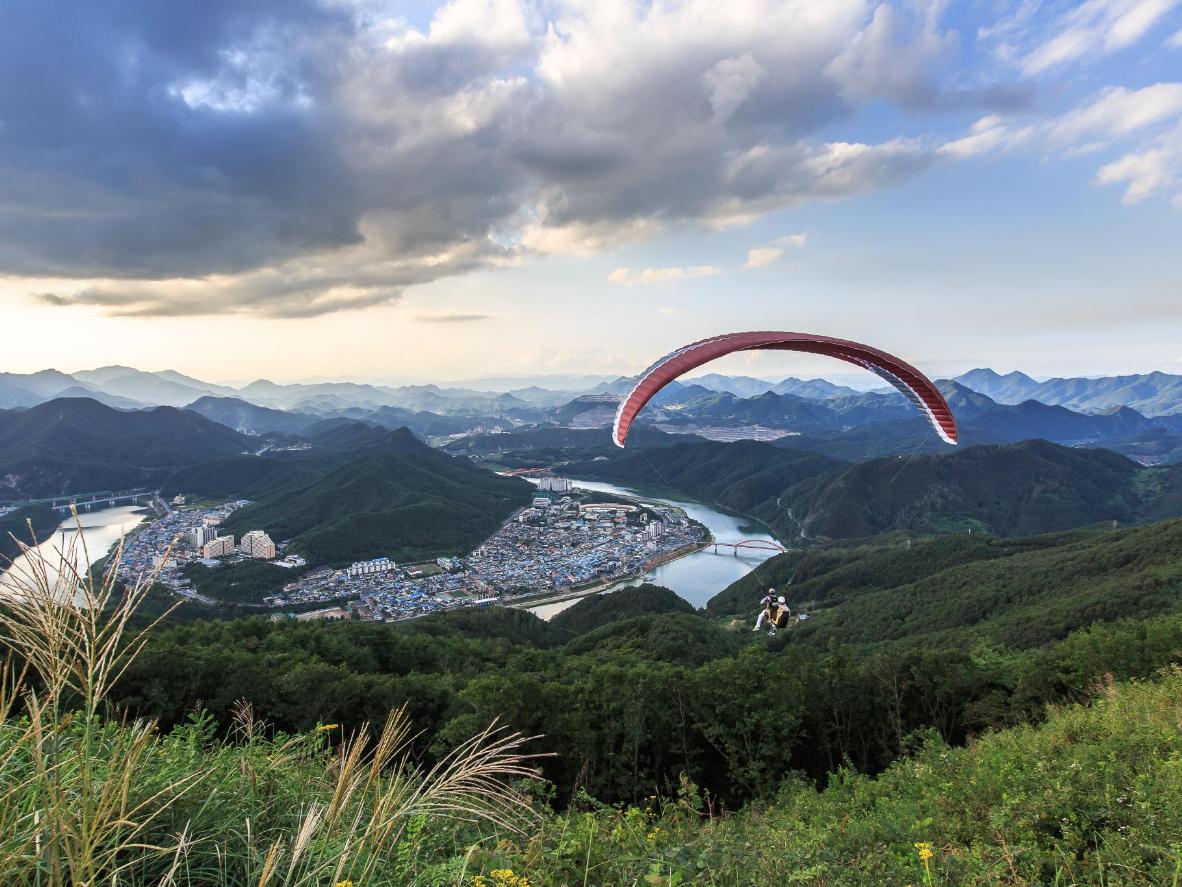 Soar over mountains and follow the Namhan River while paragliding in Danyang
To enjoy fall landscapes with a hit of adrenalin and unparalleled views, head to Danyang Para Village, just over two hours by bus from Seoul. This is a South Korean paragliding hotspot for adventurous travelers, where you can enjoy sensational views from the sky.
Soar over mountains and follow the Namhan River as it winds like a green ribbon through the amber forest below. After an exhilarating day, spend the night at the welcoming and relaxing Us On Earth, a guesthouse in Danyang.
Naejangsan Mountain, Jeollabuk-do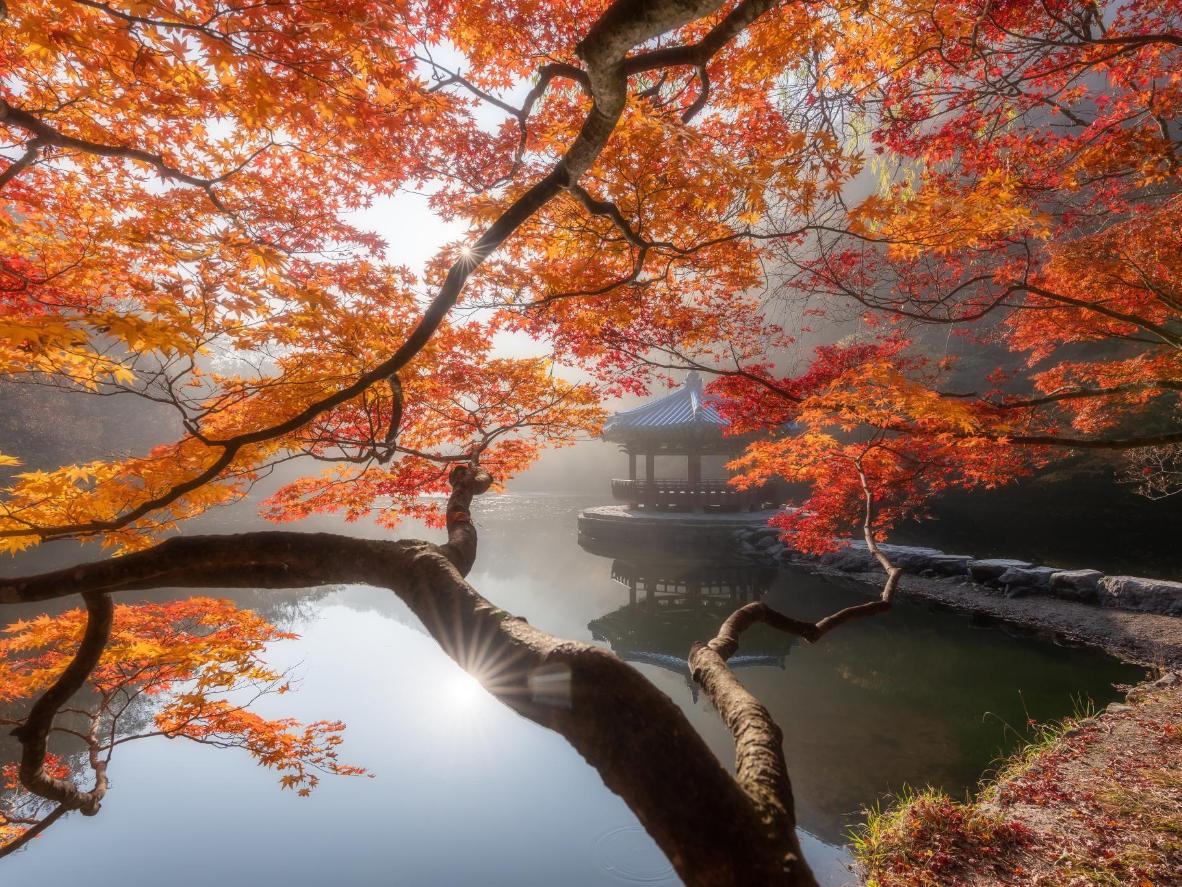 The incredible autumn scenes in Naejangsan National Park
Naejangsan National Park is beautiful anytime of year, but it's also one of the most popular maple season destinations in South Korea. It's located between Jeonju and Gwangju, straddling the border of the Jeollabuk-do and Jeollanam-do provinces. It's particularly famous for its captivating copper and crimson foliage but also for Naejangsan (or Mount Naejang), a peak that looms over the park at about 2500 feet.
Visit for a hike through crisp mountain air past beautiful cascades, the park's two famous Buddhist temples, and 600-year-old nutmeg trees. Or take the cable car to a mountaintop observatory where you'll be wowed by the colorful landscape. Head back to Gwangju to spend the night at the central Hotel The Spot.