Bangkok features an eye-catching skyline, with towering skyscrapers that sprout up between tropical foliage and temples and sparkle at night. The best place to appreciate sweeping panoramas of the Thai capital is from one of its rooftop bars.
For those looking to find the most photogenic spots to soak up these views, we've rounded up a selection of Bangkok's coolest rooftop bars – promising amazing city views, cocktails, and world-class cuisine.
Note that the dress code for many of these bars is smart casual and stipulates no flip-flops, sandals, or shorts – it's worth checking before you go.
Above Eleven at Fraser Suites Sukhumvit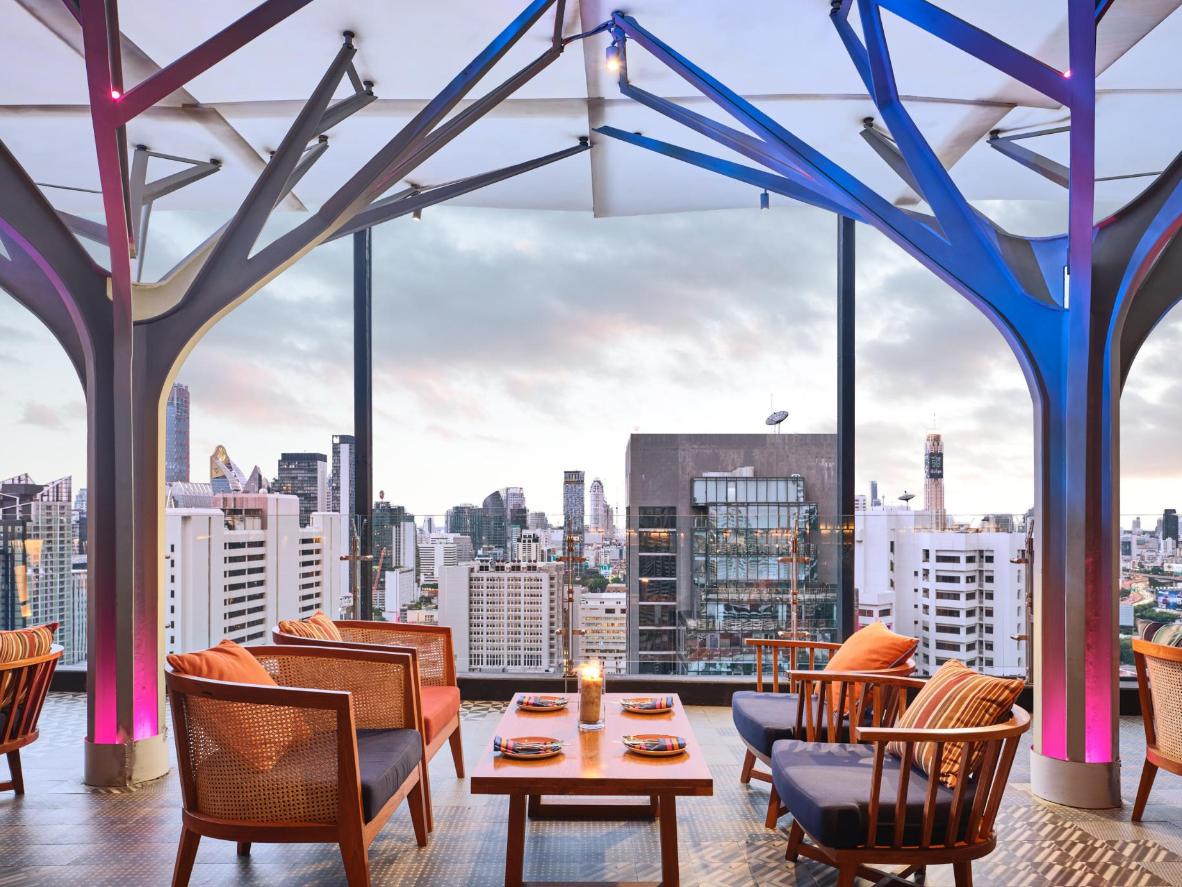 Enjoy a glitzy rooftop experience at Above Eleven
A lively cocktail bar and restaurant planted on top of Fraser Suites in Soi 11, one of Bangkok's most popular party streets, Above Eleven promises an exceptional city panorama with a glitzy rooftop experience.
Created by Peruvian-born head chef, Omar Frank Maruy, the menu features Nikkei cuisine. This culinary style fuses Japanese and Peruvian dishes, celebrating the two cultures' love of seafood and bringing together the lip-smacking flavor combination of chili and soy.
Above Eleven is open from 6pm until 2am, so you can come for a sunset cocktail or follow a few pisco sours with dishes like sea bass ceviche and octopus sashimi with avocado and grilled corn "a La Chalaca" (with a delicate and spicy tomato salsa).
Octave Rooftop Lounge and Bar at Marriott Hotel Sukhumvit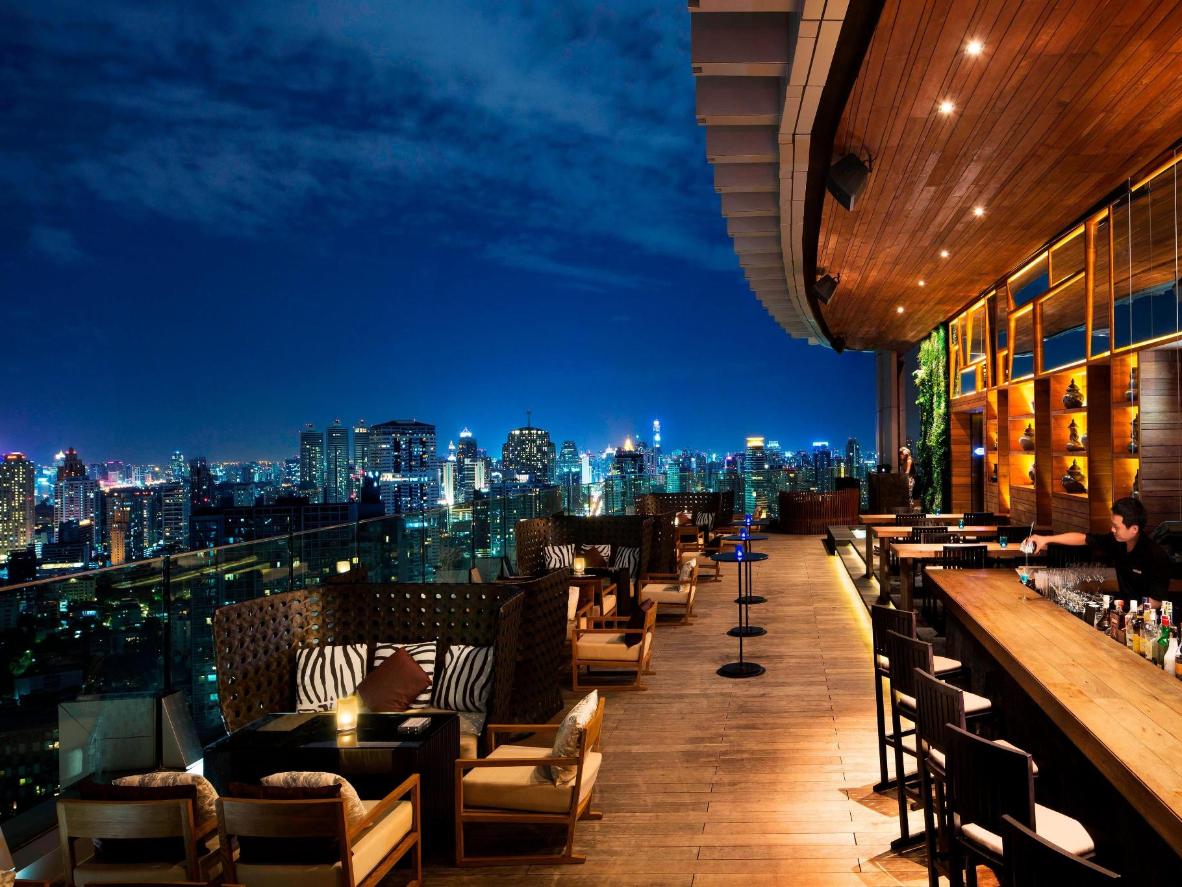 Head to the Octave Rooftop Lounge and Bar for surreal, 360-degree views
With only a seamless glass-panel barrier separating you and the glittering Bangkok skyline, the Octave Rooftop Lounge and Bar features surreal, 360-degree views.
It's located at the top of the 5-star Marriott Sukhumvit and is split over four stories – the first-floor lounge, the second-floor balcony bar, and the third floor with incredible views and a lit-up circular bar that glows bright blue.
The top floor, and star attraction, has a glamorous ambience, Asian fusion food, live music, and a wide selection of cocktails. Try the Thai Mojito with Mekhong (Thai rum), Thai basil, lime, and spicy mango. Or, taste the "Bloom Over The Roof" with red berry tea-infused vodka, mint, and elderflower.
CRU Champagne Bar at Red Sky, Centara Grand at CentralWorld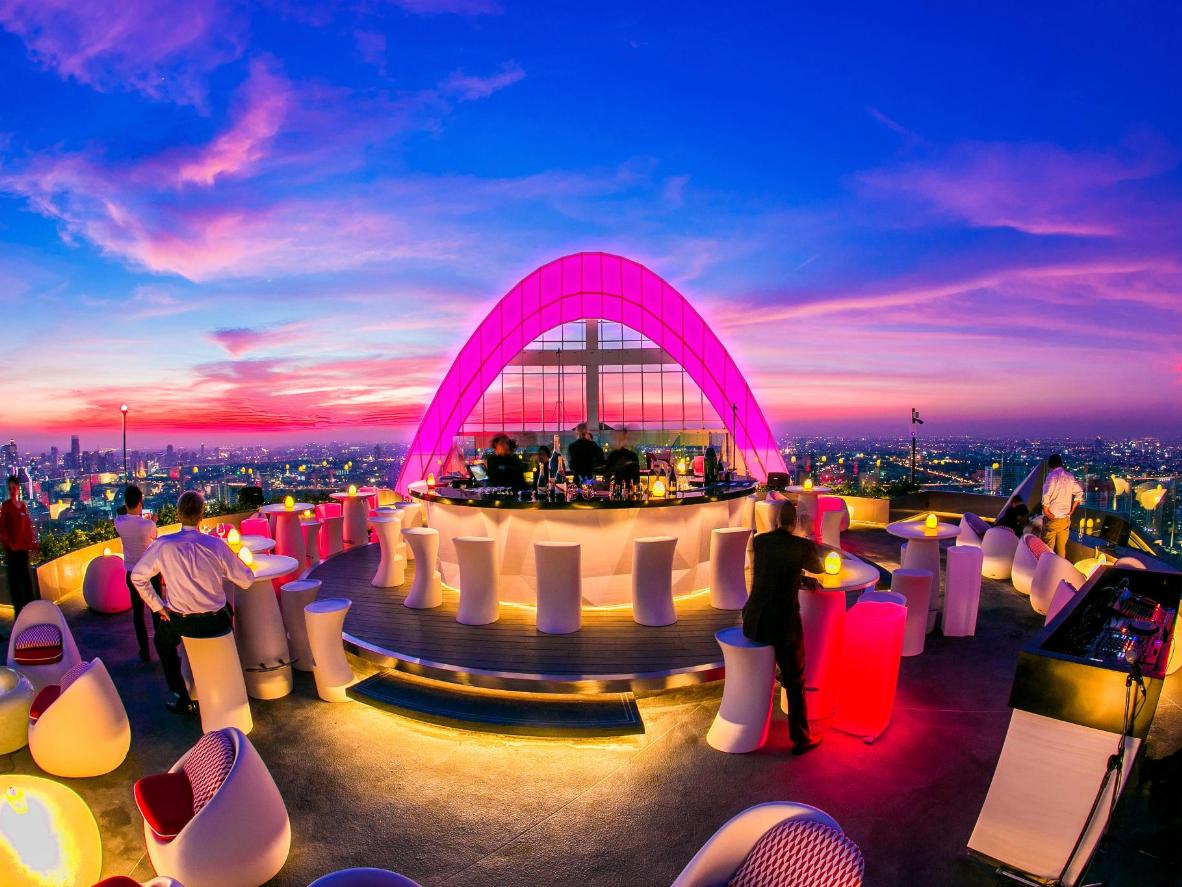 Try an extensive range of champagnes and signature cocktails at CRU
If you're in a celebratory mood or marking a special occasion, this champagne-themed rooftop bar is the one. Serving up a range of big brands alongside signature champagne cocktails, CRU Champagne Bar at Red Sky is named after the French "Cru" – a word that categorizes vineyards according to their quality.
Step into a glass elevator and fly to the top of Centara Grand at CentralWorld to discover this al fresco haven with breathtaking Bangkok skyline views. It's open from 5pm to 1am with entry on a first-come first-served basis, and the early bird gets the best spot.
It depends on what you're after, though. Come at sunset for a relaxed drink accompanied by gourmet snacks like a platter of oysters and a photogenic golden hour view. Or arrive after 9pm for a round of Bangkok Bellinis and a party vibe.
Sky Bar at Lebua State Tower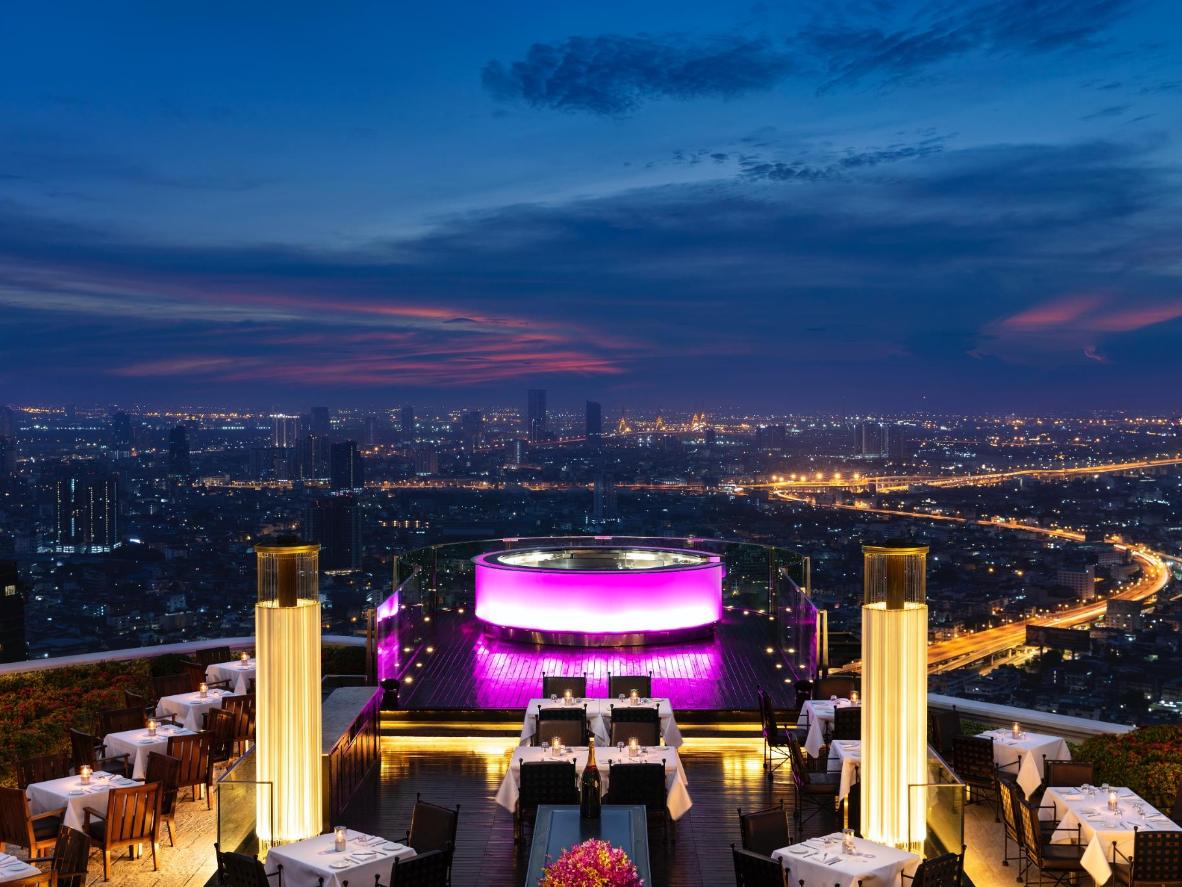 Sky Bar sits on the 63rd floor of the imposing Lebua State Tower
Head up to the 63rd floor of the imposing Lebua State Tower for arguably the best views of Bangkok, with the Chao Phraya River flowing just below. The 360-degree views are so impressive, in fact, that it's frequently ranked among the world's best rooftop bars and was featured in The Hangover Part II.
And the cocktails aren't bad either – for fans of the Hangover film franchise, the bespoke Hangovertini will deliver. There's also an enticing selection of signature alcoholic and non-alcoholic cocktails, from the gin-spiced margarita to the "Purple Sky" with vodka, Pimms, cherry brandy, green apple, butterfly pea, and ginger beer.
Sky Bar is open from 5pm to midnight, so come up for a sun-downer drink and stay until the modern island bar lights up and changes color, with the cityscape forming a dramatic backdrop.
Vertigo and Moon Bar at Banyan Tree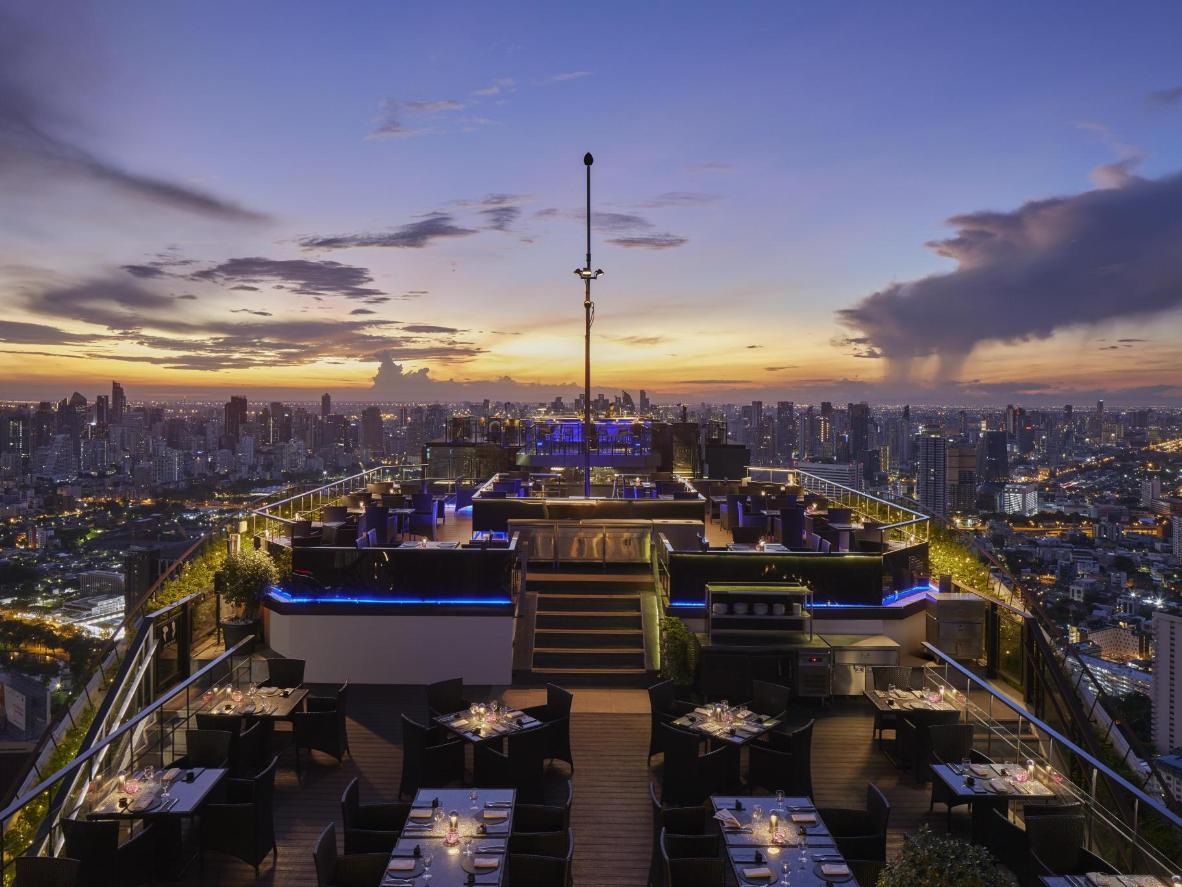 Vertigo and Moon Bar promises an unforgettable fine-dining experience
The spectacular Moon Bar shares the 61st floor of the Banyan Tree Bangkok with Vertigo, a restaurant offering an unforgettable al fresco fine-dining experience.
Come for an extravagant meal or just for drinks – the menu offers a variety of high-end wines and tropical fruit cocktails crafted by skillful mixologists.
Soak up the sunset and the stunning Bangkok views on all sides while sipping on a margarita or martini made from lychee, passion fruit, or mango.
Tichuca Rooftop Bar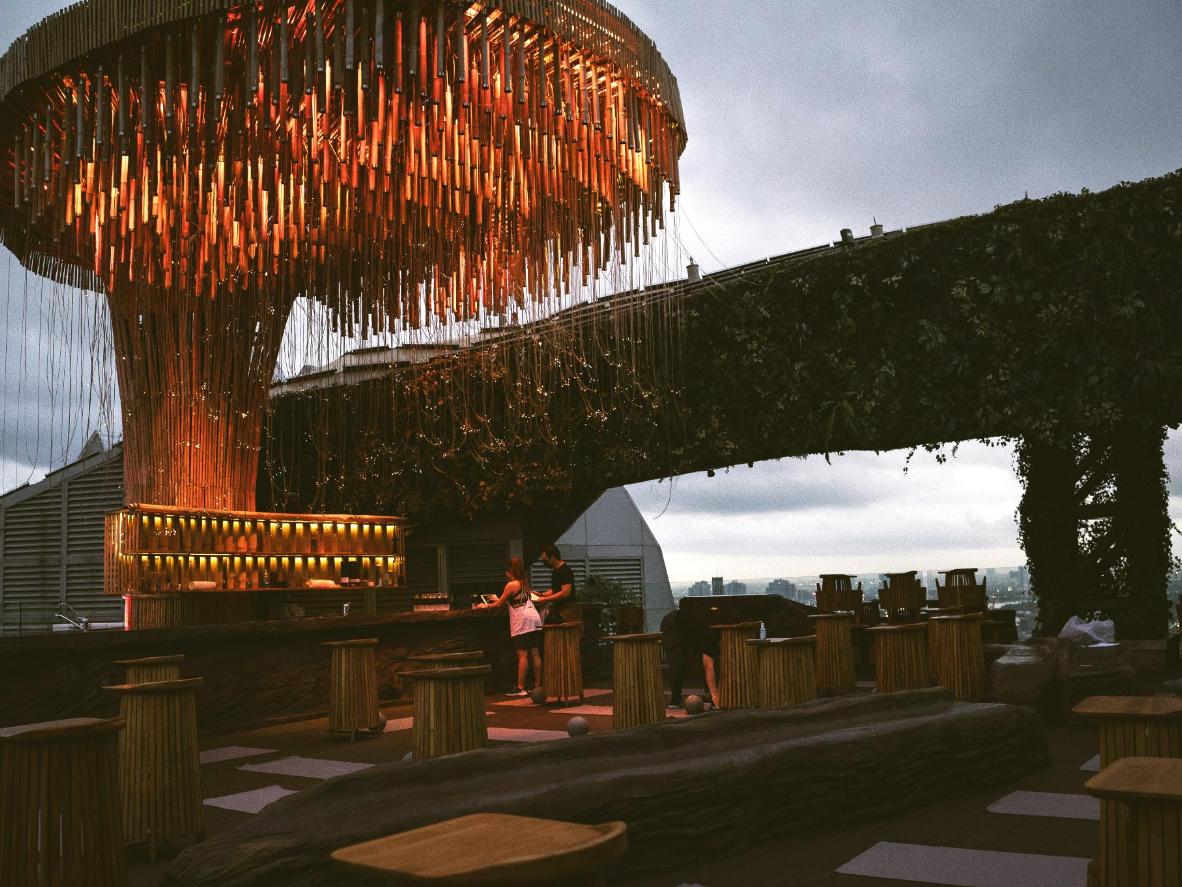 Admire the Avatar-esque artificial tree at Tichuca Rooftop Bar
The jungle-themed Tichuca Rooftop Bar is famed for its huge, Avatar-esque, LED-illuminated artificial tree, which sways behind the bar to hypnotic effect. It's an attraction that's gone viral on TikTok and become a Bangkok must-see, but the bar is also popular for its city views.
Comprising the top three floors of the T-One office building, Tichuca is an elevated, multi-tiered oasis with greenery, tiki-style cocktails, music, and a party atmosphere. It's worth going early to avoid disappointment—sometimes they refuse entry after 10pm because it's too busy—and be prepared to wait for an hour or two if you're arriving late on Friday or Saturday evening.
Stay just opposite the bar at the Ascott Thonglor Bangkok.