Eastern Europe is a hive of activity when it comes to bars and pubs – with up-and-coming venues specialising in craft brews and unusual liqueurs often escaping the notice of visitors. Count yourself among those in the know when you head to any of these top spots.
Artisanal cocktails in Warsaw, Poland
Have the bartenders whip you up a cocktail of your own making
Forget vodka, Warsaw's budding cocktail scene is currently the most pressing reason to visit the Polish capital. Kita Koguta is one cocktail bar that succeeds in providing expertly mixed drinks in unpretentious surroundings; split over two floors and with a focus on industrial decor, the space has plenty of room to stretch out in and sample a gin and absinthe beverage finished with a drop of chocolate oil. Or any of the dedicated bartenders can whip you up a classic or invented-on-the-spot cocktail of your choosing.. Next up, in the quiet neighbourhood of Mokotów you'll find Bar Wieczorny, a leafy drinking den that's ideal for a nightcap after a movie screening at the Iluzjon cinema. Classic cocktails with signature twists are this bar's strength, so look out for the white Negroni with gin, Suze bitters and Lillet (fortified wine), or an espresso tonic. Last but not least, old world-themed The Roots bar is a central and glitzy choice, where you can try an unusual spelt vodka-based cocktail. The Bez Kantów Boutique Rooms is a short walk away once you're done for the night.
Concepts bars in Bucharest, Romania
Try botany-inspired drinks at FIX
Bucharest does drinks its own way – whether that's botany-inspired bars or concept stores serving craft beers. Make a bar called FIX your first stop. Adorned with sharp metal frames, dimly-lit pendants and canopies of festoon lights, FIX has a sparse interior that still feels intimate. It prides itself on its drinks infused with Eastern European botanicals and lesser-known ingredients. Try a 'serberry tonic', a new spin on a G&T that includes seaberry and herbal liqueur, or the dryly named 'being John Leskovacz', which is a concoction of quince gin, blonde beer, blueberry shrub, yuzu and prosecco. Another recommendation is The Urbanist, a true product of the 21st-century that combines a hairdressing salon, a tattoo parlour, a café, a live music venue and a craft beer bar all in one exquisitely chic package. After catching a gig and a cocktail here, saunter down to Fabrica De Bere Bună to try a local craft beer, created by the people producing local amber ale brand Zăganu. When bedtime calls, stay at Crystal Palace.
Intimate atmospheres in Belgrade, Serbia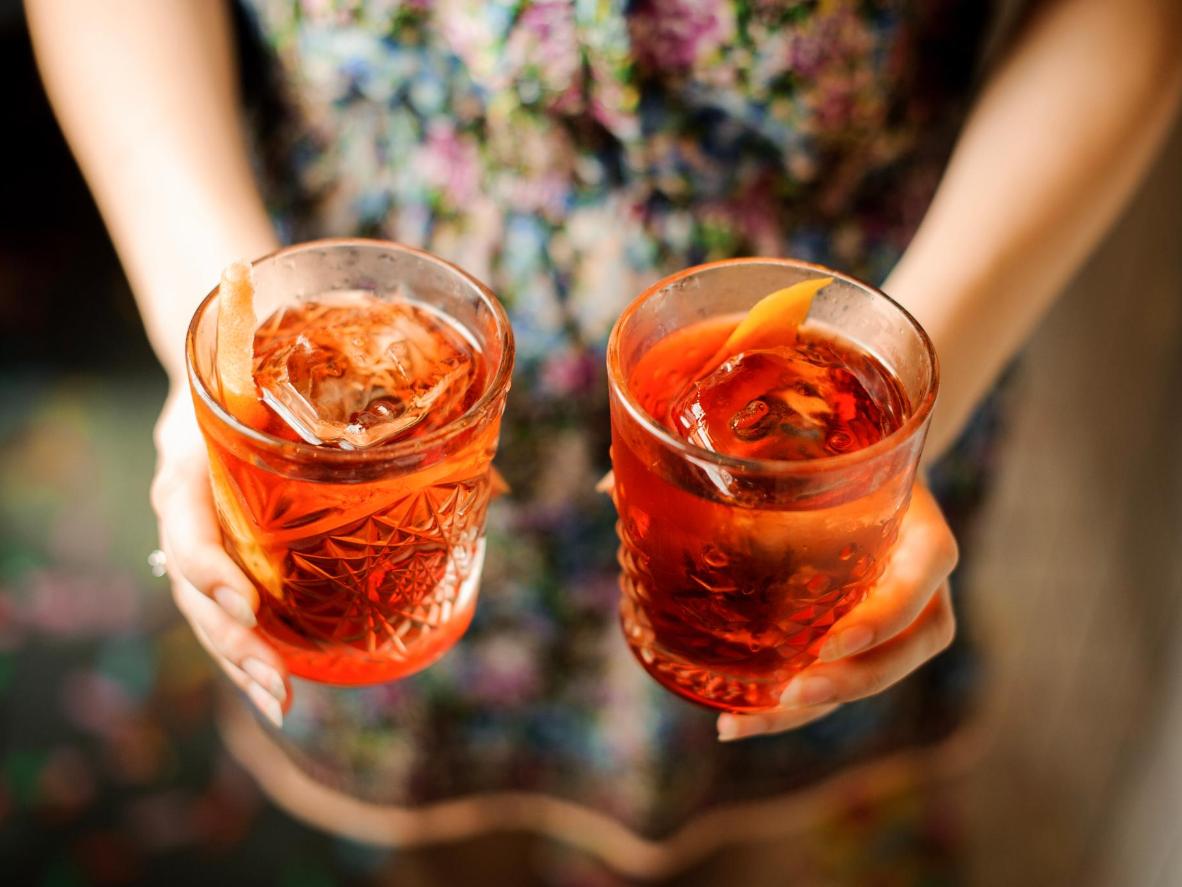 Bar Central has over 600 cocktails to choose from but the Negroni is always reliable
Belgrade is known as one of Europe's nightlife capitals, whether that means beers by the river or clinking glasses of rakia with fellow patrons in a small neighbourhood bar. Head to the Dorćol neighbourhood for reclaimed spaces in a nostalgic, industrial setting such as Radionica Bar, a renovated workshop with Crittall-style doors. Make your next stop Bar Central, an important port of call for expert cocktails. An award-winning institution, it's both classy and lively without being pretentious. And the menu has over 600 cocktails (both alcoholic and non-alcoholic), so you might need to ask a bartender or a fellow patron for a recommendation. For those after even more hushed surroundings, enjoy a glass of wine at Jazz Bašta, a sultry jazz bar with a Provence-style terrace. Hotel Majestic is an equally ambient option, when it's time to call it a night.
Beer halls and gardens in Prague, Czech Republic
Take in panoramic views of the city from the beer garden
The Czechs have a global reputation for producing some of the world's best beer and their capital city is as good a spot as any to sample a few of the best (and most affordable) brews around. Opt for the Staropramen Brewery for a familiar brand and drinking experience, or head to a beer hall for something more atmospheric. When it comes to homely pubs, Hostinec U Tunelu is one that serves a variety of beer on tap. Then there's Klášterní pivovar Strahov, a brewpub located within Strahov Monastery that was once home to a monastic brewery but is now a warmly decorated drinking den where you can savour creamy, dark tmavý band polotmavý (amber) brews. Finally, the hilltop Letná Beer Garden in the park of the same name is arguably the city's best watering hole, courtesy of its panorama of Prague's romantic spires. Spend an afternoon here before another round of beers at the brewery hotel U Medvídků.