For what's supposed to be the most romantic moment of your life, the setting ought to be extraordinary. And with landscapes ranging from arctic blue lakes to rose-gold sandy beaches, Canada is a foolproof option.
So if you're thinking about popping the question but are unsure of how to set the scene, here are five of the most beautiful places to propose in Canada.
Lake Louise, Alberta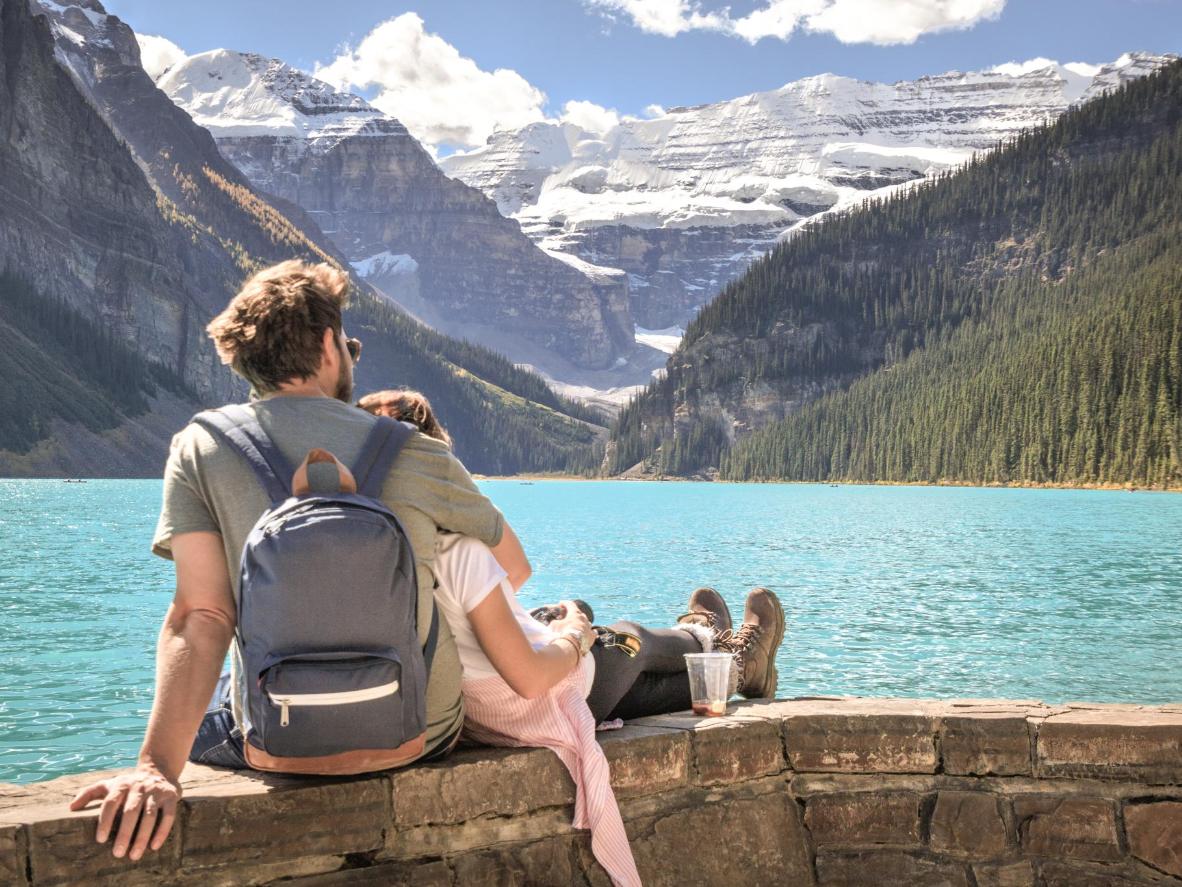 Visit the arctic blue Lake Louise and find a solitary and scenic spot to propose
You may not get points for originality but you can't score more for scenery than by proposing aside Lake Louise, one of the star attractions of Banff National Park. In winter, the valley is thick with snow and you can ice skate on the lake's frozen surface before getting down on one knee. But when the ice melts in spring is when the scene is most extraordinary (and romantic), as thawed glacier silt has slowly seeped into the water and given it a brilliant arctic blue hue that glows in the sunlight. The months of July and August are the best times to see it but even in summer, it's too cold for a dip; so hire one of the red canoes available instead and glide out across its incandescent surface to find a solitary spot to propose. Or you could pop the question at a lookout along one of the hiking trails that hug the shoreline, with a backdrop of snow-capped mountains, glacier, fir, pine and aspen forest and the grey, turreted lakeside hotel, Fairmont Château Lake Louise.
Québec City, Québec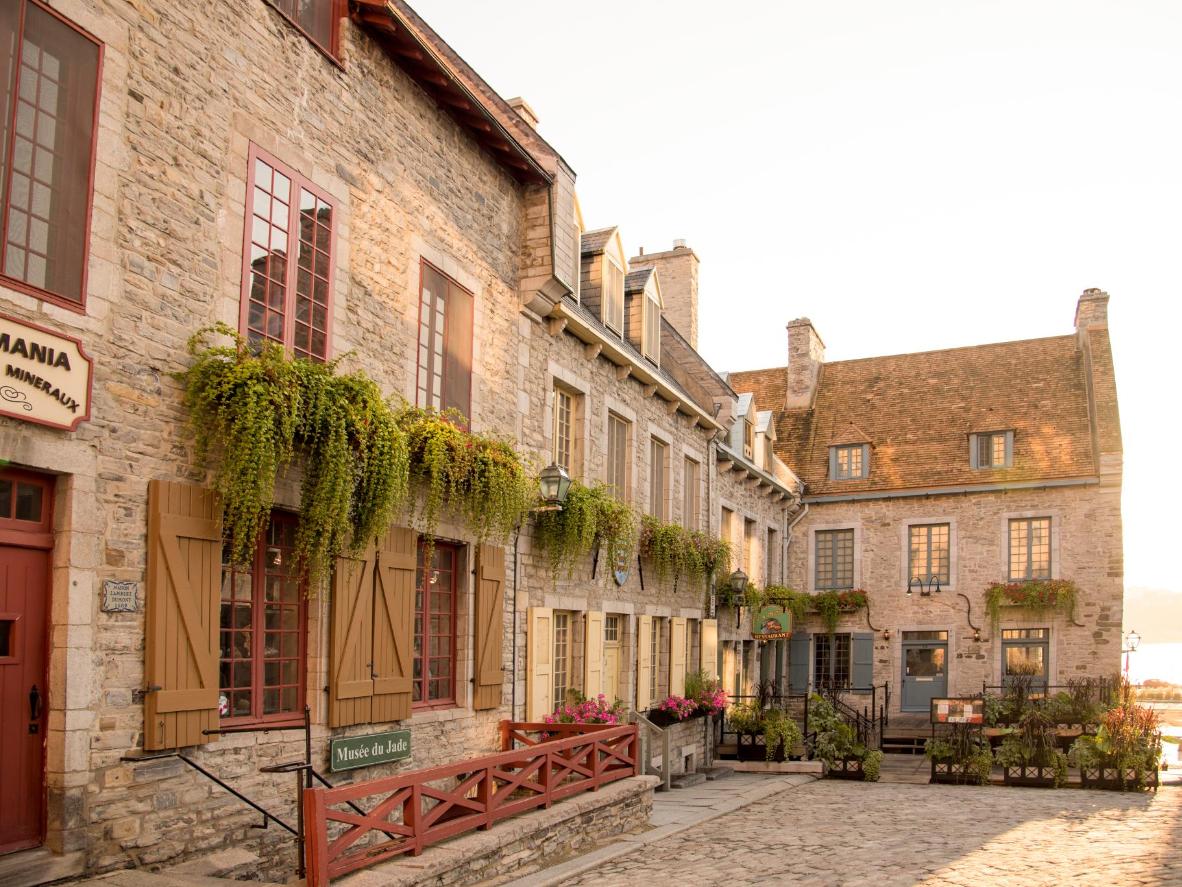 Pop the question in Québec City's irresistibly pretty main plaza, Place Royale
Sharing Québec City's hilly, cobbled streets with horse-drawn carriages and harp players makes for a very whimsical wander. Even though it's the capital of the eponymous province, it feels more like a quaint European village and is home to the only walled town in North America. If you're not shy about having an audience, get down on one knee in the old town's irresistibly pretty main plaza, Place Royale. Or while walking along the Dufferin Terrace, a boardwalk from where the view extends all the way down the St Lawrence River. If you're after a more subdued setting, there's the historic Victorian library in the Morrin Centre, or the Roger-Van den Hende Botanical Garden, under the shade of a vine-draped pergola. Stay just a 2-minute walk from Place Royale at Auberge Saint-Antoine, where restrained tones of taupe and lilac contrast with peacock-blue upholstery.
Whistler, British Columbia
Plan an unforgettable proposal on top of a mountain in Whistler
Proposing on top of a mountain will no doubt be unforgettable, and Whistler is brimming with locations that are perfect for it. There's even a secluded spot (with a tell-tale sign) called 'Proposal Corner', which can only be accessed on foot (snowshoes required) or cross-country skis in winter. From candlelit restaurants and hotel jacuzzis where you can sip on Champagne, to helicopter flights over the resort, there are ample opportunities for popping the question. If you're looking for something less prescribed, you could propose in your pod or at the top of the Peak to Peak gondola, where the brilliant-white, mountainous panorama makes a splendid backdrop. Celebrate your proposal with a stay at the Four Seasons Resort Whistler.
Prince Edward Island, Prince Edward Island
Prince Edward Island's bucolic landscape is infinitely romantic
Prince Edward island is the setting for Anne of Green Gables and its bucolic landscape is made up by a patchwork of meadows, painted cottages and beaches marked by lonely lighthouses. It's the smallest province in Canada but boasts more than enough romantic places to propose; from the rose-gold sands of Cavendish Beach, to beside gabled, clifftop farm houses along the Confederation Trail, a car-free path running the length of the island. Seafood is the local speciality, so after the proposal you can feast on fresh lobster and mussels to celebrate. Stay in a white wooden cottage with pillar box-red shutters at Green Gables Bungalow Court, just a 7-minute drive from Cavendish Beach.
Saskatchewan Lakes, Saskatchewan
Propose on a remote beach bordered by boreal forest aside the Saskatchewan Lakes
The prairie province of Saskatchewan is home to around 100,000 lakes and is littered with scenic nature spots for getting down on one knee. There's Manitou Lake, whose mineral and salt-rich water lets you float on the surface, much like the Dead Sea. Or head to the southwest shores of Waskesiu Lake, within the Prince Albert National Park, to propose on a remote beach bordered by boreal forest. Pack a picnic and spend the day swimming, sunbathing and hiking before lounging on the sand to watch the sunset – when the water is calm, and romantic red and auburn hues permeate the scenery. The province is huge but a good place to base yourself between Manitou Lake and Prince Albert National Park is the Wild Rose B&B in Saskatoon. Or explore the south of Saskatchewan while staying at the penthouse suite complete with heart-shaped bed at Wakamow Heights B&B.