There are approximately 5,217 public airports flying 2,900,000 passengers day in and day out of the US – that's a lot of flights to manage! But today, the airport has become so much more than getting travelers from A to B. Some passengers look forward to the pre-flight shopping, others, might look forward to a coffee or something to eat from their favourite restaurant or even trying somewhere new considering there is so much choice when it comes to airport refreshments!
And with some states having more than one airport to chose from, and the unique experience that different airports offer, Booking.com decided to rank the best US airports based on a number of key metrics such as percentage of flights that depart on time, average Google review score, average daily aircraft operations, total passengers on flights, the number of shops and restaurants and finally the time is takes to drive to the airport from the city centre where the airport is based. Let's take a look at the airports that scored within the top 10 below.
US airports that scored within the top 10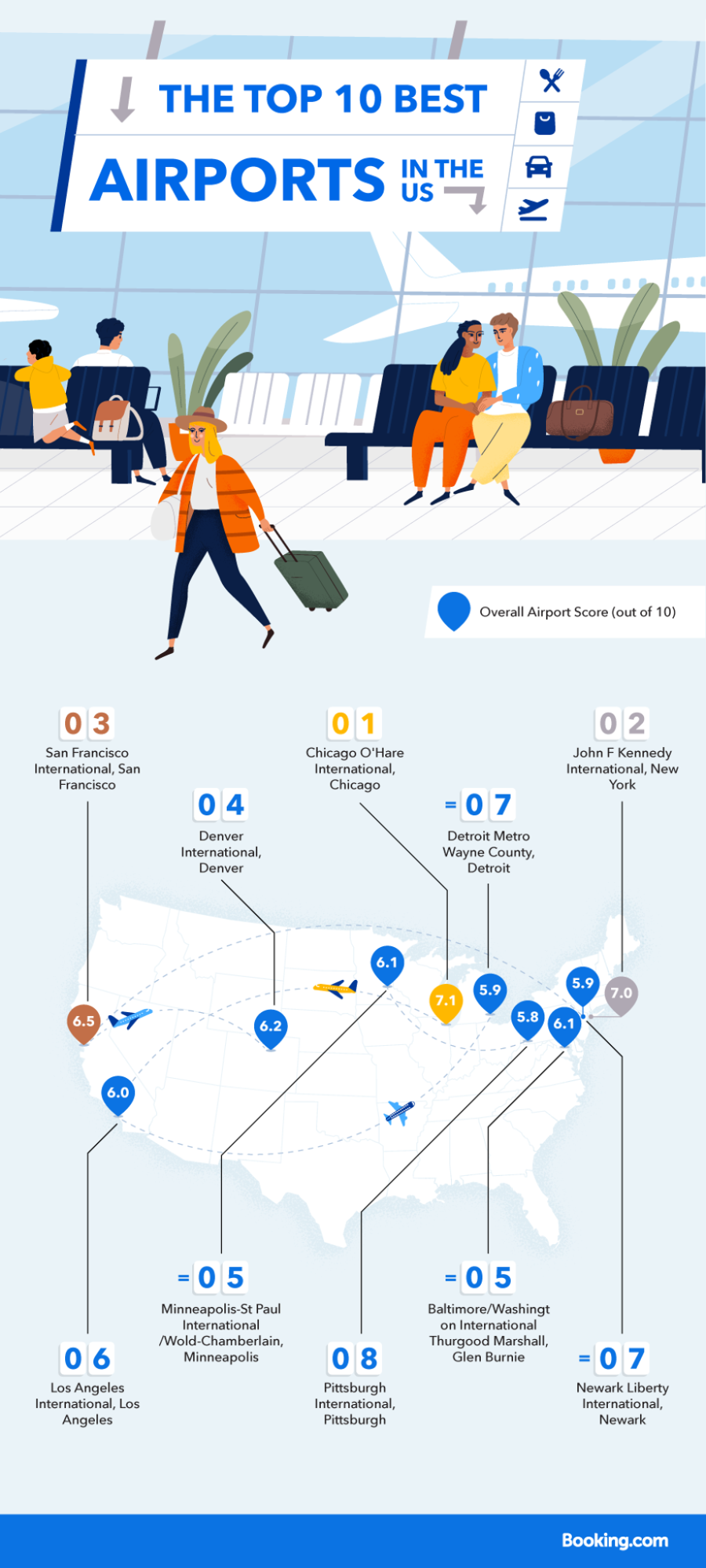 Taking the top spot for the best airport in the US with a score of 7.1 out of 10 is Chicago O'Hare International which sits 17 miles northwest of the business district. So what's so special about this airport? Well, there are a number of things on site that you would expect to get anywhere in a city including an on-site hotel, a Mother's Room, Yoga Room, access to Hilton Health Club and a world-renowned public art space which is part of the city of Chicago's public art program.
This airport also takes time-keeping very seriously, with an on time score of 80.3%, showing there are minimal delays at its terminals. There are over 160 restaurants and eateries to choose from and over 100 shops where passengers can make a last minute purchase or pick up something special for their trip.
In second place is the John F Kennedy International airport in New York, the main international airport serving New York City. The airport is the busiest of the six airports in the New York airport system, the 13th-busiest airport in the United States, and the busiest international air passenger gateway into North America.
This airport was renamed on December 24, 1963, a month and two days after the assassination of its namesake, President John F. Kennedy. Boasting 121 shops and 139 restaurants, as well as massage parlors, nail bars and skincare stations, this airport has many amenities to ensure you're fully relaxed and pampered before you take to the skies.
In third place is San Francisco International Airport, scoring 6.5 out of 10. According to our research, the airport ensures that 82.6% of flights depart on time, but the airport does fly around half of the passengers of the highest scoring airport, Chicago O'Hare International, which is also reflected in the relatively smaller number of average annual passengers of just over 57,000,000.
Compared to other US airports, San Francisco International's number of shops and restaurants are significantly lower, 59 and 66 respectively. However, this might mean that due to the lower number of outlets, eateries and daily operations, the airport is able to provide a more personal level of customer service. The above average score of 4.3 out of 5 on Google Reviews does support this element of overall customer satisfaction.
Take a look at where your nearest airport has ranked in the graphic below:
There are other notable airports in the rankings, including Orlando International, which has one of the lower numbers of average daily aircraft operations, at 980. Comparatively, the airport has around 103 restaurants, which is well above the average of 46.7 of the airports analyzed in the index. Orlando also has twice the average number of shops, with 82 outlets. Scoring midway on the rankings at 5.3, the average typical drive to the airport from the city centre is a mere 18 minutes, which does add to the comfort factor of the travel experience.
Orlando airport is ranked just outside of the top 10 US airports, but it's easy to see why the airport has to maintain an efficient service to hordes of excited travelers and arrivals. Home to a variety of theme parks and entertainment options, Orlando was expected to draw more than 3 million visitors between June and the end of August 2022, as it was tipped to be the summer's top US destination for tourists.
San Diego International is one of the smaller airports on the list, with just one runway. In a year, the terminal typically operates 634 flights and just over 25 million passengers depart and arrive both domestically and internationally. San Diego International Airport is proceeding with a redevelopment plan, starting with the reconstruction of Terminal 1. This work is scheduled to be completed by 2026. The number of gates will increase from 19 gates in the old Terminal 1 to 30 gates in the new Terminal 1. These expansion plans will be a welcome addition as San Diego, California continues to be a top tourism destination, even post-pandemic.
Hartsfield-Jackson Atlanta International Airport might have scored at the lower end of the index (5.1), but its review scores and operational metrics are mighty. With an average of 87.1% of flights departing on time and serving over 110,000,000 million passengers annually, this airport is running as smoothly as some of the higher scoring operations. However, what has impacted the overall index score is the smaller number of shops and restaurants that serve a disproportionately higher number of passengers.
Known as America's busiest airport, Hartsfield-Jackson Atlanta International will soon welcome a private terminal service for airline passengers to help alleviate wait times at checkpoints which have been stretching to 45 minutes on busy mornings. The PS VIP lounge will open this fall and enable travelers to avoid the main terminals, with private TSA security, customs, immigration and lounge facilities.
Now you know the key metrics that make an airport run smoothly and provide a fun, relaxing and enjoyable experience, you can use this index to help you decide which airport to depart from and arrive at for your next vacation!
Methodology
For the busiest 50 US airports, ranked by 2019 enplanements (numbers of passengers boarding), Booking.com assigned them a score based on rank for % of delayed flights, their average Google review score, the number of shops and restaurants per the total number of passengers, the typical driving time to the nearest city centre according to Google Maps, and the number of annual aircraft operations and passengers (based on 2019 data*). Booking.com then ranked the airports based on the average score of each of these statistics.
*2019 data has been used as this was the last full year of data pre-COVID.
Data
The full data set is available upon request.