Chile is a veritable paradise for a retreat into the wild, especially if you're keen for some pampering thrown in – it's a country with myriad spa hotels that capitalise on the stupendous natural landscape. Here are five of the best, featuring infinity pools with enthralling views over desert, valleys, lagoons and glaciers.
Tierra Patagonia Hotel & Spa, Torres del Paine
Enjoy unblemished views of Sarmiento Lake as you float in this hotel's heated pool
Perched on the edge of Sarmiento Lake, Tierra Patagonia Hotel & Spa is an example of architecture blending seamlessly into the natural world. The hotel is a wave-shaped building clad in wood that curves along the shoreline – a design intended to mimic the appearance of a giant fossil. The inside is furnished in local Lenga wood with towering windows. Head to the spa where you'll be greeted with unblemished views of the lake as you float in the heated pool, fresh from a restoring massage. Afterwards, muster up the courage to take part in one of the hotel's storytelling contests or simply sit on the terrace with a glass of Chilean wine.
Vik, Millahue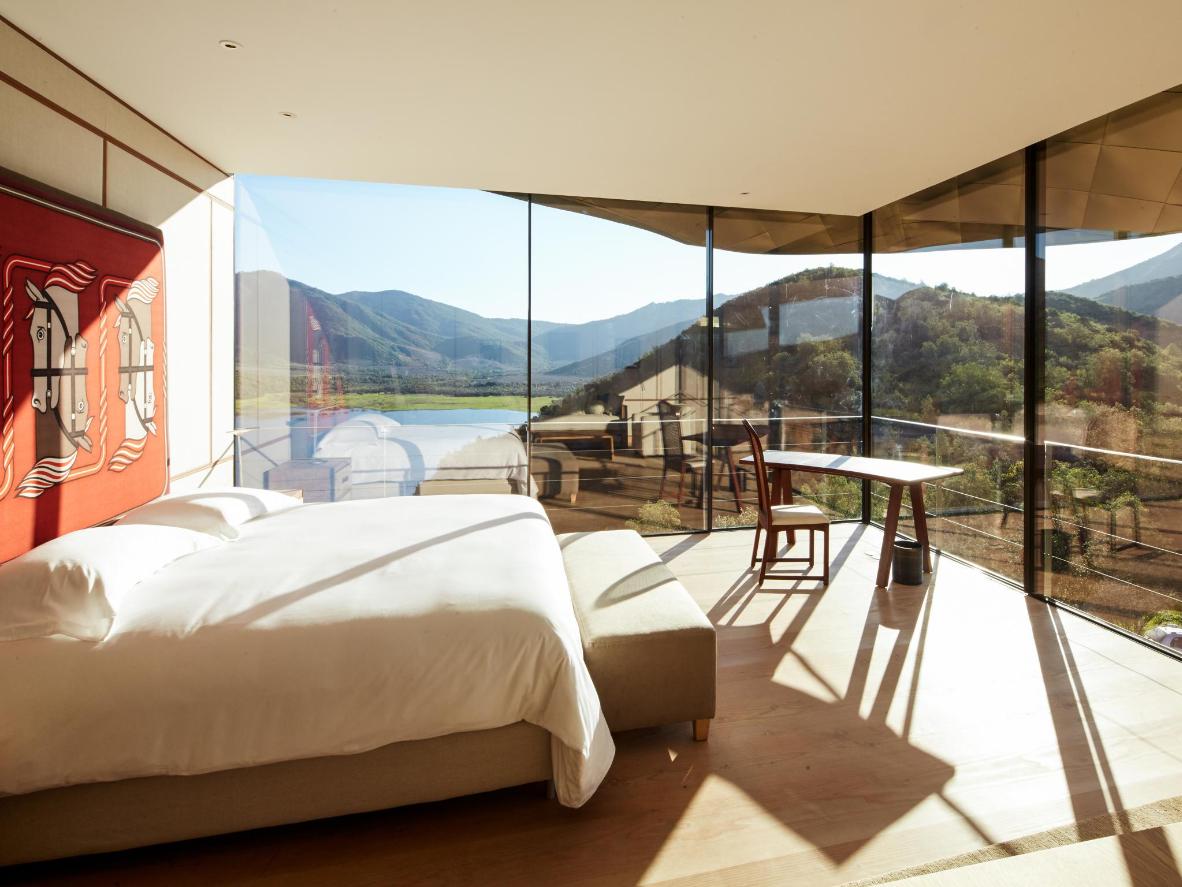 Vik's floor-to-ceiling windows offer sweeping views
Vik Chile is constructed from glass and metal, a stark contrast to the lush vineyards and mountains that surround it. It's made up of 22 suites, all of which have floor-to-ceiling windows and combine art deco patterns with Japanese design features (think shoji screens) for a contemporary, minimal look. Then there's the eye-catching infinity swimming pool, which looks out over the Millahue valley and lagoon. And a spa inspired by the surrounding vineyards, where you can expect body treatments involving generous amounts of wine (including a wine bath) and grape seed-infused products. Head to the hotel's Zen garden in the evening, when the sky above forms a clear, star-studded canopy.
Hotel Awa, Región de los Lagos
Relax in the indoor pool at Hotel Awa and you'll be afforded views of Chile's snow-capped Osorno Volcano
It's hard to miss Hotel Awa. Its towers of glass and stone stand on the shoreline of Llanquihue Lake, facing the snow-capped Osorno Volcano across the water. Design aficionados will delight in this property, where Mapuche fabrics are draped throughout, volcanic rock and wood feature regularly and the look and feel is a bit forest cabin meets mid-century chic. But expect the spa to dazzle most of all; equipped with a 25-metre-long heated indoor pool (and another warmer one), this is the place to linger on the volcano views. There's a heady and revitalising scent of wood and citrus here, so breathe it all in during your royal jelly facial.
Tierra Chiloe Hotel & Spa, San José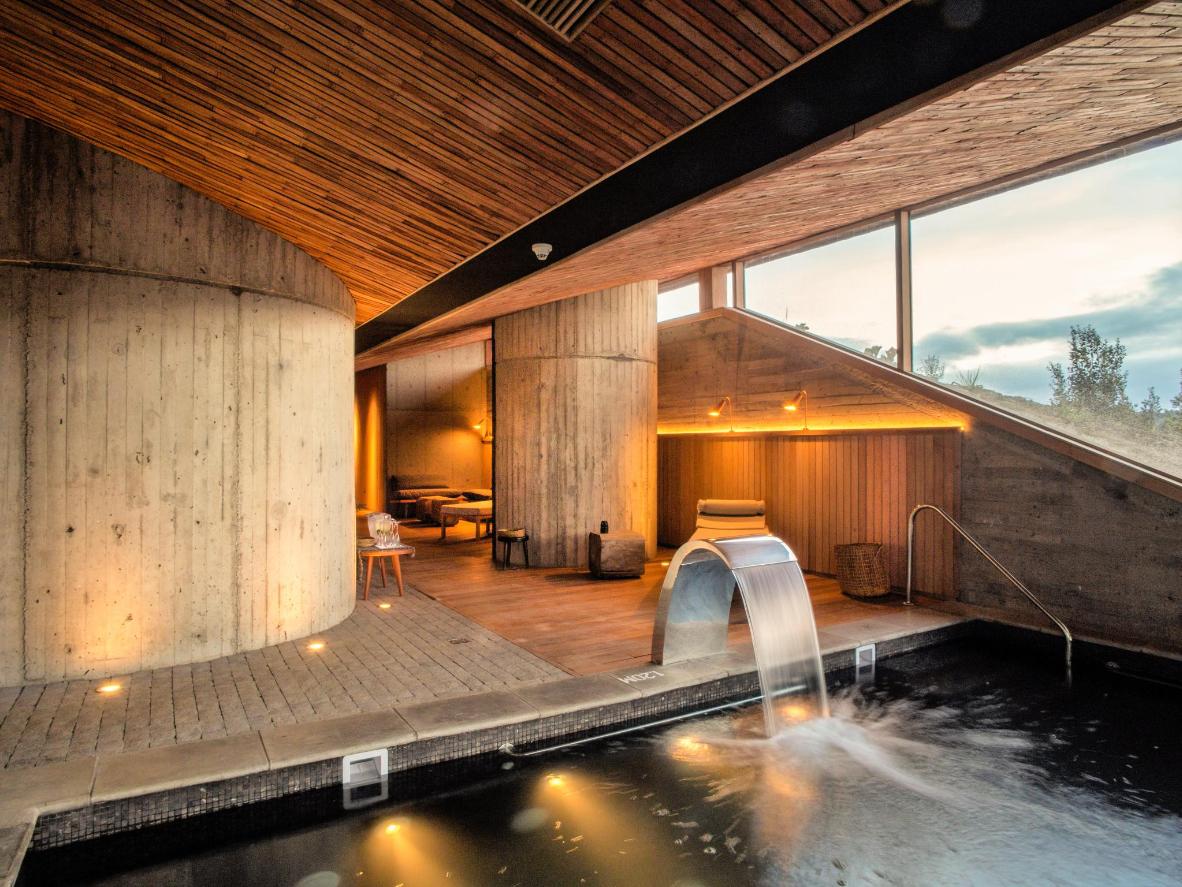 Indulge in a rose petal and goat's milk bath at this hotel's splendid spa
Architectural splendour awaits at the Tierra Chiloe Hotel & Spa. Located on Chiloé Island, the hotel has sweeping views of the surrounding archipelago courtesy of its hilltop position. Constructed in timber and glass, it's an earthy affair of wood-panelled interiors, modern fireplaces and natural materials. And the Uma Spa (found on the second floor) is the place to head to for signature treatments like a rose petal and goat's milk bath, or for lounging out on the deckchairs by the window. End the day here before an early rise the following morning for an expedition on one of the hotel's own wooden sea kayaks.
Alto Atacama Desert Lodge & Spa, San Pedro de Atacama
The Alto Atacama Desert Lodge & Spa rests between steep, clay ridges of the desert
You'll find Alto Atacama Desert Lodge & Spa deep within the steep, clay ridges of the Atacama Desert. Primed as much for adventurous travellers as it is for wellness enthusiasts, the property has six pools and offers excursions to the Salar de Tara salt flats and the sand dunes of Valle de Muerte. Those in search of luxury should make a beeline for the spa. Named Puri, it's found at the hotel's centre, shaded from the desert sun and complete with a sauna, hammam and hydrotherapy pool. Opt for mud wraps and quinoa facials or indulge in a massage under the stars. Yoga and meditation classes are also available and there's an outdoor fire pit for stargazing nights.
More from Health & Fitness