Italy's Amalfi Coast attracts millions of visitors every year who come to relax in its luxurious hotels and explore its collection of cliffside towns. Here are six destinations to visit by car, from popular hotspots to lesser-known towns.
Sorrento
In Sorrento you'll enjoy far-reaching cliff views from most parts of the town
Naples is a great starting point for a road trip of the area. The drive from Naples to Sorrento should take around an hour. You'll pass the atmospheric archaeological site of Pompeii en route so plan a detour.
The town of Sorrento overlooks the Bay of Naples and Capri; enjoy a drink on arrival complete with far-reaching clifftop views and you'll realise why it's such as popular destination. Plan a stay at the five-star Bellevue Syrene for panoramic vistas while watching the sunset. While in Sorrento, walk around the pastel-coloured buildings in its old town, before a dip at Bagni della Regina Giovanna, a secluded cove where you'll find the ruins of a Roman villa.
Positano
Enjoy the views from the winding, coastal SS163 as you arrive
Picturesque Positano is a half-hour drive from Sorrento. The road is inland until you reach the winding SS163 on the southern coast of the peninsula, where you'll want to stop off at a lookout point to catch sight of the turquoise sea below. As you arrive in Positano, prepare to be captivated by its tumbling range of lemon, peach and powder blue-coloured homes.
Positano has been a holiday resort since the Roman times so follow the steps from the top of town all the way down to its beach. Alternatively, visit the church of Santa Maria Assunta, where you can see a 12th-century Byzantine painting of the Black Madonna and its colourful tiled dome. Stay at the Le Sirenuse boutique hotel which has a Michelin-starred restaurant.
Praiano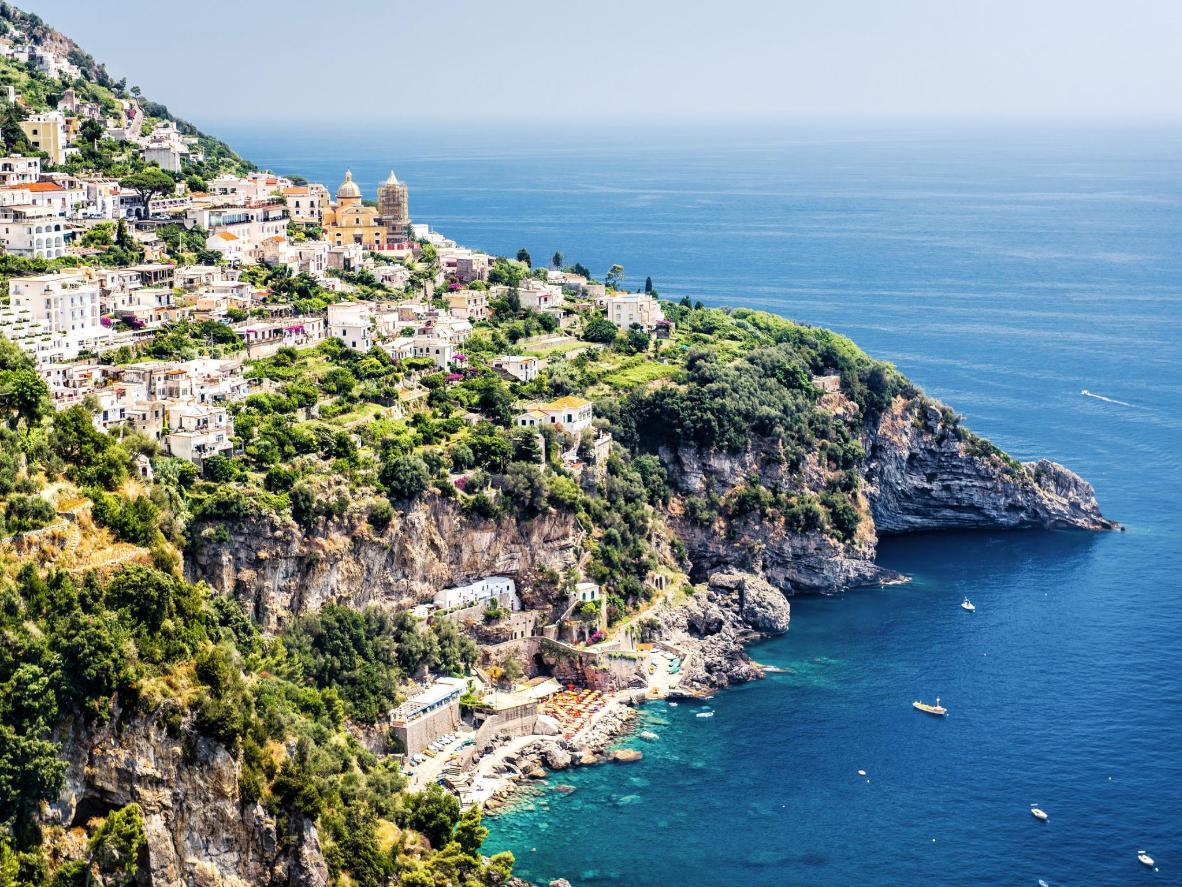 Praiano is less well-known than other coastal towns but equally stunning
Praiano is around a 20-minute drive from Positano, down the scenic, coastal SS163 road. Less well-known than other towns in the area, the village shares its neighbour's enviable sea views – just without the crowds.
Head to the Church of San Gennaro when you arrive, a Baroque building known for its grand, patterned floor, followed by an ice cream at Gavitella Beach. Stay at the boutique hotel Casa Angelina and opt for a pampering spa treatment.
Amalfi
There's endlessly gorgeous panoramas at every turn here
The small town of Amalfi is half an hour along the coast from Praiano by car. Once a powerful maritime republic, the pretty seafront resort with whitewashed houses is now a place to relax, whether that's on its beach in the sun or outside one of the town's many cafés.
For those interested in architecture, climb the 62 steps to Amalfi's Arab-Sicilian cathedral, Duomo di Sant'Andrea. Its extravagant façade dates back to the ninth century but was most recently rebuilt at the end of the 19th century. Look around the Chiostro del Paradiso, with its elegant Moorish arches and a central garden (which was built as a burial ground for the Amalfi elite in 1266) then visit the crypt where the remains of Saint Andrew are kept. Amalfi is also known for its paper production the town's Paper Museum, in a medieval factory, offers a fascinating look at the traditional methods of making paper. Stay at the seafront Hotel Residence.
Ravello
Take in the spectacular view from Villa Cimbrone's Terrace of Infinity
The glamorous town of Ravello is north of Amalfi, around a 15-minute drive inland. Its hilltop position means you'll swap beaches for lofty views of the luminous waters below. Start with a tour of the beautiful gardens at Villa Cimbrone where you can wander around a romantic English landscape garden dotted with fountains, statues and pavilions. You can also experience the panoramic view from its Terrace of Infinity that American writer, Gore Vidal, once said was: "The most beautiful sight that I have ever seen in the world."
Ravello's main square is around a 10-minute walk from Villa Cimbrone so head here next to relax over a meal while you watch the scurrying crowds of locals pass through.
Salerno
Salerno is a bustling city that's a contrast to the smaller coastal towns
For a contrast to the smaller towns on the Amalfi Coast, plan a stop in the city of Salerno when returning to Naples. It's an hour's drive from Ravello and then around a 50-minute drive to Naples via the inland A3 and E45 past Pompeii.
Head to Salerno's medieval centre where the main draw is its cathedral, which houses an ornate, vaulted crypt containing the remains of St Matthew. Stroll down the city's seafront promenade too before eating in one of its many trattorias. Stay in the B&B Il Ritratto before your drive back to Naples.