If you're looking for a fun family activity, Germany is an excellent destination for a water park adventure. Zip down winding flumes and catch waves in massive lagoons – we found some of the best water parks offering both indoor and outdoor fun. Pack your swimming gear and check out the country's most exciting aquatic wonderlands.
AQUALAND Freizeitbad, Cologne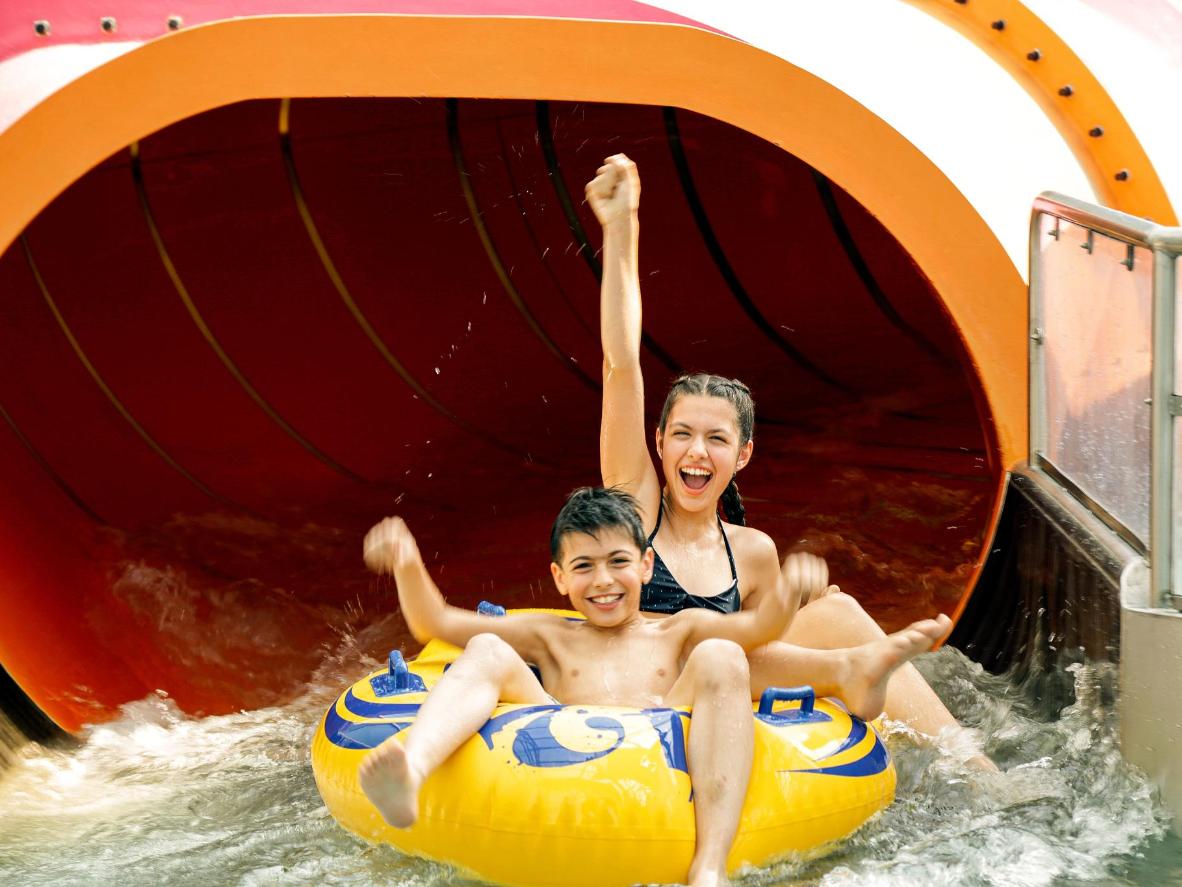 The Aquaconda slide in Aqualand Freizeitbad
AQUALAND promises a day of fun that will entertain the entire family. For thrill-seekers, it's water slides galore. Dare to ride the AquaLoop—the first of its kind in Germany—featuring a trapdoor that plunges you into a thrilling 30-foot freefall. This lets you build up speed for the ride's apex – a 360° loop that takes you at 30 mph.
If you're looking for something a little more relaxing, the upper level of AQUALAND houses an elegant spa and wellness center with 12 different saunas. Bathe in the orange-pink hues of a Himalayan salt sauna or treat yourself to a Hammam treatment. Spend the night at Übernachten im Kölner Norden and make sure to visit the Cologne Zoo the following day, located just six miles away.
Galaxy Erding, Erding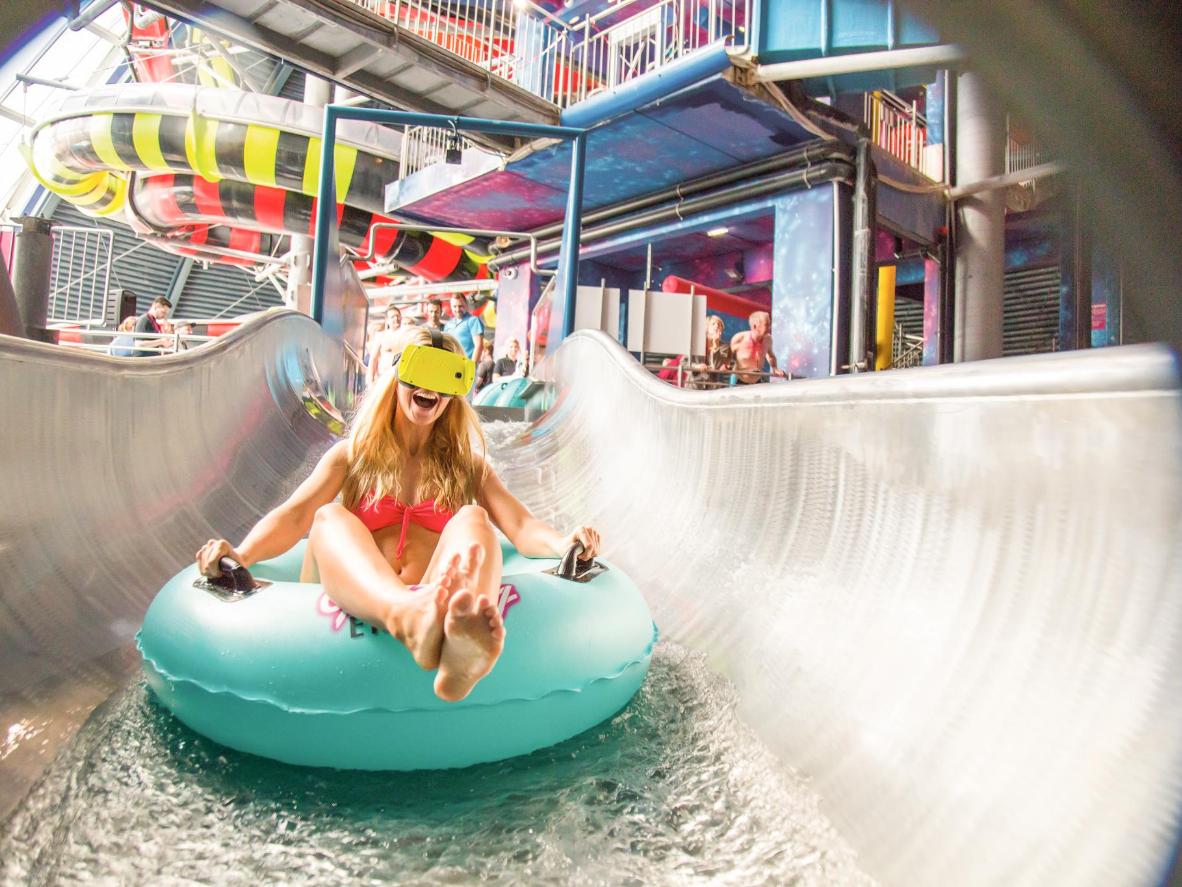 Ride a thrilling waterslide with a virtual reality headset
Galaxy Erding is Europe's largest water park. It's known for combining advanced technology with adrenaline-pumping fun, including VR (virtual reality) water slides that offer an out-of-this-world experience. Put on a pair of VR goggles and slide down the 525-foot long tube as you navigate a virtual waterway suspended in outer space.
The park also boasts an award-winning spa experience, with three tranquil thermal bath complexes. The baths get their water from an underground sulfur deposit that was discovered in the 1980s. After a day of excitement in faraway galaxies and steaming saunas, return to reality at the cozy Hotel Apfelbaum.
Tropical Islands, Krausnick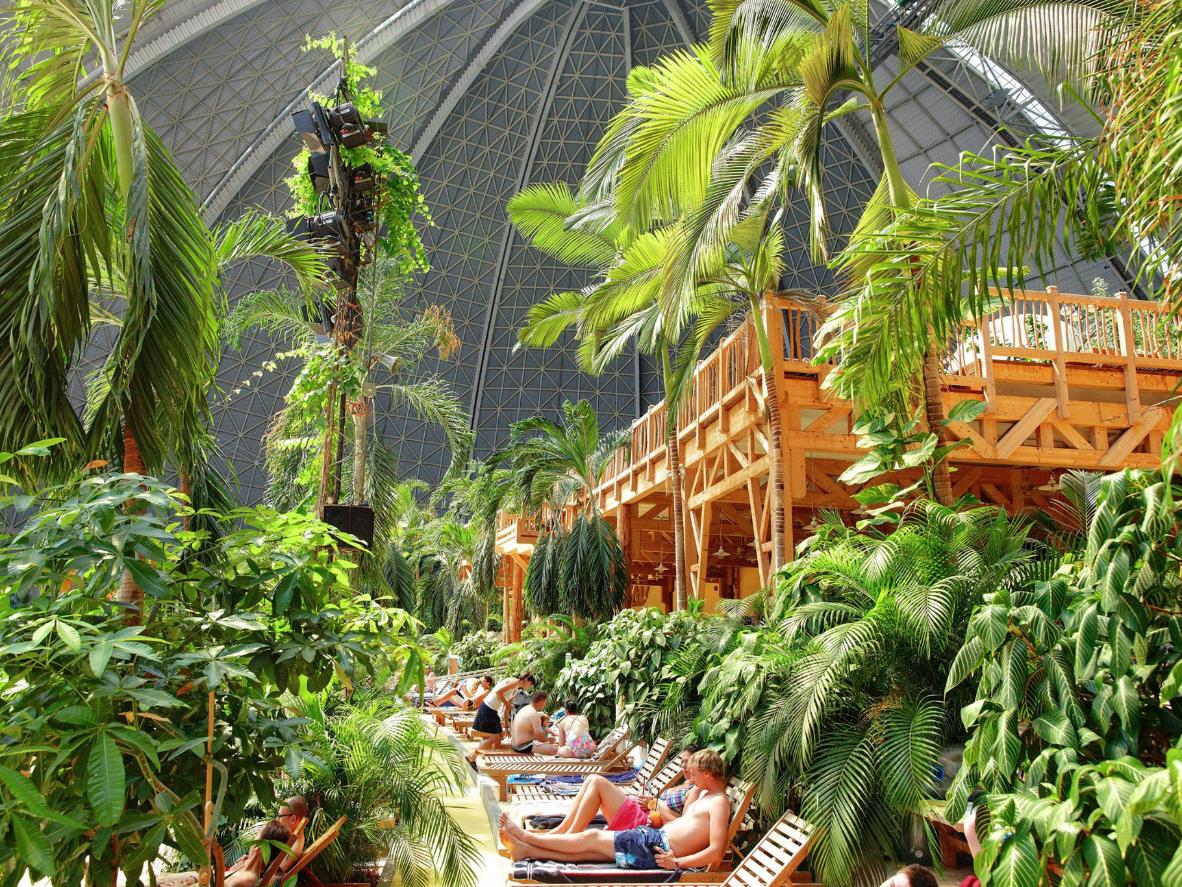 Imagine yourself on a tropical island in Krausnick. Photo credits: Tropical Islands
Tropical Islands is an indoor haven for families looking to escape the cold winter months. While we can't promise a tan, we can guarantee a day of unadulterated fun inside this former airship hangar known as the Aerium – the largest free-standing hall in the world.
Part tropical island and part water park, this is a place where you'll find sandy beaches, palm trees, and a cyclone of water slides all under one roof. Enjoy family-friendly lazy rivers or plunge down turbo slides with speeds of nearly 45 mph. There's also a range of turquoise lagoons to dive into while pretending you're on a tropical island, even though you're just an hour out of Berlin. Stay at Ferienwohnung Wunderlich, which is conveniently right down the road.
Europabad Karlsruhe, Karlsruhe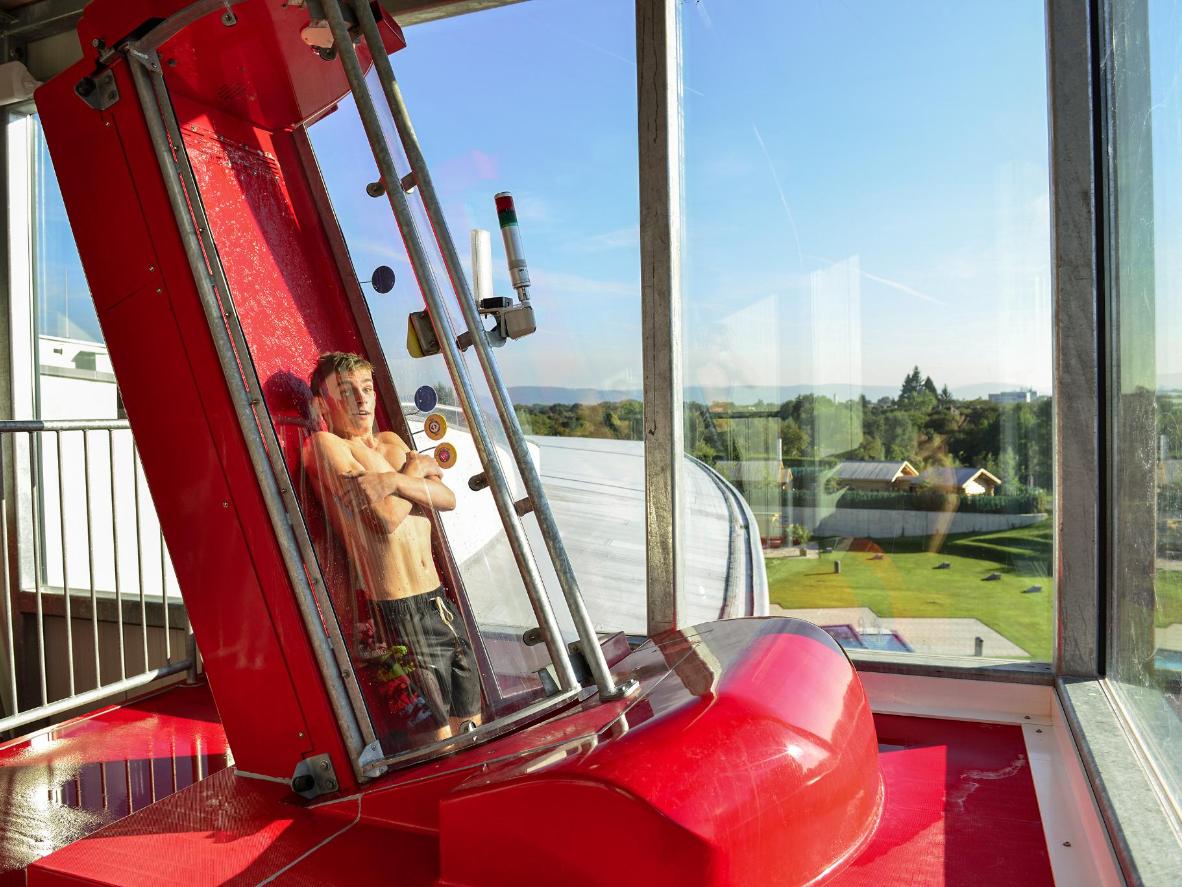 Take a plunge with the Aqua Rocket at Europabad Karlsruhe
Europabad is home to one of the longest water slides in Germany, including the death-defying AQUAROCKET, which promises 45 feet of pure freefall. Though there's something for all ages, the slides are better suited to older children and adults. Whirl around in a spider's lair in the creepy-crawly Tarantula or battle water serpents as you fly down the Green Viper, both of which feature LED lighting and sound effects to immerse you in the excitement.
Upstairs, there are numerous saunas, cold baths, a tropical garden, and a hot tub. The park's traditional Finnish sauna is always a hit with adults and promises a relaxing end to an adrenaline-fueled day. Dry off and head back to the family-friendly Kaiserhof, just a short drive away.
Bayern-Park, Reisbach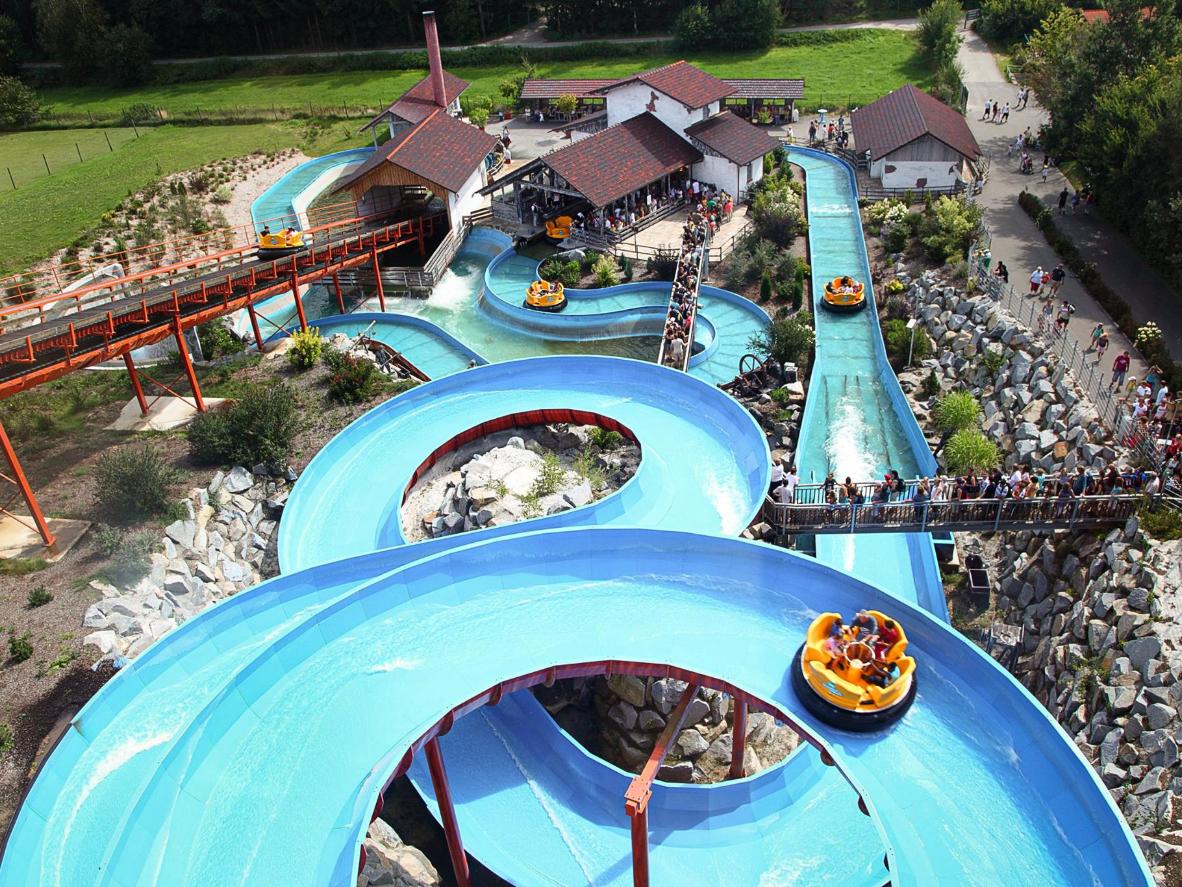 Find Germany's longest whitewater rafting ride at Bayern-Park. Photo credits: Bayern-Park, Reisbach
Bayern-Park has everything for water lovers and thrill-seekers, including plenty of hair-raising roller coasters and Germany's longest whitewater rafting ride, which meanders through the park for almost half a mile. For those seeking a gentler experience in the water, hop aboard a vintage paddle steamer and tour the sights of the park's massive human-made lake.
Dry off by zipping through the sky on Eagle's Challenge, a rollover ride that lets you soar above Bayern-Park. For the little ones, a pirate wonderland awaits at Pirate Island – the park's dedicated area for young children. After a day of fun, head to Schlossparkhotel Mariakirchen for a drink at the on-site brewery, followed by a good night's sleep in a castle hotel.