The jagged cliffs of the iconic Big Sur coast can be traveled in many ways, but none are quite as spectacular as by bike. A multi-day excursion down 90 miles of rugged wilderness and breathtaking views of crashing ocean waves is the perfect adrenaline-pumping outdoorsy vacation for your next adventure when we're able to travel again.
Seaside, Monterey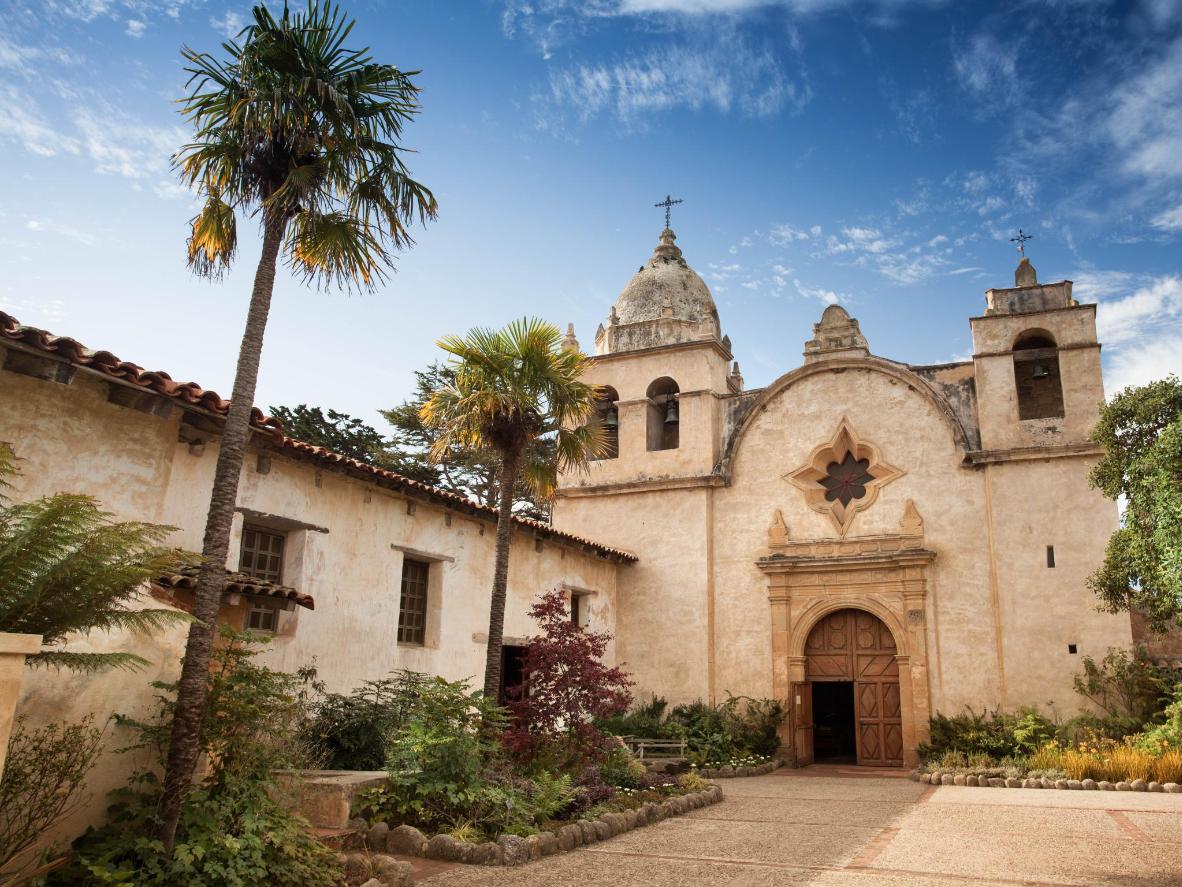 Start your adventure on the Monterey coast
Before your journey begins, get to sleep early near Monterey. Hotel 1110 is a great beach-side choice for a tranquil evening before cycling in the morning. Enjoy your complimentary breakfast before heading to Monterey State Beach, where you'll head south onto Highway 1 and ride towards Santa Maria, your ultimate destination. On this stretch, stop and enjoy Carmel-by-the-Sea and the Bixby Bridge before arriving at Big Sur, 32 miles (or 3 hours without any stops) away.
Relaxation, Big Sur
Stop at a spa near Big Sur
Explore the beauty of Big Sur before resting your legs at the Big Sur Lodge, where the on-site coffee shop will help you refuel before starting up your ride again. The next leg of the trip heads toward Ragged Point. This will be the longest single-day ride at around 50 miles (or 5 hours without stops). If you want to enjoy a relaxing break, you can stop at Slates Hot Springs for some R&R – just make sure to book in advance. Other stops could include Sand Dollar Beach to refresh by the ocean and Salmon Creek Falls for a beautiful waterfall pit-stop before you reach your destination for the evening.
Sightseeing, San Simeon
Take a detour to San Simeon
Once you arrive at Ragged Point, recharge at the Ragged Point Inn. Enjoy a slower day with a morning at the private beach or on-site gardens before your 24-mile (or 2-hour) ride to Cambria. If you have the time, take a detour to the unique Hearst Castle in San Simeon – a National Historic Landmark with fascinating architecture, seemingly misplaced in the heart of California. And you absolutely must stop at the Elephant Seal Vista Point, where you can stretch your legs while watching these incredible aquatic mammals.
Pebble Beaches, Cambria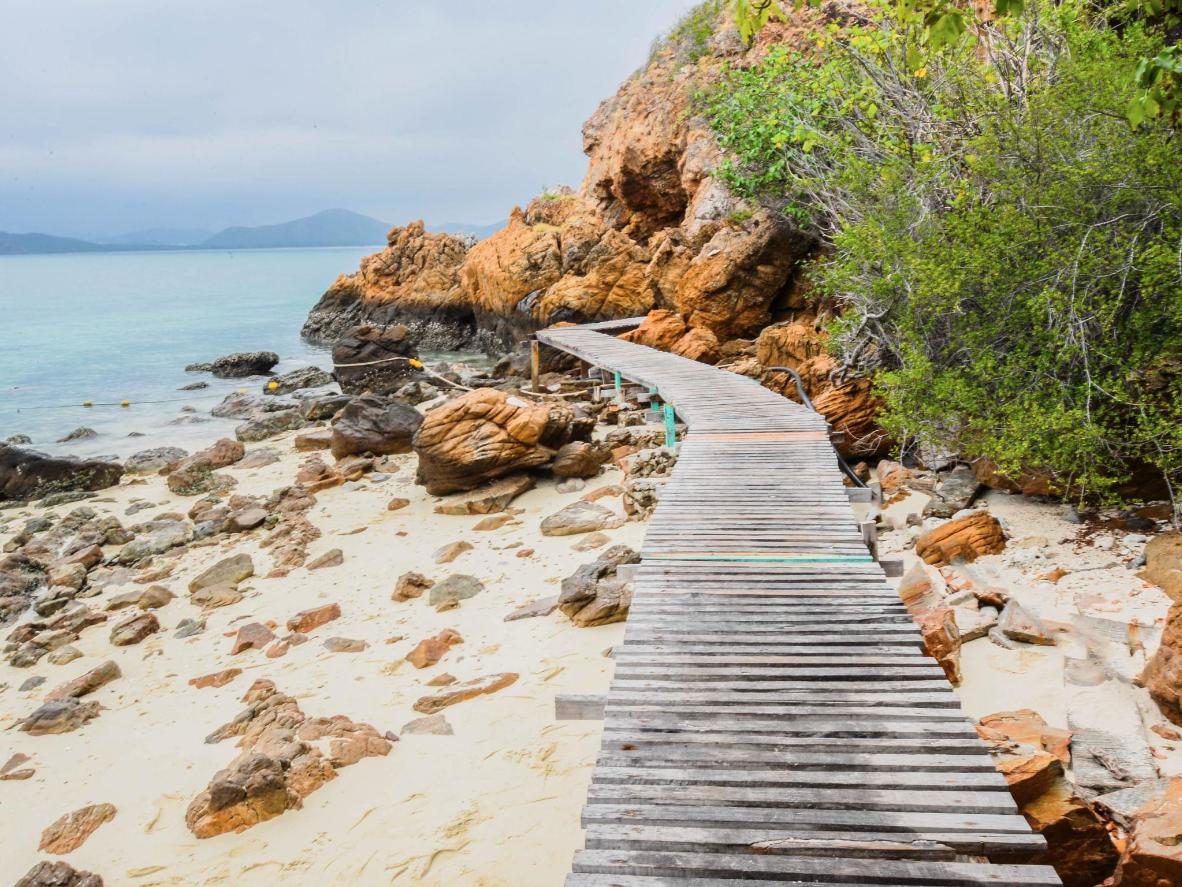 Get unique beach experience in Cambria
In Cambria, see the rainbow pebbles at Moonstone Beach and try some wine at one of the local wineries. Then check in to the Bluebird Inn, nestled in the heart of Cambria's Main Street. Your next stop, Morro Bay is 21 miles (or 1 hour 45 minutes) away, so you can explore the shops and restaurants of Cambria all morning long before continuing your bike ride. Harmony Headlands State Park provides beautiful vistas for a mid-ride break, and, when you get closer, Morro Strand State Beach is the ideal place to let loose, have some fun, and splash around before arriving at Morro Bay.
Shopping, Morro Bay
Stroll through town in Morro Bay
Before embarking on the final leg of your journey, immerse yourself in the Morro Bay views at 456 Embarcadero Inn & Suites. Beaches and quaint shops are within a close walk if you want to slow it down for the day. But don't slow down too much, because there are still another 46 miles (4 hours) until your final destination. On your way, enjoy Spanish history in San Luis Obispo, thousands of butterflies at the Monarch Butterfly Grove (if traveling during the fall or winter), and have some adrenaline-pumping fun at the Oceano Dunes. After a long but fun day, you'll arrive in Santa Maria.
Wine Travel, Santa Maria
Sip, eat, and celebrate your journey
Santa Maria is a hub for wineries and Santa Maria-style barbecue – the perfect way to congratulate yourself after biking over 170 miles. Stay a night or two at the Sycamore Mineral Springs resort where you can take a yoga class, enjoy a spa treatment, and soak in your in-room hot tub – you deserve it. And if you don't feel like heading home just yet, keep your journey going by car with the help of our Pacific Coast Highway road trip guide.