The tropical island of Isla Holbox rests just off the north coast of Mexico's Yucatán peninsula, separated from the mainland by a flamingo-filled lagoon. It's far quieter than the nearby resorts of Cancún or Tulum and is car-free, with an infectiously slow pace of life. Thatched roofs and adobe walls define the architecture of the tiny main town, where golf carts and buggies whizz through sandy streets lined with beach bars, smoothie stands and shops selling everything from chia seeds to dream-catchers. Read on for our top tips on exploring this enchanting island.
Hit the beach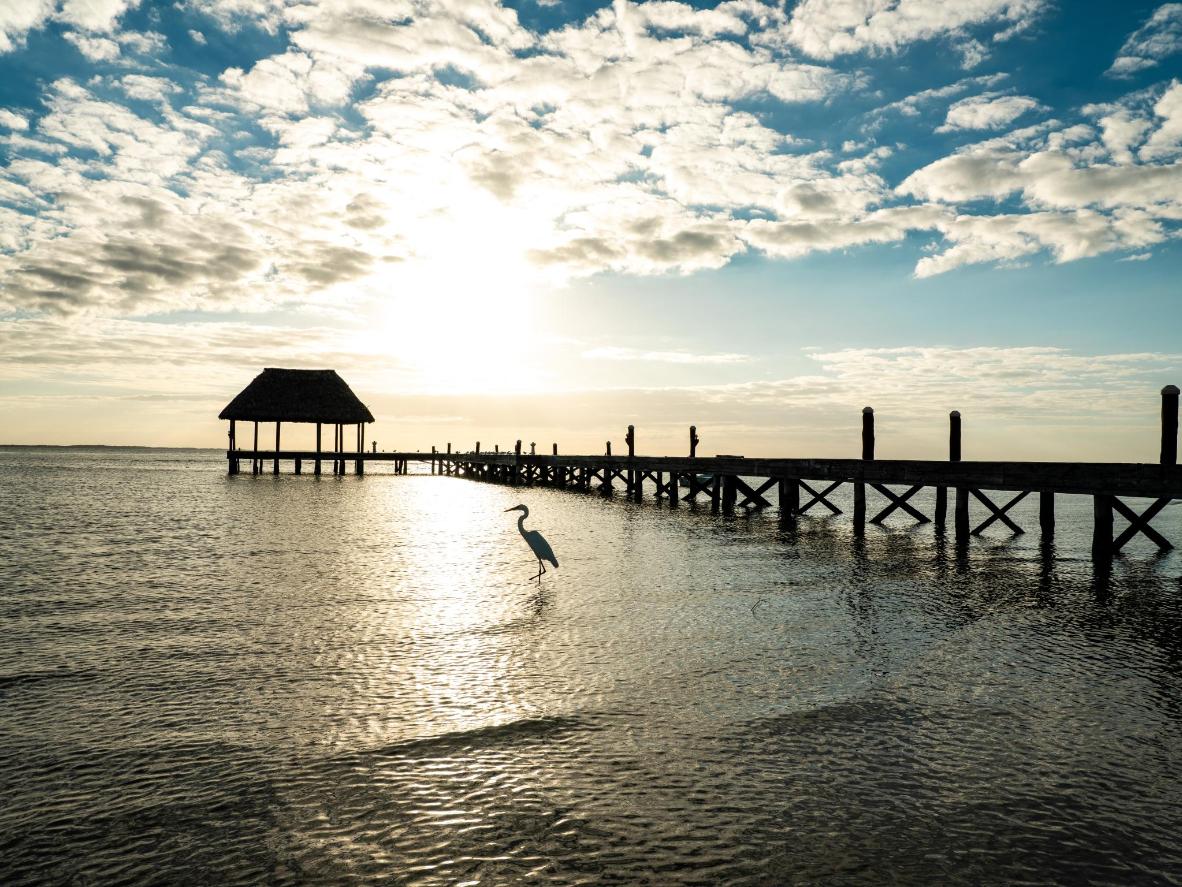 Isla Holbox's beaches are truly paradisiacal
The main reason most people embark on a trip to Isla Holbox is to witness its outstanding beaches, with sand as white as snow, shade-shifting mint-green and turquoise waters, and painted wooden rowing boats parked on the beach beneath the palm trees. Days are marked by yoga sessions, snorkelling trips to spot sea turtles and whale sharks, reading in a hammock with a book and a mojito in hand, and admiring the sunset. Pretty much anywhere you choose to stay on the island will be within five minutes' walk from the sea and there are several beaches to choose from. Playa Holbox stretches the length of Holbox Town, with the busiest section in front of the main square beside the fishing pier – most of the beach is private-owned so you'll need to buy a cocktail or a taco to use the sun loungers and other facilities. There's also Punta Mosquito and Punta Cocos – but more on those beaches in a moment.
One of the most typical Isla Holbox sights is the picture of colourful hammocks lining the shore
One of the most typical Isla Holbox sights is the picture of colourful hammocks lining the shore, suspended above the shallows between wooden poles that are anchored in the sand; a dreamy place to while away an afternoon with a cold drink. You can find them in front of the Hotel Villas Flamingos or Hotel Villas Tiburon.
Watch the sunset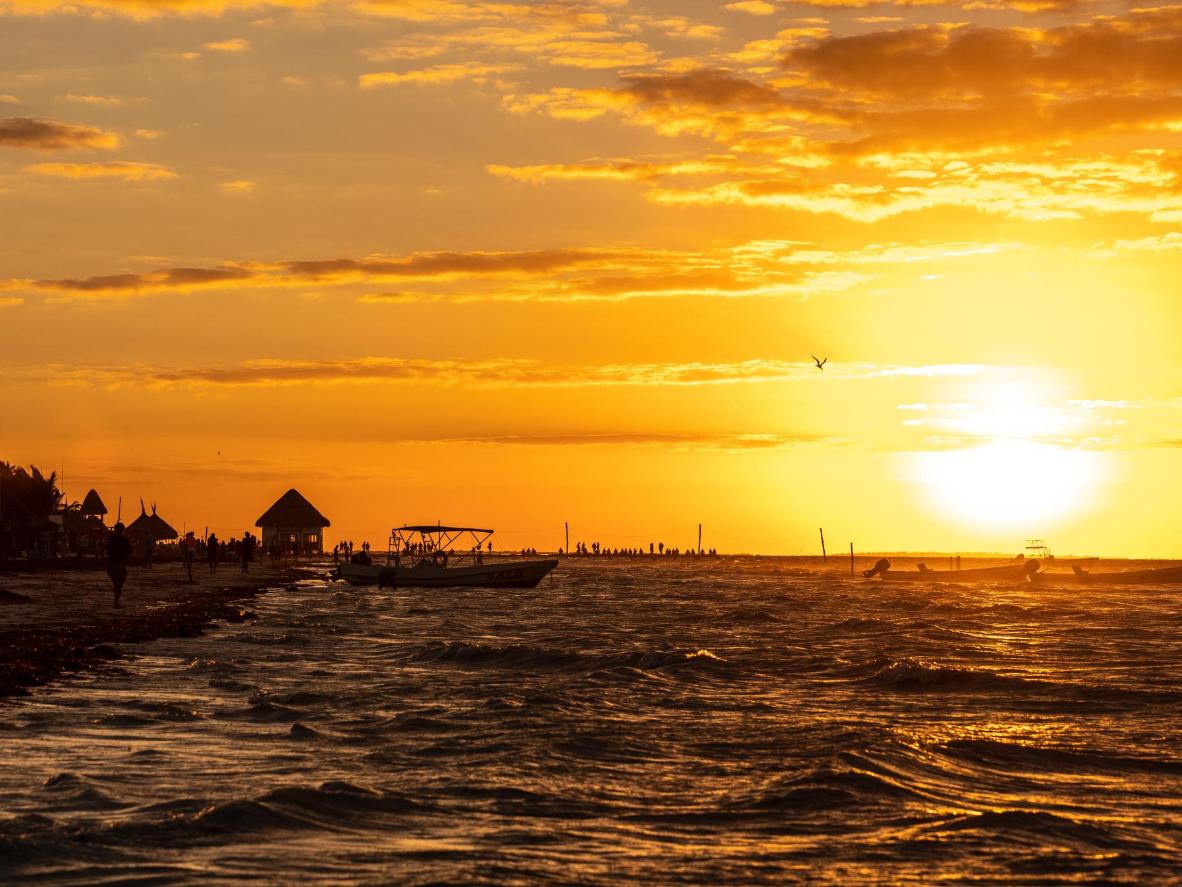 Witness Isla Holbox's famed sunsets
Isla Holbox is famed for its sunsets so as the day starts to fade, be sure to find a special spot to witness this golden light-filled natural wonder, culminating in a rainbow-like twilight. You can either watch with a beer by the pier or – if you're feeling more adventurous – hop on a bike or a golf cart (the island's only motorized transport) and head off to Punta Cocos, a beach on the western edge of the island where the sunsets are some of the best to be found. Spoil yourself by staying at Holbox Casa Punta Coco, with its own private beach, infinity swimming pool and soothing minimalist aesthetic.
Explore the island by bike
The island is car-free, with bikes and golf carts the only form of motorized transport
Since Isla Holbox is car-free, you'll need to travel around on four wheels if you want to explore a little further afield (though if lying in a hammock is all you want to do all day, there's no judgment here). Most hotels provide guests with bikes but you can also easily hire one for yourself anywhere, or a golf buggy if you prefer (rates are measured by the number of hours or days you need to hire for, and you can often haggle). Of the many adventures to be had on the island (which is small enough to go anywhere by bike), cycling or golf carting to Punta Mosquito in the Yum Balam Nature Reserve is a highlight. Located on the east side of the island, this beach has a sandbar with resident flamingos – but they are wild, so don't try to approach or expect interaction. You'll have to park your bike or cart at Hotel Las Nubes de Holbox before a 1-hour walk to the sandbank, so it's a bit of a schlep but totally worth it (note that the Holbox flamingo season lasts from April to October).
Take in some street art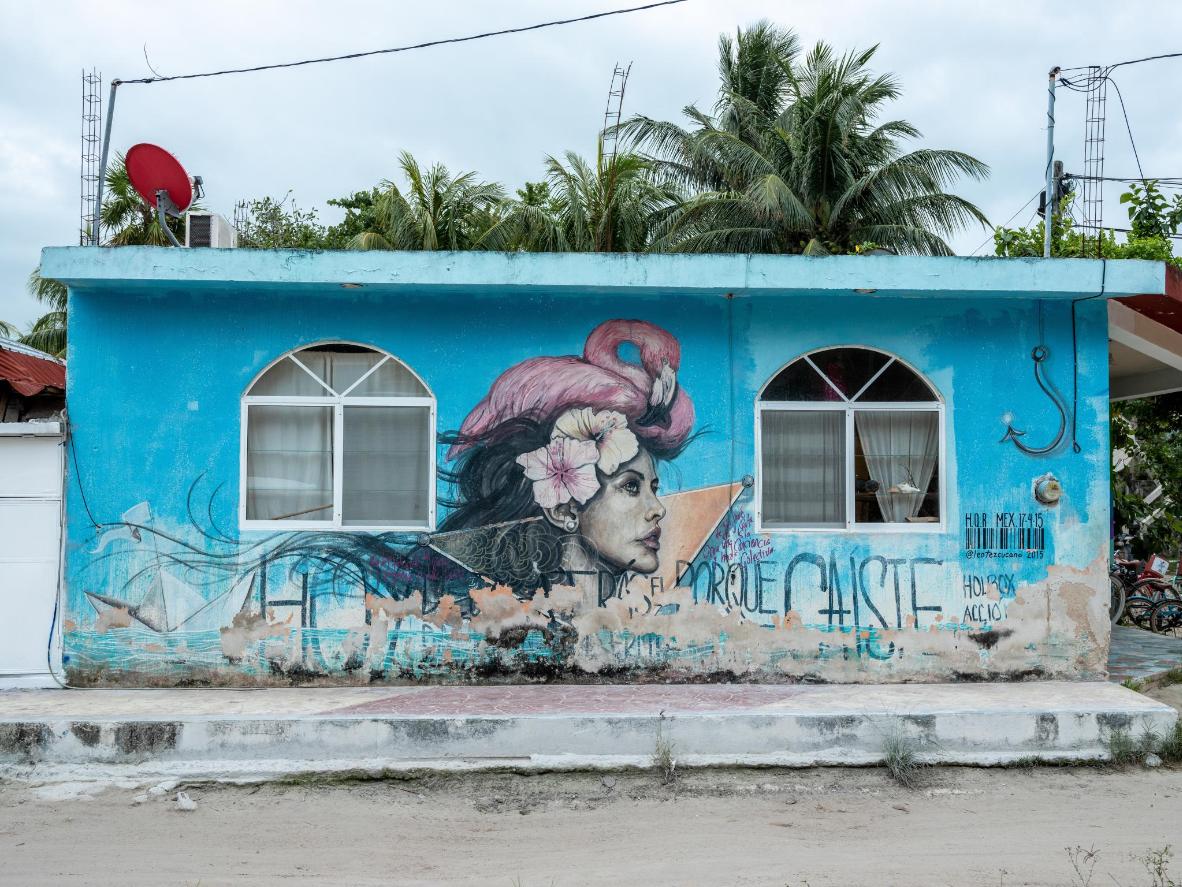 A mural depicting the island's most famous resident, the flamingo
Strolling around Isla Holbox you'll notice eclectic murals everywhere, covering the ramshackle buildings with bold colours and surreal designs. In 2014, the island participated in the first ever Festival Internacional de Arte Publico (FIAP) or, International Public Art Festival, where a group of international artists visited the island and left behind a smattering of street art.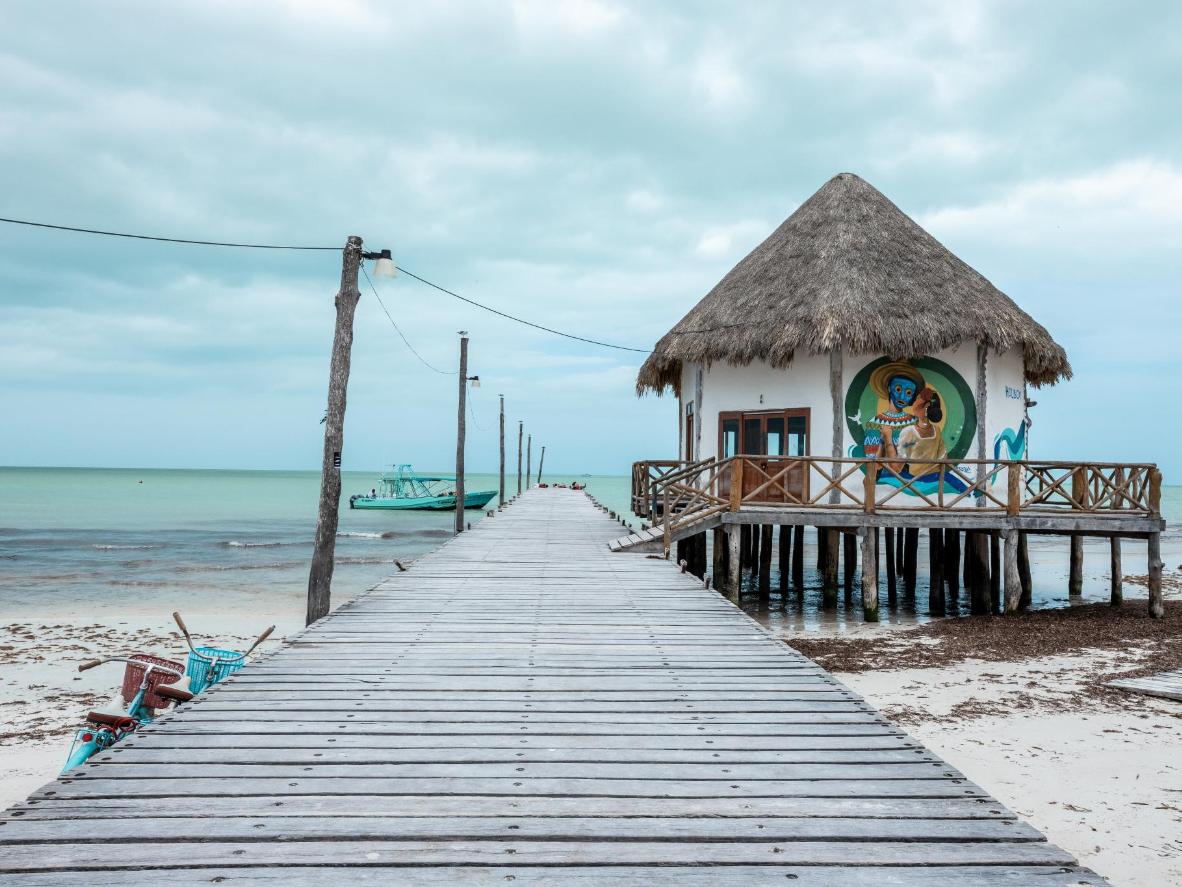 Even the little beach huts are decorated
Discover large-scale designs all over the island, from portraits to abstract images in unexpected locations.
Head to a beach bar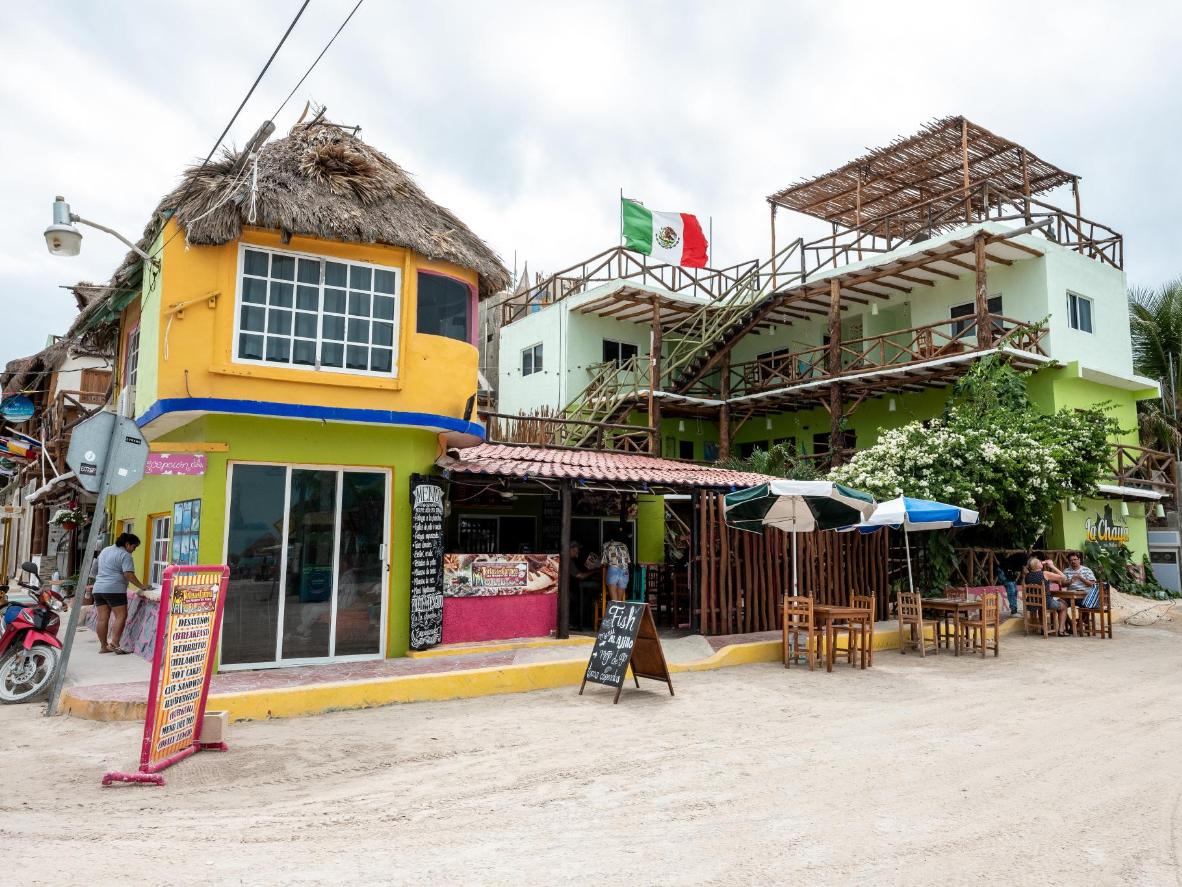 Each beach bar has its own ambience and there's something for everyone in that respect
The island's beach bars are no doubt where you'll spend most of your time, feasting on tacos and sipping on iced cocktails. Each bar has its own ambience and there's something for everyone in that respect but Coquitos Beach Bar and Rosa Mexicano are both particular popular. The former offers cushions arranged on the sand around low tables and superb fried fish tacos and tostadas alongside live music. While at the latter, you'll find more seating on the sand, fairy lights strung between the palm trees, and a refreshing, delicate ceviche on the menu. Stay at Matlali Resort & Spa and you'll enjoy private access to another hard-to-beat location on the beach, the Eva Mandarina Beach Club.