Outstanding architecture, culture and romance on the banks of every canal – it's not hard to grasp the magnetic and timeless appeal of Venice. But this appeal attracts millions of visitors each year, an influx that's having a huge effect on this extraordinary city, both for the people who call it home and for those who want to experience it.
To make sure Venice remains magical for everyone, there are a few tips for travellers to help prevent the effects of over tourism. After all, who wants to risk losing one of the world's great destinations?
Follow the official #EnjoyRespectVenezia campaign, led by the Comune di Venezia to protect Venice.
1. Keep it local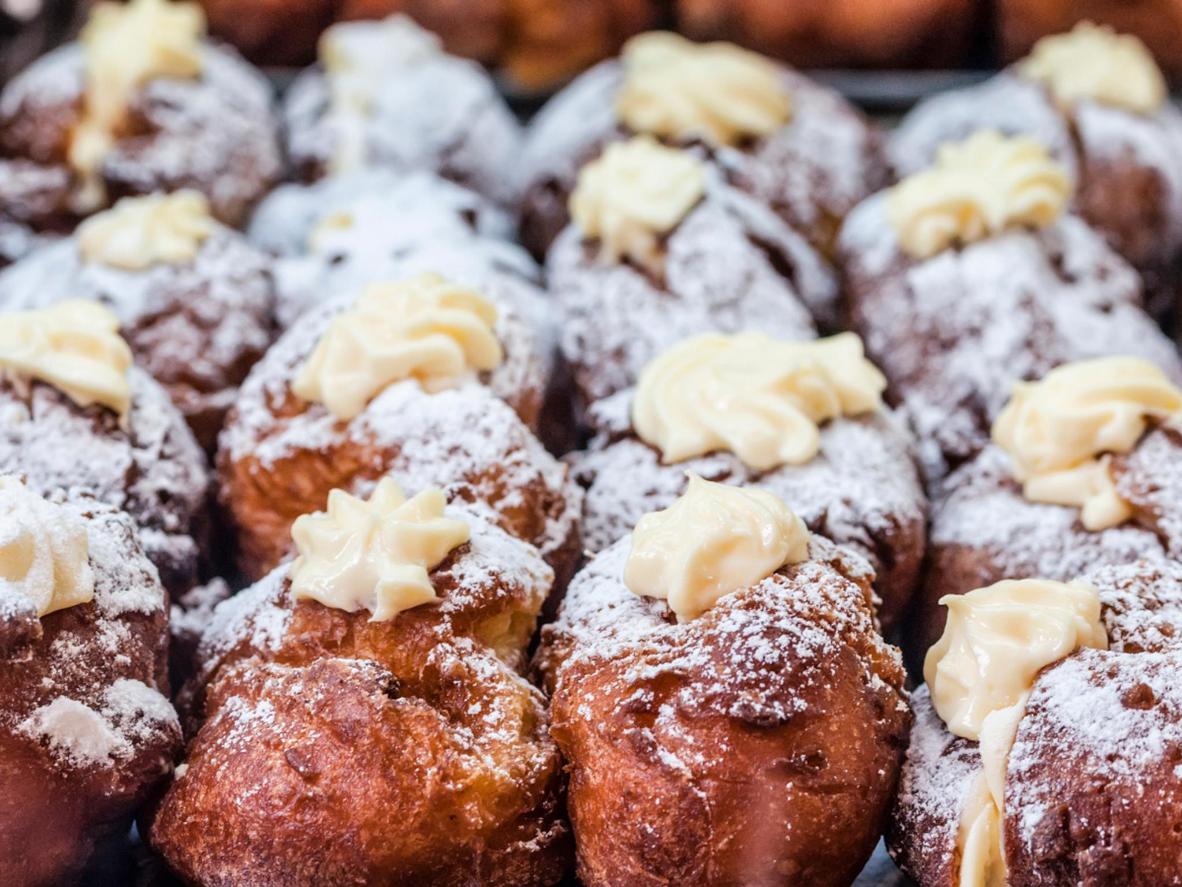 Sack off that soggy hamburger in favour of trying locally made Venetian specialities
One of the best ways to visit Venice responsibly is to support local businesses during your stay. Avoid restaurants that cater solely to tourists, instead choosing dishes that use quality, locally sourced ingredients and allow you to sample the flavours of traditional Venetian cuisine – try frittole (fried dough with candied fruit, raisins and pine nuts) or sarde in saor (fried, fresh sardine fillets marinated in softly cooked white onions). The same applies when you're looking for gifts and souvenirs. Differentiate between cheap, illegal replicas of genuine Venetian craftsmanship (the former are mostly marked as made in the USA or China). Stick with Venice's true artisans and only buy original products that truly capture their expertise and keep their traditional trades going.
2. Stay off the beaten path
Visit lesser-known beauty spots like the island of Burano and the other islands in the Venetian lagoon
As you'd expect, there's a tonne of famous sights in Venice that every visitor wants to see. But you can enjoy a more authentic and responsible stay by planning your sightseeing around Venice's lesser-known or hidden gems, including mainland Venice and the nearby lagoon islands. You can also get to witness a local's side to the city by using the right tour guide; always ensure you book with someone official and qualified but try to find a tour that will offer you real insight into Venice and its more surprising, exciting attractions.
3. Follow local etiquette while getting around
Try not to linger too long on the bridges and walk on the right to keep foot traffic flowing freely
Another consequence of the amount of visitors to Venice is overcrowding as people take in the city's waterside splendour. It can be a little overwhelming, but learning local etiquette while exploring the city can help make your trip extra smooth and enjoyable. Firstly, always walk on the right so foot traffic can flow freely. Secondly, cycling, skateboarding and rollerblading are all forbidden in the historic city, to the extent you shouldn't even wheel a bike around on foot. Lastly, tempting as it is, try to keep moving over the bridges and beauty spots – lingering for a photo on the bridges causes congestion and can earn you a few angry looks. And if even with these tips, it all this sounds a bit stressful, there's one thing you can do to avoid it all – simply head to Venice in the quieter months when it's far easier to get around.
4. Know where to stop for a break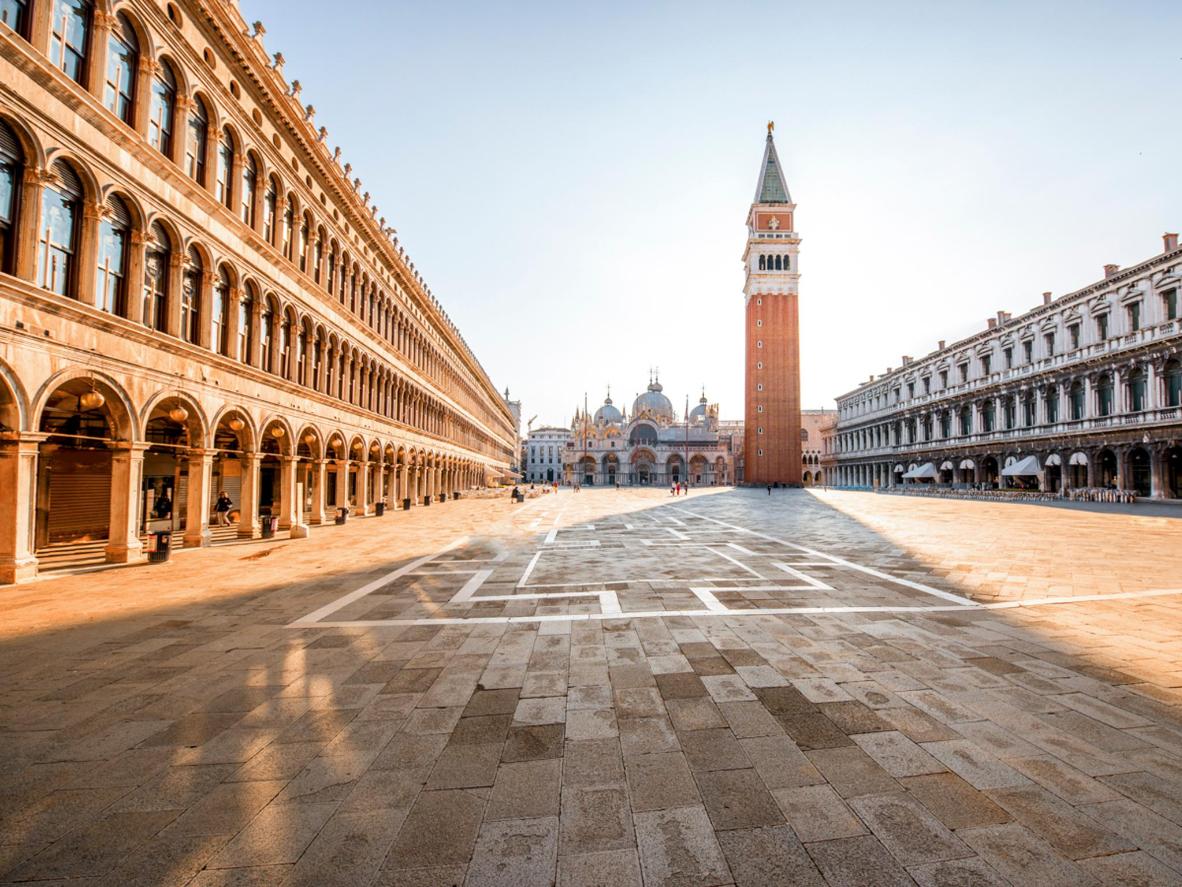 Be aware of where it's permitted in the city to sit and rest
Though an al fresco picnic can be delightful on holiday, you'll need to make sure you're in the right place to sit and rest as it's forbidden in certain spots around Venice. Church steps, bridges, wells, monuments and the banks of canals aren't the place to lunch. This applies especially to busy spots and sights like St. Mark's Square. Luckily though, there are certain public gardens across the city where you're welcome to perch on a bench and enjoy some local delicacies – look this up beforehand so you're not caught feeling hangry and with a long walk before you can sit down. Oh, and one more tip – wherever and whatever you're eating, don't feed the pigeons.
5. Most importantly of all, respect the city
Dressing appropriately and not littering are two ways you can respect Venice while on holiday
Obviously, this goes for every city, town or village you're visiting but it's doubly important somewhere as popular as Venice – respect your surroundings, the locals and the law. With so many visitors, the cumulative effect of inconsiderate behaviour can have serious economic and environmental effects on the city. Make sure you don't litter (it's likely anything you throw away will end up in the canals, thus clogging up the lagoon) and remember that any form of graffiti or vandalism will be punished. Likewise, it may seem cutesy but adorning Venice with a padlock proclaiming your love is actually prohibited. If you are staying in a house or flat, please look up information about local rubbish recycling and collection. Finally, keep in mind that Venice is a city of culture and art, as opposed to a seaside resort; there's no camping, definitely no swimming in the canals (there are nearby beaches for that) and visitors should try to dress modestly (no swimwear on parade, please), especially when visiting churches and museums.
If you'd like more info and tips, you can check out the Venezia Unica website. #EnjoyRespectVenezia