Brazil is a nation known for its infectiously wild and colourful Carnival, as well as volleyball and caipirinhas on beautiful beaches. But it also has a serene side, being home to car-free islands and other exotic havens – not to mention the world's largest tropical rainforest. Book yourself into one of these boutique Brazilian hotels to experience this mellow world in understated luxury.
UXUA Casa Hotel & Spa, Trancoso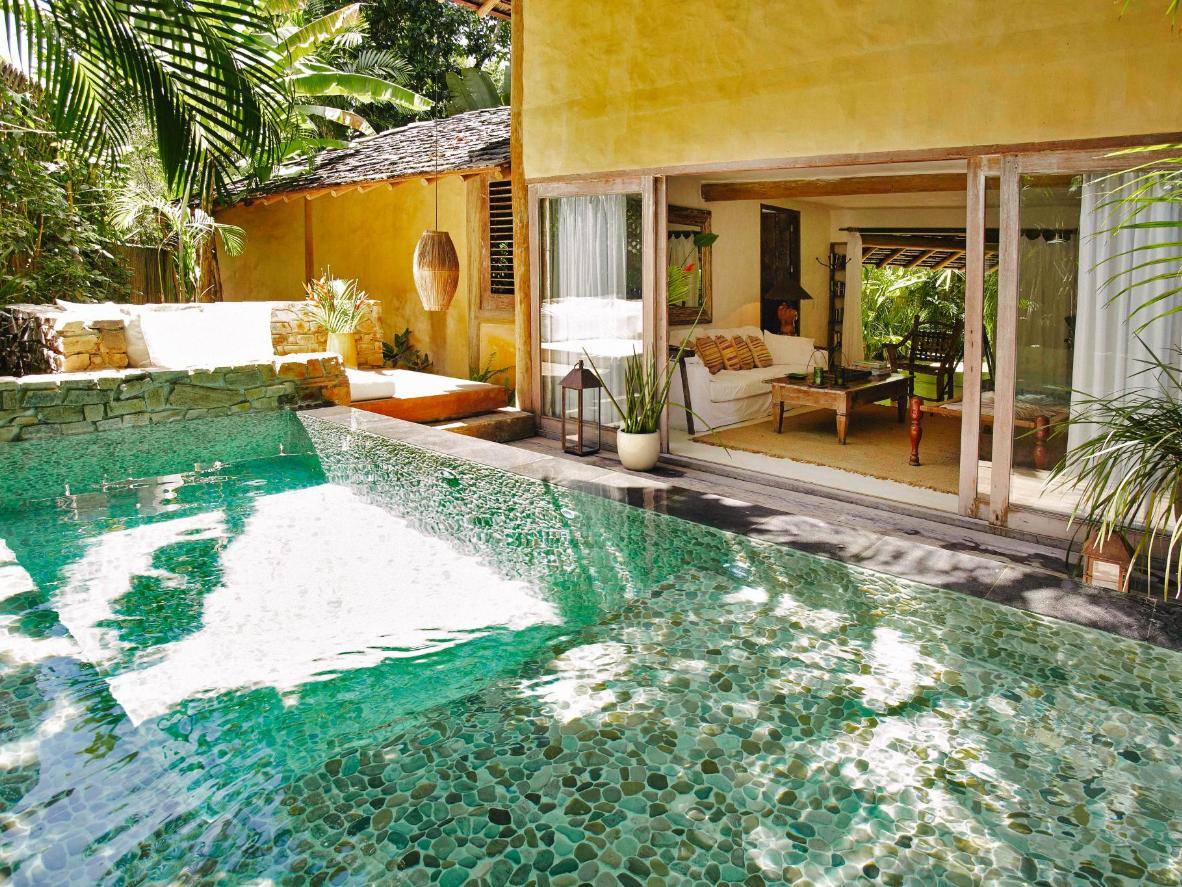 At the heart of the bohemian town of Trancoso is the equally offbeat UXUA Casa Hotel & Spa. It's made up of 10 private casas, each featuring a breezy, minimalist aesthetic. In one room, dark wooden floorboards play off the whitewashed walls and pale, crisp bed linens. While in another, all-white canopy beds climb towards the beamed cabana ceilings for a look that's both regal and relaxed. UXUA has an arty sensibility to it, too – think Indian-style stained-glass windows, wood carvings and a hotel pool that's constructed from thousands of green aventurine quartz stones. Admire the details poolside or at the hotel restaurant as you devour helpings of king prawns and lobster.
Vila Santa Teresa, Rio de Janeiro
The hilltop Vila Santa Teresa has some of Rio de Janeiro's most heavenly views. Sugarloaf Mountain rises in the distance, while skyscrapers creep through the wooded hills below the hotel. The hotel itself draws on a modernist 1970s colour scheme that blends neutrals and natural textures – think soft, cream fabrics, woven baskets and dark woods – creating an airy, regal feel. Play a game of tennis out on the property's private courts or enjoy a picnic out on the lawn, heady with the scent of eucalyptus. Follow that with a dip in the pool or a massage under the mango trees. And as there are only seven suites in this villa, privacy and quiet is all but guaranteed.
Reserva do Ibitipoca, Tiradentes
Rest and relax at the hidden away private reserve
Country lodges may not be the first thing that comes to mind when you think of Brazil, but the effortlessly cool Reserva do Ibitipoca looks to be ready to change that. Hidden away in a private reserve, this traditional farmhouse-turned-boutique hotel introduces guests to an altogether different Brazilian flavour. There's a back-to-nature focus at this reserve, with a range of activities that make the most of the surrounding natural splendour, accompanied by a few luxurious extras, including farm-to-table food, daily yoga classes and an outdoor pool. The reserve has its own stable for horseback-riding enthusiasts and organises excursions through the waterfall-filled Ibitipoca State Park. When the activities are over, return for a well-earned soak in your room's marble bathtubs.
Ponta dos Ganchos, Celso Ramos
Relax in the hammock while soaking in the view
Located on Brazil's Emerald Coast (named after the area's intensely green waters), Ponta dos Ganchos is nestled in-between rainforest and the sea. It's a collection of 25 wood-clad bungalows suites – all of which come with a king-size bed, walk-in wardrobe, infinity pool and terrace complete with a hammock. The onsite restaurant is enchanting, too; carved from Amazonian wood and lit by candlelight, it serves meals of the seafood variety (try the oyster stew spiced with chilli, garlic and coriander) and you can have any catch barbecued for you on the beach. Better yet, the hotel has its own private island where you can enjoy a meal as well.
Hotel Villa Bahia, Salvador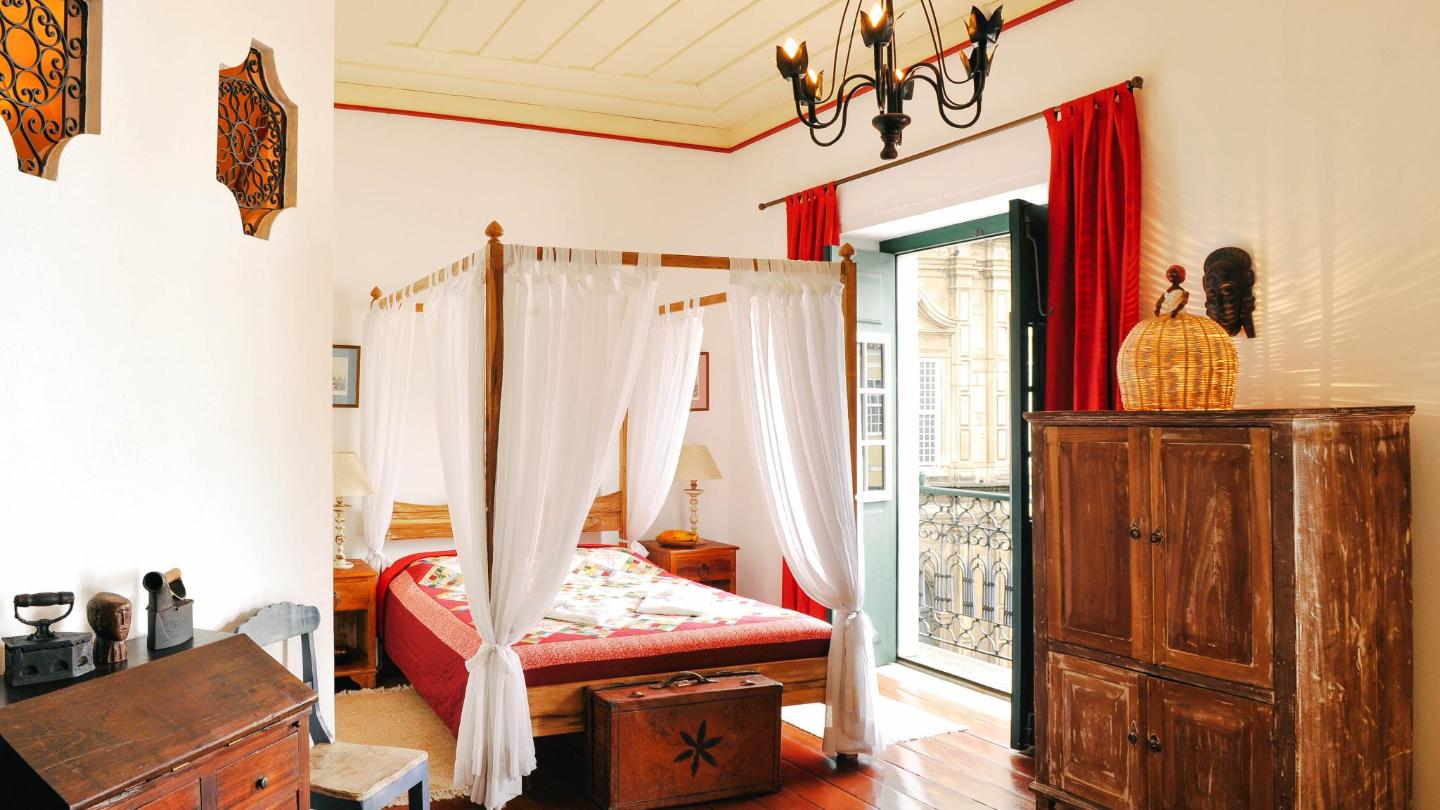 Enjoy the bedrooms' lavish four poster beds, chandeliers and antiques
French hotelier Burno Guinard looked to Salvador's chocolate-box buildings and Brazil's history to inspire Hotel Villa Bahia's look. Bold jewel tones and patterns course through the property, from floral-printed bed linen to ruby curtains and emerald window frames. While maps of the destinations that once dotted the Portuguese colonists' spice route adorn the walls. There's a grand and historic feel here, helped by the bedrooms' lavish four poster beds, chandeliers and antiques. If you can drag yourself away from the opulent interior, you'll be rewarded with a shaded poolside area and a restaurant that feels perennially buzzy but never overwhelmingly so.