The Italian Lakes are undeniably charming, bordered by grandiose villas, crumbling apricot-coloured villages and forest-covered mountains. But there are so many more beautiful bodies of water to discover around Italy besides Lake Garda or Lake Como.
Here are five of the nation's lesser-known, enrapturing lakes.
Lago di Scanno, Abruzzo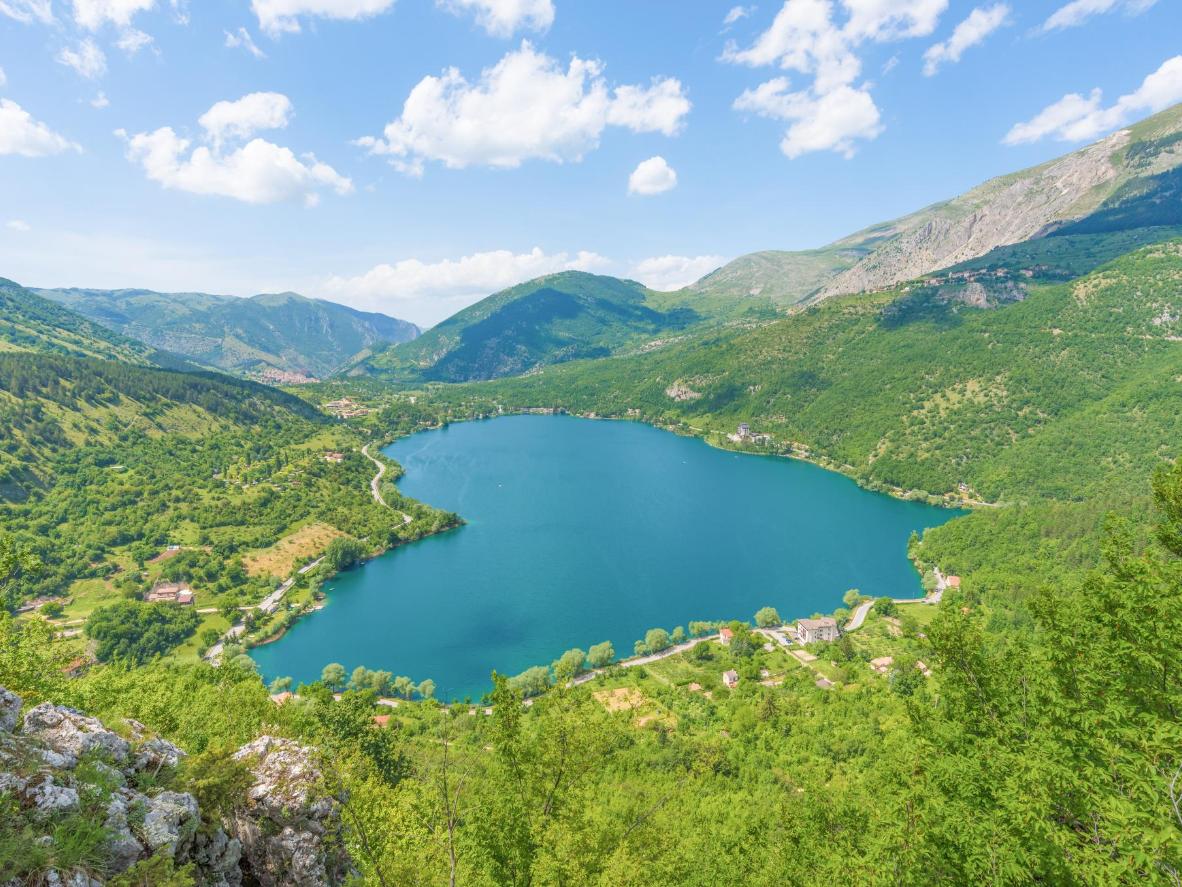 The heart-shaped Lago di Scanno, amid Italy's Apennine Mountains
The mountainous road to Lago di Scanno is almost as thrilling as the lake itself, passing through the Sagittarius Gorge and Italy's Apennine Mountains. As you pass the last hairpin bend through the village of Frattura, you'll catch sight of this twinkling, teal-coloured body of water – and its enchanting heart shape, formed when a landslide blocked the valley. Scanno is the largest lake in the Abruzzo National Park and its protected environment is home to a range of wildlife, from ducks floating on the water to peregrine falcons and eagles soaring overhead. You can hire pedalos and canoes, and there's cycling and horse riding along the track that circles the lake. Or just spend the day swimming and sunbathing, working up an appetite for a picnic on the sandy shore. Stay at Il Palazzo in Scanno, where breakfast is served beneath ceiling frescoes and chandeliers.
Lago di Tovel, Trentino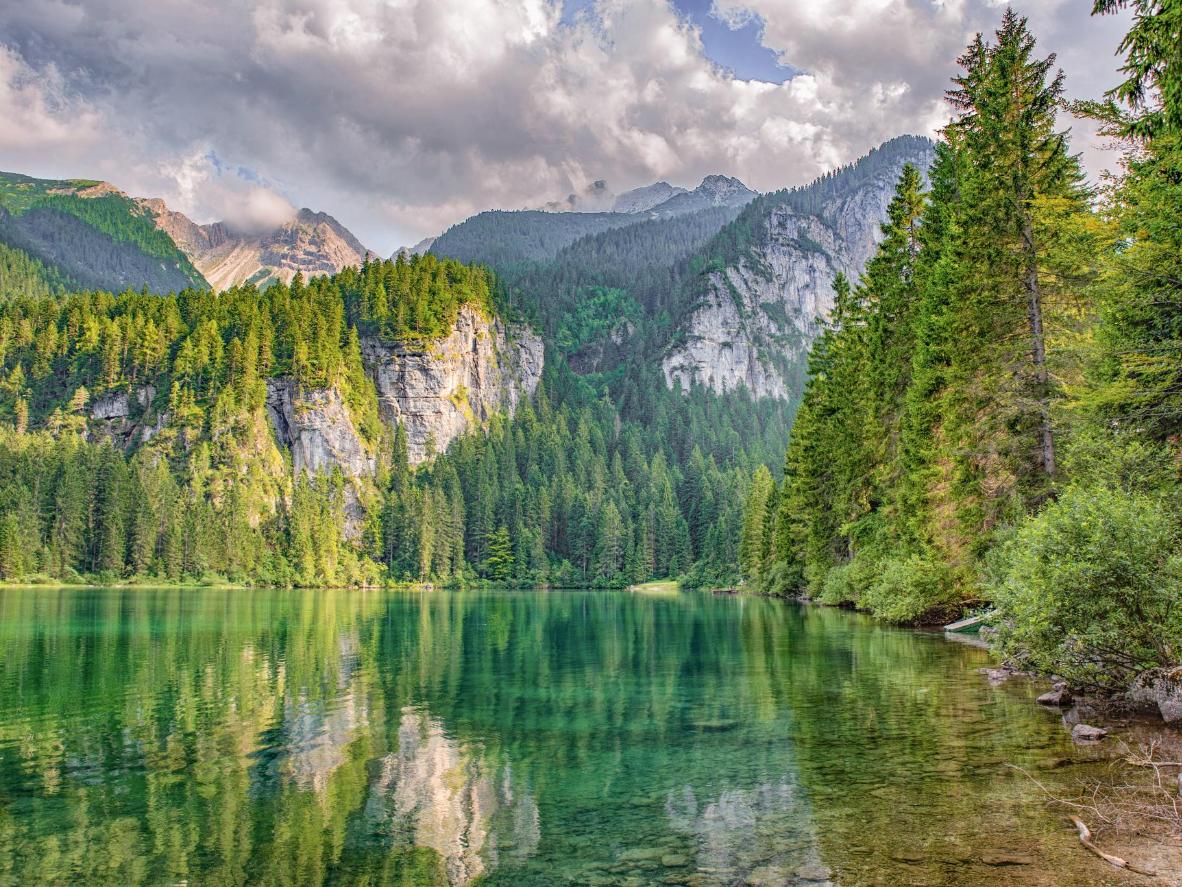 Swim in the crystalline waters of Lake Tovel, shifting from blue to green depending on the weather
The pine-covered slopes of the Dolomites descend sharply to the royal blue waters of Lake Tovel; their snow-capped peaks reflected on its smooth, mirror-like surface. The lake used to be famous for turning crimson in the summer months, due to its strong concentration of red algae. Sadly, this natural phenomenon hasn't occurred since 1964 but that does mean that the water is now a far more appealing hue for swimming, shifting from crystalline blue to green – depending on the weather. Stay just 100 metres from the lake at Chalet Tovel.
Lake Omodeo, Sardinia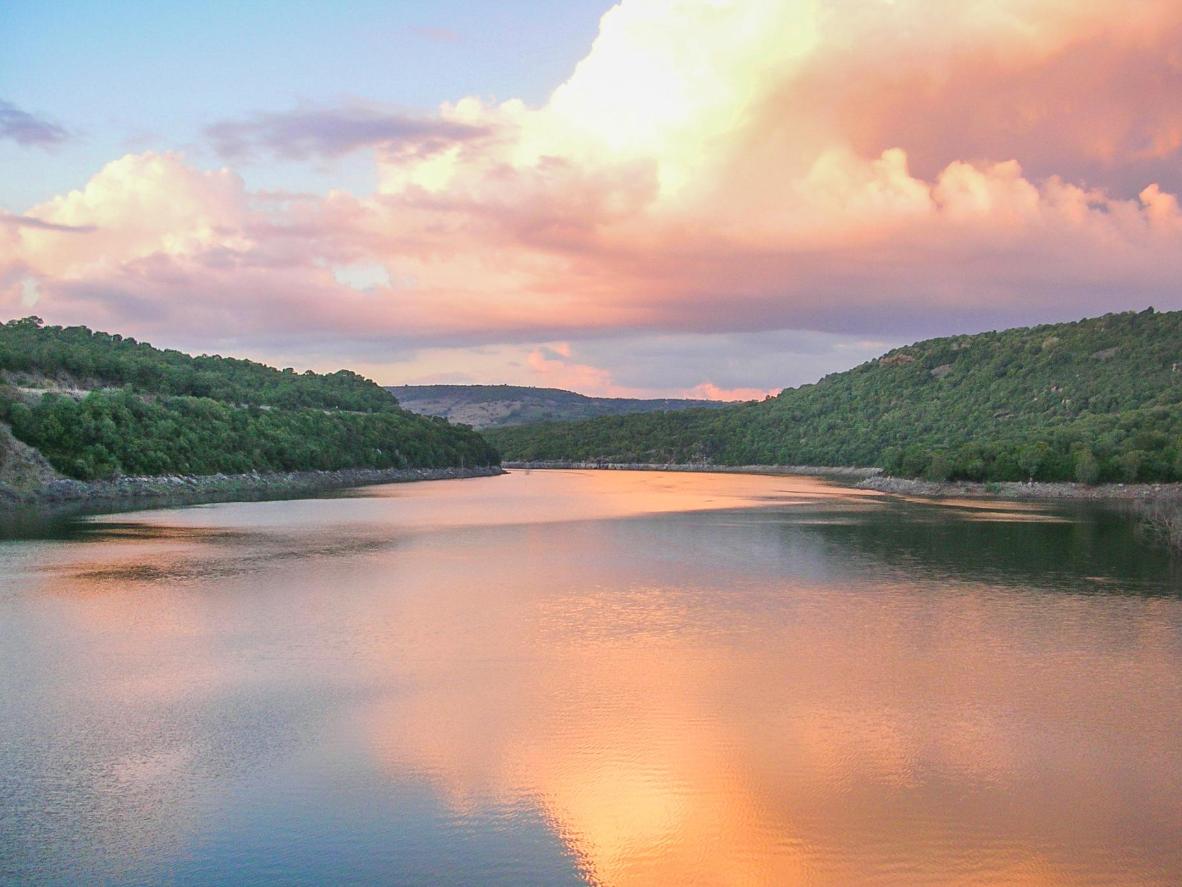 Lake Omodeo, surrounded by basalt plateaus and arid, mountainous Sardinian wilderness
On the balmy, Mediterranean island of Sardinia, this artificial lake was constructed in the 1920s and was once the largest reservoir in Europe – at more than 22km long and 3km wide. These days, it's home to rich birdlife and a place of great beauty, surrounded by basalt plateaus and arid, mountainous Sardinian wilderness. It's also in close proximity to numerous ancient, archaeological sites, including several 'nuraghi' (the prehistoric, stone tower fortresses that have become an emblem of the island). It's worth visiting Zuri, a village that was entirely dismantled and moved a few kilometres away to make way for the lake at the time it was built, including an enigmatic old Romanesque church. Check into Hotel Su Baione, just half an hour's drive from the lake.
Il Lago di Piediluco, Umbria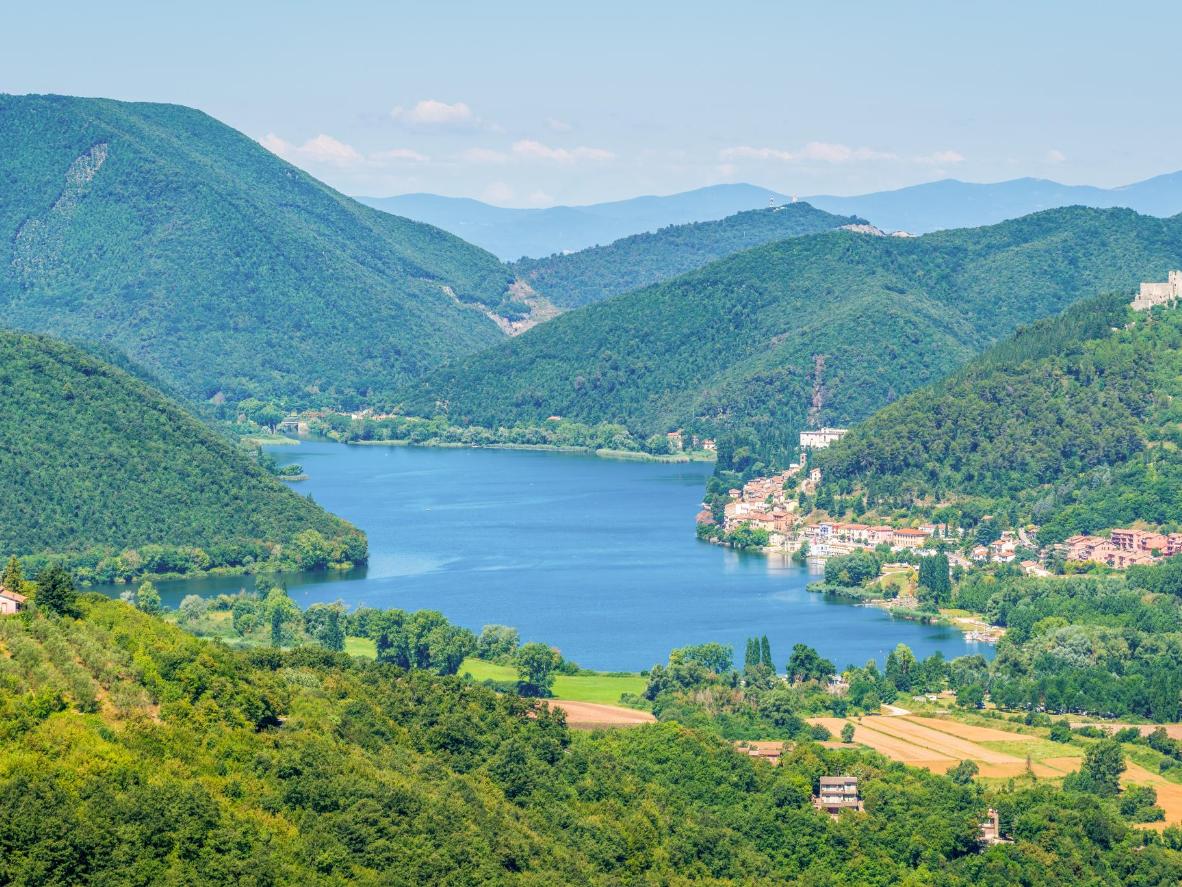 Il Lago di Piediluco is known in Italy as the training ground for the country's national rowing team
Known in Italy as the training ground for the country's national rowing team, Il Lago di Piediluco runs along the Umbrian side of the region's border with Lazio. Though you can't swim in the lake, the scenery is splendid – best admired by walking along sections of the Via di Francesco trail that snakes through the mountains towards the Marmore Waterfalls. Or watch the sailboats race across the lake from the Villalago, a neo-Renaissance villa whose regal gardens host outdoor concerts and performances during the summer. If you're visiting between late June or early July, the 'Festa delle Acque' (a water festival celebrating the summer solstice) sees fireworks light up the water, as well as a parade of illuminated boats. Il Lago di Piediluco is an ideal place to either try out or finesse your skills at sailing, boating and water skiing, while those who are keen for a more relaxing holiday can head for one of the small beaches. Or to the lake's eponymous village for a gelato and a walk around its medieval streets. Stay just outside the town of Piediluco, at Complesso Agrituristico La Ciriola, a farm that produces its own wine, jam and olive oil.
Lago del Turano, Lazio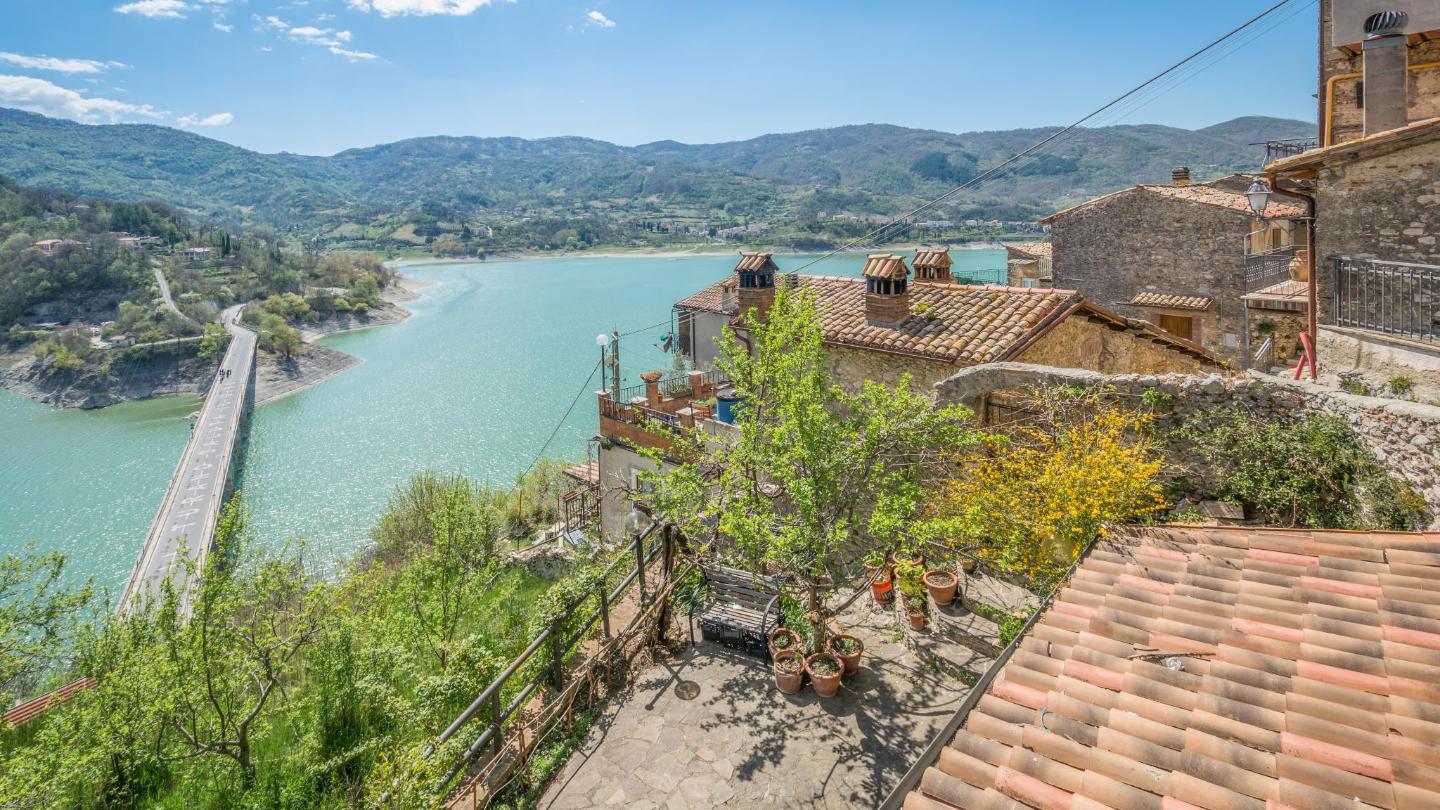 Have an antipasti lunch with a view of terracotta rooftops and the turquoise Lago del Turano
The turquoise and calm Lago del Turano, found amid rolling hills and wild canyons, provides a haven in nature just over an hour's drive from Rome. Its shores are punctuated with forested headlands giving way to small, sandy beaches, which you can explore by hiring canoes or pedalos. And all around the lake, you'll find medieval villages like the hilltop Castel di Tora and Colle di Tora, with family-run trattorias that serve up phenomenal antipasti platters of local cheeses, salamis, grilled zucchini and bruschetta at very reasonable prices (a must-try is the melt-in-your-mouth gnocchi with pecorino at Vignetto in Colle di Tora). Head back to Rome for an evening martini on the sun terrace at Hotel Degli Artisti.