For those eager to get away from it all during Golden Week—a series of national holidays in Japan when families and friends take time off to travel together)—nothing beats a nature-based trip. And with this huge annual holiday coinciding with spring, Japan's bountiful and beautiful flower parks are the perfect choice.
From fields of moss-pink (also known as moss phlox) stretching toward the foot of Mount Fuji to a breathtaking 160-year-old wisteria tree, here are the seven most spectacular places to visit in Japan for spring.
Ashikaga Flower Park, Tochigi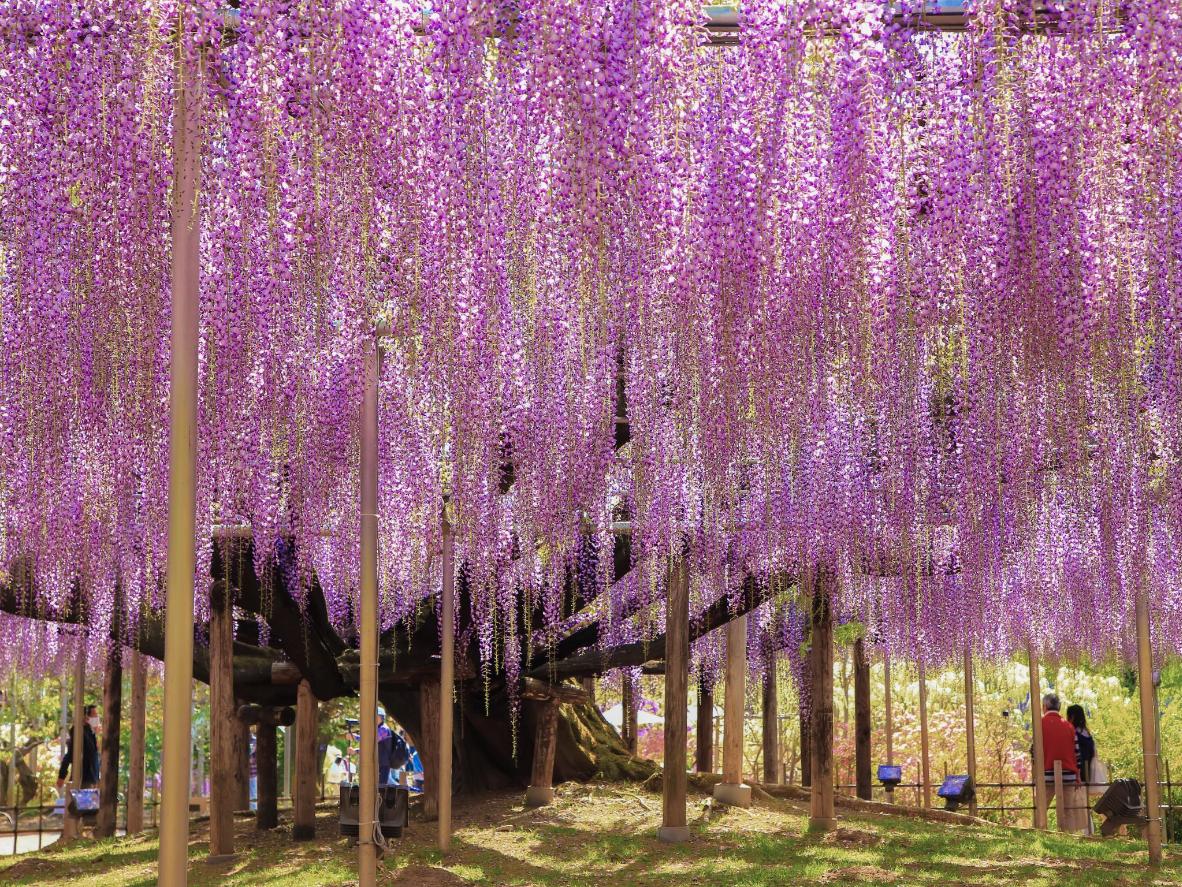 Take a stroll underneath the 160-year-old Great Wisteria Tree at Ashikaga Flower Park
Just an hour and 20 minutes' drive from Tokyo (and a little longer by train), Ashikaga Flower Park is a wisteria wonderland with a festival held each spring. The park is open year-round, with different flower varieties—including about 1,000 azaleas—blooming at different times. Stroll through whimsical blossom tunnels where the wisteria ("fuji" in Japanese) dangles through arched wooden trellises, to a 260-foot white wisteria walk, and over a bridge with blooms in bright yellow, violet, blue, and pink.
Some of the wisteria is illuminated in the evenings, including the biggest attraction of all – the 160-year-old Great Wisteria Tree (or "ofuji"). Surrounded by water reflecting the petals and a canopy covering 330 square feet, it's a magnificent sight. Head back to Tokyo and spend the night at MIMARU TOKYO GINZA EAST, close to the train station.
Hitachi Seaside Park, Ibaraki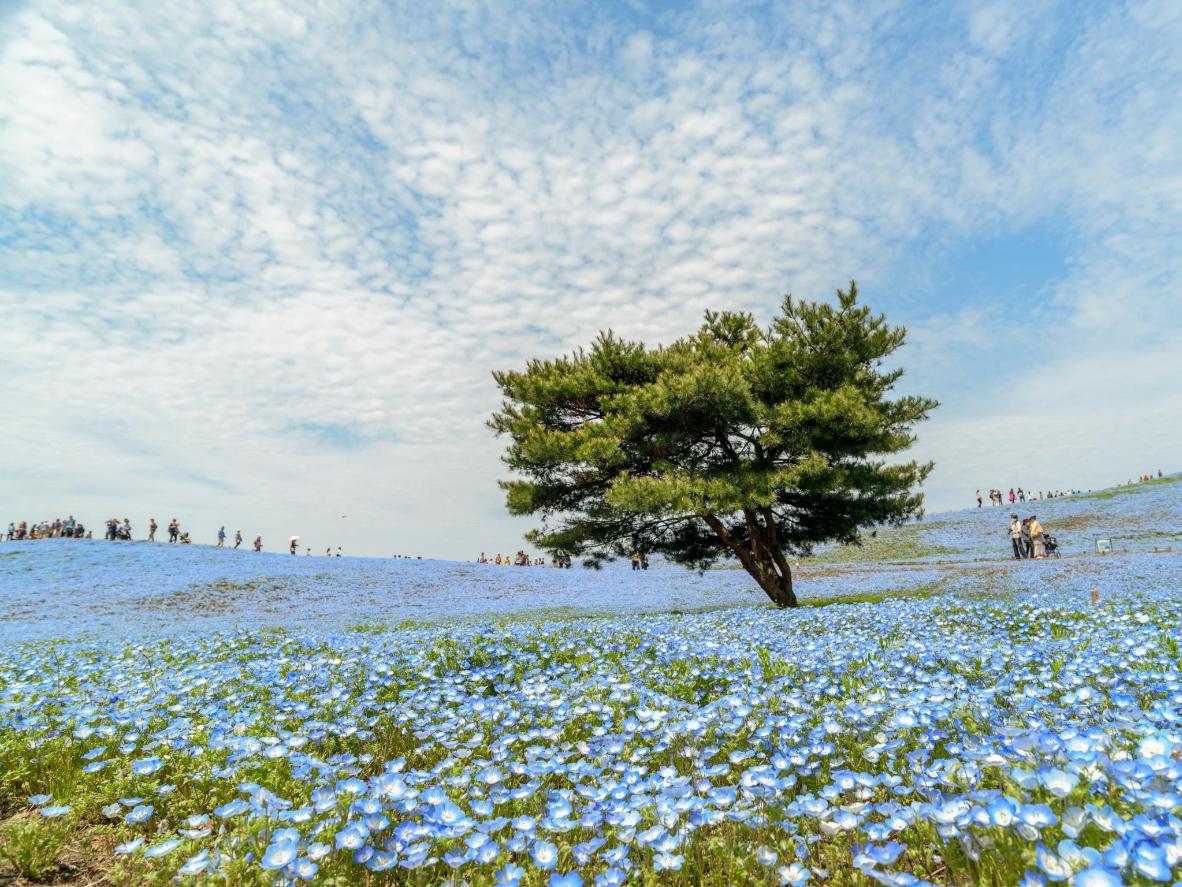 Admire endless fields of baby blue flowers at Hitachi Seaside Park
The photogenic Hitachi Seaside Park sits on the coast of the Ibaraki Prefecture, and is famous for its nemophila flowers (also called baby blue eyes). Blooming in spring—usually peaking in mid-April to early May—they cover the hills in azure, blending with the sea and sky to spectacular effect. Come summer, sunflowers, poppies, and roses provide striking color. In the fall, a carpet of round kochia bushes (summer cypress) turns the hills from lime green to flaming crimson.
Even in winter, Japanese plum trees bloom yellow and pink. Hike the trails that wind through the forest or rent a bike to explore the nearly seven miles of bike paths. The park has wheelchair accessible paths and a small train that travels the perimeter stopping at various locations. For added thrills, check out the amusement park with rides including a roller coaster and a ferris wheel that provides panoramic views of the park and sea. Round off the perfect day out with a picnic in the barbecue area. Stay a short drive from the park at the highly rated HOTEL R9 The Yard Hitachinaka.
Hitsujiyama Park, Saitama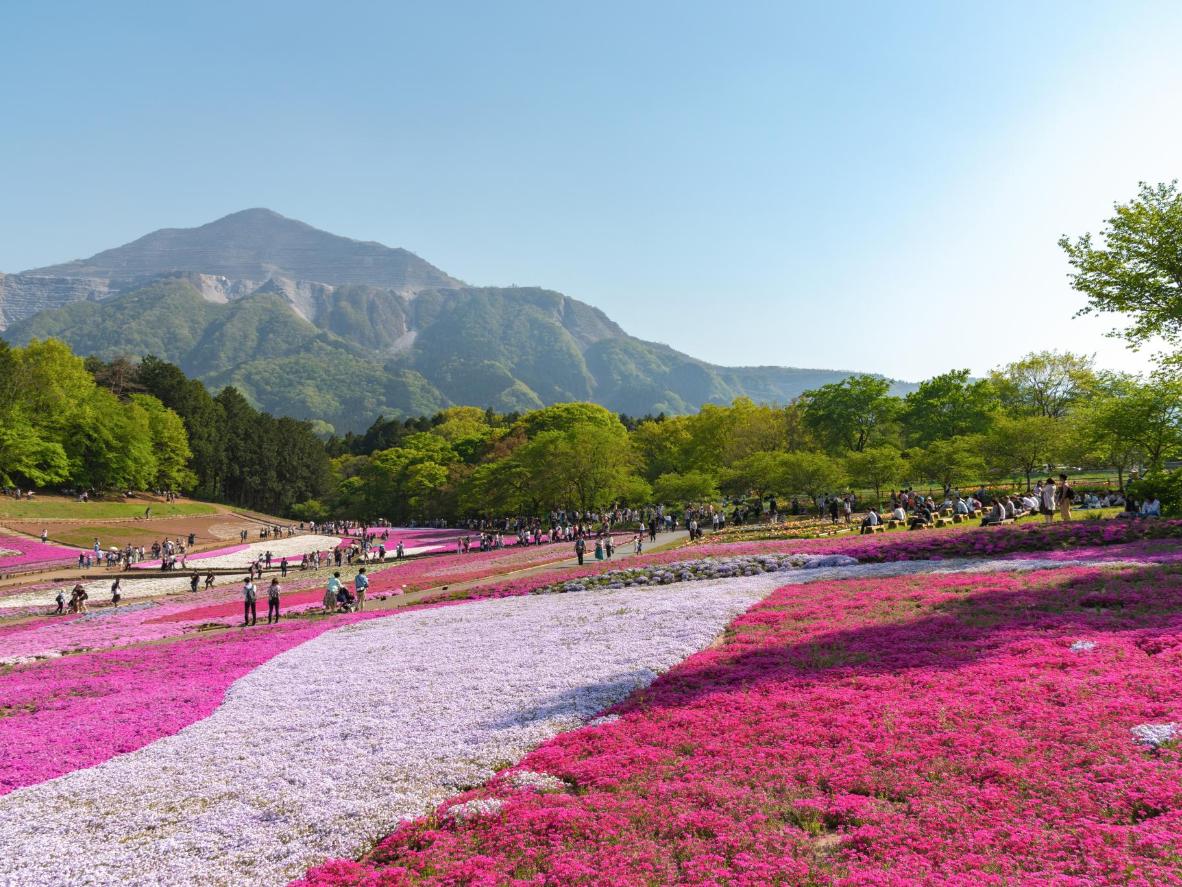 Moss-filled meadows blossom at Hitsujiyama Park with Mount Buko in the background
Hitsujiyama Park is a national treasure not far from Tokyo, on a hilltop just above the city of Chichibu. Watched over by the peak of Mount Bukō and surrounded by cedar forest, its flowering moss (or "shibazakura") filled meadows turn into a sea of pink, lilac, and mauve in spring. From mid-April to early May, this magnificent sight attracts droves of tourists and locals alike.
Over 400,000 of these dainty flowers have been planted in patterns around the rolling fields to create a particularly dazzling floral display in the sunshine. Check in to the peaceful Shomarutoge Garden House, just 23 minutes away from the park by car and with a nice view of Tokyo in the distance.
Tonami Tulip Park, Toyama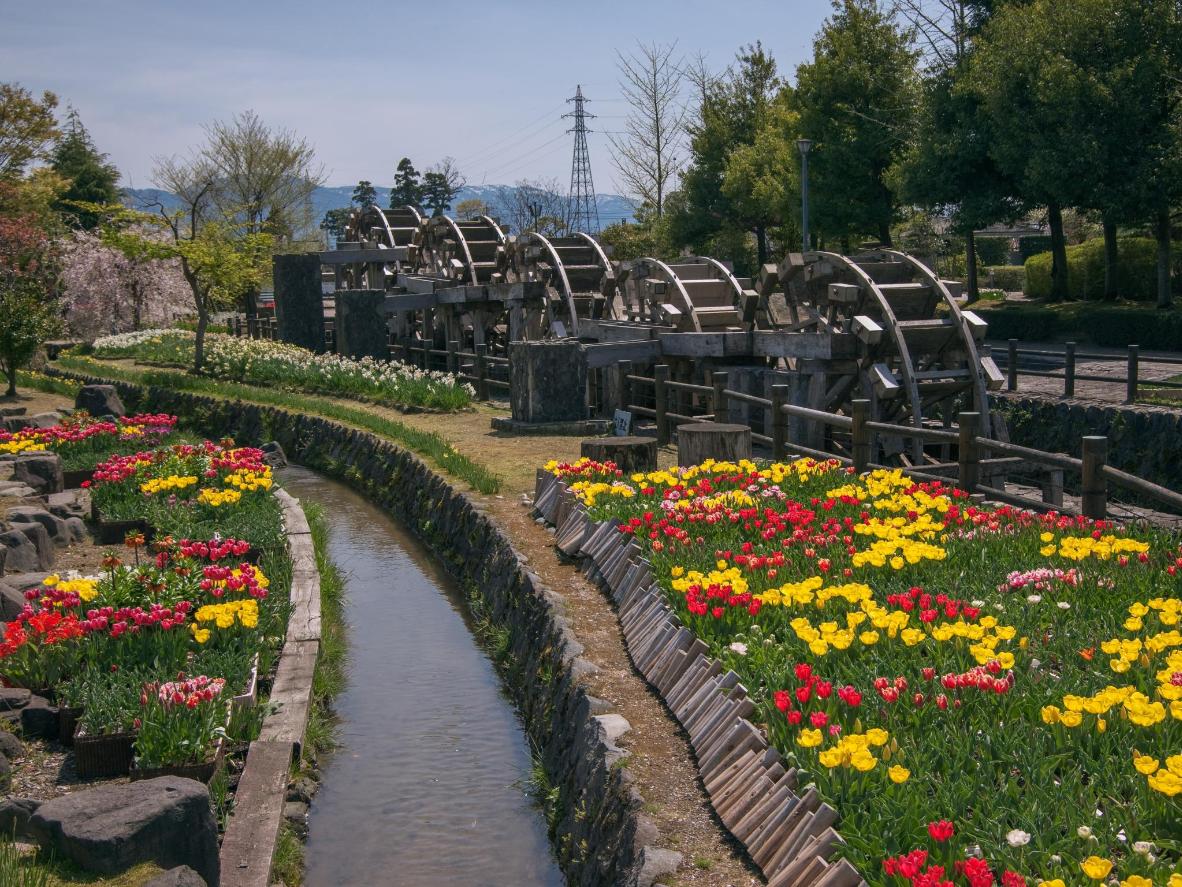 A small river with waterwheels runs through Tonami Tulip Park
About three hours from Tokyo by Shinkansen (bullet train) plus regular train or bus, the small city of Tonami is home to an incredible tulip park of the same name. The annual Tonami Tulip Fair (coinciding with Golden Week 2023) is an unmissable event. For two weeks, the fair showcases the park's three million tulips, precisely planted in rows of vivid reds, oranges, and yellows like a rainbow.
Be sure to check out the tulip-shaped observation tower. From here, enjoy panoramic views of the entire park. There's a pond where sculpted flower beds float, a small river running through the park, pretty waterwheels, bridges, and walking paths that cross the fragrant fields. Stay in a traditional Gassho-style Japanese building at the highly rated Guesthouse Kazura, a 25-minute drive away.
Fuji Shibazakura Festival, Yamanashi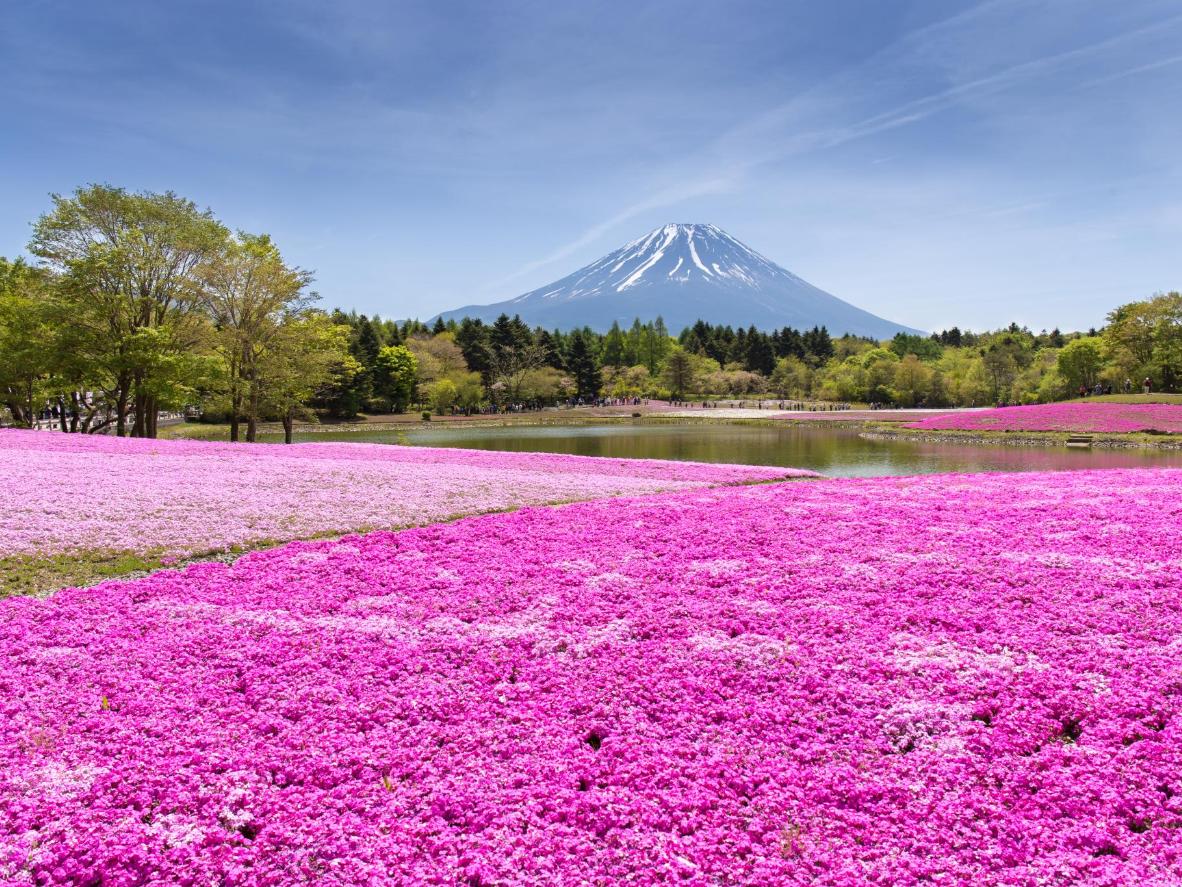 Pink fields of moss phlox with Mount Fuji in the distance
With snow-capped Mount Fuji forming a surreal backdrop and fields of vibrant moss phlox stretching toward the horizon, the Fuji Shibazakura Festival is a spring spectacle. It takes place in the beautiful Fuji Five Lakes region, which lies at the foot of the mighty volcano. The festival runs from April 15 to May 28, but the best time to see the flowers in full bloom is usually the first three weeks of May – perfect timing for a Golden Week trip.
Browse festival stalls selling pink moss in small pots, and all manner of flower-themed souvenirs. You can also take home some gourmet local food and produce – the Mt. Fuji Delicious Foods Festival happens at the same time, celebrating some of the best local cuisine like Fujinomiya yakisoba. Check in to Hotel Asafuji for lake views and onsen (hot spring baths).
Higashimokoto Shibazakura Park, Hokkaido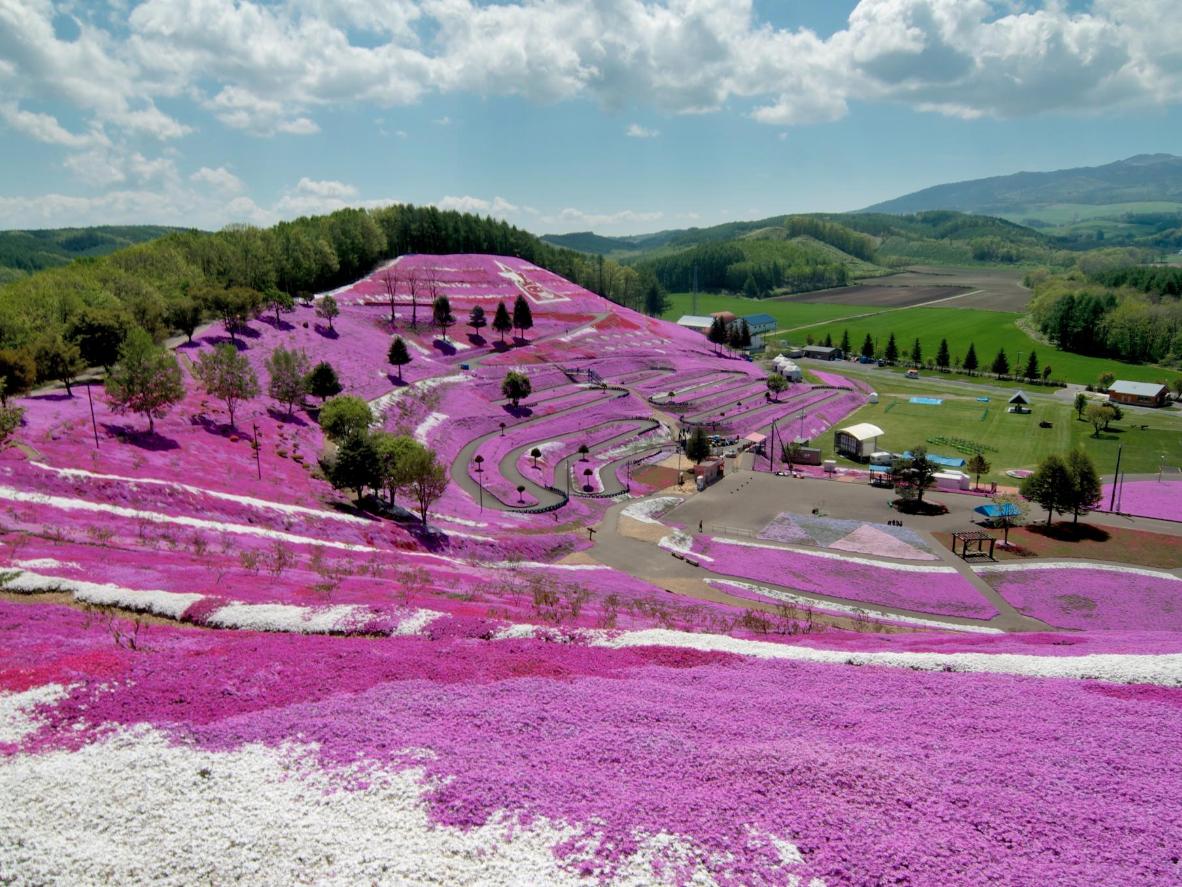 Climb the hills of Higashimokoto Shibazakura Park to enjoy an impressive vista of blossoming phlox
On the sparsely populated and picturesque island of Hokkaido, Higashimokoto Shibazakura Park is another great place to see moss-pink. Every year, mid-May sees an entire hillside of this enormous park erupt into a bright shade of fuchsia, with a matching pink torii gate at the top of the slope. This gate marks the entrance to the park's Yamatsumi Shrine, dedicated to the Shintō deities of the mountain.
There's also an observatory with fantastic views of the surrounding landscape, a go-kart course, a pond where you can fish for yamame (a type of trout), and a campsite. If you'd prefer a luxurious indoor stay, the Hokuten no Oka Abashiriko Tsuruga Resort has its own open-air hot spring and is only a half-hour drive from the park.
Nishiyama Park, Fukui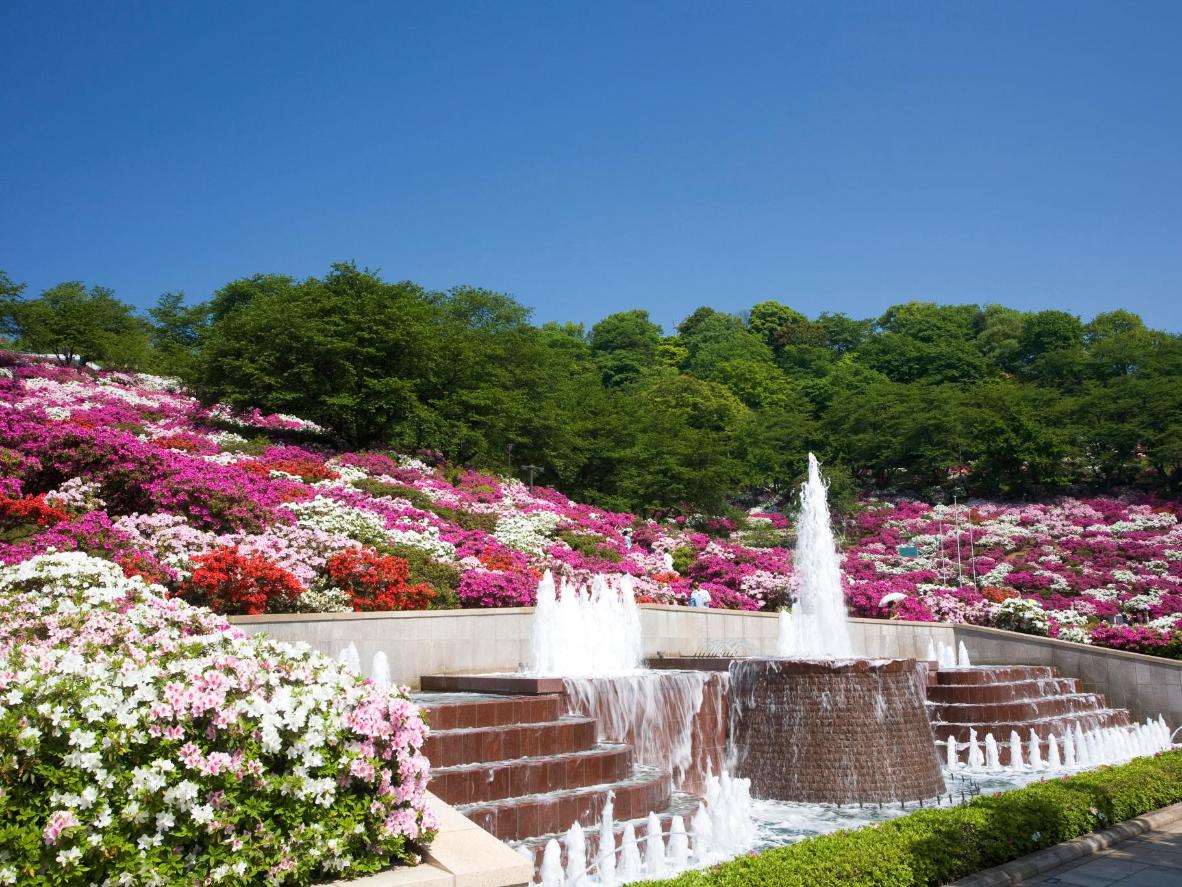 Nishiyama Park is one of the best spots in Japan for azalea viewing
The historic Nishiyama Park on the Sea of Japan coast in the Fukui Prefecture was founded in 1856 by a local feudal lord as a recreational space for the general public. These days, it attracts visitors from far and wide for its resplendent natural beauty – from 1,600 maple trees that turn fiery red come autumn to 1,000 cherry blossom trees that fill the air with pink petals come spring (usually peaking in early April).
But it's the 50,000 azalea bushes coming into full bloom in early May that make the perfect attraction for a Golden Week trip. Don't miss the park's traditional Japanese garden with a koi pond, or the observation deck where you can see as far as the Hakusan Mountains. Stay at the highly rated Dormy Inn Fukui Natural Hot Spring, just a 30-minute drive or train ride from the park.