With its laid-back culture and multitude of world cuisines, LA has tons of game-changing brunch spots. Whether you're on vacation looking for a must-do or a local on the hunt for a fresh take on your favorite meal, here are seven of the city's best brunches.
Blu Jam Café
Blu Jam's crunchy French toast is its pride and joy, so it's no surprise that the batter recipe is a secret. You won't be able to recreate it at home, which is all the more reason to visit and try their grilled brioche for yourself, with its delicious toppings of vanilla bean sauce and fresh berries. The café now has locations all over the city, including in Hollywood, Sherman Oaks, Calabasas, and Downtown LA, so you'll have plenty of opportunities to explore the extensive menu. The Charlie West Hollywood (once home to Charlie Chaplin) is a historic mansion in West Hollywood, close to Blu Jam Café's flagship location.
République
With a geometric tiled floor, exposed brickwork, and high ceilings, République is one for the Instagrammers. Indulge in cream-filled brioche with bacon, pecans, and maple syrup, or go for something savory with the kimchi and sesame fried rice with egg and short ribs. The luxury Central Apartment is just a few blocks from République, with private sun terraces and an outdoor pool.
Openaire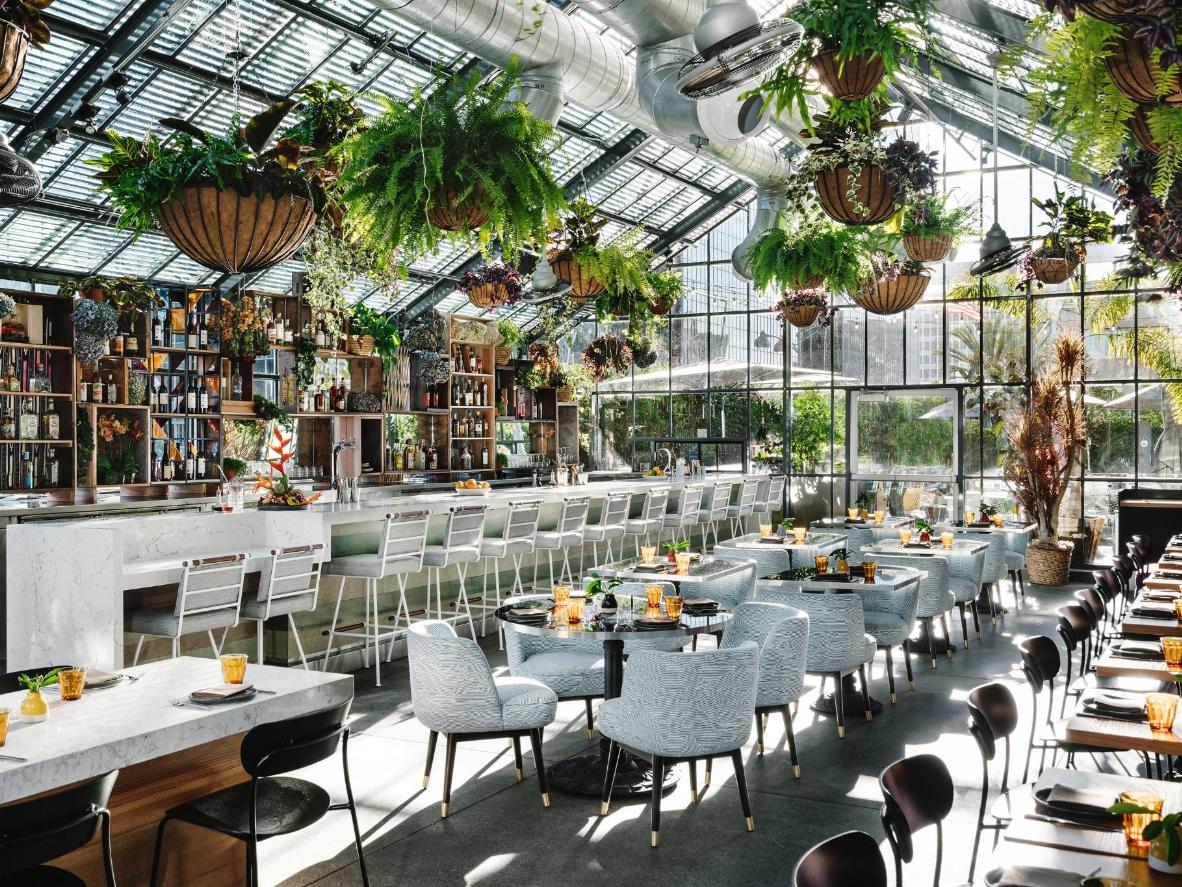 On the rooftop of LA's Line Hotel, you'll find Openaire, a spacious, leafy greenhouse with sunlight streaming through and casting shadows over the earthy green and wooden decor. This restaurant serves breakfast every day from 7am, with celebrated Michelin-starred chef Josiah Citrin at the helm, who places the emphasis on seasonal California fare. But the weekend brunch buffet is the real indulgence, with cornflake-crusted French toast with caramelized bananas and mint, and the lobster chilaquiles with molcajete salsa, Monterey Jack, and avocado. Stay downstairs in The LINE Hotel and enjoy wonderful bedroom views over LA.
JiST Café
If you're looking to branch out from your usual avocado toast, Japanese fusion brunch spot JiST is the place to go. It's been run by the same family for over 70 years and has won over locals with its popular Chashu Hash Skillet (marinated pork belly chashu with eggs and potatoes) and the Lucky Ducky (shredded duck breast with green onion pancake). You'll find your obligatory LA brunch contenders as well, like thick chocolate chip pancakes and their Faux Frenchman croissant sandwich. But what makes this place really stand out is its Asian-inspired fare. Stay at the highly rated Omni Los Angeles Hotel, just around the corner.
Sqirl
This tiny, Italian-style corner café—partially hidden by a flowering tree—is an incredible find. While you'll have to wait for a table, that's to be expected in LA and Sqirl does a good job at managing swift turnarounds. It's known for its baked goods, particularly its inventive variations of thickly cut toast. The ricotta toast, with burnt brioche coated in house ricotta and a choice of seasonal jam, is worthy of its stellar reputation. The highly rated Silver Lake Pool & Inn is just a 2-minute drive from Sqirl, since you might want to rent a car to get around LA.
Gjusta
Gjusta is first and foremost a bakery, set in a huge renovated warehouse in the Venice neighborhood. The sourdough sandwiches and banana chocolate tart are excellent. Gjusta also serves as a deli, where you can pick up a freshly baked loaf of bread or cuts of meat. Its casual, friendly atmosphere and industrial decor make it the ideal spot for a long, lazy weekend brunch. On a sunny day, you can sit outside with a smoothie in the courtyard furnished with potted plants and wooden benches. Located in a Venice beachfront building, Venice Breeze Suites is just a short walk from Gjusta.