There's nothing quite like getting lost in a bookshop, exploring a treasure trove of stories while relishing the often intimate, historic and heady atmosphere. Head off to one of these eight select shops that promise to enchant anyone who enters.
Daunt Books, London
The central oak gallery is the shop's main draw
Daunt Books is a London institution. Housed in an Edwardian building in the Francophone neighbourhood of Marylebone, Daunt Books is built around a central oak gallery with tall, arched windows and lined with dark wooden balconies that sit above and below stacked bookshelves. It's become such a popular bookseller that it's opened up a number of locations across town but it's the original that continues to steal literary hearts. Grab a book and their popular souvenir tote bag before making your way to the Nottingham Place Hotel.
Shakespeare and Company, Paris
Shakespeare and Company sits right opposite Notre Dame
Shakespeare and Company is arguably the world's most famous bookshop. Located just across the Seine from Notre Dame, it has long drawn the literary elite to its rickety storefront, including the likes of Ernest Hemingway and F. Scott Fitzgerald. Crammed with floor-to-ceiling bookshelves and wobbly stacks of paper, Shakespeare and Company is a booming marketplace for any kind of literature, especially great works of the early 20th century. Young literary enthusiasts still flock to the shop, with some even spending time working in the shop during the day and sleeping among the books in the shop's attic bedrooms. The only stipulation for those working here is that employees must read a new book every week. Pick up a copy of Victor Hugo's Hunchback of Notre Dame on your way out, and wander back to Hotel Parc Saint Severin, just 500 metres from Paris' precious cathedral.
Tsutaya Books Daikanyama, Tokyo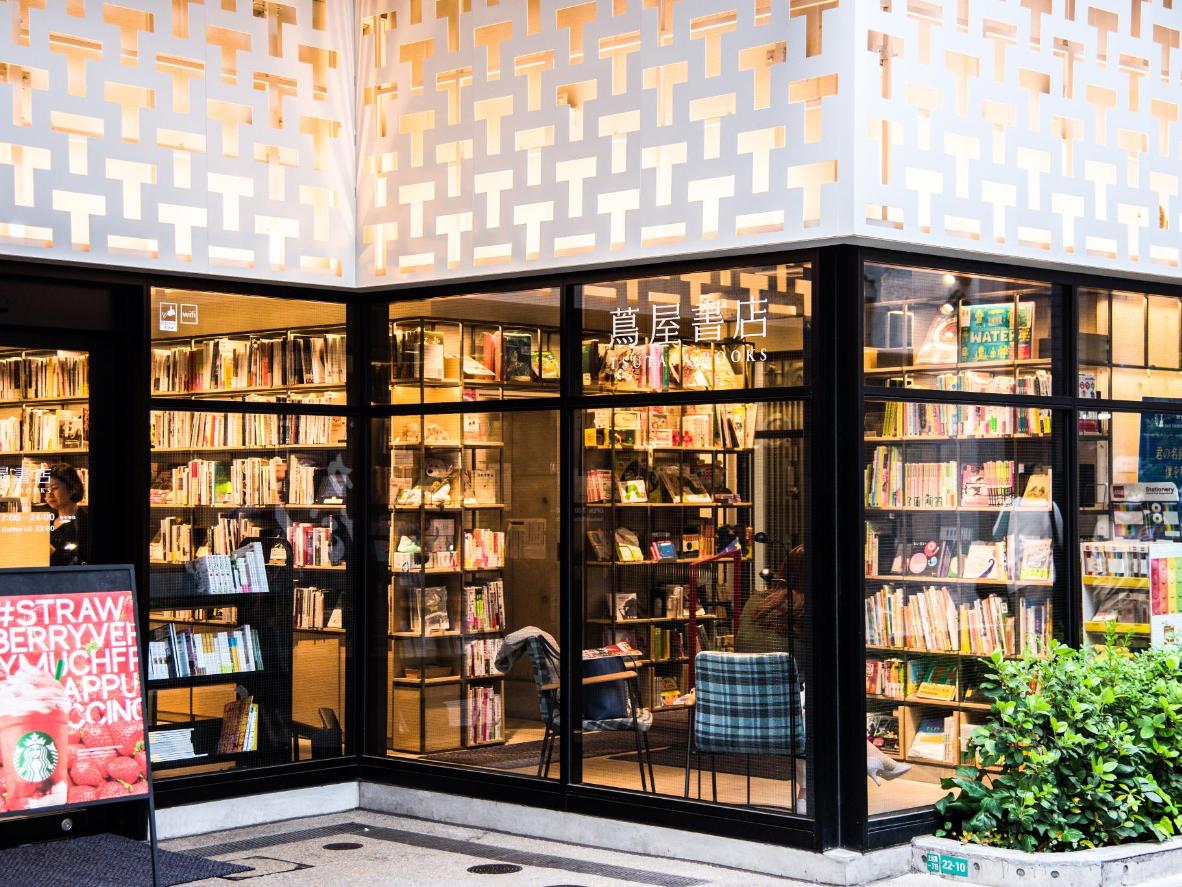 There are plenty of little nooks to read in at this book complex
A glassy, modern and stylish complex, Tsutaya does away with the notion that bookshops are only ever stuffy and dusty spaces. The bookshop (dubbed 'T-Site') is spread across three two-storey buildings that won an award at the World Architecture Festival. The architects behind the complex used the theme of 'a library in the forest' as inspiration for the design. Dark wood ceilings and light wood floorings create a clear natural element that courses through the space across the shop's various sections; from rooms dedicated to photography and architectural magazines, to bright corners brimming with vintage titles. There's even a music space where you can listen to a range of genres while sipping on a coffee and looking out onto the courtyard outside. When you can finally drag yourself away, stroll back to this nearby bed and breakfast.
Boekhandel Dominicanen, Maastricht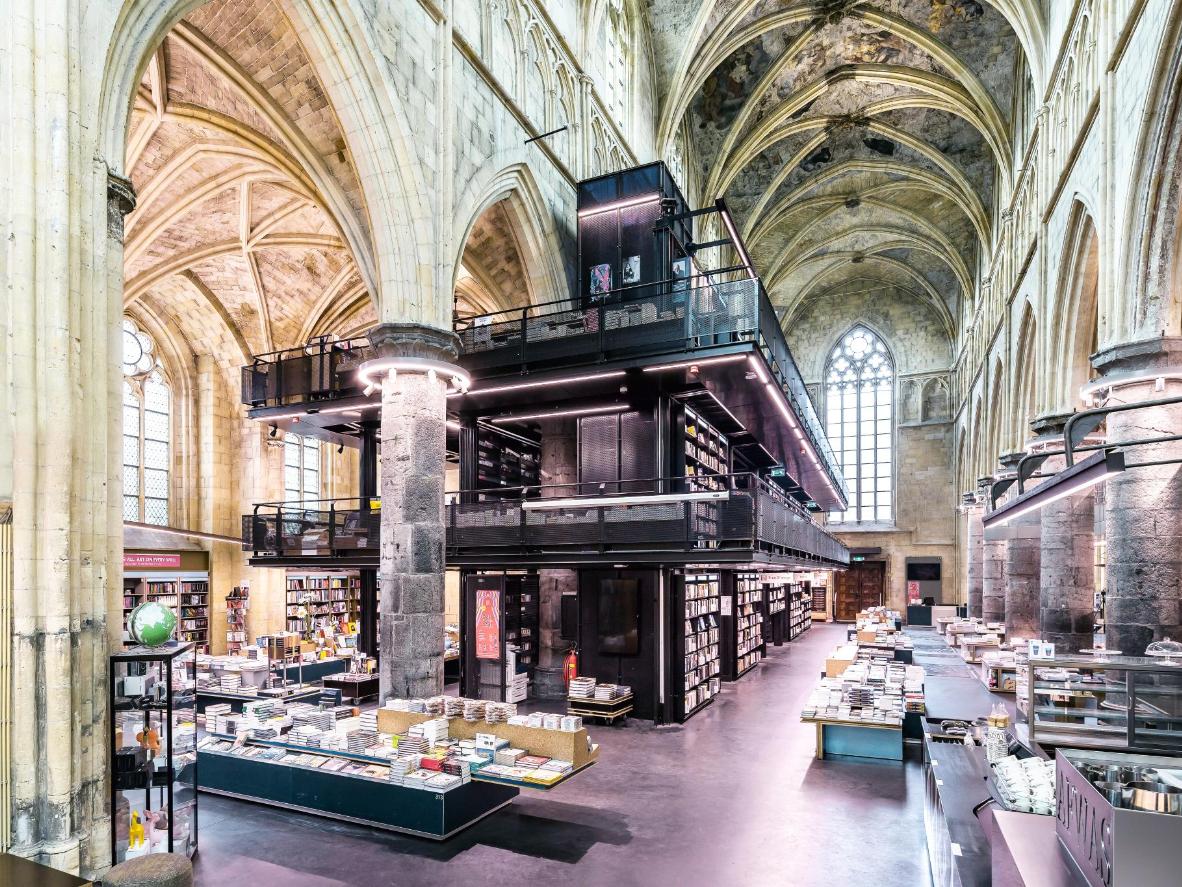 Admire the nave's vaulted ceilings. Shot by Etienne van Sloun
Housed in a 700-year-old Dominican church in Maastricht, this bookshop was renovated in 2006 and has since evolved into a bonafide temple of books. Decked out in minimal, modern furnishings that climb three storeys high, the library blends beautifully with the nave's vaulted ceilings. Pick up a book to enjoy at the on-site's coffee shop and revel in the grand surroundings. Stay at Le Theatre Hotel.
El Ateneo Grand Splendid, Buenos Aires
A former theatre-turned-bookshop, El Ateneo is grand
El Ateneo Grand Splendid is as its name suggests; a former theatre-turned-bookshop, it's a fantastical place with frescoed ceilings, gilded balconies and intricate carvings. It's been dubbed the world's most beautiful bookshop but titles aside, reading here is still a humble affair. Flick through your book of choice and try to take in this palatial building's beauty. Spend the night close by and check in to this equally luxurious hotel.
Acqua Alta, Venice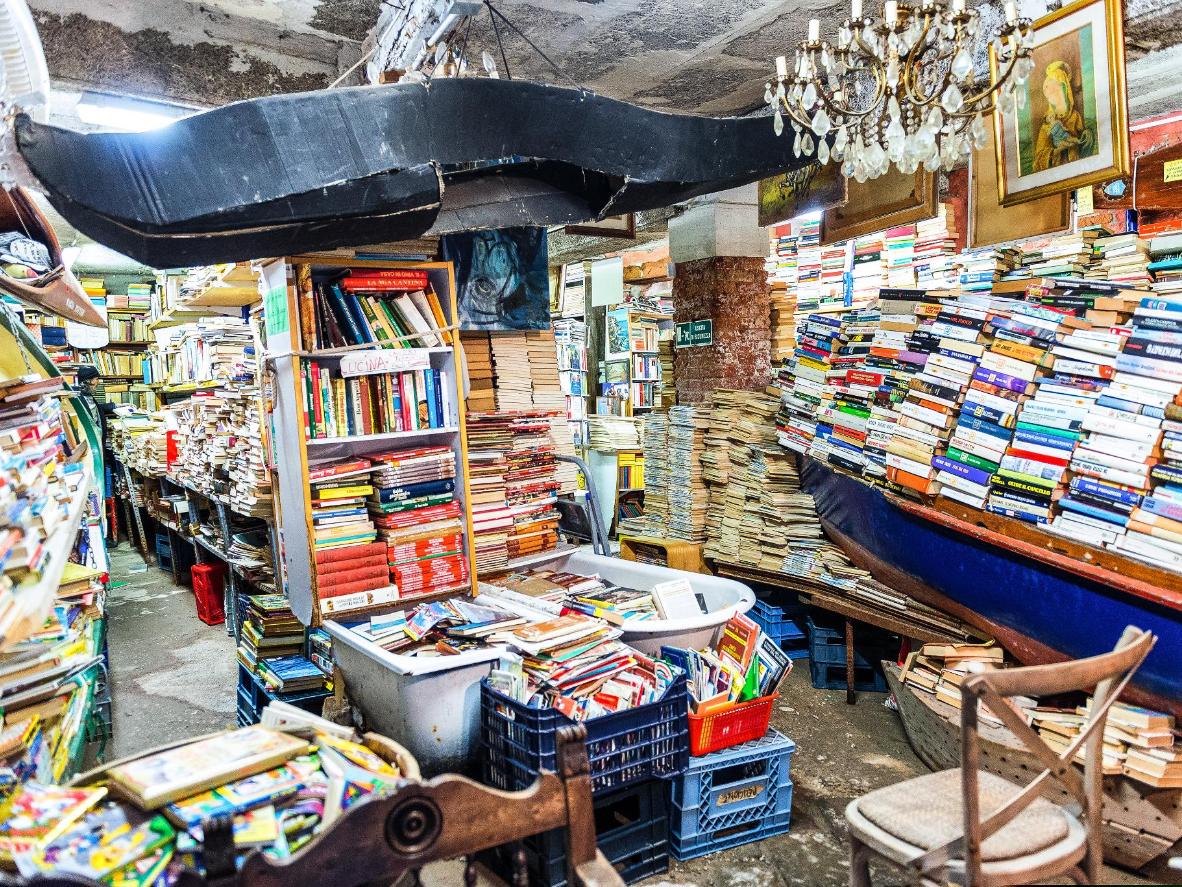 Books are stacked in bathtubs and rowboats here
A ramble through Venice's streets is a magical experience day and a visit to bookshop, Aqua Alta, captures much of the city's charisma. This tumbledown shop across from the Rio della Tetta canal is the go-to spot for lovers of books, quiet atmospheres and cats. Books are stacked in anything from bathtubs to rowboats and even a gondola. After your visit, head to Ai Tagliapietra.
Word on the Water, London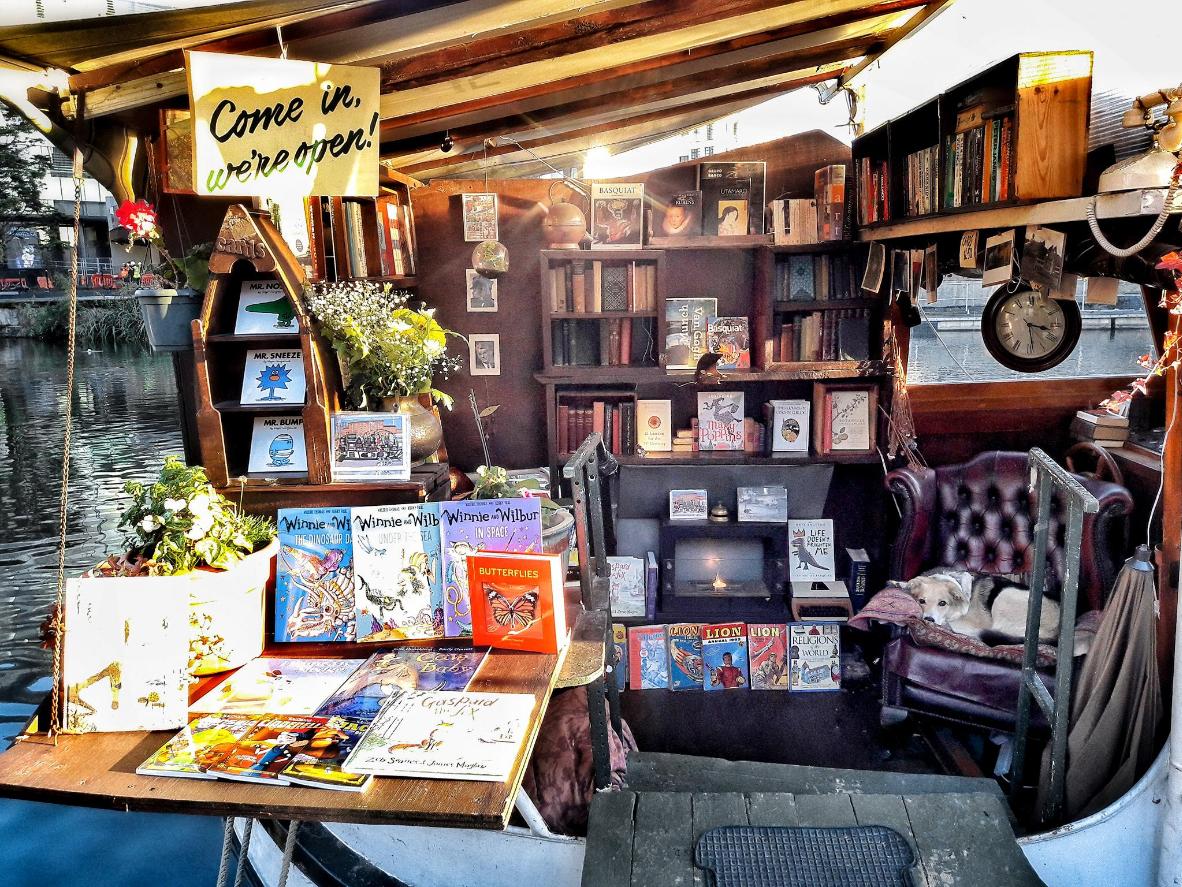 Hang around Regent's Canal and you may be lucky enough to spot Word on the Water
You'll find Word on the Water floating down Regent's Canal. A bookworm's paradise, this houseboat-cumbookshop has anchored itself as a mainstay among London's literary hideouts. A creaky boat crammed to the brim with bookshelves and worn armchairs, this is the spot to pick up some Keats or Wordsworth before you try your hand at a Bridget Jones-esque poetry reading on the water later on. The boat also hosts performing musicians and guest speakers, who grace the barge's roof for impromptu shows. Linger in the sunshine before returning to The Alma afterwards.
City Lights Booksellers, San Francisco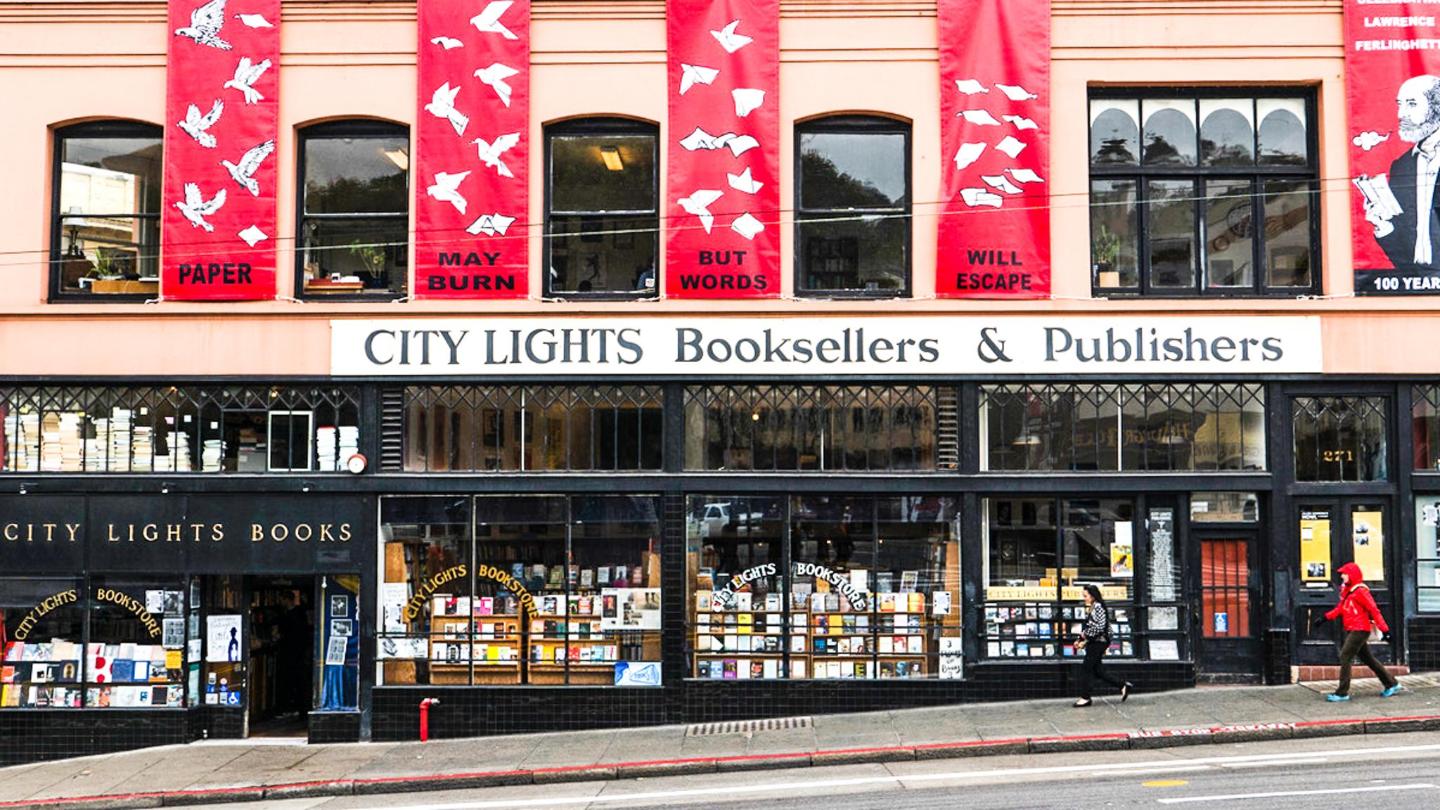 City Lights Booksellers is the home of the Beat Poets. Shot by Chris Carosi
The home of the trailblazing Beat Poets, City Lights Booksellers is a cornerstone of San Francisco's literary culture. Free speech has long reigned as the shop's modus operandi, ever since Allen Ginsberg's seminal work, Howl, was allowed to be published after a long trial contesting its value and obscenity. These days, rebellion still runs through the shop's veins, best witnessed in the 'Pedagogies of Resistance' section. Explore the shop's sleepy interior and the various works on counter culture, and you'll begin to appreciate how City Lights earned its cherished status. When you've absorbed all the literature you can for the day, head home to the lively Green Tortoise Hostel.