Northern Italy has it all: incredible food, idyllic scenery, art and culture, and a pleasant climate. And a road trip is one of the best ways to enjoy it all. For anyone planning or dreaming about their next getaway, why not rent a car and go on one of these heavenly Northern Italian road trip routes?
The Italian Lakes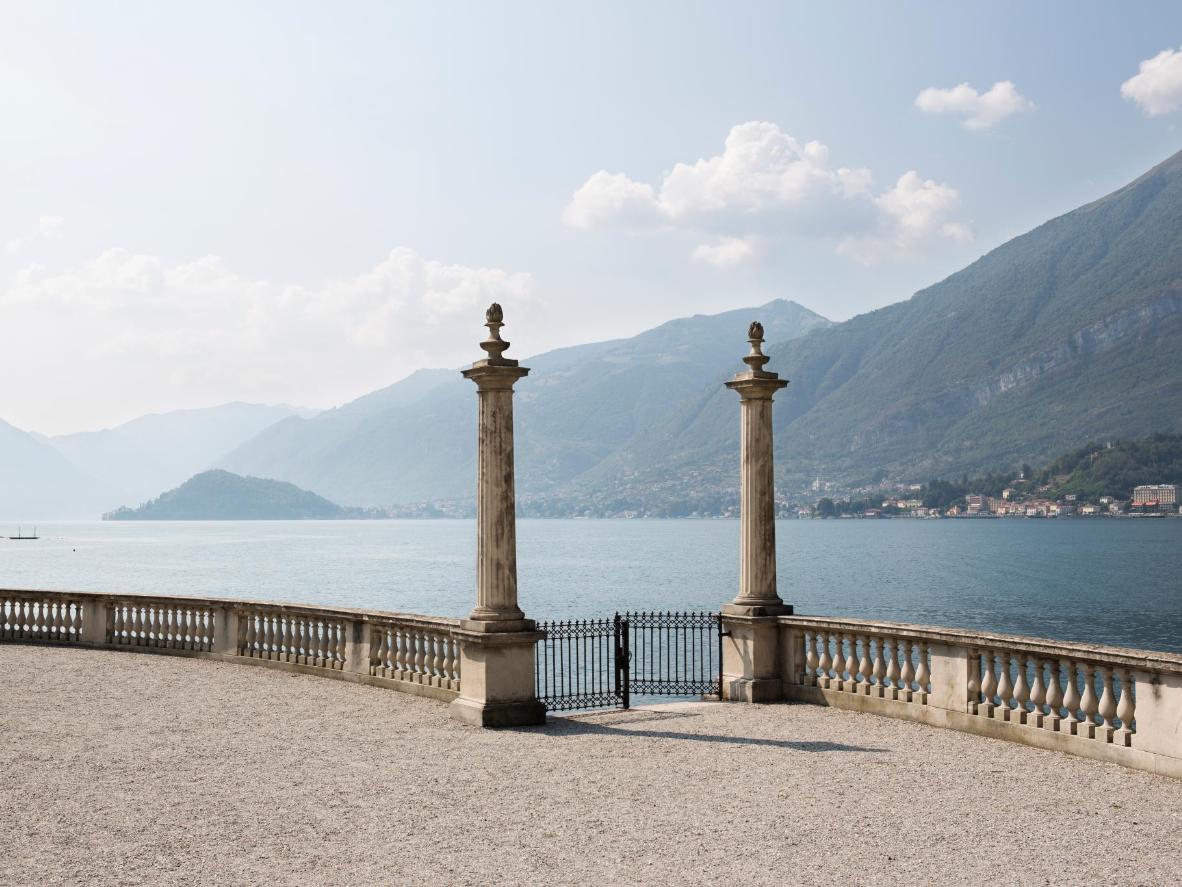 Lake Como
The beauty of the Italian Lakes can't be overstated. Explore the villages of pastel-painted houses decorated with flower baskets and shutters near Lake Garda. Or, trade the car for a boat ride to admire the grand neoclassical villas lining Lake Como's glistening blue shores, with mountains covered in cypress forests and terraces of olive and lemon groves in the background. You can tailor your road trip itinerary to match your needs, like spending a week to explore Garda. Or you could spend a leisurely day driving 45 miles around Como's southern shore and stopping in charming little towns like Bellagio. Book a night at Palazzo Albricci Peregrini in the town of Como, an easy starting point to a trip around the lake.
The Dolomites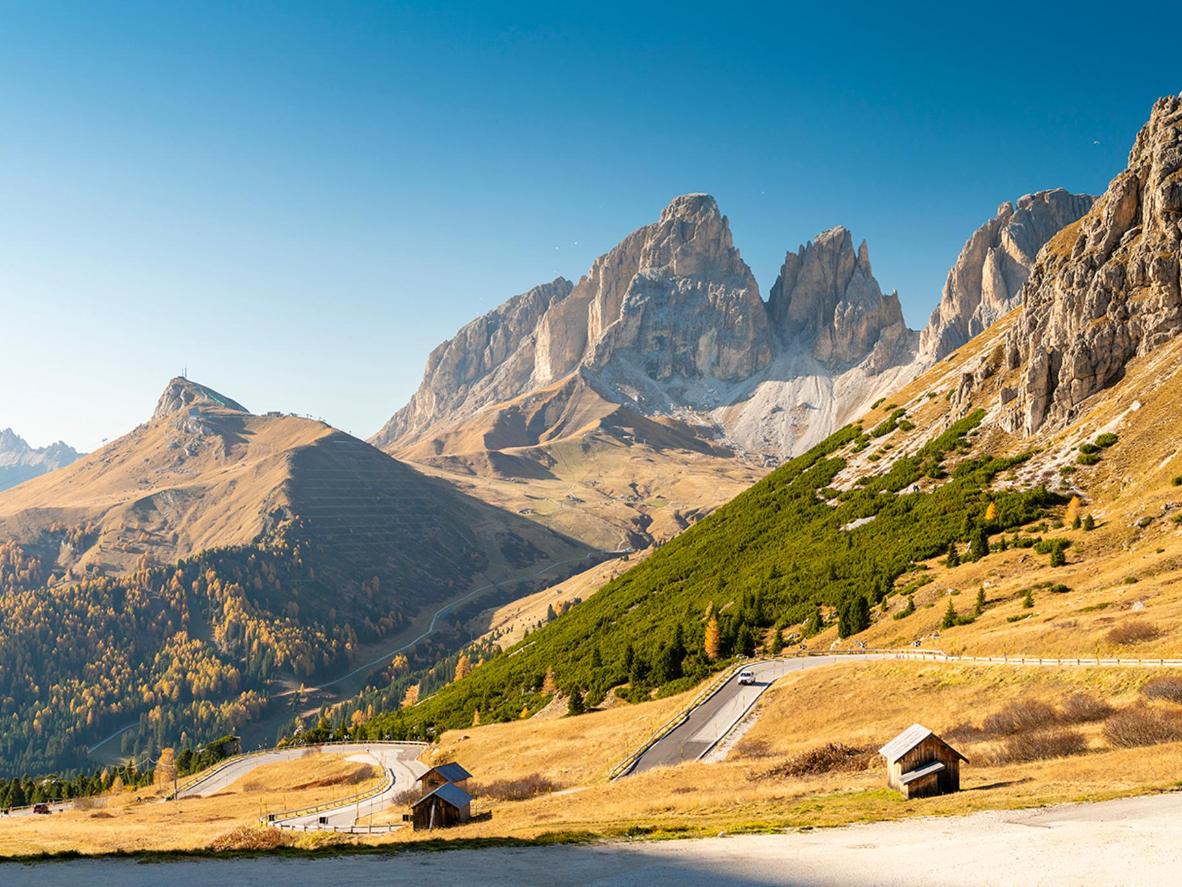 The Pordoi Pass
The Grande Strada delle Dolomiti (the Great Dolomites Road) winds over 110 miles through the magnificent granite peaks of the eponymous mountain range. The entire route runs from the city of Bolzano to Cortina d'Ampezzo, but you can break it up if you want. You'll want to take it at a relatively slow pace though, leaving time for hiking detours and pit stops at viewpoints to fully appreciate the scenery. Expect castles, glaciers, and turquoise lakes that contrast with the gray granite, as well as breathtaking natural monuments like the jagged Pordoi Pass. Start your trip with a stay at Goldenstern Townhouse, a B&B in Bolzano.
Milan to Rome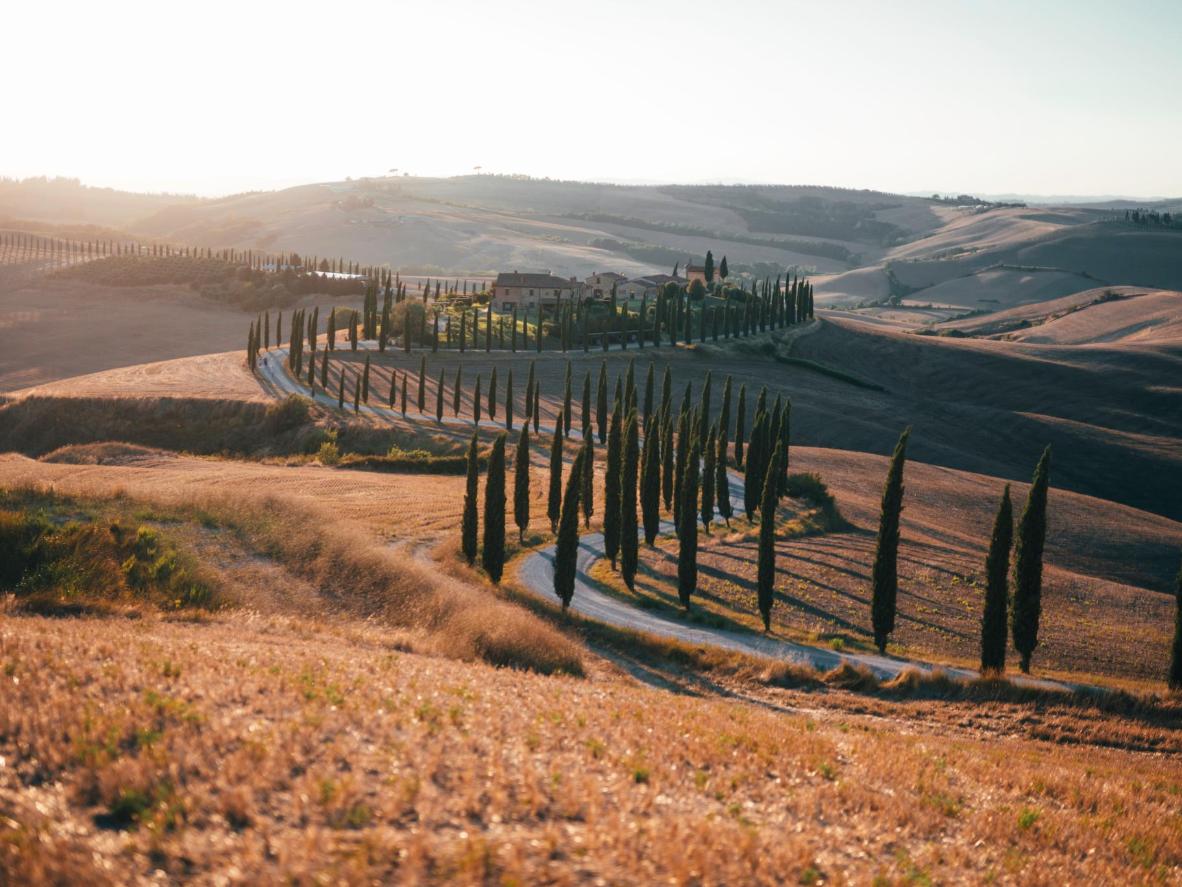 The Tuscan landscape
From Italy's fashion capital to its actual capital, this route includes some of the country's finest treasures. It's a six-hour drive, but you should break it up into a multiday trip. Stop in Bologna, a youthful city thanks to its famous university—the world's oldest in continuous operation—to try ragu with fresh-shaved parmesan, a dish that originated there. Next, visit Florence for a taste of Renaissance art and architecture. And don't forget Siena with its magical Tuscan cityscape, marked by the the Torre del Mangia towering over the main square, Piazza del Campo. Wrap up your trip in Rome with a stay at the Hotel Vilòn.
Venice to Milan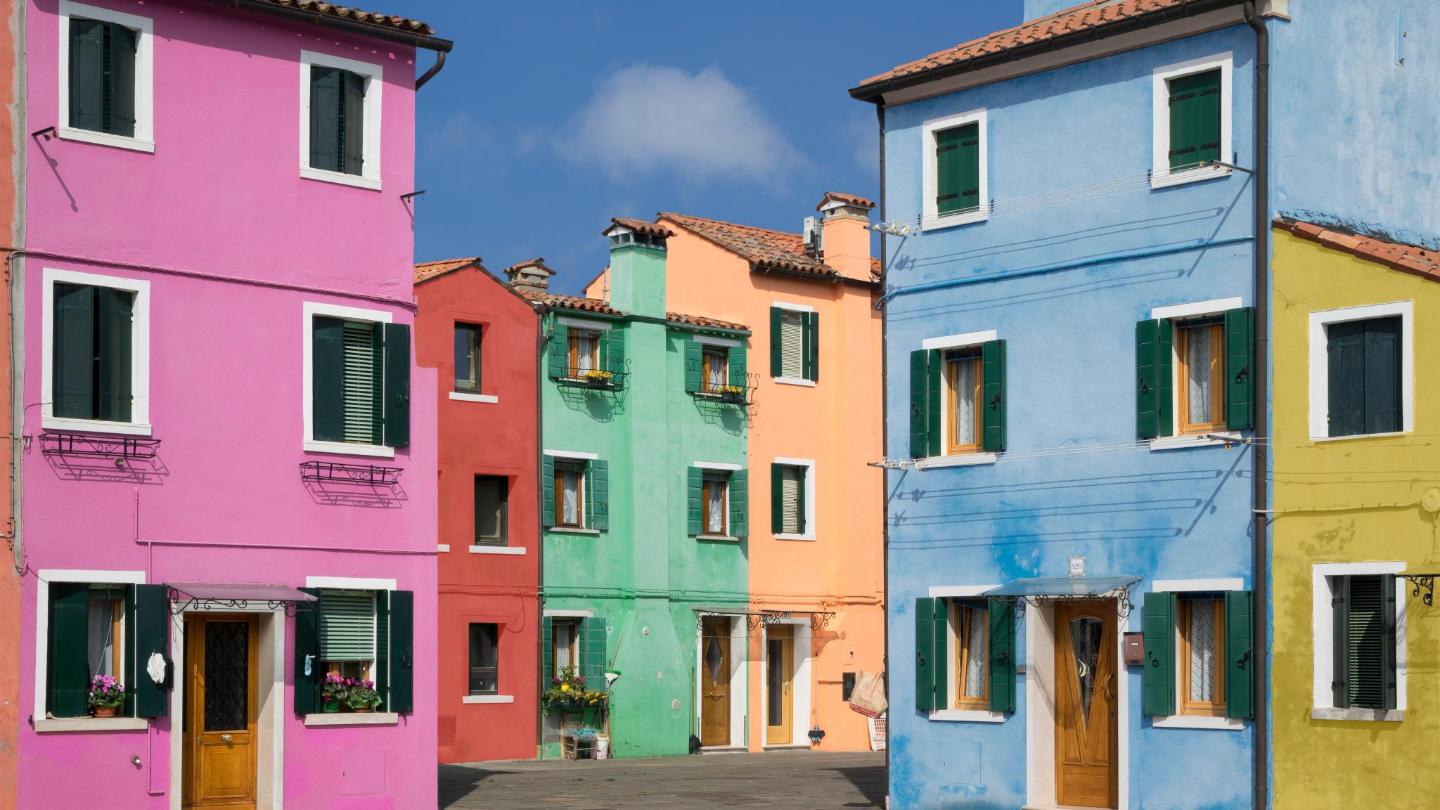 Pastel-colored houses over a channel in Burano
Start by spending at least a few car-free days among Venice's dreamy waterways, taking gondola rides and trips to the lagoon islands of Murano and Burano. Then hit the road and head to Padua, home to another one of the world's oldest universities, as well as to some of the world's most historically significant frescoes by Giotto in the city's Scrovegni Chapel. Your next stop should be Verona, the home of Romeo and Juliet and the Arena di Verona, a Roman amphitheater built in 30 AD that's still used today for operas and other concerts. Get a ticket to a show here and spend the night in Verona before driving to Milan, concluding your road trip with a stay at Moscova Luxury B&B.
Turin to Florence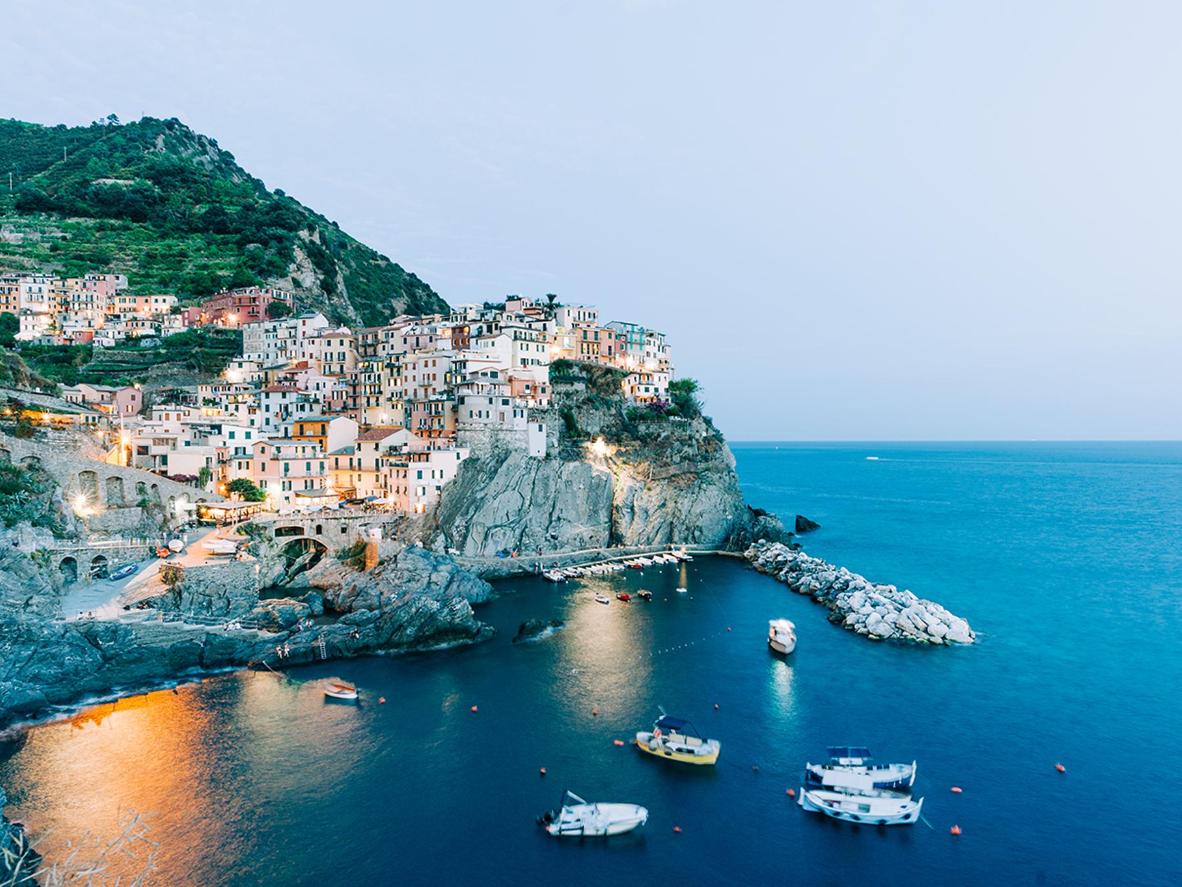 The coastal villages of the Cinque Terre
This road trip route is for sightseers and boasts some of Italy's most iconic attractions, from the colorful terraces of the Cinque Terre to the famous leaning Tower of Pisa.
While it's not recommended to drive in the Cinque Terre—a string of scenic coastal villages with pastel-painted houses lining the hillside—you can park your car for this portion of your trip to walk the trails. There's also plenty to see and do in Turin, where you can start your trip (and rent your car). For example, there's the captivating sight of the church tower with a tree on top in the town of Lucca, which is also en route. And don't forget the famous monuments like Florence's exquisite Duomo and the medieval Ponte Vecchio (Old Bridge) as the grand finale of your trip while staying at Corte Calzaiuoli Elegant Suites.
If you need a playlist for the drive—or simply want to get in the mood for your trip—this curated list of top Italian tracks will transport you to a Bel Paese summer.