For any Booker with pets, leaving behind your furry friends is always the hardest part of traveling. That's why more and more Bookers are traveling to destinations where the entire family can visit. The USA's wide variety of beautiful landscapes and unique cities offers tons of pet-friendly options. Today we're sharing 5 of the best.
Bar Harbor, Maine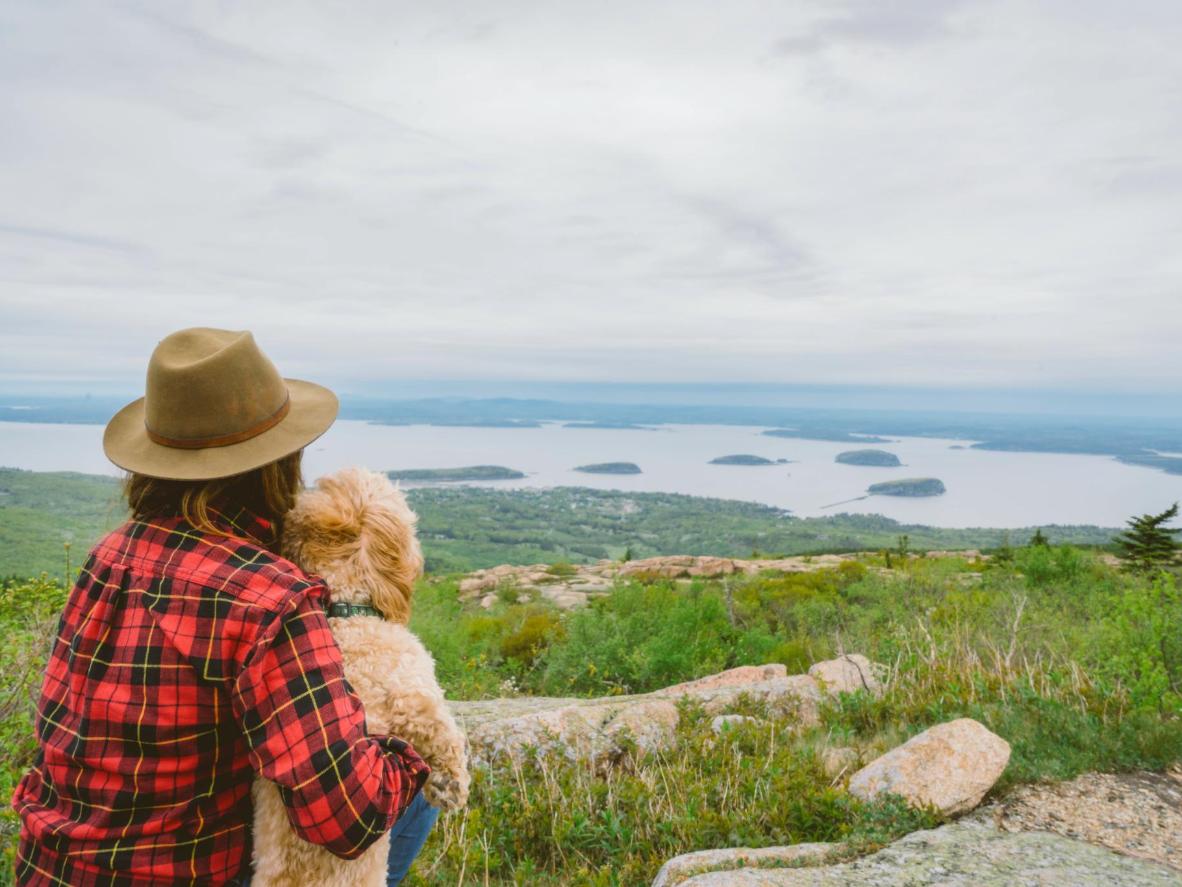 Rugged, dog-friendly hiking trails and ocean views
Maine is the most northern state on the east coast, lined by lighthouses and home to a beautiful yet rugged landscape. It's also a great nature spot for Bookers traveling with pets, and the town of Bar Harbor is a great place to start. It's the gateway to Acadia National Park, which is notable for both its maritime views and dog-friendly trails. Even though dogs have to be leashed throughout most of the park, the huge variety of hiking trails makes up for it. After a day of exploring rocky shorelines, set up a tent to spend the night at one of the parks pet-friendly campgrounds, including Blackwoods, Seawall, and Schoodic Woods. The park also borders the 1,000-acre Little Long Pond, an off-leash area where dogs can run freely through open meadows and down wooded trails. Local restaurants are just as dog-friendly. Enjoy a meal out on a lawn with bay views at Jordan Pond House, or an oceanside dinner at the pet-friendly Stewman's Lobster Pound in Downtown Bar Harbor. For the night, The Birches B&B happily welcomes Bookers with pets.
Austin, Texas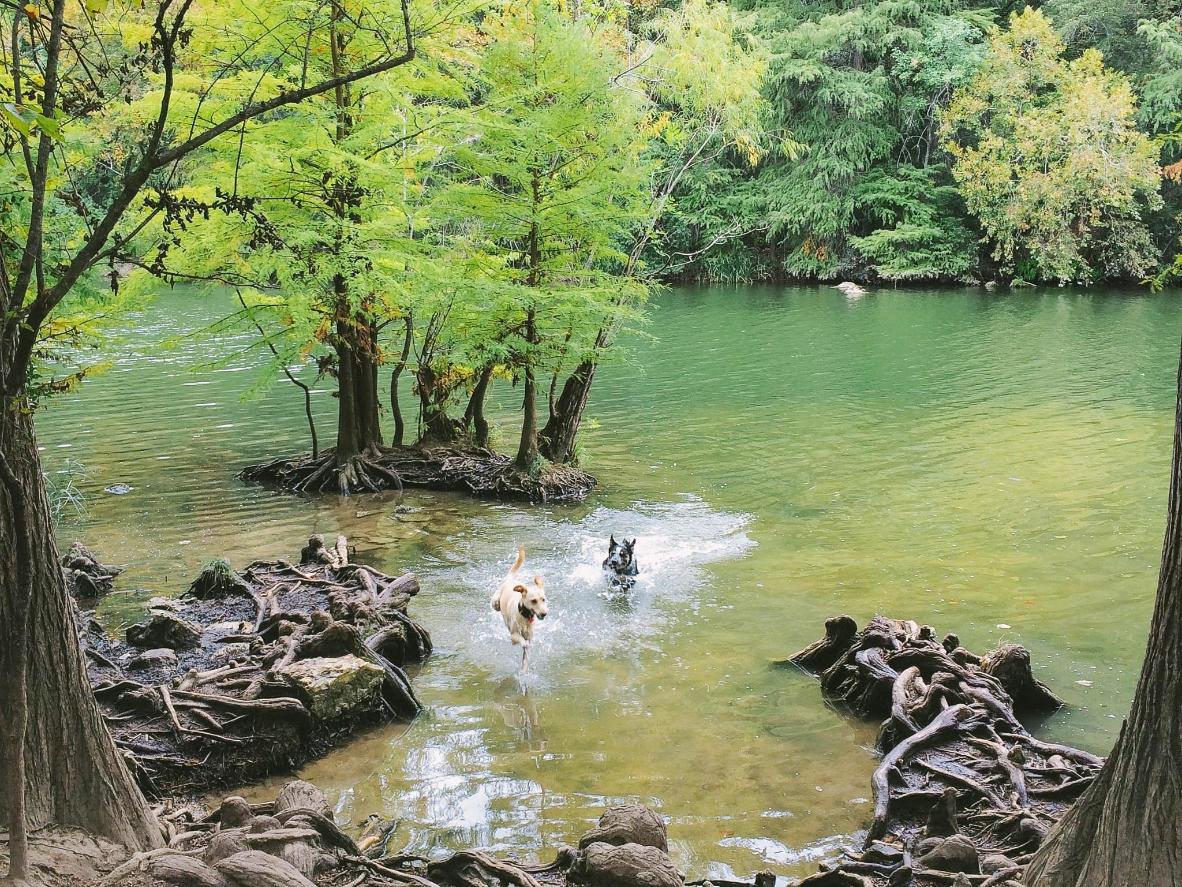 Head to Red Bud Isle Park for some doggy paddling
Austin's alternative, laid-back vibe also extends to pets, offering tons of dog-friendly activities and parks throughout the city. Right outside downtown on the Colorado River is a small island, where you'll often find pups paddling in the water. Go for a swim yourself, then head across town to the Westgate neighborhood's Groovy Dog Bakery. Here, you'll find a full menu of healthy treats for pets, including the CinnaBone, BarkBQue, and PeaMutt Butter biscuits. And for the owners, there's the Dog House Drinkery & Dog Park, with a laid-back bar, picnic tables, and plenty of space for pets to play. If you're visiting in the summer, take your dog on a kayak tour to get a glimpse of the world's largest urban bat colony under the Congress Avenue Bridge, or take a yoga class together at Austin Doga. Then book the night at Aloft Austin Northwest, where a complimentary bag of doggy treats and toys will be waiting.
Asheville, North Carolina
Explore the largest estate in the country and hike the Pisgah National Forest
Though Asheville may be known for its art scene, it welcomes animals just as happily as it does artists. Also, the city is as culturally interesting as it is naturally beautiful, thanks to its location alongside the Blue Ridge Mountains. Bookers can start their visit with a stroll through town along the Urban Trail, as well as a tour of the city's art deco architecture with stops at the Three Dog Bakery and one of Asheville's many microbreweries (which helped earn the city's nickname, "Beer City"). The highlight of any visit is the Biltmore House, the largest privately owned home in the country. Explore this 8,000-acre estate and admire its chateau-inspired architecture. Get a full-night's rest at the Grand Bohemian Hotel so you can wake up early for a trip to the nearby Pisgah National Forest.
Chicago, Illinois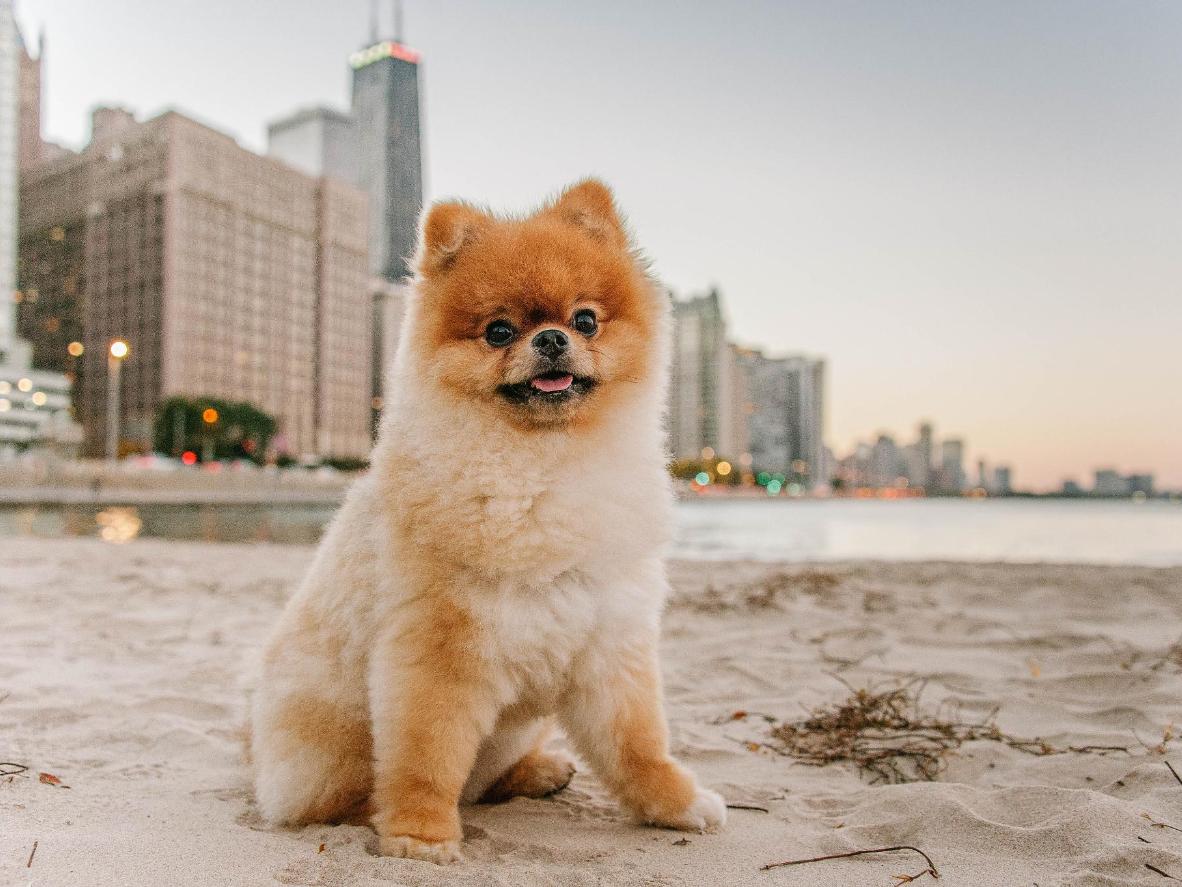 The shores of Lake Michigan are fun for all pups
The Windy City has plenty of options for pet owners looking for an urban escape. It's home to a number of great dog parks, including Wiggly Field Dog Park, a playful homage the Chicago Cubs' Wrigley Field. Chicago puts on fun events like Bark in the Park, where dogs are invited to cheer on the Chicago White Sox in the Stadium Green of Soldier Field. Sports aside, Montrose Beach is both spacious and dog-friendly, offering great views of the skyline. Make sure you also keep an eye out for a Fido Dog Truck while you're exploring the city. They specialize in ice cream for dogs, the perfect treat to enjoy on a Seadog boat cruise along Lake Michigan or at one of the city's many patio cafes. Afterwards, treat yourself to a night at the iconic Ace Hotel.
#BeABooker and book your trip today.