Get back in touch with the great outdoors with a visit to one of the UK's most magnificent national parks. From the rugged Scottish Highlands to the leafy English Lowlands, they're perfect for stretching your legs, getting some fresh air and admiring the country's natural beauty – just be sure to respect these precious green spaces by being responsible and considerate when you visit.
For quiet rural retreats, action-packed adventures and everything in-between, here are some of the UK's top national parks according to global travellers.*
Loch Lomond and The Trossachs National Park, Scotland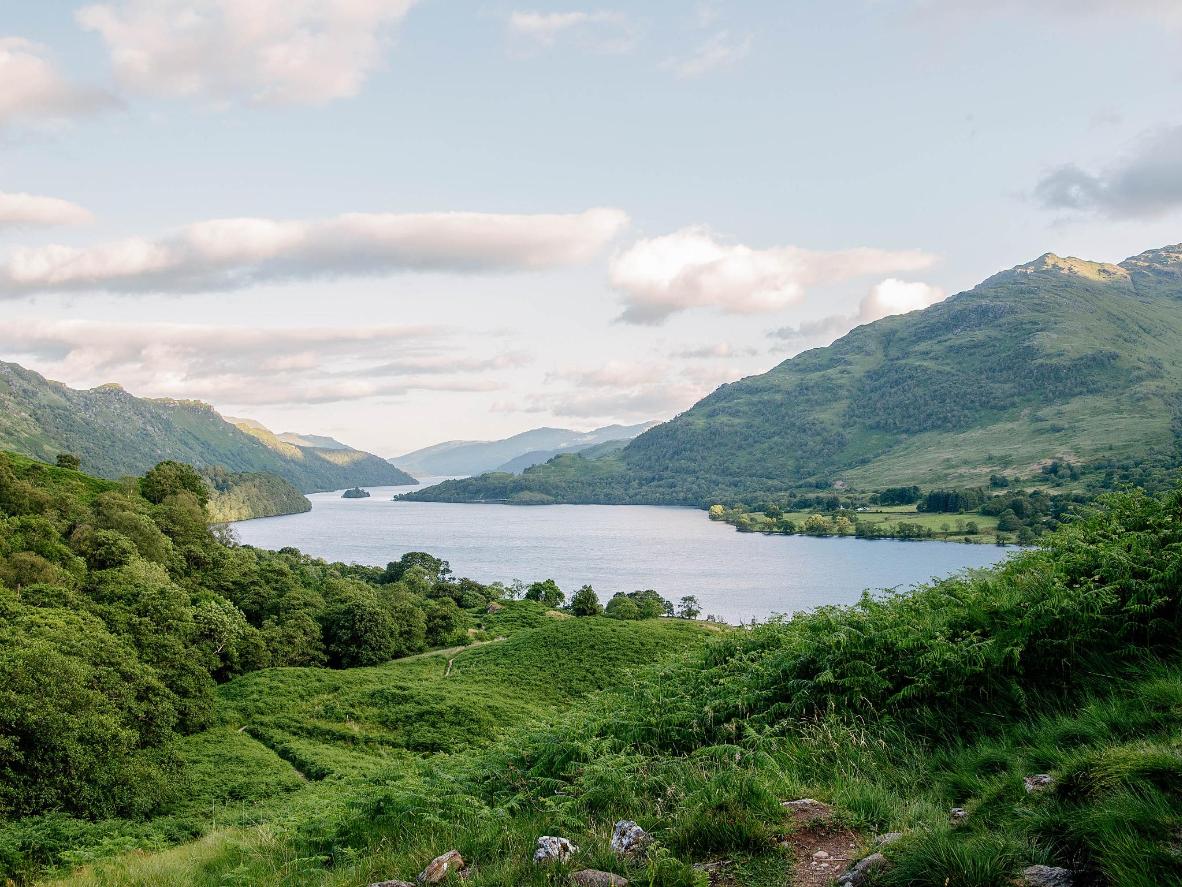 Calm lakes and green hills as far as the eye can see
Home to serene waters and ancient forests, Loch Lomond and The Trossachs National Park showcases the best of Scotland's scenery. Whether you're after a hike along woodland trails, a peaceful paddle in freshwater lochs, or just a breath of Highlands air, this sprawling park provides countless ways to immerse yourself in nature. While you'll mostly see an array of vibrant green hues on your travels, keep a camera handy in case you spot bluebells, red deer, golden eagles and other colourful flora and fauna too. When you're ready to return to civilisation, rest up at The Loch Lomond Arms Hotel in the little village of Luss.
Lake District National Park, England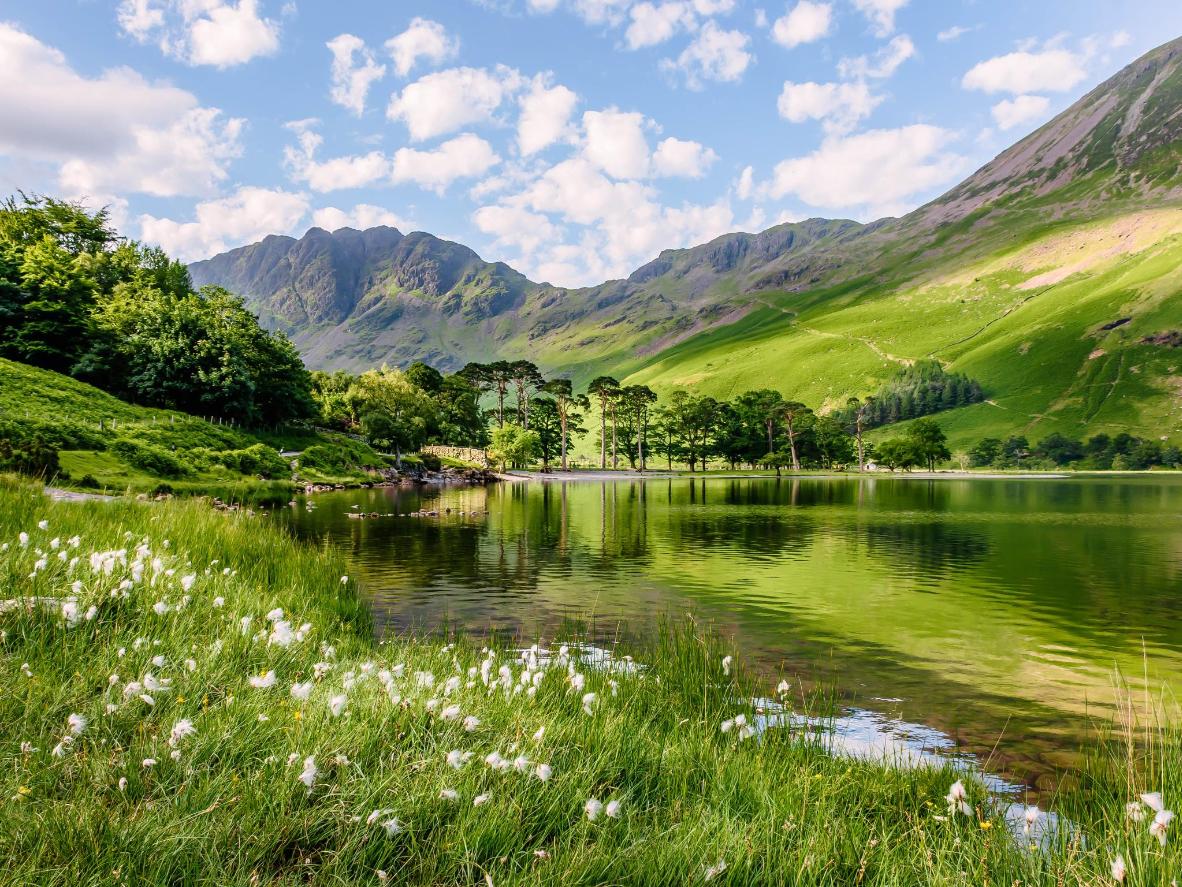 Tranquil lakes set against the backdrop of some of England's highest mountains
Take in the Lake District landscapes that have inspired famous writers, painters and poets for centuries. The tree-lined lakes and soaring mountains featured in major works from the likes of William Wordsworth and Beatrix Potter, who both once lived in the park. You'll find nearly 100 lakes, tarns and reservoirs here, including Windermere – the largest lake in England. Naturally, this makes the park a prime location for all kinds of aquatic activities, like fishing, cruising in a canoe or braving bracing waters for a wild swim. If you'd rather keep your feet dry (weather permitting), enjoy unspoiled views on a ramble around Tarn Hows, a challenging hike up Blencathra (an enormous hill with several peaks) or a bike ride through Whinlatter Forest. Stay in the national park itself at Newby Town's Knoll Country House.
Brecon Beacons National Park, Wales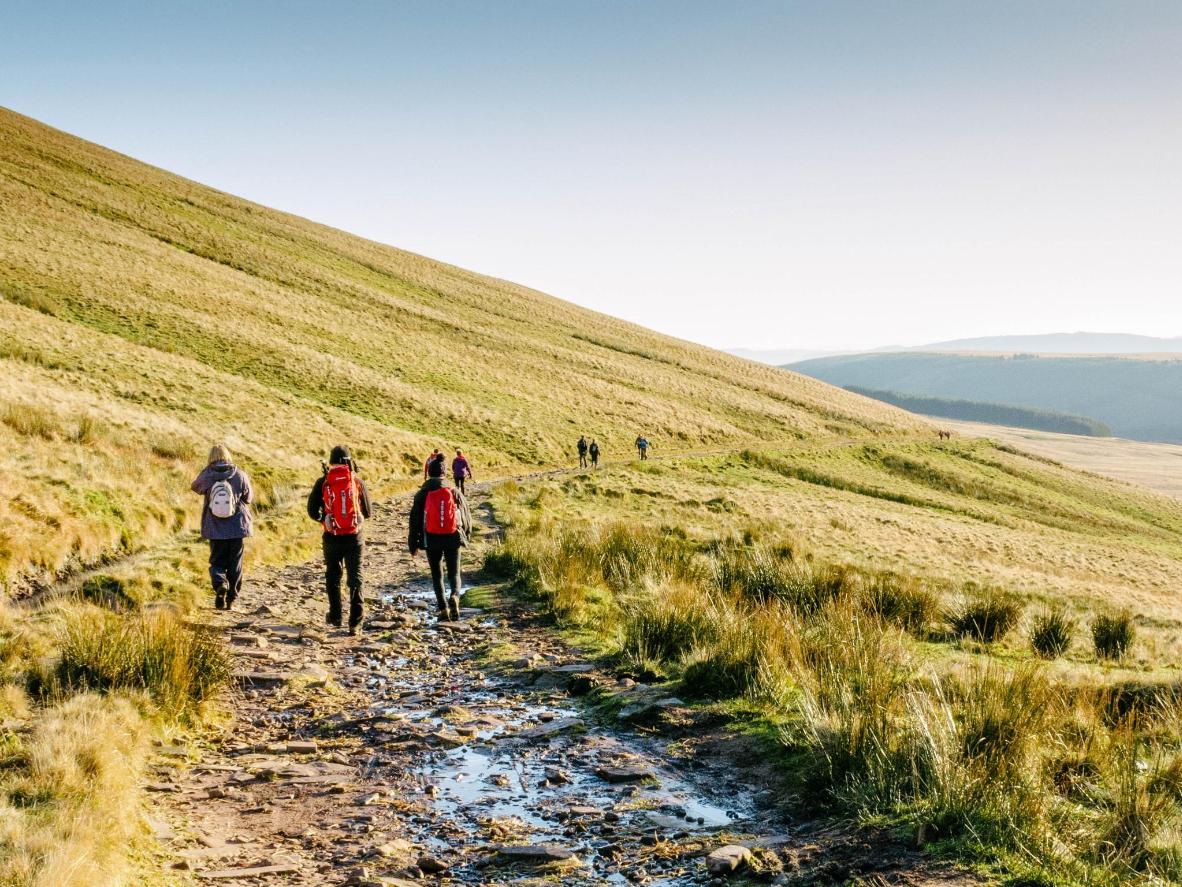 Take in fresh air and hillside views on a walk in the Welsh countryside
Red sandstone mountains, ancient caves and dramatic waterfalls await in the Brecon Beacons. With grassy moors and relatively little woodland, the park's heather-clad hills offer sweeping, uninterrupted views over the Welsh countryside. You'll get some of the best panoramas on pleasant hikes up Pen y Fan – the Brecon Beacons' highest peak, sat right in the centre of the park. Other popular walking trails will take you to the rushing cascades of Waterfall Country, and some of the Beacons' many historic castles. Between waterfalls and fortresses, save some time to re-energise on sweet bara brith bread from the park's old cottage tea rooms. If you can draw yourself away from the mountain-fresh air and rolling countryside, delve into the gaping caves and eerie chambers at Dan-yr-Ogof. After a spot of stargazing in inky-black night skies, cosy up at Cribyn Lodge in Brecon town.
Cairngorms National Park, Scotland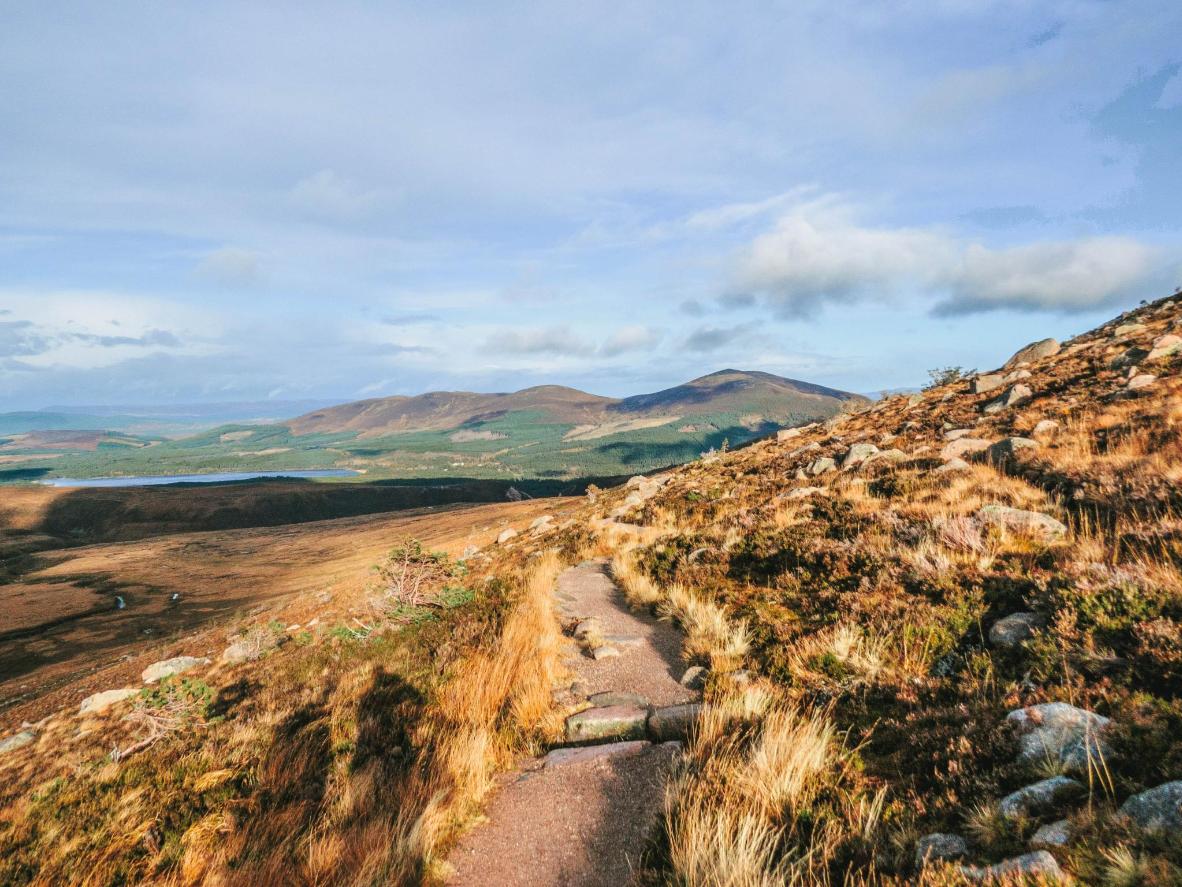 Bag yourself some Munros in the UK's largest national park
Head into the heart of the Scottish Highlands with a visit to the Cairngorms. Here you'll find all the woodlands, wetlands, mountains and valleys you'd expect from the UK's largest national park, as well as an endless list of outdoor pursuits. Activities here range from watersports and cycling to skiing, golf and Munro bagging – local slang for climbing mountains over 914 metres high. Whatever you choose to do, keep an eye out for rare local wildlife like Scottish wildcats, golden eagles and maybe even wolves. If the weather isn't on your side, take shelter in inviting bakeries in nearby villages or the park's Royal Lochnagar whisky distillery. The village of Carrbridge is a popular place to kick off Cairngorms trips – The Highland Club by Loch Ness is just over an hour's drive away.
New Forest National Park, England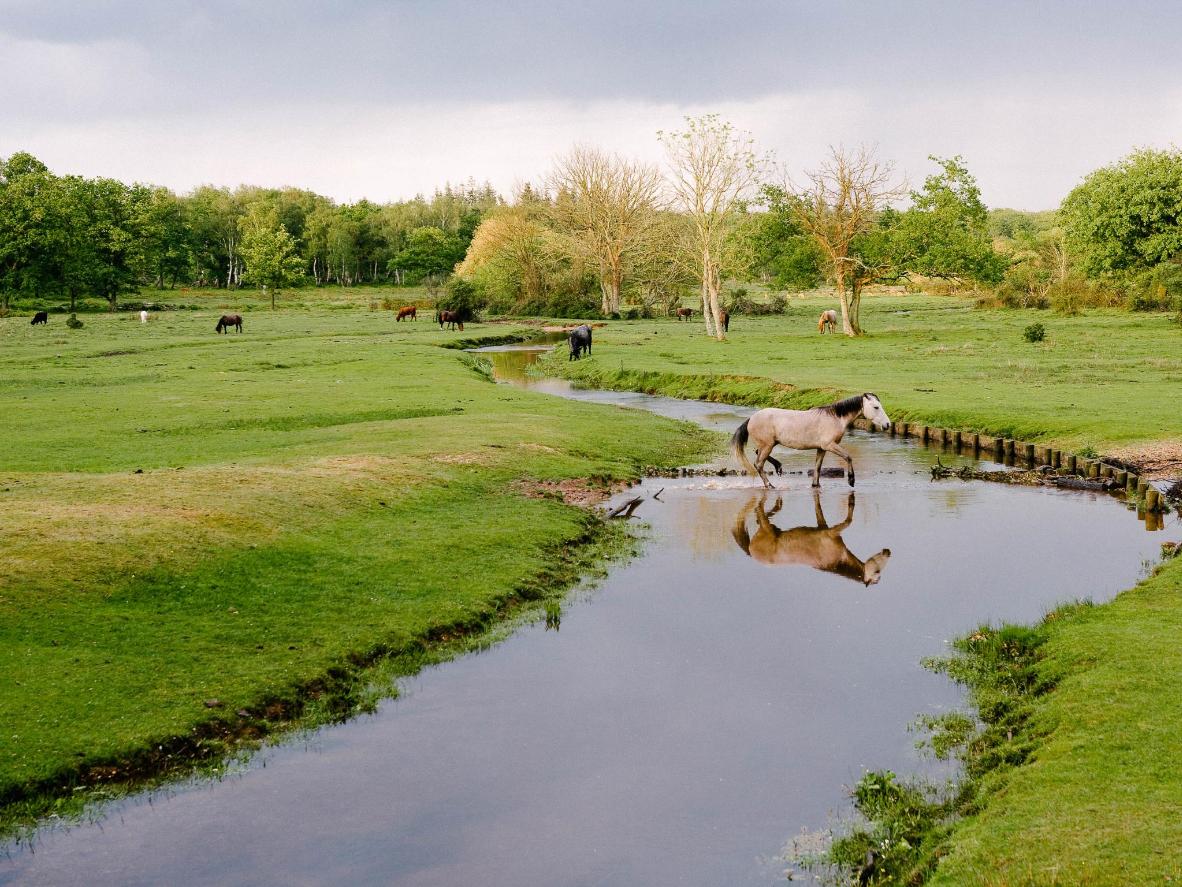 The native New Forest ponies are free to roam, graze and take a quick dip
Sitting on the southern coast between Southampton and Bournemouth, New Forest National Park is home to ancient oak trees, Elizabethan manors and other historical sites. But diverse wildlife and natural beauty are the main attractions here. Mushroom-picking paths and walking trails will lead you through birch and beech-filled forests, heathland covered in wildflowers, and past plenty of country pubs. The verdant landscapes are ideal habitats for a whole range of animals too – rabbits, birds and badgers, herds of fallow deer and the indigenous New Forest ponies all call this place home. The main roads into the park can be busy, so stay local at the majestic Burley Manor.
**Destinations featured were chosen based on the endorsement score for nature located in the UK.