After navigating taxis, airports, and planes, there's no better way to wind down than by lounging beside or taking a quick dip in your own private pool. From in-room swimming to romantic, panoramic plunge pools just outside your window, we found the best villas, hotels, and cottages with incredible private pools to visit as soon as it's safe to do so.
Stay in a luxury villa at Templation Hotel, Cambodia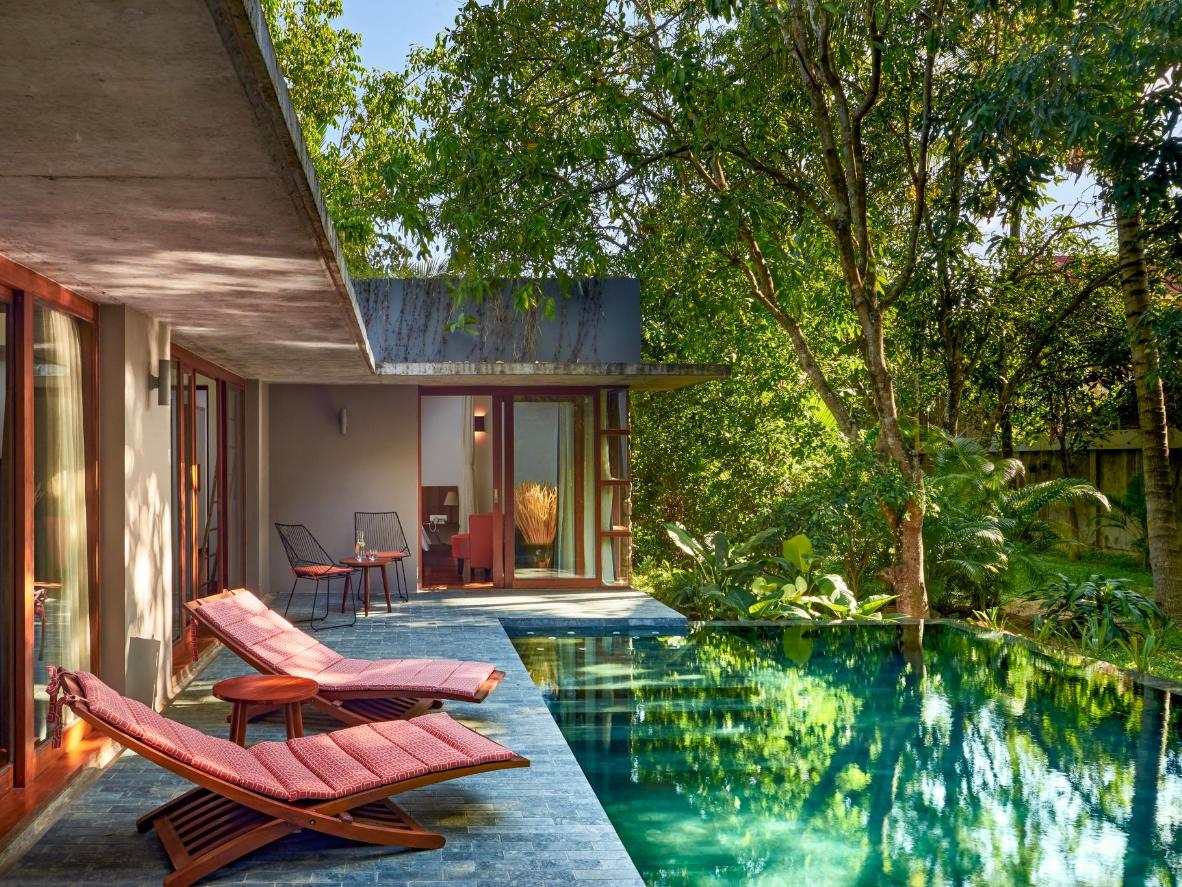 Cool off in the world-class swimming pool nestled among natural surroundings
Templation Hotel is pure serenity, located between a series of palm-fringed gardens just outside of Siem Riep. It's home to a world-class spa and several villas with private swimming pools and gardens. These suites (and their private pools) are designed with a nod toward the natural surroundings, with fine dark wood and waves of cool, gray stone. Opt for a swim here amid the sweltering temperatures or after a day spent biking around ancient Siem Riep. Finish the day with the hotel's signature spicy body wrap, a popular wellness treatment among guests.
Spoil yourself with the cliffside infinity pool at Cap Rocat, Spain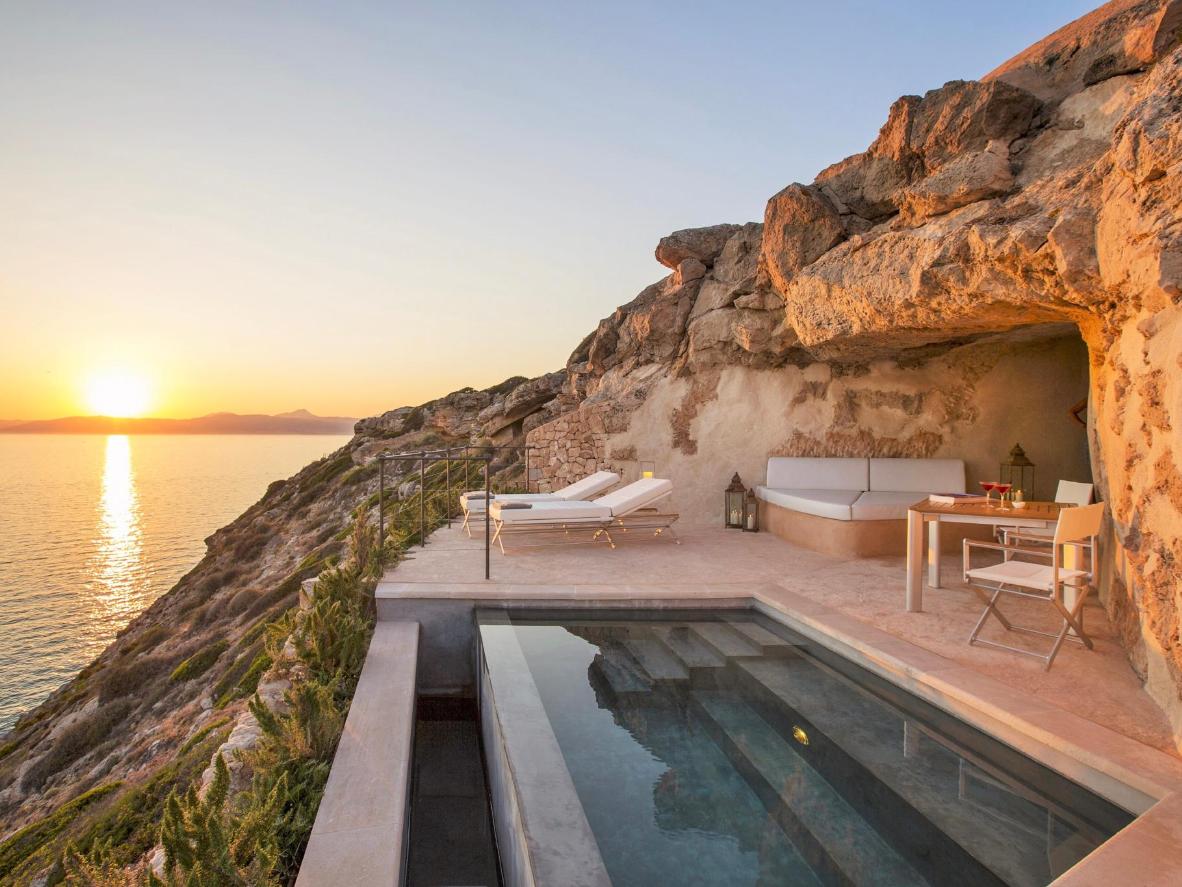 Relax by your own infinity pool that stretches out to the sea below
A former military fortress turned luxury accommodation on the island of Mallorca, Cap Rocat is a palatial citadel of its own. Carved into the cliffside, the hotel has cave suites where you'll find a private infinity pool stretching out to the frothy sea below. It's surprisingly discrete and beautifully designed. A stay here will have you feeling close to Mallorcan nature, with lots of world-class amenities and opportunities to dine cliffside or poolside.
Dive into your exclusive plunge pool at Hunter's Country House, South Africa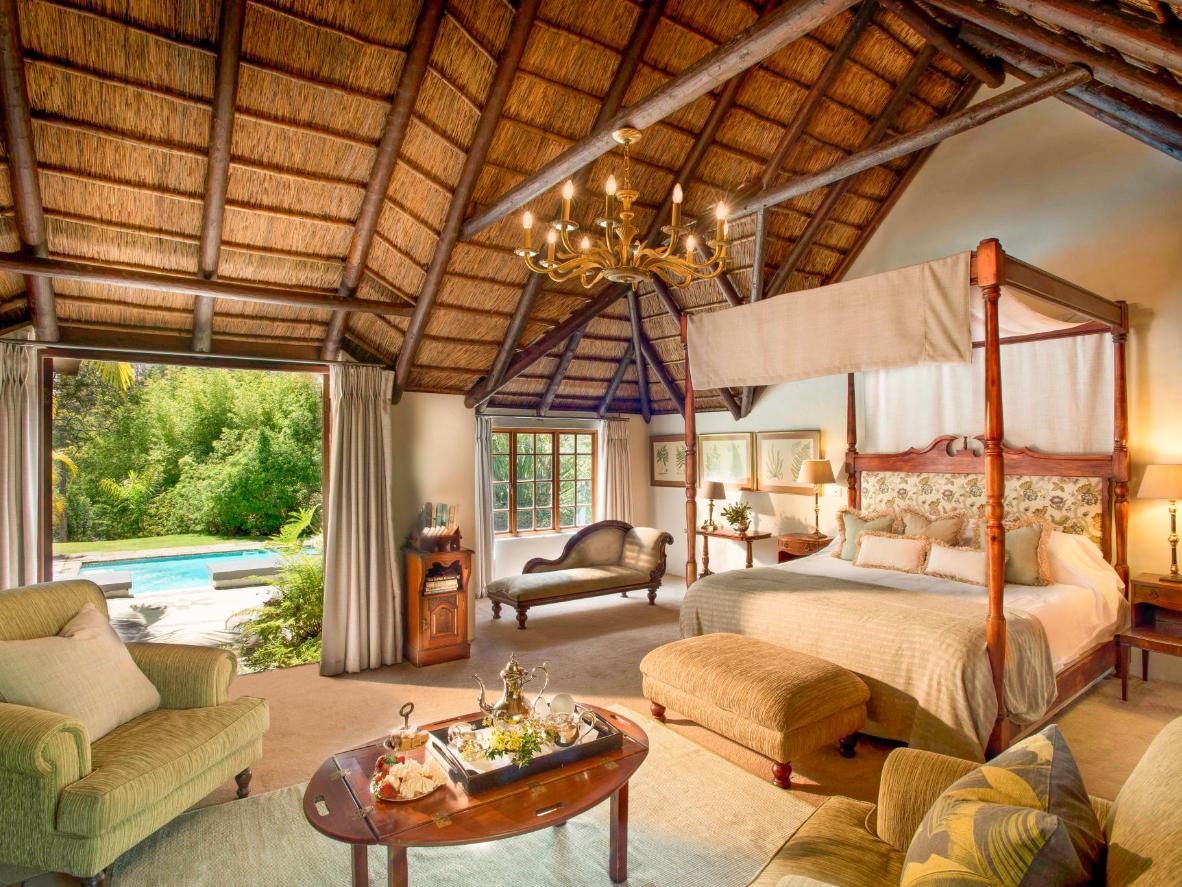 The private, turquoise plunge pool is a place you may never want to leave
When you choose the "Deluxe" suite at Hunter's Country House in South Africa's Western Cape, you'll be invited into a world you may never want to leave – and the private pool won't make it any easier. Here, thatched-roof cottages are home to grand four poster beds. The family room has a patch of blue pool, straddled by lounge chairs and pinstriped wicker chairs. Or you'll find a turquoise plunge pool in the deluxe suite, an equally enticing and luxurious affair. Following an afternoon of lazy swims interspersed with naps in the sun, head to the lantern-lit garden for a romantic gourmet dinner. And put your faith in the staff when it comes to drink recommendations – they'll pour you something special or craft their own concoction just for you.
A private oasis awaits at Mykonos Grand Hotel & Resort, Greece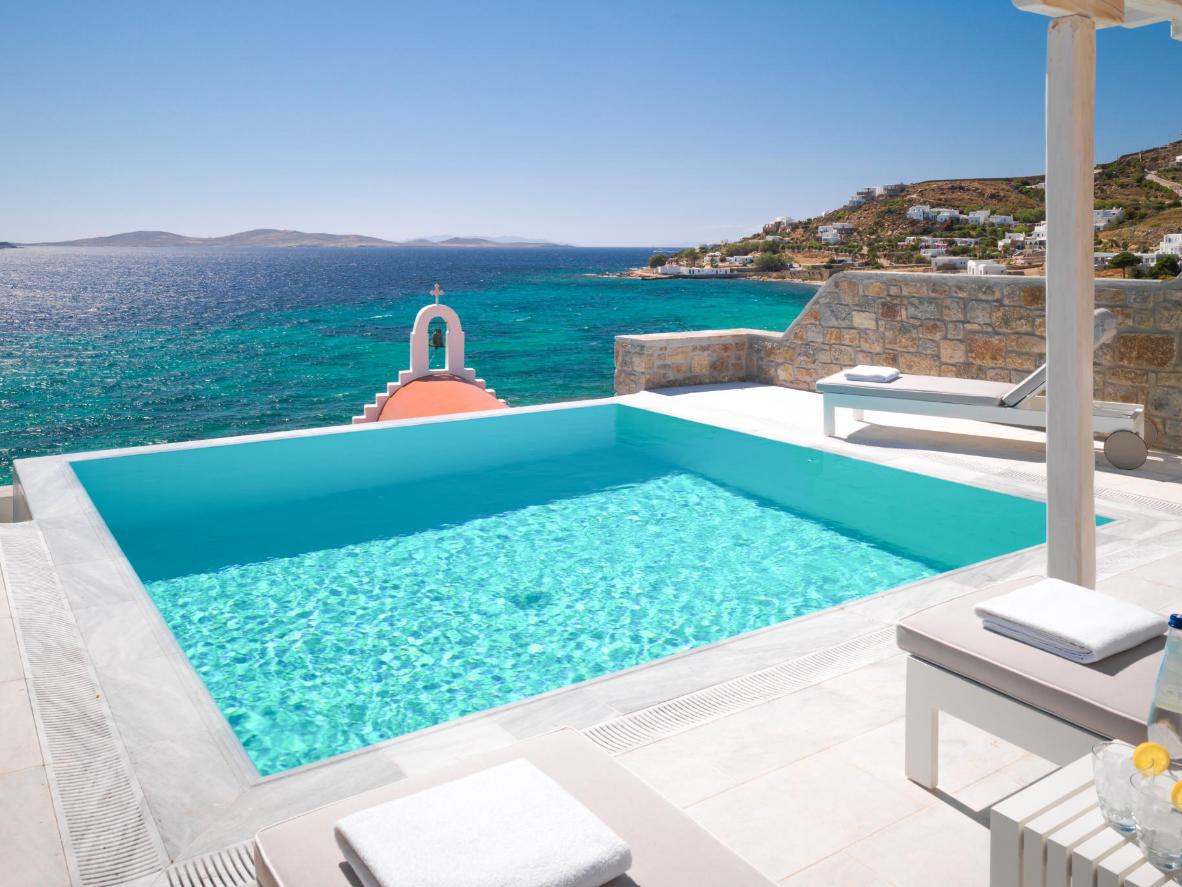 Your luxury hotel with a private pool awaits
Clinging to Mykonos' western edge, the Mykonos Grand Hotel & Resort provides guests with amazing Aegean views. The hotel is designed in the classic style of the Cyclades islands—think cube-shaped buildings, cerulean roofs, and white-washed walls—but ups the luxury stakes with its private poolside rooms. These oases, the "Grand" and "Deluxe" suites, come equipped with your very own infinity pool. Make your way out to the sun-baked terrace, dip into the water, or gaze at the sea and cliffs that back Ayios Yiannis beach. Follow a swim with a fresh seafood dinner by the private pool or hit the on-site gym.
Sit by your secluded pool at Muse Saint Tropez/Ramatuelle, France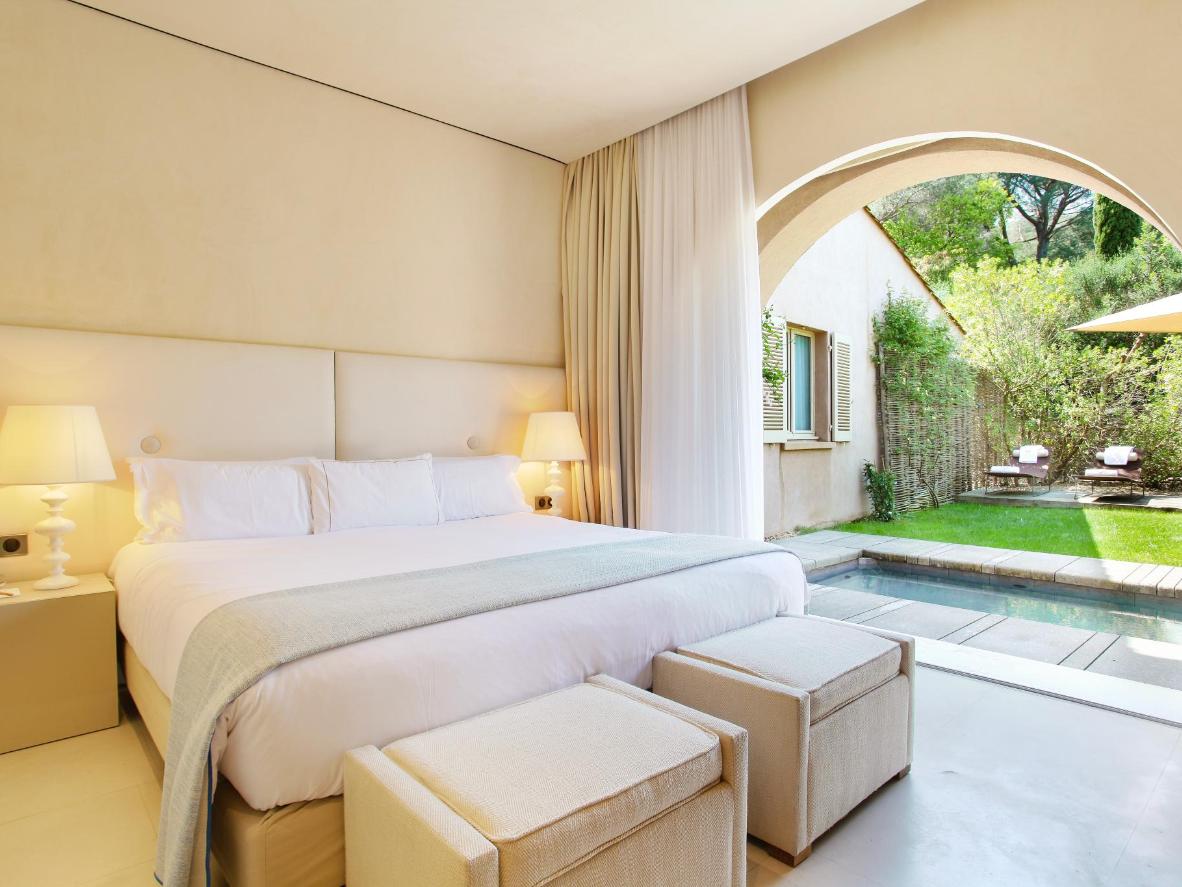 On your next vacation, regroup and relax in Cote d'Azur glamor
Known for its celebrity visitors, yacht-studded marinas, and rows of upscale boutiques, Saint Tropez knows luxury. The Muse hotel showcases this Cote d'Azur glamor in an understated fashion. Set amid the hills above Saint Tropez, it's a heavenly place for a vacation to regroup and relax – in your own private pool. Opt for the "Elegance Suite" or the larger "Luxury" room and you'll be greeted with an eggshell-colored room that opens onto a garden with a sliver of blue that is your own pool. Roll out of bed and straight into the water before a poolside breakfast while lounging on custom garden furniture.