Set off on a southern Spanish road trip and explore stunningly unspoilt beaches, away from the crowds. Here are seven of the best unspoilt stretches of sand for a panoramic drive and a relaxing day by the sea.
Playa de Mónsul, Almeria
Admire the volcanic rock formations at this famous beach
You may recognise this otherworldly beach less than a one-hour drive from Almeria, as some of Indiana Jones and the Last Crusade was filmed here. It's signposted from the pretty fishing village of San José, just three miles (5km) away, but arrive before 10am as parking is limited - in summer the dirt track from San José is closed to cars after 10am, with a shuttle bus replacement. The beach is a part of the Cabo de Gata-Níjar Natural Park and visit to dive or snorkel in its cerulean waters, to admire its jagged volcanic rock formations and sand dunes, or simply to swim and relax. Stay at the Apartahotel Vistamar San José less than three miles away.
Playa de Bolonia, Cádiz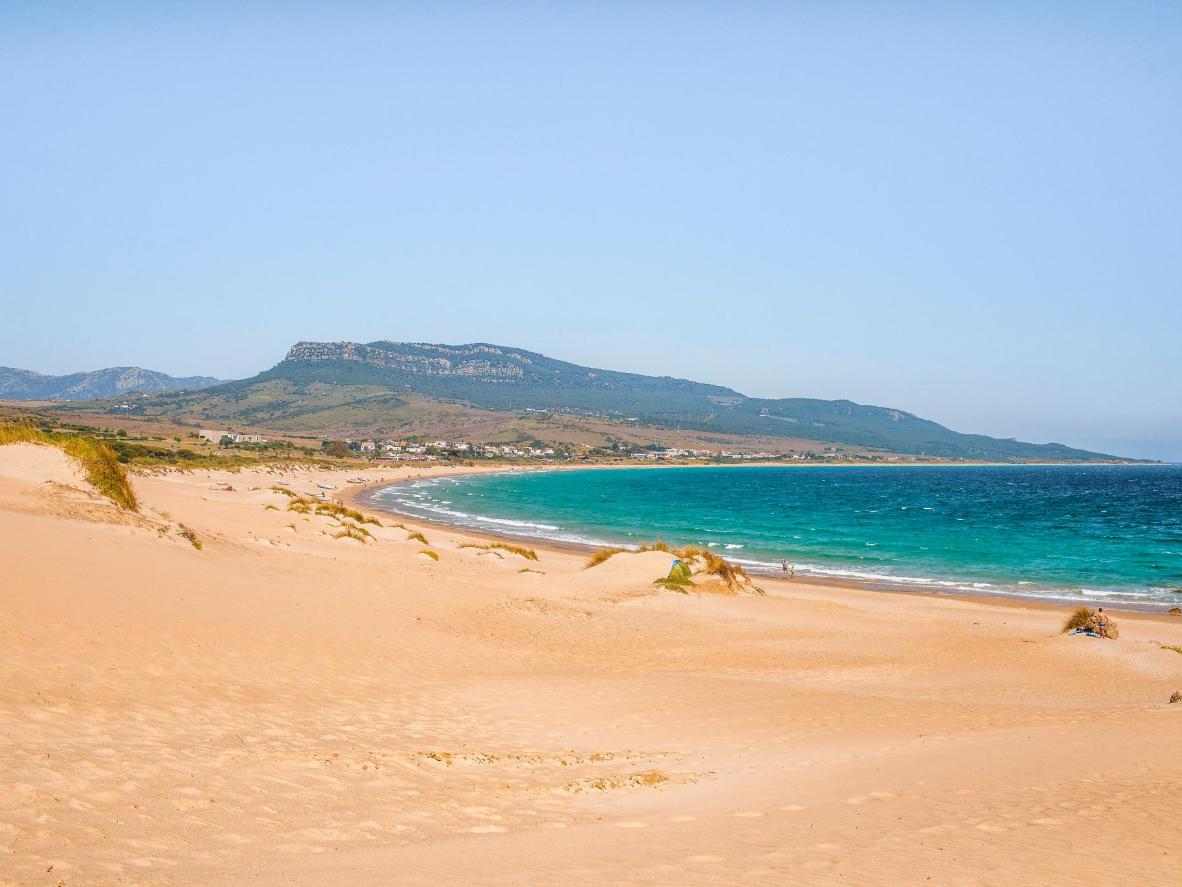 Windsurfers and kitesurfers make the most of the Atlantic breeze
This white-sand beach in Andalusia's El Estrecho Natural Park is so unspoiled, cows still roam freely on parts of it. It's just a 25-minute drive from Tarifa, the southernmost tip of mainland Spain, off the N-340. And while you could happily pass the time plodding along in the sunshine and sunbathing, try climbing to the top of its towering sand dune, make the most of the Atlantic breeze by windsurfing or kitesurfing, or explore the nearby Baelo Claudia Roman ruins. In Tarifa, stay at the La Residencia Tarifa and take a dip in its infinity pool.
Playa El Cañuelo, Malaga
Bring snorkelling equipment to enjoy the clear waters
On the border of the Malaga and Granada provinces, off the main N-340 road, this shale beach is backed by the dramatic Maro-Cerro Gordo cliffs and feels a world away from Nerja's busy sands nearby. As it's in a protected area, you can't drive down to Playa El Cañuelo itself – from the nearest car park it's either a 20-minute walk down a track or a five-minute bus journey (in peak season only) – but the clear waters are worth the effort alone. Snorkel to spot fish and coral, or rent an umbrella and while away the afternoon with a good book. If you plan to stay all day, bring a picnic or book a table at the beach restaurant. Back in Nerja, stay at the Doña Carmen hotel.
Playa de los Genoveses, Almeria
This curved sandy beach is surrounded by dunes and volcanic hills
A short drive south from the village of San Jose, in the Cabo de Gata-Níjar Natural Park, this crescent-shaped sandy beach is surrounded by dunes and volcanic hills. Bring an umbrella for shade or laze under one of the beach's pale eucalyptus trees for an hour or two, before a dip in the water to cool down. If you're feeling more adventurous, hike one of the surrounding trails and admire the desert landscape, peppered with emerald cacti. It's a popular spot with all crowds and is commonly frequented by surfers and naturists. Pack yourself a picnic ahead of time and spend the afternoon in wonderfully unblemished surroundings. Book into the Hotel-Apartamento Carolina y Vanessa in the centre of San Jose.
Las Playas de Caños de Meca, Cádiz
Take in the wild landscape on a walk to the Cape Trafalgar Lighthouse
Prepare to relax on this stretch of ivory-white sands less than an hour's drive south of Cádiz. Watch kitesurfers, windsurfers and surfers taking advantage of the wind and waves – or join in. Alternatively, take in the rugged landscape on a walk to the pretty Cape Trafalgar Lighthouse. Part of the beauty here is a result of the lack of facilities and revelling in the blissful silence of the beach. Treat yourself to a night away at the beachfront Guadalupe Hotel Boutique.
Playa de Maro, Malaga
For something more active, hire a kayak
Around a 15-minute drive from Nerja, this popular, pebbly beach offers activities galore in its warm waters. Relax, swim or paddle with the kids, or even hire a kayak. There's the option of a guided kayak tour if you'd like to learn more about the area while taking in the scenery. It's also a popular spot for snorkelling and scuba diving. And if you'd like an even more secluded spot, consider its smaller, westerly neighbour, La Caleta de Maro. Check into Hostal Casa Mercedes in Nerja and lounge on its terrace after your day out.
Playa de Zahara de los Atunes, Cádiz
Admire the golden sands and turquoise waters of Playa de Zahara de los Atunes
A short drive south of Cádiz or north of Tarifa, you'll be greeted by the turquoise waters and golden sands of Playa de Zahara de los Atunes. Plan a long walk down the sand and drink in the scenery, or hire a sunbed and completely relax. If the flurry of surfer figures out on the water has piqued your interest, book a surfing lesson yourself and take to the waves. The beach is notable for the chiringuitos (beach bars) too, which get especially lively in the evening. And come dinnertime, be sure to try a dish with locally-caught bluefin tuna, which give the resort its name. Afterwards, retreat to a room at Hotel Porfirio, just 200 metres from the beach.