The British Isles has a diverse range of landscapes, from sprawling beaches and soaring peaks to wild moorland and twinkling lochs. Drive out on any of these scenic road trips and get closer to the country's distinct natural beauty.
South West England – from Bath to Land's End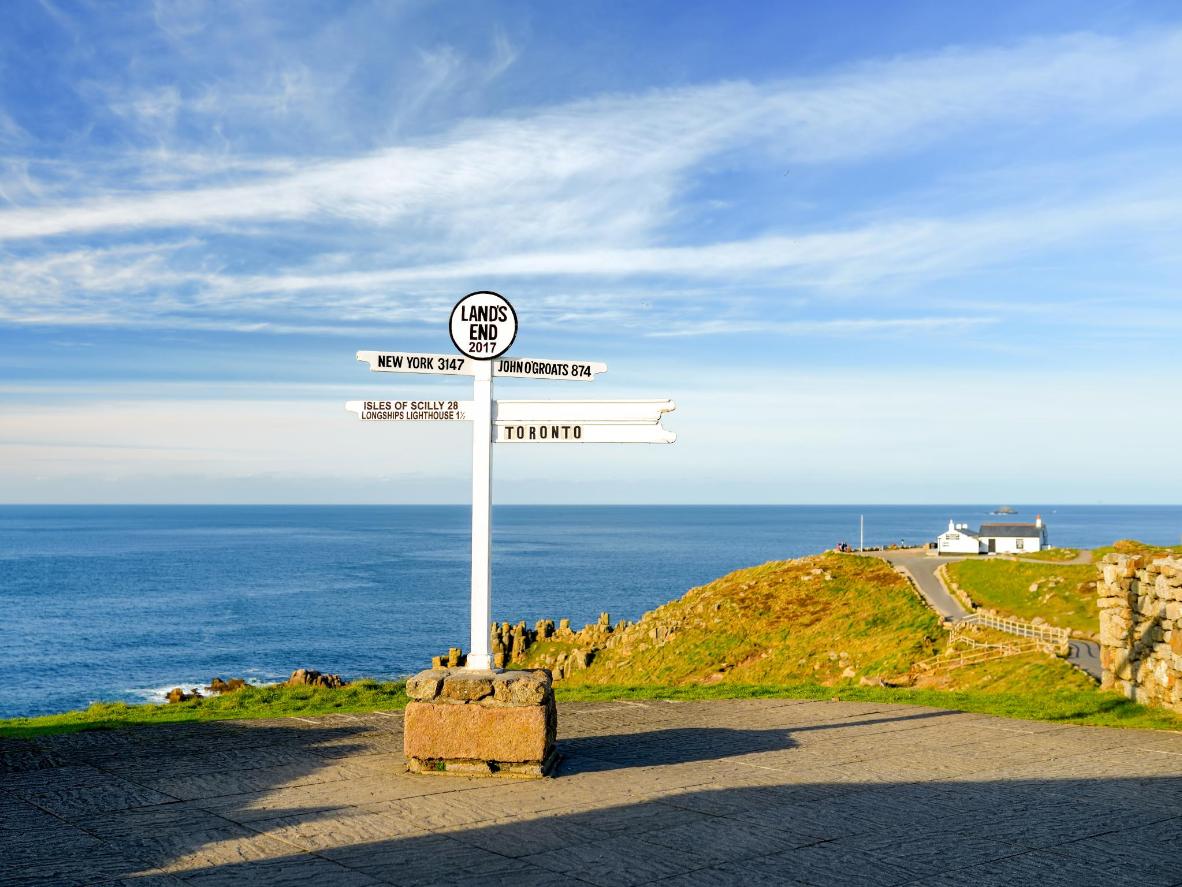 Visit the iconic signpost at Land's End and take in spectacular views
England's South West still has wild, unspoilt spots and this drive pairs these with some of the more popular beach destinations. Start your trip in Bath and treat yourself to a soak in the mineral-rich waters at The Gainsborough Bath Spa . Then drive around an hour and a half to the Somerset town of Taunton. From here, take the A3087 and the A358 through pretty thatched-roofed villages, then pass through the rugged, remote Exmoor National Park on the B3224, planning a stop in Winsford village at the pub for lunch to reach the seaside town of Woolacombe and one of the UK's best beaches.
After a stay in the seafront Woolacombe Bay Hotel, drive to the Cornish fishing town of Padstow in around two hours on the A39. Here, try some of the town's famous seafood, then continue driving for a further hour and a half down the A30 to Land's End to see its iconic signpost and spectacular coastal views. After a busy day, the 18-mile drive to the artists' seaside retreat, St Ives, is worth it when you stay at the Boskerris Hotel, where you can bask on its terrace with a drink in hand.
Scotland – North Coast 500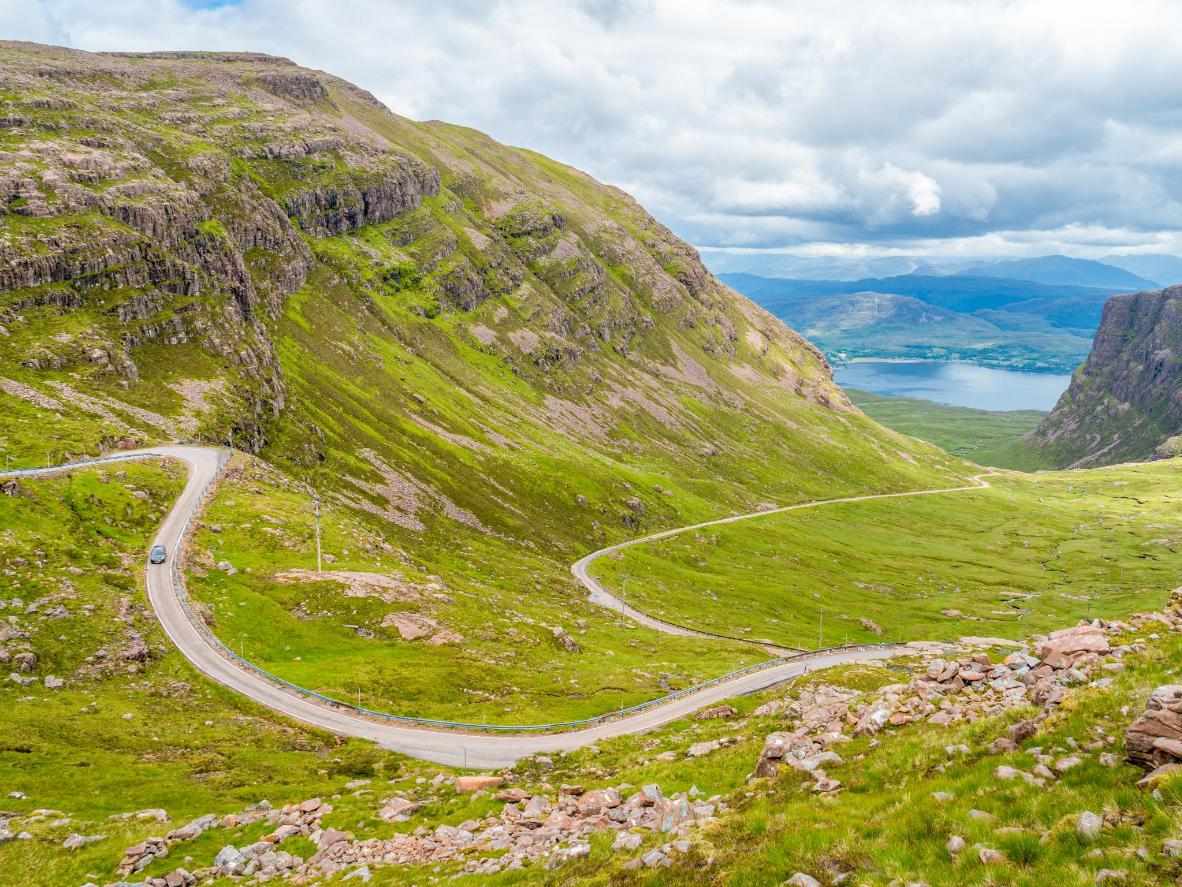 On this route stop at the Bealach na Ba viewpoint in the Applecross peninsula
This well-known 516-mile route spans six Scottish regions and will allow you to discover the peaceful North Highlands. You'll come across deserted beaches, towering mountains, wild moorland and twinkling lochs, as well as plenty of places to relax. Allow at least five days to comfortably drive the entire route.
Start in the city of Inverness and take the coastal A9 then A99 north to the village of John O'Groats. Build in some time to stop at beaches for a picnic or to spot seals en route, and look forward to dramatic scenery from the roads. From here, head west along the remote northern coast of Scotland, stopping at the Castle of Mey, which the Queen Mother owned, and plan an overnight stay on the west coast in the city of Lochinver. The route then carries on south to the village of Applecross, which teeters on the eponymous peninsula, before winding inland back to Inverness.
Wales – Black Mountain Pass
Enjoy a thrilling drive on the Black Mountain Pass
This 20-mile stretch of road in the west of the Brecon Beacons National Park may be a short drive but it's a thrilling one. The Black Mountain Pass (A4069) was made famous when it appeared on the UK TV programme Top Gear and its hairpin bends and magnificent views attract motoring enthusiasts from all over. At its highest point it reaches 1,617 feet, so plan time for stops to take pictures and decide which way to tackle the route – the views of the Tywi Valley are at their best going from south to north but many drivers prefer to tackle the bends from the other direction. Stay in Llandovery afterwards and relive your memories.
Northern Ireland – Causeway Coastal Route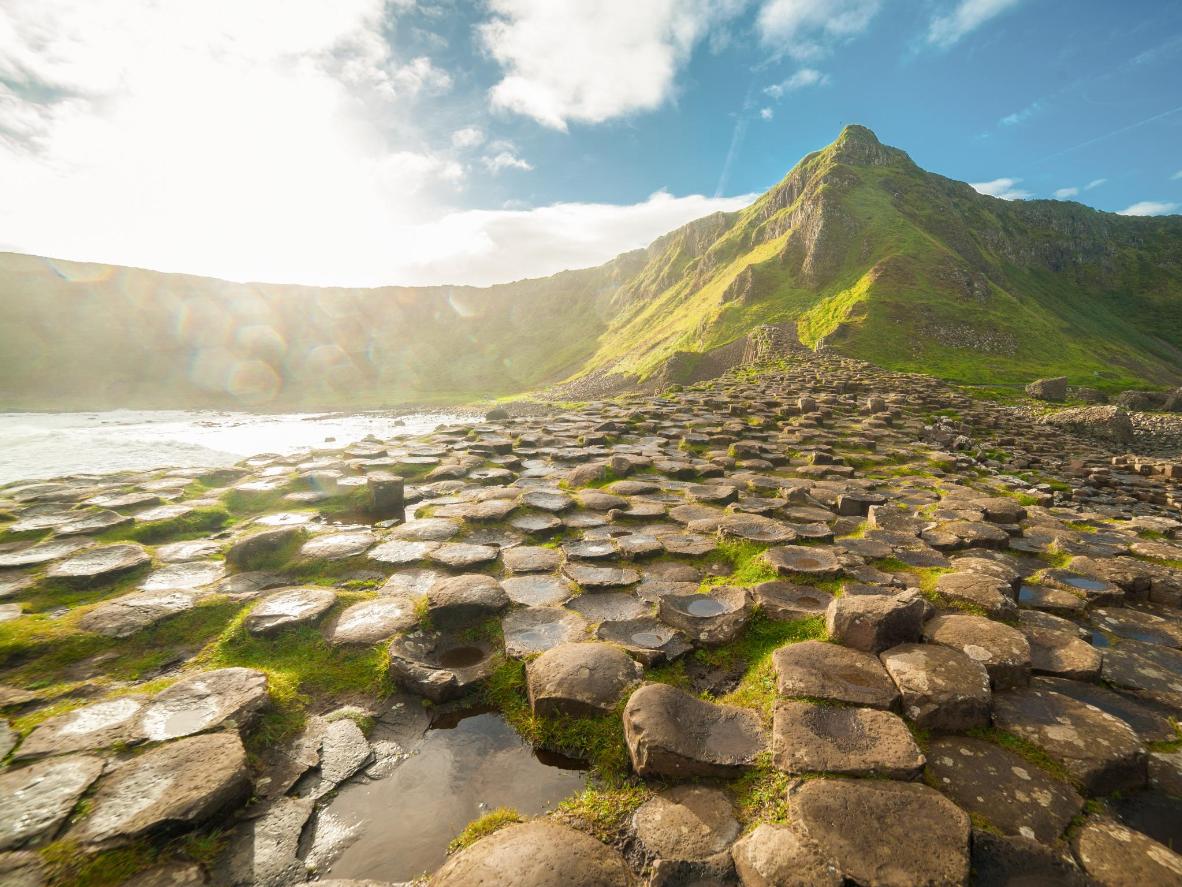 Magical sights on the Causeway Coastal Route include Giant's Causeway and The Dark Hedges
From the capital city of Belfast to Northern Ireland's second city, Derry-Londonderry, this route on a road clinging to the Atlantic Coast is 154 miles long, so allow at least four days to fully appreciate it. On your drive you'll pass imposing castles, picturesque sandy beaches, otherworldly natural phenomena and dramatic emerald cliffs.
Game of Thrones enthusiasts should start by heading to Cushendun from Belfast, just over an hour away. Here look at Cushendun Caves, which you'll recognise from the show's scene when Melisandre gives birth to the shadow spirit, before heading slightly inland to The Dark Hedges, which was used as the King's Road in season two. Enjoy an overnight stay with Atlantic Ocean views in Stella Maris Country House Hotel in Ballycastle, which will set you up to explore some big-hitting attractions the next day. These should include Carrick-a-Rede Rope Bridge, around a 10-minute drive away and the magical Giant's Causeway, around 15 minutes further. From here plan a stay in Bushmills and indulge in a tasting experience at the Old Bushmills Distillery. It's then around an hour to Derry-Londonderry, a historic walled city.
Lake District – Kendal to Keswick on the A591
This unforgettable drive skirts Lake Windermere
The A591 from Kendal to Keswick was mathematically proven to be the UK's best driving road. The winding stretch will take around an hour to drive end to end – although it passes through some of The Lake District's most popular towns and villages including Windermere, Grasmere and Ambleside, which are some of the UK's most romantic places. Skirting lakes such as Windermere and Thirlmere, and with soaring peaks, pretty villages and emerald countryside either side, it's an unforgettable journey.