Cardiff is a compact and friendly city home to centuries-old castles, fairytale beech wood forests and lush parks. It was also the birthplace of children's author, Roald Dahl – born here in 1916.
Cardiff Castle
Discover 2,000 years of history at cardiff Castle
Right in the heart of the city, you'll find Cardiff Castle. This fortress and its grounds contain 2,000 years of history waiting to be discovered. Over the centuries, the castle's interior has been renovated by its occupants, with each room now having its own theme. During your tour, make your way to the castle rooftop for a 360-degree view of the city. Next, explore the grounds and be sure to keep an eye out for the resident birds of prey (a falconer and a hawk). Stay in a classic Victorian building at The Angel Hotel, located close-by.
Bute Park
You'll find Bute Park right next to Cardiff Castle
If you're keen for a nature walk, visit Bute Park, next to Cardiff Castle. Once forming the garden of Cardiff Castle, now all 130 acres of the beautifully landscaped gardens and parkland are open to the public to enjoy. And being the largest urban park in Wales – roughly the size of 80 football fields – there's a lot to explore. Visit in autumn, when amber leaves blanket the surroundings. Make your way along the gently flowing River Taff, before heading back for a rest at Elgano Hotel.
Cardiff Central Market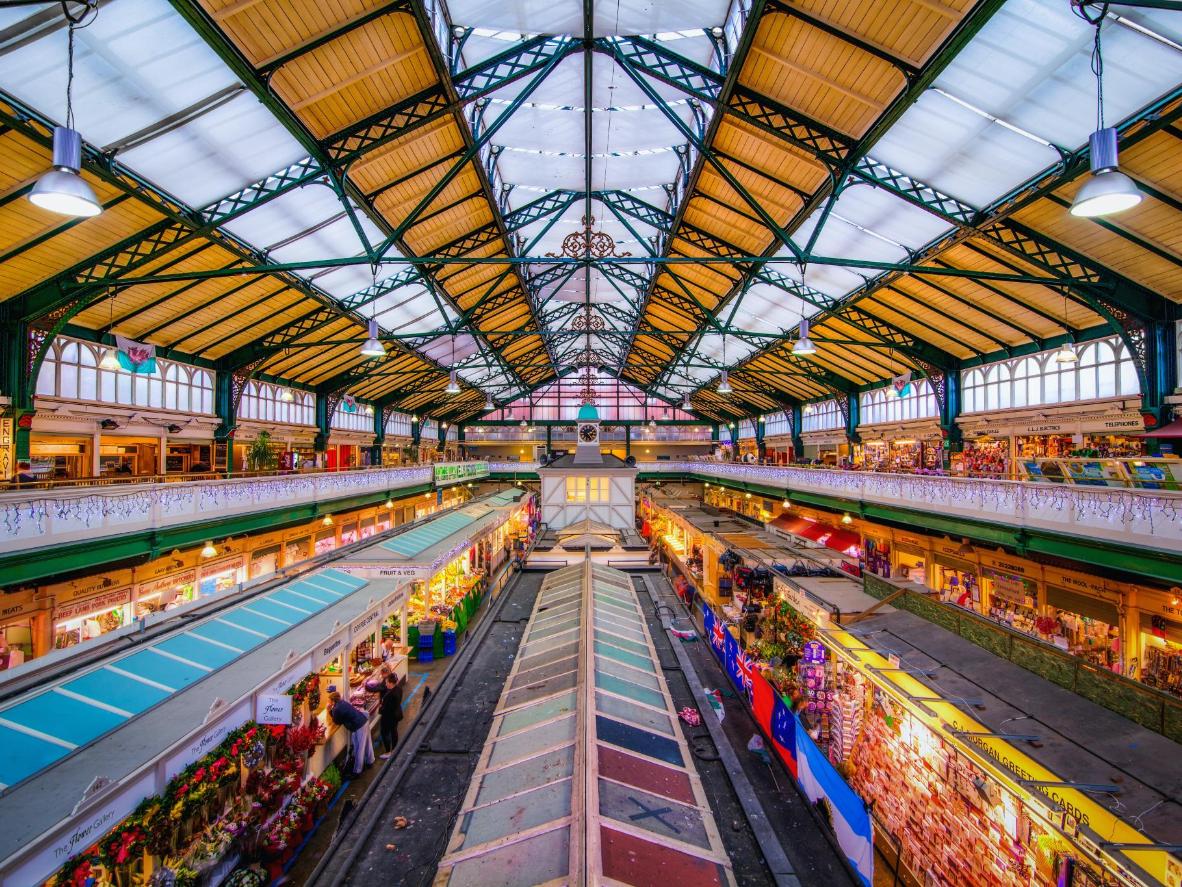 Wander the stalls and sip on speciality coffee
Cardiff Market has been a centre of shopping and trade since the 1700s. The current Victorian structure has a glass roof, beneath which you'll find a selection of local independent shops. Wander the stalls and sample Welsh cuisine and speciality coffee, try on one-off vintage clothing and purchase fresh produce. The market has been on the same site for the past 100 years but has had a facelift since its early days as a building used for auctioning livestock; as you walk around, try to spot some of the remaining auction house features. When you've finished shopping, head home to Jurys Inn.
Castell Coch
Spot the castle popping up through Fforest Fawr
Castell Coch is just a 20-minute drive from the city centre, built above the village of Tongwynlais. As you approach, you'll spot the castle's conical towers popping up through the ancient beech woods of Fforest Fawr. Castell Coch has a history stretching back to when it was built in 1081, with the existing exterior and interior having been revived between 1875 and 1879. Step inside to marvel at High Victorian era-antiques and Gothic details. After a stimulating day out, return home to the close-by Ty Carreg Fach Staycation Cottage.
Cardiff Bay Wetlands Reserve
The reserve is brimming with bird species
Not far from Cardiff Bay is the Cardiff Bay Wetlands Reserve. This protected area spans 14 hectares and is brimming with bird species such as reed buntings, reed warblers and sedge warblers – a must-visit for nature-lovers. The birds use this habitat to build nests and play an important role in the reserve's ecosystem. Once you've spotted a reed bunting or two, make your way back to voco St. David's.