Off the coast of eastern Spain, the Balearic Islands boast some of the best beaches in the Mediterranean. Here is a guide to the most unmissable coastal spots across the archipelago, featuring bareback horse riding along oyster-white sands and sunbathing beneath slender, leaning pine trees.
Mallorca
Mallorca has 262 glorious beaches
Mallorca is the biggest of the Balearics, with 262 beaches ranging from coves wedged between wind-carved cliffs to wide bays backed by pine groves and citrus plantations.
Playa de Formentor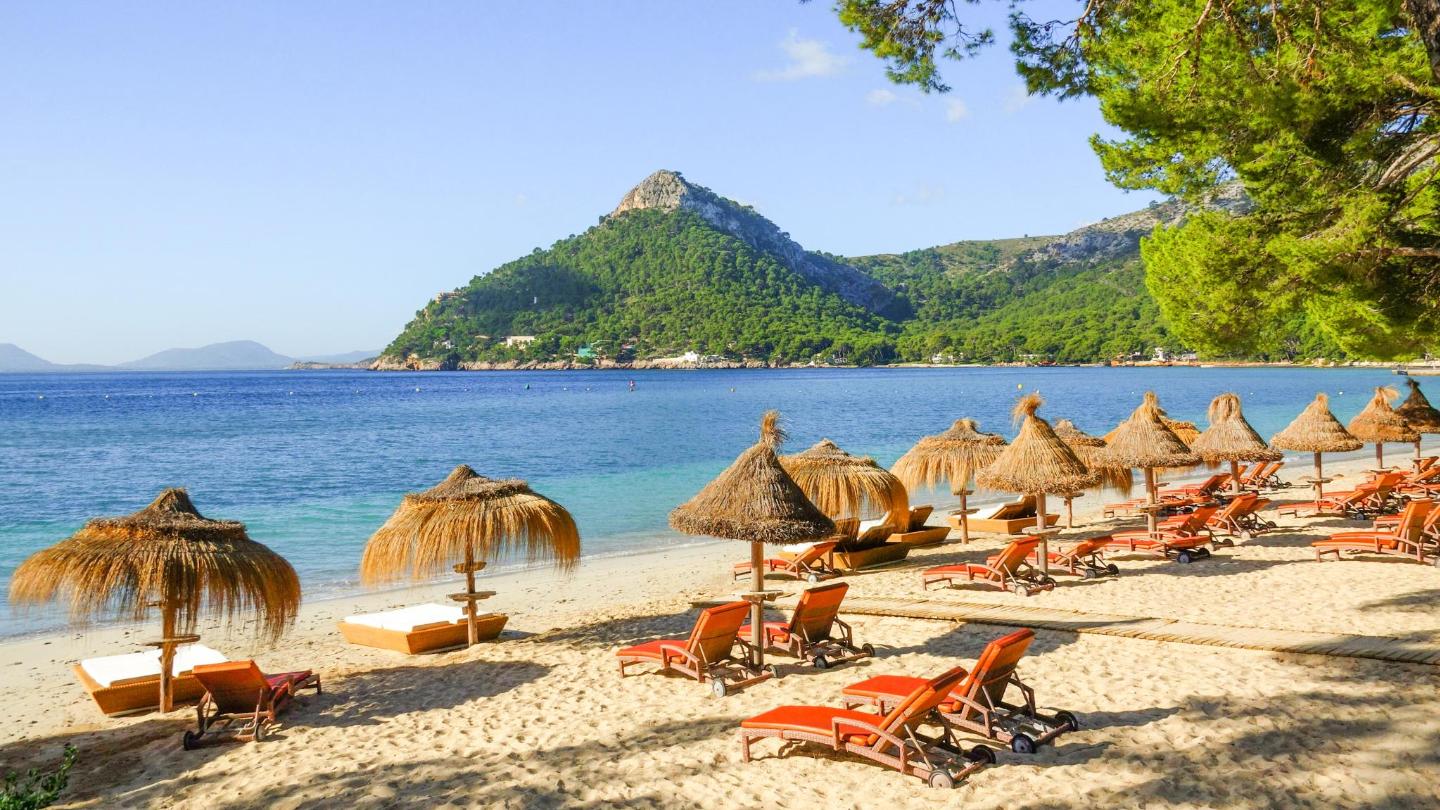 Playa de Formentor looks like it could be in the Caribbean
Playa de Formentor is a thin strip of oyster-white sand that looks like it could be in the Caribbean; the conical, pine-clad hill that stands at one end is particularly reminiscent of St Lucia's volcanic peaks. The drive to get here is precipitous but each hairpin bend cut into the limestone cliffs will reward you with far-reaching views, as you descend from the Serra de Tramuntana mountains towards the sea (but if you're not a confident driver, you can take the ferry from Port de Pollença instead). Upon reaching the long, slim playa, you'll find clear water and breezy spots of dappled shade cast by pine trees leaning over the sand. During peak season, the beach does get busy so – to avoid the bulk of visitors – aim for the early morning (perhaps even rising before dawn and hiking over the wild Cap de Formentor, followed by a refreshing morning dip) or the evening (when most day-trippers have departed leaving the beach nice and quiet in time for sunset). Treat yourself to a stay at Formentor, a Royal Hideaway Hotel, and enjoy its excellent location right on Formentor Bay.
Ibiza
Discover Ibiza's white-washed villages and equally gleaming sandy beaches
Ibiza's reputation no doubt precedes it but it's not all super clubs and dancing until dawn. Its white-washed villages and equally gleaming sandy beaches have long drawn an alternative crowd seeking the island's pared-back lifestyle, its range of wellness retreats (yoga on the beach is a very popular pastime here) and Mediterranean landscapes that include forest-covered hills popular for hiking.
Cala Xarraca
The small cove of Cala Xarraca
Cala Xarraca is a small cove in the north of the island where you'll find cobalt waters sheltered by ruddy, tree-topped cliffs. Spend some time snorkelling around the rocky shore or hike through the forest to even more well-hidden beaches such as Cala Es Canaret (a half-hour walk away, or a very easy drive) and Sa Cova de Xarraca (a short stroll around the headland) – though swimming or hiring a kayak is another lovely way to explore and find the quietest spots. After a day at the beach head to the nearby Ibiza Horse Valley, located within 173-acre natural park, Es Murta. Here, a rehabilitation centre for abandoned horses takes visitors on bareback riding treks through scented forests and along the coast. You can even go swimming in the sea with the horses during certain months of the year. Check into Agroturismo Ca Sa Vilda Marge, a renovated farmhouse set amid gardens and orchards, with homegrown produce served for breakfast.
Menorca
Mellow Menorca is quieter than its larger Balearic counterparts
The mellow island of Menorca is quieter than its larger Balearic counterparts and is a popular summer holiday destination for families – perhaps courtesy of the fact that it has more beaches than Ibiza and Mallorca combined. Walk part of the ancient path that circles the island (the 'Cami de Cavalls'), patronise some of the island's family-run restaurants and while away sunny days on its shallow, gently-shelving sandy beaches.
Cala Pilar
Rust-red clay cliffs that frame the bottle-green sea at Cala Pilar
Cala Pilar stands out for two reasons; the fact that it's very remote, and the rust-red clay cliffs that frame the bottle-green sea. It's also located within a nature reserve, with abundant marine life for snorkelling – though, before your visit, check the strength of the 'Tramuntana', the local term for the north wind that can create fairly large waves and thus reduce water visibility. To find this removed beach, hire a car and drive along the Me-1 road following signs to the 'Camí del Pilar' exit; here, you'll find a carpark from which you need to walk for half an hour through the forest to the beach. As it's so secluded, there are no services or facilities, so pack plenty of sunscreen and a picnic of fresh Menorcan peaches and artisanal cow's milk cheese from Mahón, the island's capital, for sustenance. Return home to Agroturismo Son Vives Menorca for the night and relish the sea views from the garden.
Formentera
Formentera is the smallest but possibly the most glamorous island
The smallest island of all – and often overlooked – is Formentera. In the 1960s, visits from the likes of Bob Dylan paved the way for the island to attract a hippy crowd and develop an infectiously nonchalant atmosphere – note the lasting popularity of naturism on the island. These days, it's still something of a celebrity escape, with stars like Leonardo DiCaprio still sold by the appeal of the island's remoteness. Formentera doesn't have an airport so you'll have to catch the short ferry from Ibiza, or take a 25-minute private water taxi if you're feeling flush. Once you've arrived, hire a car or moped to scale the island in style.
Playa de Ses Illetes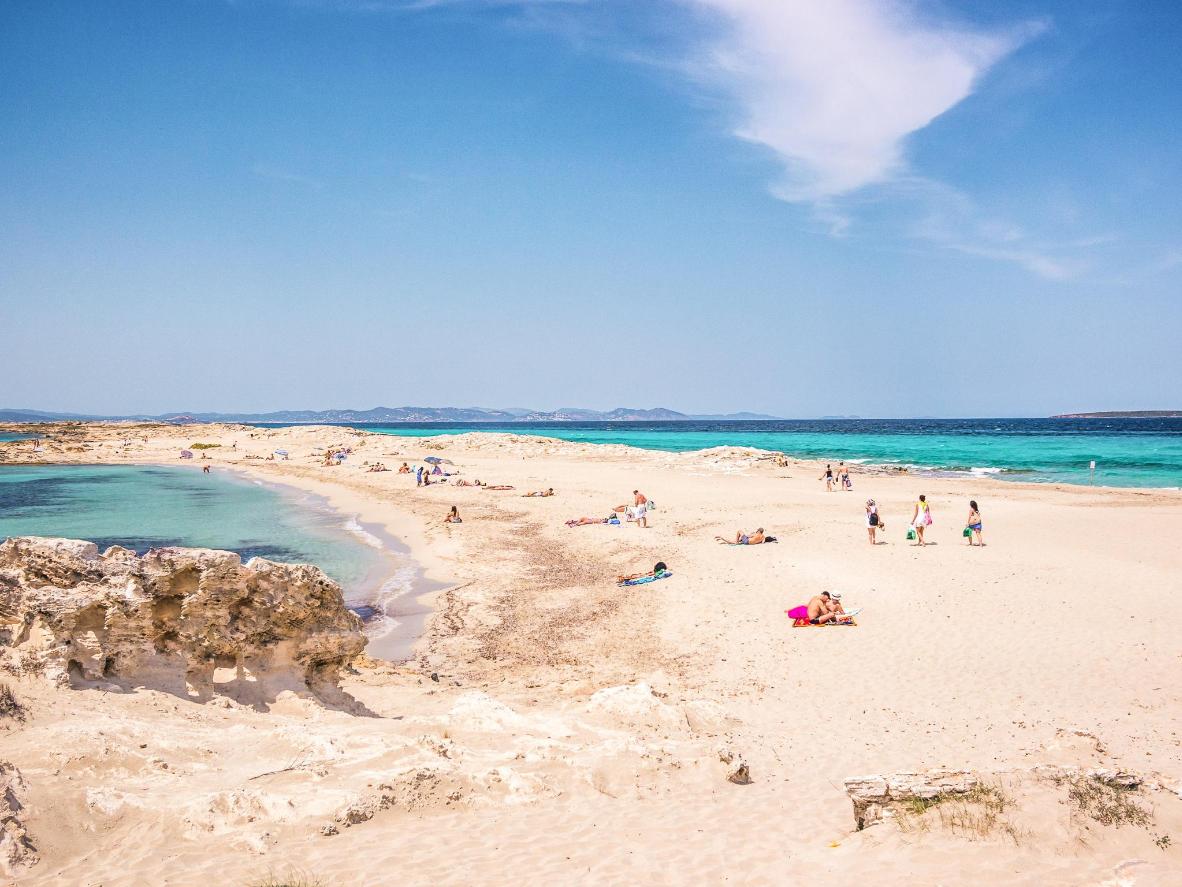 Playa de Ses Illetes is a long sliver of blindingly bright white, fine sand that protrudes into the Mediterranean
With a ban on beachfront buildings on Formentera, it's a place that feels unspoiled. And Playa de Ses Illetes is one of the island's most popular beaches; as a long sliver of blindingly bright white, fine sand that protrudes into the Mediterranean with ocean on both sides, there aren't any trees or shady spots. So if you're sensitive to the sun, bring plenty of protection. While there are no proper buildings here, you'll find a number of palm-roofed beach shacks serving up sophisticated gourmet fare for the glamorous crowd (note the super yachts moored just offshore). Indulge in some people-watching over grilled seafood at swanky beachside restaurant, Juan Y Andrea (book ahead), or head to Beso Beach for cocktails and paella. Stay just next to the playa at Hotel Bahía.