Rome has an amazing array of cocktail bars, with speakeasies and mixologists concocting unique cocktails that'll please all kinds of palates. And we've found Rome's finest cocktail bars, each one of which deserves a visit.
The Race Club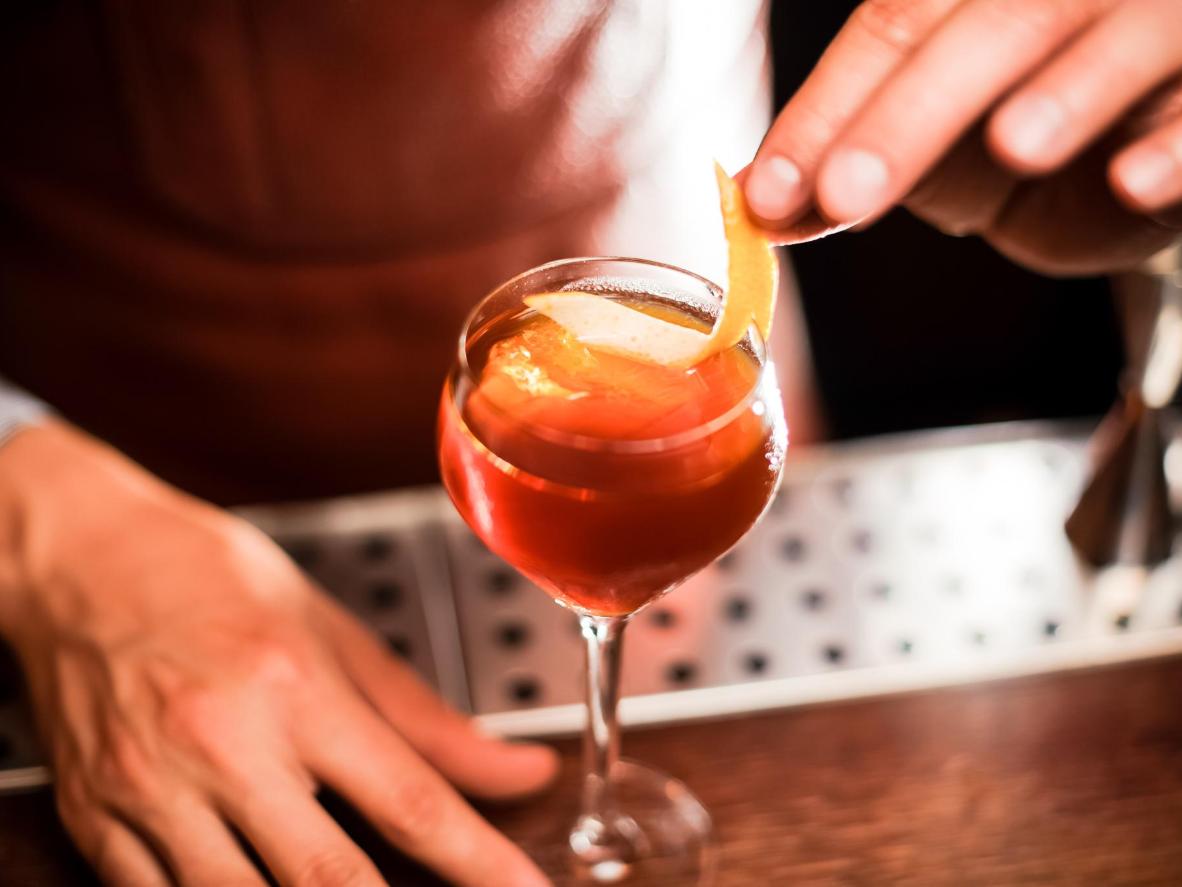 Sip on the skillfully crafted cocktails invented by the two brothers who own the bar, Diego and Dario.
Literally on the same street at the Colosseum, this speakeasy concept is well camouflaged. When you first enter, the reception resembles a mechanic's shop, with a vintage motorbike sitting in the middle of the room and wrenches neatly hung on the wall – but don't worry, you're in the right place. Once you get downstairs, you'll immediately be greeted by the bar's warm atmosphere; the aesthetic rigorously follows the style of speakeasies in the 1920s and 30s, with fairy lights, art deco mirrors and worn, antique furniture. And to continue the racing theme, the walls are busy with vintage barometers while chunky engine chains hang from the ceiling. Just like the fully considered interior design, this bar makes skillfully crafted cocktails – some are invented by the two brothers who own the bar, Diego and Dario, while others are creative twists on classics. Prepare yourself for a late night as it opens at 10pm and closes at 3am. In the early hours of the morning, head home to Merulana Suite Apartment, just 600 metres from the Colosseum.
Circolo Coda di Gallo
Let the mixologists prepare a cocktail while you groove to the DJ's smooth beats
Circolo Coda di Gallo is an underground bar that tries its hardest not to be found. Although it's right in the historic centre and behind one of Rome's main piazzas, Campo de' Fiori – unless you know it's there, you won't stumble upon it. To be granted access, you must be a member, have an entrance card and a password – but you can get all of these through an online reservation. It's a small, intimate venue with exposed concrete and a DJ playing smooth beats. The mixologists can prepare any cocktail for you; a popular order is the 'Honey & Ginger', made with honey, scotch, tequila and ginger. Or a 'Gin Gin Mule', which is mixed with gin, fresh mint and ginger beer. Once you've tried everything you fancy, head home to The Club Navon and wake up to a big buffet breakfast that'll soothe any headache.
Caffè Propaganda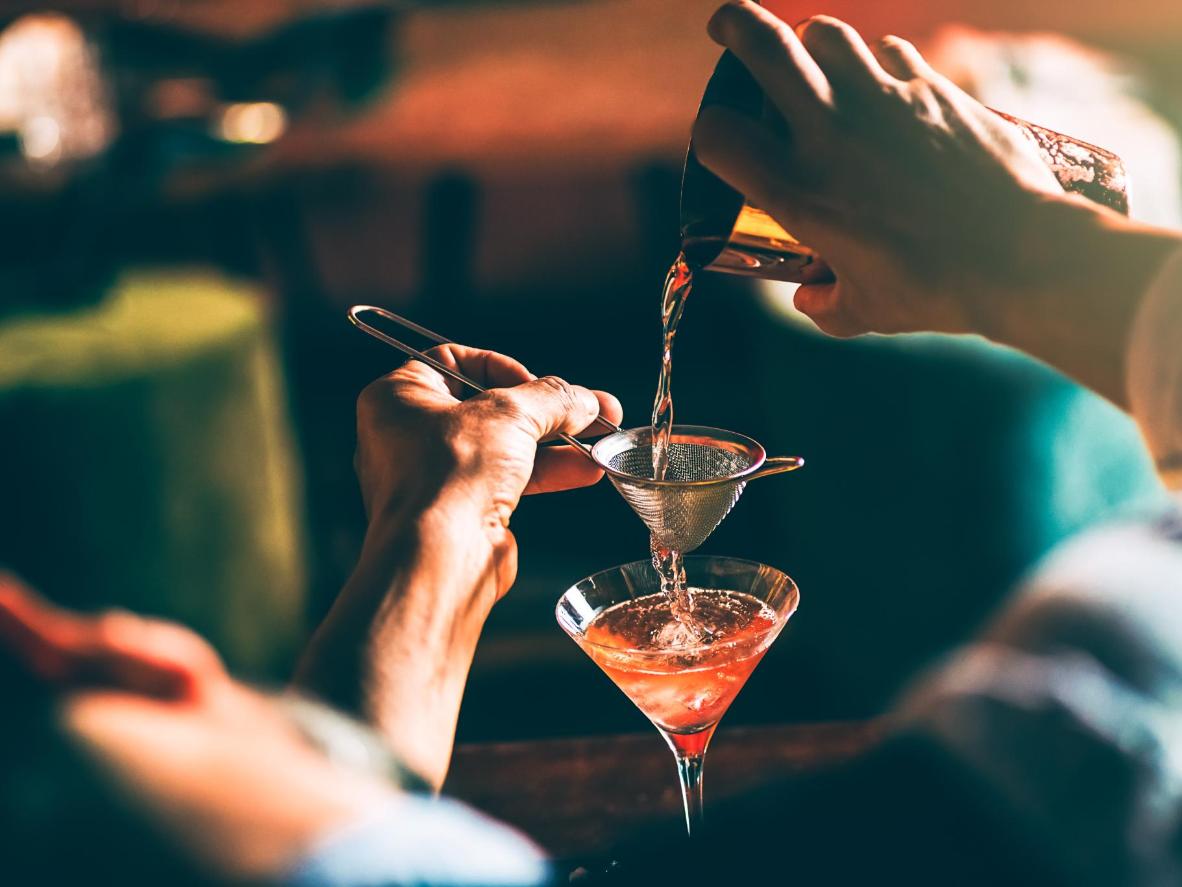 Order their signature cocktail or try something new on their forever-changing menu
Just around the corner from the Colosseum, you will find Caffè Propaganda. The glossy mix of black and white tiles line the interior of this modish café, decorated with jewelled chandeliers and backlit liquor bottles. Once there, you can order their signature cocktail, 'Il Calipp', a minty, milk-based cocktail mixed with Haitian rum and a homemade cherry cola (with a top secret recipe). The menu is forever changing and the bar also has an extensive selections of wine, should you wish to switch up your drink. Although the interior is French-inspired, the café serves some hearty Italian classics, like a creamy carbonara that any Nonna would approve of. Once the night comes to a close, stay at the nearby Alloggio Turistico al Colosseo.
Blackmarket 101 – Rione Monti
Savour one of the many unreal cocktails at Blackmarket 101
If you're looking for unreal cocktails, the dimly lit Blackmarket 101 in the neighbourhood of Monti is for you. With homely trinkets and retro gumball dispensers mixed with slouched sofas and vintage leather loungers, the atmosphere is warm and inviting. And there are also local bands that play live music here regularly. Find a good nook to cuddle up in and order a 'Don Pepperoni', a take on the classic Bloody Mary. It's sweet and sour but also has strong, smoky and spicy notes. There is also an aperitivo tasting menu, with vegan options available. Once last drinks are called, take the conveniently short walk home to the charismatic Madonna dei Monti.
Spirito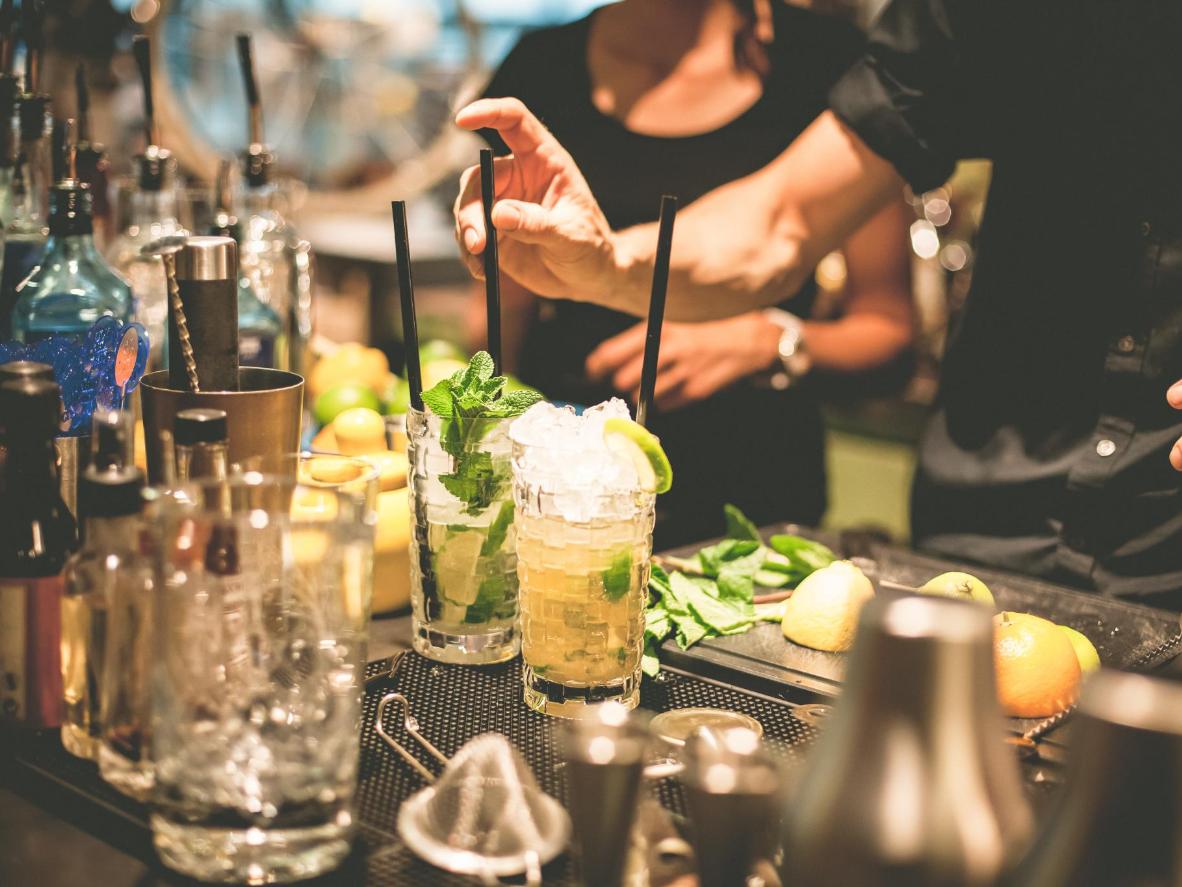 Find this speakeasy via an award-winning burger restaurant
In true speakeasy style, Spirito has an entrance that's hidden from street-view. You'll be able to find your way in via award-winning burger restaurant, Premiata Panineria Pigneto. To get inside you'll have to follow the instructions given when making your reservations – this speakeasy doesn't allow casual drop-ins. The bar has a roulette table and also hosts Blackjack games every Wednesday evening. Order an elaborate and creative cocktail, then later on grab a towering burger and chunky fries – a plus of having a burger bar right next door. Once you call it a night, exit the secret bar and whisk yourself home to Roma Suite, la casa di Costantino, just 100 metres away.