California is an outdoors-lover's paradise thanks to its great weather, gorgeous national parks, strong surfing culture, and endless golden coastlines. With so much space to play in the sun and sand, it's no wonder that it's the ideal destination for those traveling with pets. Here's a list of California's best dog-friendly beaches to visit.
Estero Bluffs State Park in Cayucos
Walk along the shore or splash around the shallow end
Dog-friendly Estero Bluffs State Park is located in Estero Bay, where wetlands, coastal terraces, and pretty coves are home to shorebirds, marine mammals, and birds of prey. Check out tidal pools full of hermit crabs and colorful sunburst anemones. The park's flat terrain covers over 350 acres and is great for older dogs and gentle walks along the sand. Just remember to check when low-tide is coming, otherwise there won't be any beach to explore. After your walk, take a load off and unwind at the Red Lion Hotel Port Angeles.
Fort Funston in San Francisco
Explore the peninsula's largest remaining dune field
Fort Funston is located in southwestern San Francisco and home to the peninsula's largest remaining dune field. It's a great spot for hang-gliding because of the windy conditions, and it also has several trails that are great for hiking and horseback riding. Your dog will have plenty of space to explore, but make sure they have enough energy to walk back to your car, or you'll have to carry them back up the steep sand dunes. Afterwards, both you and your pet can rest up at the Laurel Inn, a Joie de Vivre Hotel.
Rosie's Dog Beach in Long Beach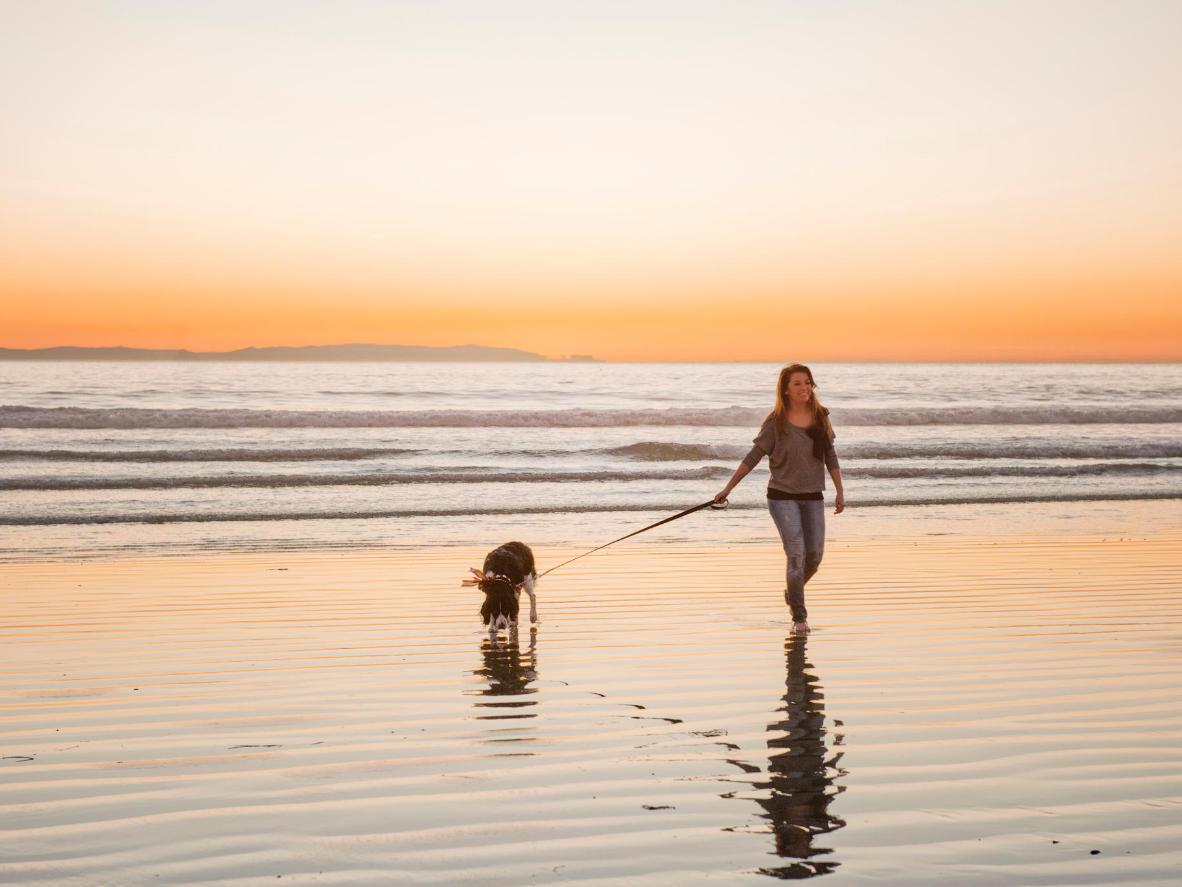 Head to the dog zone with four acres of golden sand
Rosie's Dog Beach is located in Long Beach, a sunny city within the Los Angeles metropolitan area. Head to Ocean Boulevard (between Granada and Roycroft Avenues) where you'll find 4 acres of golden sand and shallow waters for dogs to run and play leash-free. However, it's only open 6 am to 8 pm every day – otherwise dogs aren't allowed on the beach. After a day of fun in the sun, head home to the pet-friendly Ocean front near the Queen Mary, where you and your dog can enjoy the sunset over the water from your private terrace.
Seabright Beach in Santa Cruz
Take a long walk with your dog on this endless stretch of sand
Looking for a scenic, sandy spot for a long walk with your dog? Then head to Seabright Beach, just south of Santa Cruz Beach, where the sands stretch so far and wide that it still feels spacious even with all the other beachgoers around. It's a leash-on beach, with a great of the Walton Lighthouse sitting slightly out in the waters. Just a short walk away is the Santa Cruz Beach Boardwalk and the Seaway Inn if you decide to spend the night.
Huntington Dog Beach in Los Angeles
This dog beach will accommodate most schedules with its long hours
Huntington Dog Beach in Orange County is open 5 am to 10 pm every day, and welcomes dogs of all shapes and sizes. It's easy to spend an entire day here, since it's equipped with public restrooms, parking, and a picnic area with dog waste bags along the beach. When you and your pup need to refuel, check out Park Bench Cafe, located nearby. They sell human food as well as dog-friendly treats, with items like the Hot Diggity Dog, an all-beef hot dog cut into small pieces. And if you still don't have enough photos of your dog, check out Fly Dog Photography's free beachside photoshoots. Then walk home to Paséa Hotel & Spa, located right next to the Huntington Beach Pier.