Fresh fish, premium olive oils, creamy cheese and a range of high-quality wines are just some of the staples that make Portugal's dishes so mouthwatering. There are also some excellent regional specialities that are worth seeking out. If you're in Portugal with a car, we've picked out five of the best places to visit to combine memorable meals with some of the country's top attractions.
Piri piri chicken in Guia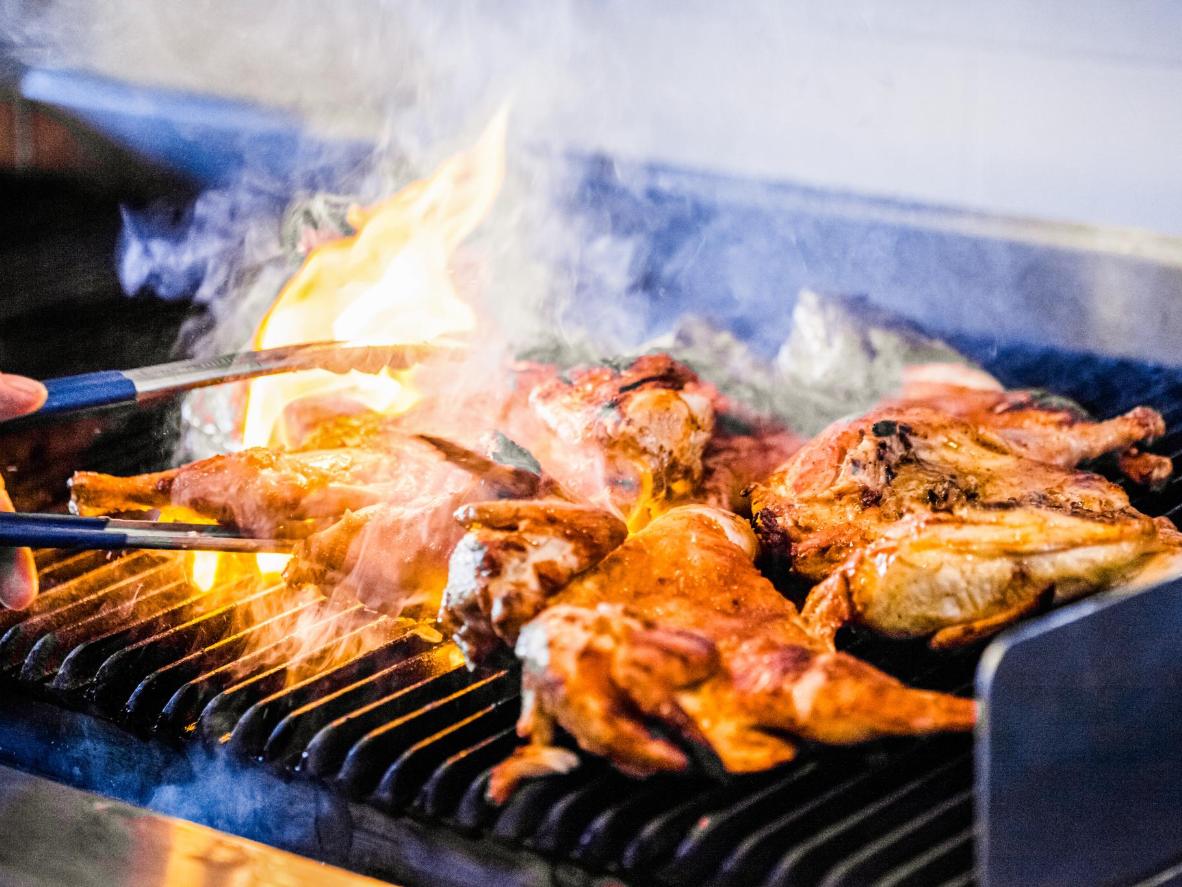 Try this fiery chicken dish in Restaurante Ramires
The pretty village of Guia is around a 30-minute drive from Faro Airport. While many visitors head straight to the Zoomarine Park to swim with dolphins, Guia's biggest appeal lies in its food; namely its most famous dish, piri piri chicken.
To make it, chicken is marinated in a spicy sauce containing bird's eye chilli, garlic, lemon juice and salt before being barbecued. The most famous spot to try it is at Restaurante Ramires, a once small café, now multi-floor restaurant, which has been serving the dish since around the time it opened in 1964. Stay at Monte das Cortelhas and enjoy a dip in the pool before eating.
Pastéis de nata in Lisbon
You can drive into Lisbon in style over the Ponte 25 de Abril suspension bridge
Portugal's capital, Lisbon, is a two-and-a-half hour drive north of Guia and you can enter by car in style over the Ponte 25 de Abril suspension bridge. While Lisbon appeals to those after nightlife and culture, its culinary scene, with everything from Michelin-starred restaurants to traditional cafés, is one of its biggest draws.
A local delicacy that you must try is pastéis de nata, sweet Portuguese custard tarts that you'll find in cafés throughout the city. Head to Pastéis de Belém near the Jerónimos Monastery for some of the city's best. This pastry shop started making the tarts back in 1837 following a secret recipe from the monastery and to this day there's still something special to them; so much so there's often a queue to buy them. Consider staying in Portugal Boutique Hotel, which has free private parking.
Arroz de marisco in Cascais
Take the prettier coastal road from Lisbon to Cascais
You can drive to Cascais from Lisbon in around half an hour on the main A5 road. Alternatively, plan a more scenic route along the coastal road that links the two. Cascais' mild weather and twinkling turquoise sea have attracted well-to-do travellers since King Luís holidayed there in the 19th century. While you're there, relax on the beach and learn to surf in the day, while at night, head out and sample some of its exquisite seafood.
One dish to look out for is arroz de marisco, typically seafood, such as prawns, clams and mussels, cooked with rice in a rich sauce. Eat a steaming plate of it at the relaxed Marisco na Praça restaurant in Cascais' market. Afterwards, relax looking out over the Atlantic Ocean while staying at the Grande Real Villa Itália Hotel & Spa.
Tripas à modo do Porto in Porto
Try Porto's world-famous wine in a port cellar in Vila Nova de Gaia
Portugal's second largest city, Porto is around a three-and-a-half-hour (220-mile) drive north of Cascais. Break up the journey by stopping in the town of Mealhada en route to try its speciality Leitão da Bairrada (suckling pig). When you arrive in Porto itself, head to Vila Nova de Gaia on the south side of the Douro River to try its world-famous sweet fortified wine, port, in one of the port wine cellars.
People from Porto are called tripeiros (tripe eaters) and a must-try dish in the city is Tripas à modo do Porto. It's a stew containing tripe, white beans and sausages, and legend says it was created after Henry the Navigator asked the people of Porto to donate food to stock his ships to conquer Ceuta in 1415. Porto's residents were so generous they gave all of their meat away only leaving the tongue for themselves. Stay at Descobertas Boutique Hotel Porto which is a short walk from the city's port cellars.
Michelin-star food in Albufeira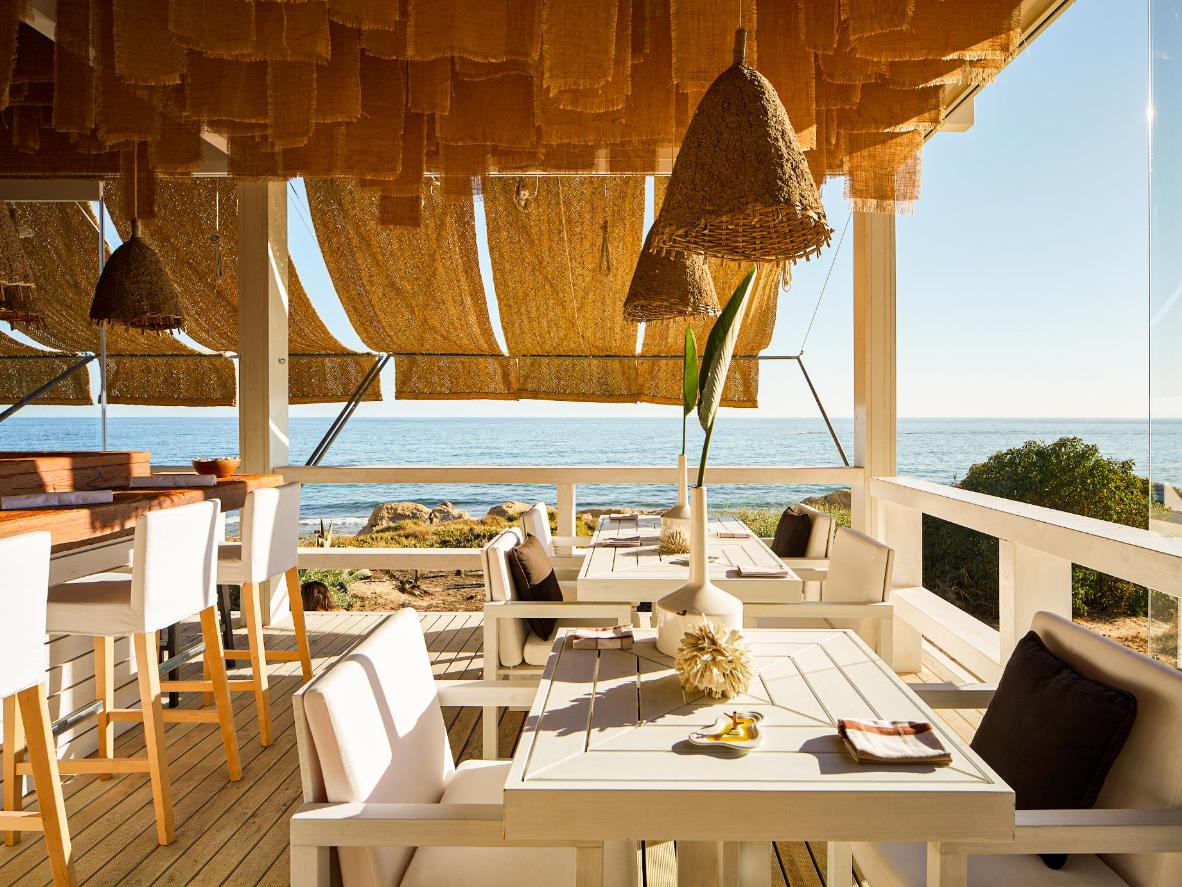 Enjoy a Michelin-starred meal with fantastic sea views
It's around a five-hour (340-mile) drive from Porto back to Faro Airport but spoil yourself with an end of holiday treat with a stay in the five-star Vila Joya in Albufeira. As well as spa facilities and spectacular ocean views, Vila Joya is home to an outstanding restaurant with two Michelin stars headed up by Austrian chef, Dieter Koschina. Koschina combines local ingredients with northern European cooking methods, creating dishes such as confited bacalhau (dried and salted cod) with beetroot puree and yoghurt.
Vila Vita Parc Resort & Spa is an alternative option for a spot of indulgence. The resort has an impressive 10 restaurants in total, but the one to book is Ocean, a fine-dining restaurant with two Michelin stars and superb sea views. Go for a six-course tasting menu with paired wine to try dishes such as the catch of the day with celery, imperial caviar and watercress.