South Korea's popularity as a winter sports travel destination seems to be ever on the up. Having gotten plenty of exposure during the Winter Olympics in 2018, its state-of-the-art ski resorts continue to attract snow sports enthusiasts from far and wide.
Whether you choose to stay in the actual Olympic village, Alpensia, or a resort that's reachable by subway from Seoul, you can expect high-quality snow, accessibility and modern facilities. What's more, the diverse terrain makes for some stunning views and, for added thrills, many slopes in South Korea are lit up for night skiing.
Read on for the best places to visit in South Korea for the winter sports season (which typically lasts from December until March).
Pyeongchang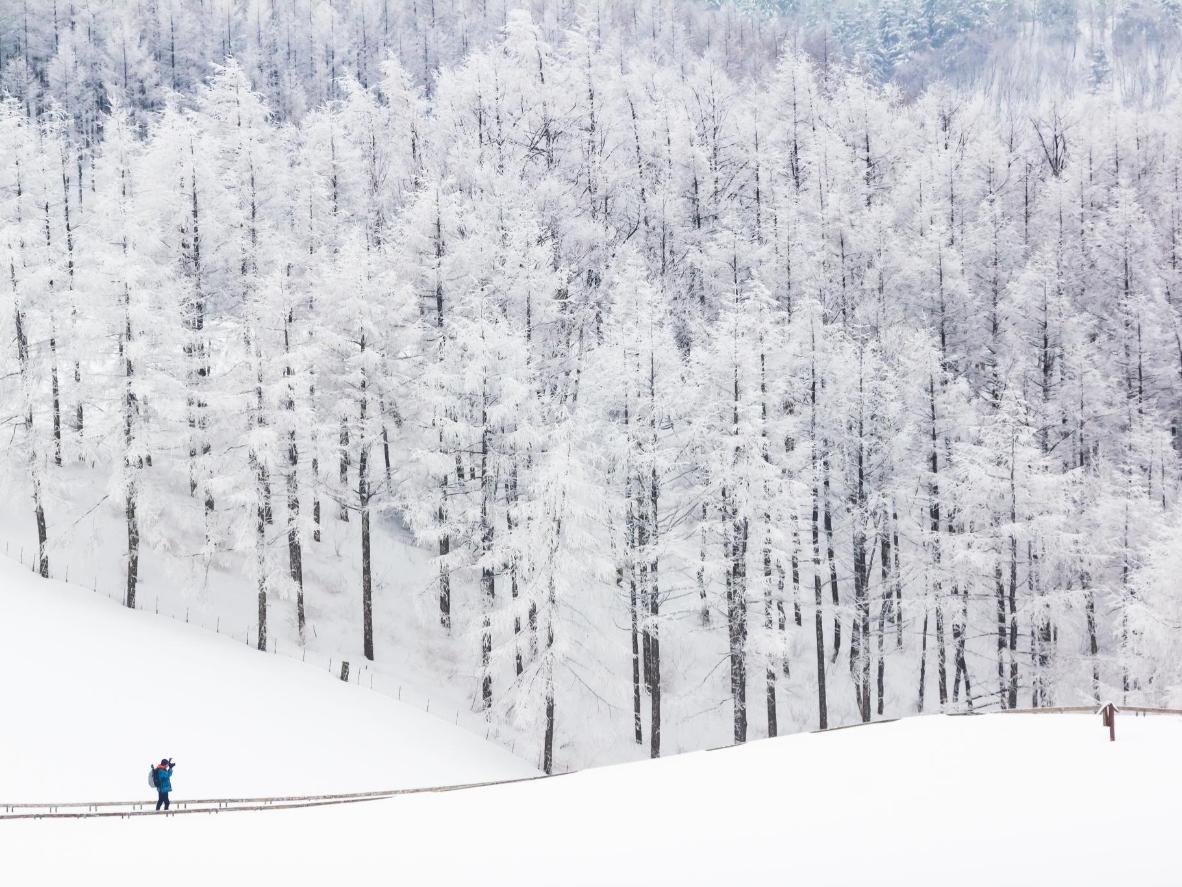 Enjoy photogenic, snow-blanketed landscapes and a phenomenal winter sports offering in Pyeongchang
Having hosted the Winter Olympics in 2018, the county of Pyeongchang is home to an impressive selection of world-class ski slopes, cross-country trails and jumps. Here amid the snow-covered Taebaek Mountains in Gangwon province, you'll find a number of great resorts to choose from but the main ones are where most of the 2018 events were held.
Alpensia formed the main Olympic village and hosted cross-country, ski jumping, bobsleigh, while YongPyong hosted mainly downhill slalom snow sport events. And Phoenix Pyeongchang, an Olympic venue that's now a resort complex with a snow park and Mediterranean-themed water park.
Don't miss out on trying a traditional Korean jjimjilbang bathhouse or steam bath while you're here, to soak and soothe your muscles before another day testing out Olympic slopes. Check into the highly rated Intercontinental Alpensia Pyeongchang Resort.
Hongcheon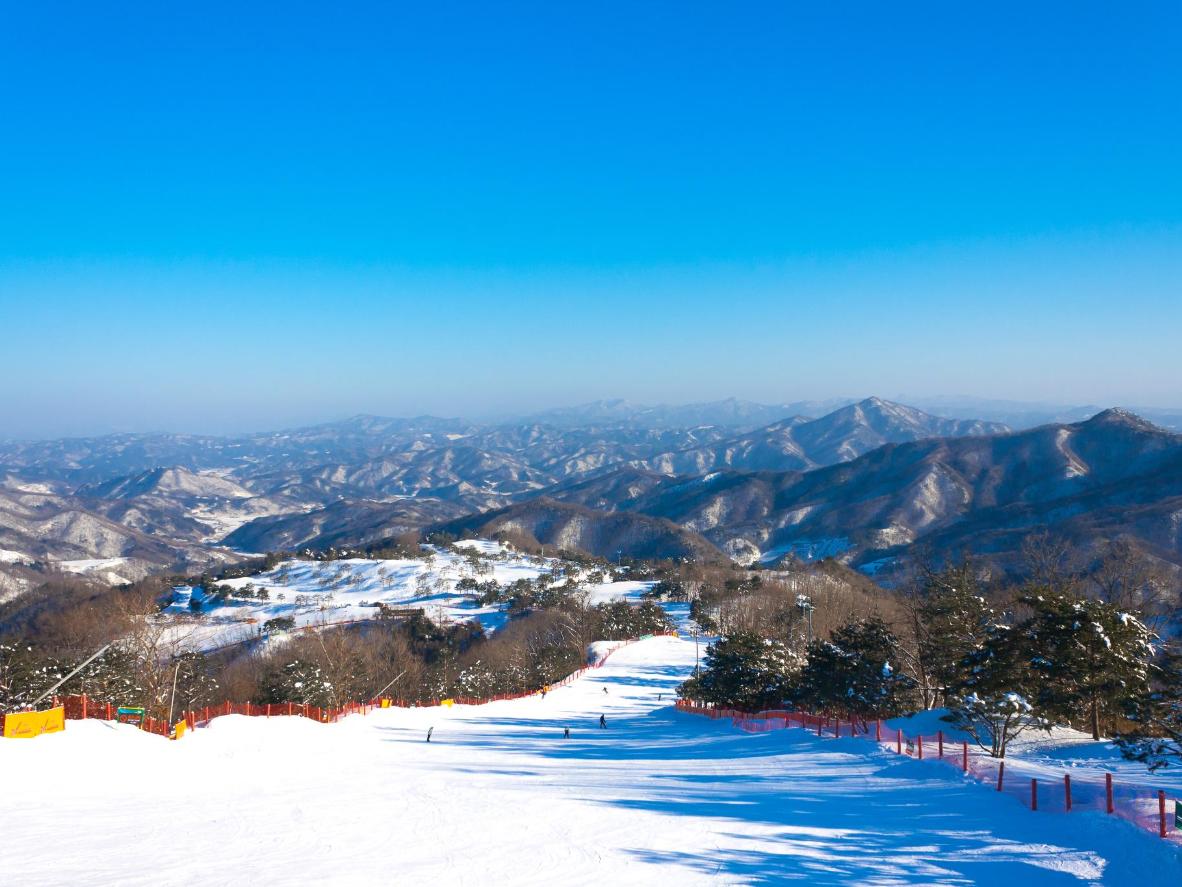 Take a day trip to the themed slopes of Vivaldi Park Ski Resort Korea
The city of Hongcheon is home to Vivaldi Park Ski World, a family-friendly winter wonderland that's one of the most popular ski resorts in South Korea. It's also not far from Pyeongchang and – at just over an-hour-and-a-half drive from Seoul – makes an easy day trip from the capital.
Whether you're an expert or a total newbie, Hongcheon offers a variety of slopes to choose from, as well as nighttime skiing options. But the best bit by far is the resort's fun atmosphere – each slope is named after a particular music genre. Stay at Sono Felice Vivaldi Park.
Chuncheon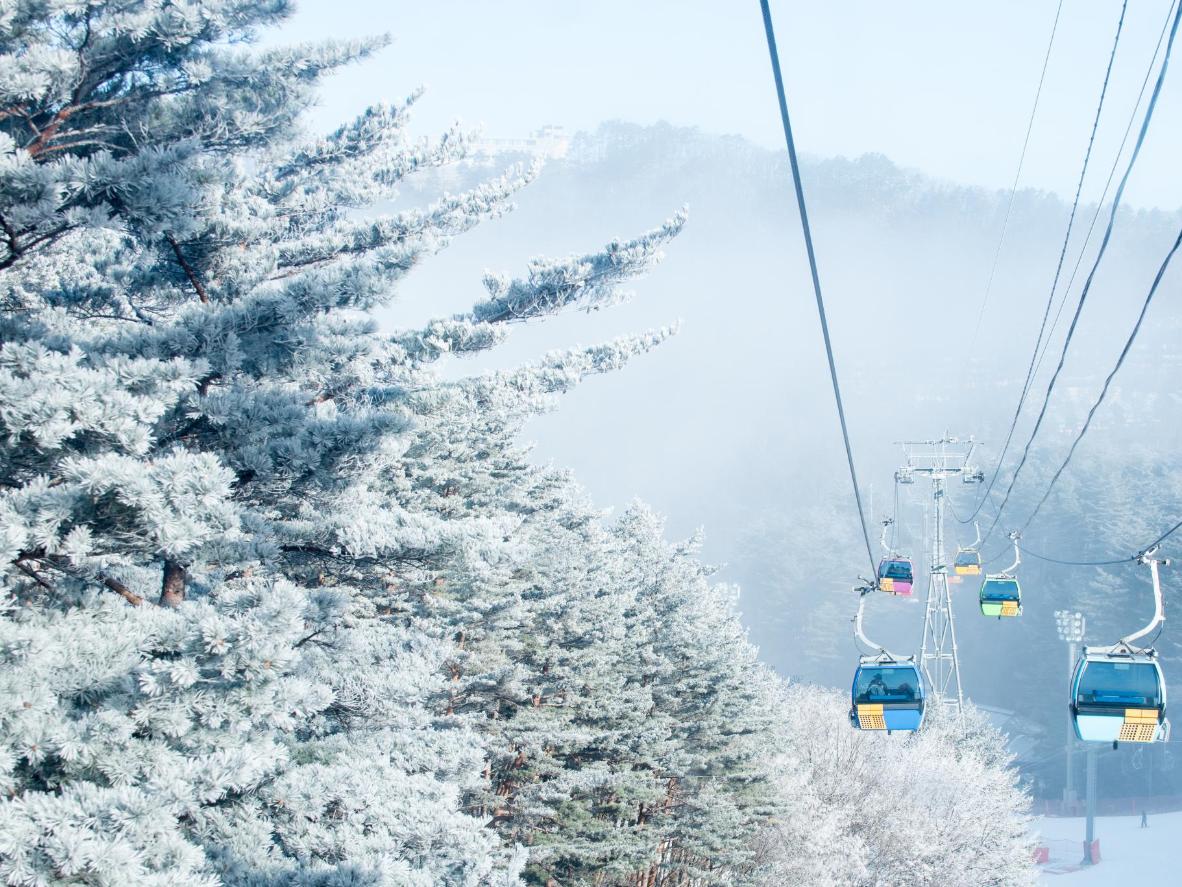 Elysian Gangchon is the only South Korean ski resort that's reachable by subway from Seoul
Just outside the city of Chuncheon, Elysian Gangchon is one of the top ski resorts in South Korea and also the only one that's reachable by subway from Seoul. Though there are five intermediate pistes and two for experts, it tends to be more suited to beginners, with plenty of lessons available.
When you're not on the snow, tuck into local delicacies like steaming Makguksu (buckwheat noodles), sizzling Dak-galbi (stir-fried spicy chicken) or other local dishes like potato pancakes. The resort is also close to Nami Island and the Garden of Morning Calm, worthy add-ons to any ski trip. Wake up to incredible views while staying at LaHoya Pension in Chuncheon.
Yongin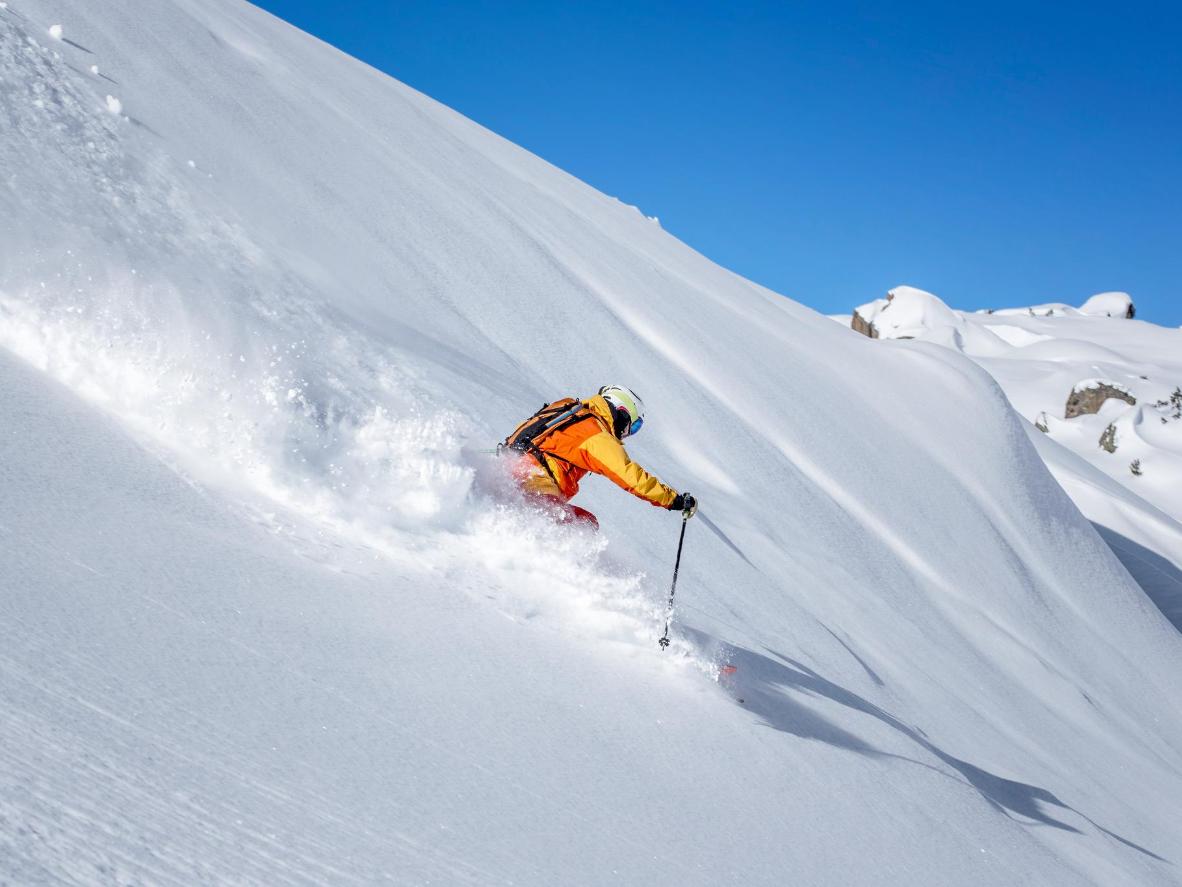 Try sledding, skiing or snowboarding down scenic slopes at Yongin's Konjiam Resort
Head to the city of Yongin and the nearby Konjiam Resort for an easy winter day trip from Seoul – the latter being the closest ski resort to the capital (getting here takes under an hour from the Gangnam area). Whether you want to go sledding, skiing or snowboarding, you'll find several scenic slopes that cater to a range of abilities.
Another reason to visit Yongin is Everland, the largest theme park in South Korea and home to 'The Snow Buster', a huge and thrilling snow-sledding ride. Make Hotel Thesoom Forest your base while in Yongin.
Muju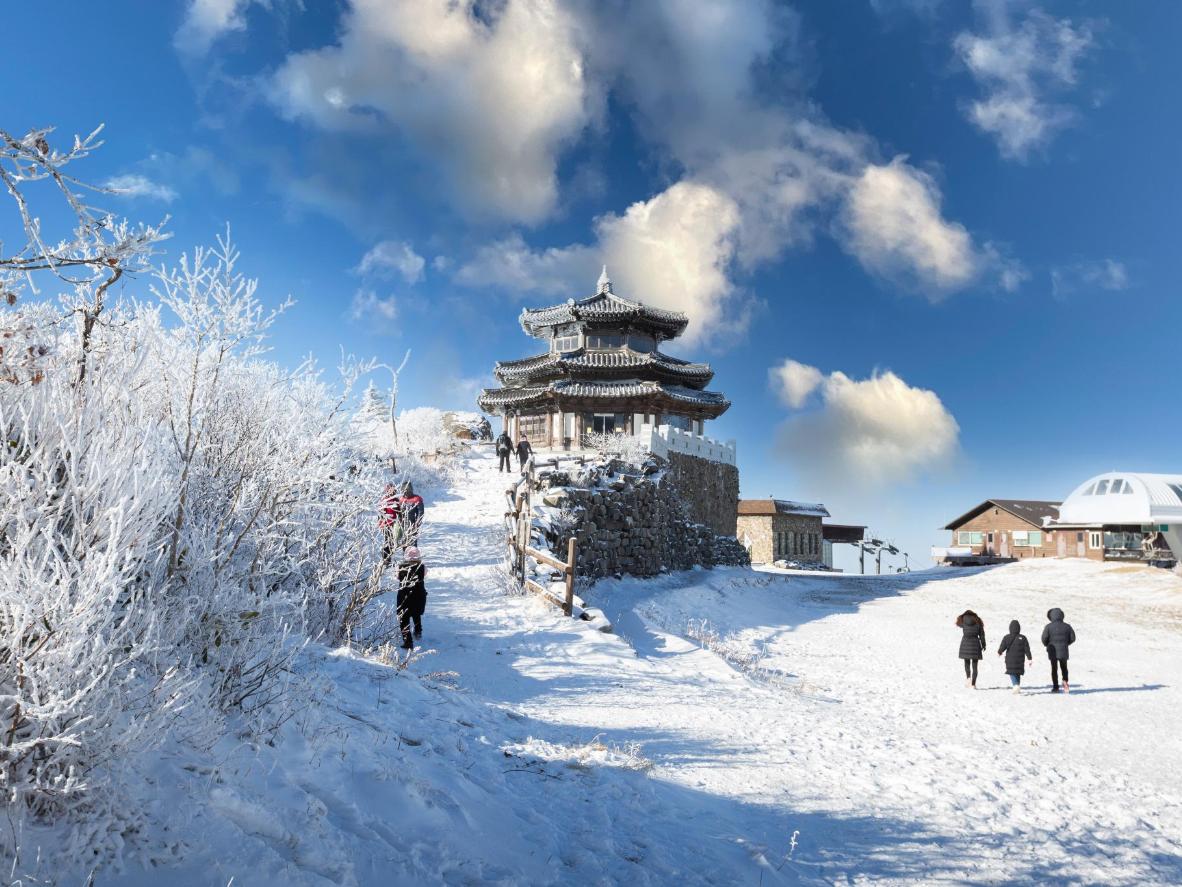 Ski amid the beautiful terrain of Deogyusan National Park in Muju
Though Muju may have lost out to Pyeongchang to host the Winter Olympics 2018, Muju Deogyusan Resort is still a worthy contender for the position of South Korea's top ski resort. Located within Deogyusan National Park, it's surrounded by wild and breathtaking mountain terrain.
It boasts Korea's longest ski slope, called the Silk Road and running for 6.1 km from the top of Deogyusan Mountain. Muju Deogyusan Resort also has Korea's steepest slope, known as the Raiders Slope. But for those not as confident on the snow, there are plenty of ski schools, and skiing and snowboarding options for beginners.
When you're not on the pistes, make the most of the resort's family friendly attractions, visit the nearby ancient village of Jeonju or soak in an outdoor hot spring for some relaxation. Check into Muju Rejortel for great Korean food and mountain views.