When the warmer weather arrives, Germany is a playground for outdoor adventures. And mountain biking is one of the most popular ways to explore the country's distinct landscapes – ranging from ancient forests, Bavarian lakes and whimsical waterfalls, to canyons, Alpine peaks and valleys – with hundreds of kilometres of signposted trails criss-crossing the country.
To get an adrenaline-hit while immersing yourself in Germany's natural beauty, head to one of these five top spots for mountain biking.
Garmisch-Partenkirchen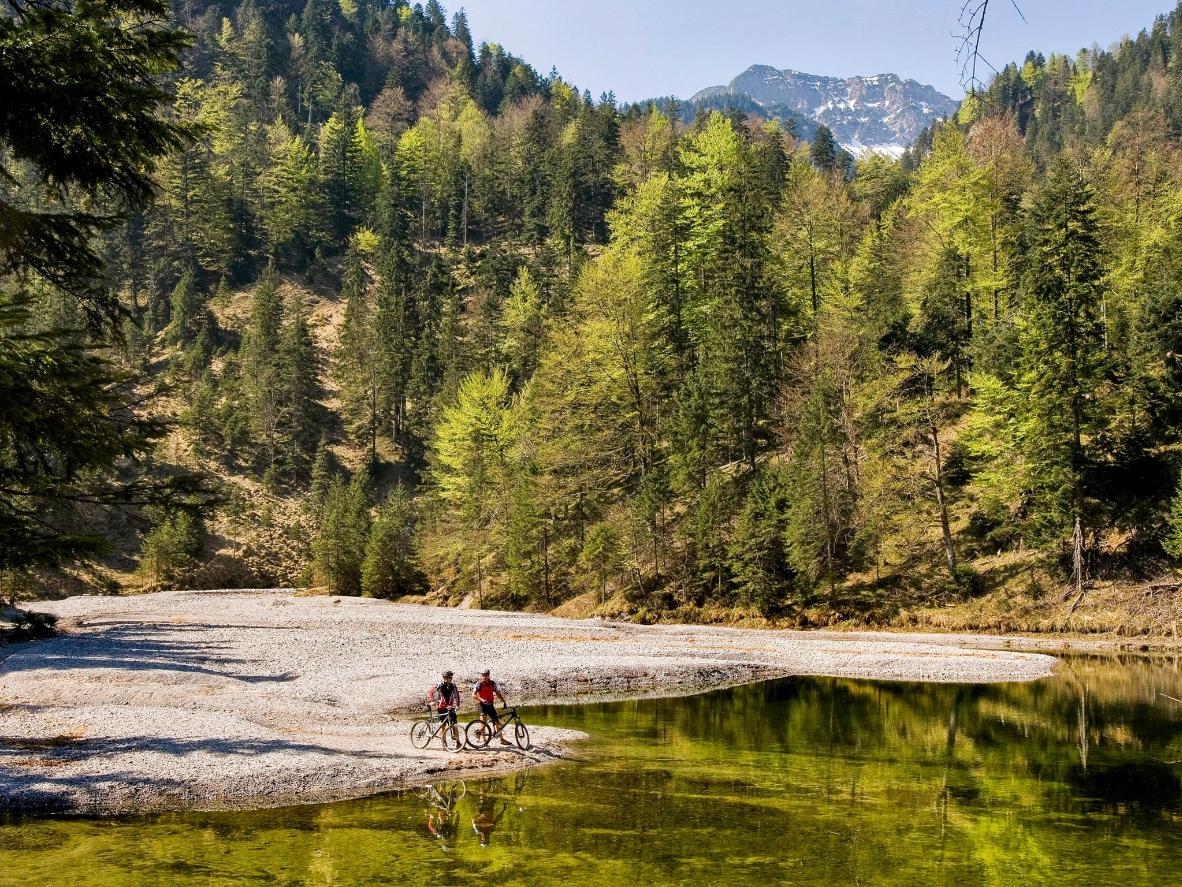 Discover exhilarating and scenic Bavarian mountain biking routes in Garmisch-Partenkirchen
The little town of Garmisch-Partenkirchen sits up in the Wetterstein Mountains at the foot of Germany's highest peak, the Zugspitze (2962m) – making it a popular winter sports destination. But when the snow has melted from the roofs of its Bavarian chalets (many of whose facades are covered in frescoes, flower boxes and painted shutters), the trails around the town come to life with mountain bikers. There's a signposted network of routes covering hundreds of kilometres as it weaves around blooming Alpine meadows, through forests, over streams and along the valley floor. You'll find something suitable for all levels, whether you want a steady two-wheeled cruise from Garmisch to Murnau, or you'd prefer an exhilarating endurance test like biking up to Elmau and then over to Mittenwald. Treat your weary legs to a restful stay at Werdenfelserei, a luxe retreat in the middle of Garmisch-Partenkirchen.
Rodalben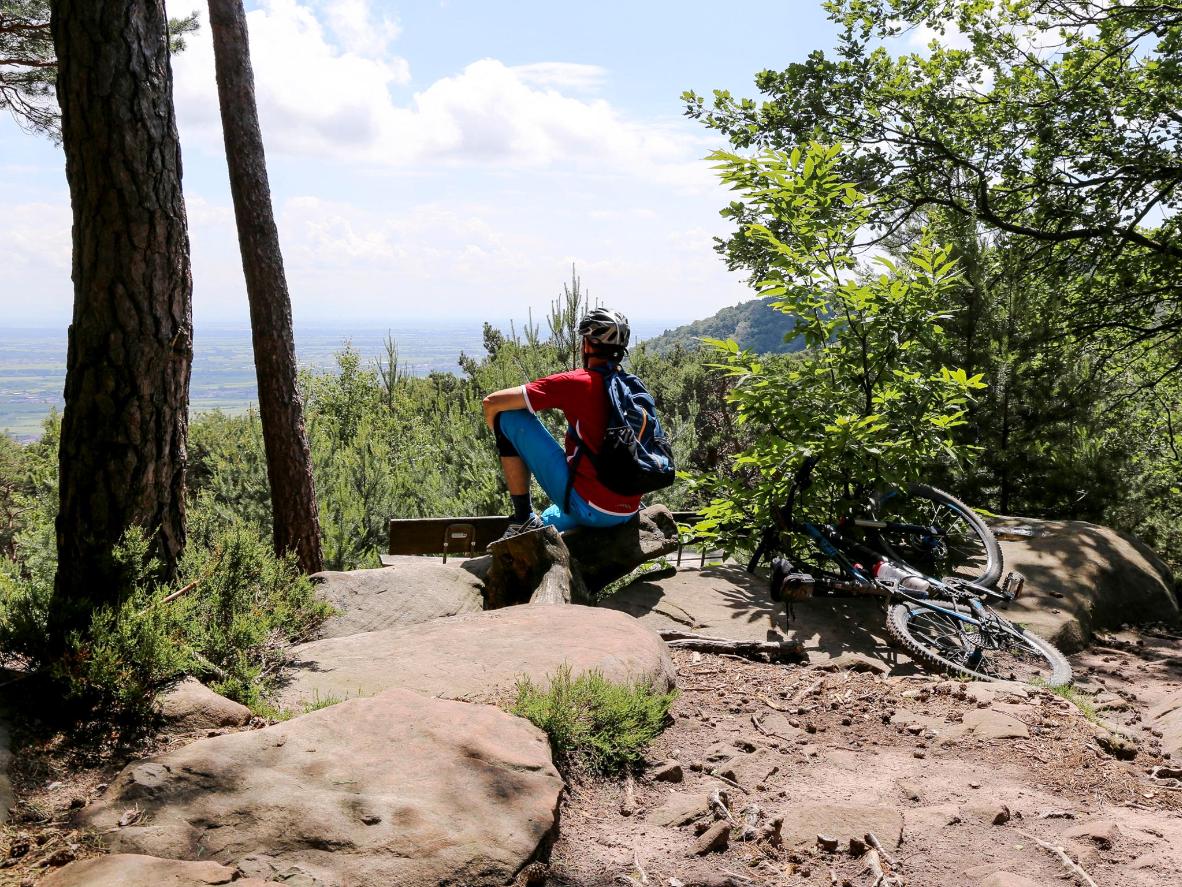 Race along what has been described as the world's best singletrack in Rodalben
Rodalben is a town within the Palatinate Forest's wooded hills that's heralded as one of the best spots in Germany for mountain biking, thanks to its well-known F-Trail (aka the Felsenwanderweg). This trail is often described as the best singletrack in Germany, and perhaps the world; it's a loop of nearly 50km that encircles the town, with views of Rodalben's church spires peeping through the trees along some parts of the undulating trail. It's not particularly technical but there are plenty of rocks, roots and tree stumps to navigate. Take a picnic to enjoy on an outcrop of grey limestone while rays of sunlight cut through the forest canopy. Try to get started early in the morning when the trail is at its most quiet or – if you want to latch onto an English-speaking guided group – contact the area's local KMC Cycling club. Check into Rodalben's highly rated Hotel Pfälzer Hof.
Bischofsgrün
Grandiose Fichtel Mountain views await mountain bikers in Bischofsgrün
High up in the Fichtel Mountains, the tiny health resort of Bischofsgrün offers access to a whole world of mountain biking adventures; including two of the biggest mountains in the region, the Ochsenkopf and Schneeberg, both of which are criss-crossed with thrilling trails. Those with mountain biking experience looking for an adrenaline-hit can get the Ochsenkopfbahn cable car to the summit before taking the Single Trail Freeride down a couple of kilometres, a passage peppered with parcours including rocks, gnarled tree roots, steep stretches and exciting drops. It's a challenging route but is suitable for beginners, too, as are many other trails in the area – there's plenty of variety in inclines, plus guided tours are available. Stay in the family-run Pension Wiesengrund.
Bodensee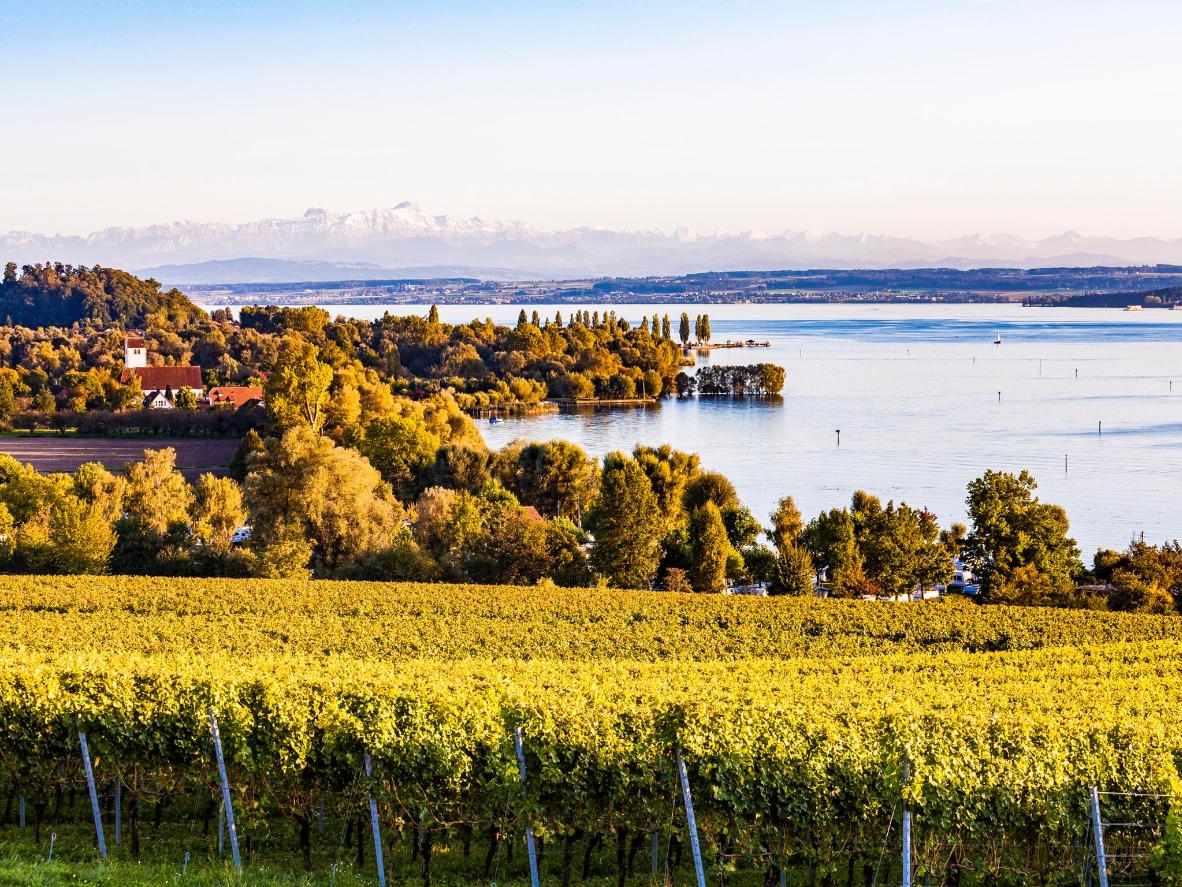 Cycle the beautiful Bodensee-Radweg, a 273km-long trail that hugs the lake shore
When it comes to mountain biking through distractingly attractive scenery, Bodensee (aka Lake Constance) is hard to beat. The Bodensee-Radweg is a 273km-long trail that hugs the lake shore, taking you through Germany, Austria and Switzerland past waterfalls, orchards, vineyards, wildflower meadows, the fairy-tale island town of Lindau and much more – the entire bike path consists of eight stages and takes from four to seven days to complete but you can break it up or take shortcuts via ferries across the lake. There's also the Bodensee-Königssee, a hilly and more challenging cycling route running from Bodensee to Lake Königssee, and numerous others. You can easily hire a bike in most lakeside towns if you don't want to travel with your own. Just be sure to plan a trip that allows for multiple refreshing dips in the lake and to spend a night in Lindau en route, staying in the glorious, 5-star Hotel VILLINO facing the island. Or on the island itself at Hotel Schreier am See, where suite windows practically open up onto the lake.
Freiburg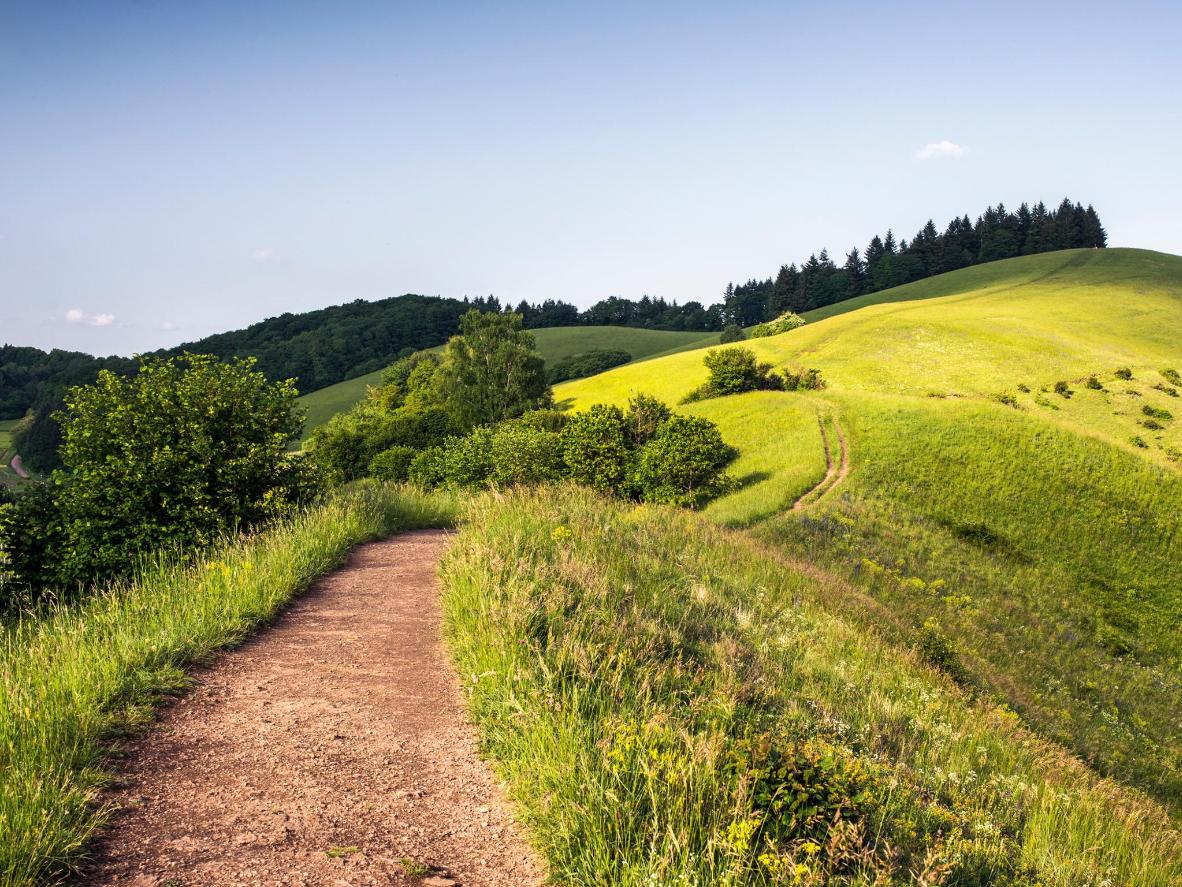 Cycle through verdant Black Forest landscapes near Freiburg
Not only is the medieval Black Forest city of Freiburg the sunniest place in Germany but it's also a popular spot for mountain biking enthusiasts – largely on account of the snow-capped mountains found just outside of the city. There's a strong local biking culture, with a mountain bike club that's very active and efficient at building and maintaining the many trails that cut through the forest floor. And a variety of levels of challenge available, from demanding singletrack descents to long flow trails with astounding scenery. Among the best and most difficult are the Canadian Trail, El Presidente and the Borderline but there's also the intermediate Badish Moon Rising and the easy-but-fun Nettle Trail. Though some winter weeks do see snow, you can usually ride these routes year-round and spring is a beautiful season for it. Stay at Freiburg's Colombi Hotel and enjoy a post-biking meal at the on-site Michelin-starred restaurant.