A weekend trip away is a perfect opportunity to make new connections with old friends. And it can also help you become an instant member of Booking.com's travel rewards programme, Genius. With any two bookings, you'll get at least 10 percent off for life – a bonus for the friend who always organises.
So, if you're ready to catch up and unwind, we've found the most popular trips endorsed by UK group travellers*.
Edinburgh to Glasgow
Head to the peak of Arthur's Seat for breathtaking views
Edinburgh's castle and sandstone buildings will instantly make you feel like you've gone back to the Middle Ages. For groups looking to get an unbelievable view of the city, clamber your way up to the peak of Arthur's Seat. After such a workout, pop into Cafe Royal, which has been serving patrons since 1826. The decadent Victorian Baroque interior makes for quite the setting to enjoy their range of Scottish whiskies, their renowned oysters and other iconic Scottish dishes. Head home to the Old Waverley Hotel, located on Edinburgh's famous Princes Street.
Wander around and discover the city's sense of humour
Continue to the port city of Glasgow, which is just over an hour west of Edinburgh. Once a small fishing village, this city has grown immensely. Wander around the streets and you'll see a mix of industrial buildings amongst modern architecture. As you explore, you may come across the Duke Of Wellington statue, which often has an orange traffic safety cone placed on Arthur Wellesley's head – an accurate display of the city's sense of humour. Spend your last evening at Motel One Glasgow before heading home.
Bristol to Cardiff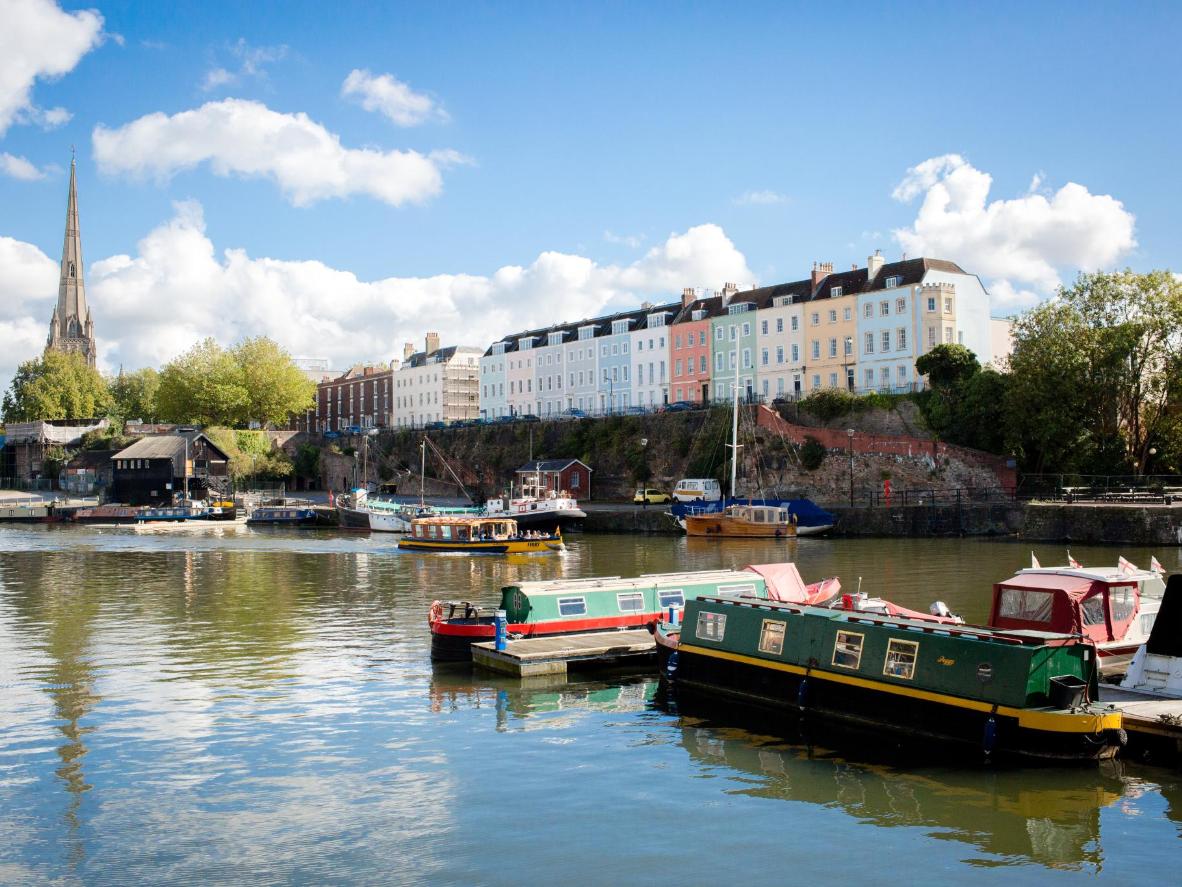 Spend the first day exploring this beautiful harbour city
The first stop of your weekend adventure is Bristol. This beautiful harbour city is set against extraordinary scenery and it has a rich maritime history to match. There is much to do for groups of all ages, from catching a show in The Bristol Hippodrome, one of the best provincial theatres, to a leisurely boat cruise down the River Avon. After your day out, spend time catching up while sampling local ales and ciders in one (or more) of the city's heritage pubs. Make your way home to The Bristol Hotel.
Uncover the city's history or head out to Glyndwr Vineyard
Your adventure continues in Cardiff, Wales' largest city and capital. On arrival, you can brush up on the city's history or stroll around the city's parks. But if your group is looking to sip on award-winning wine, head to Glyndwr Vineyard. It's the oldest established vineyard in Wales with acres of well-kempt lawns, orchards and a matured vineyard. Smaller groups can book the vineyard's fairytale-esque cottage for the night before heading back home.
Liverpool to Manchester
Visit the Tate Liverpool before heading to a rooftop bar
Liverpool has quite a reputation for its nightlife and football. But for those groups looking for a less sport orientated adventure, you have options. During the day, visit the homes where John Lennon and Paul McCartney grew up and wrote many of the early Beatles songs. Or for art-lovers, pop into the Tate Liverpool, which is one of the most popular art galleries in England outside of London. In the evening, indulge in a glass of champagne while enjoying a glorious panorama of the city at Carpathia Champagne Bar and Restaurant. Stay nearby at 30 James Street hotel.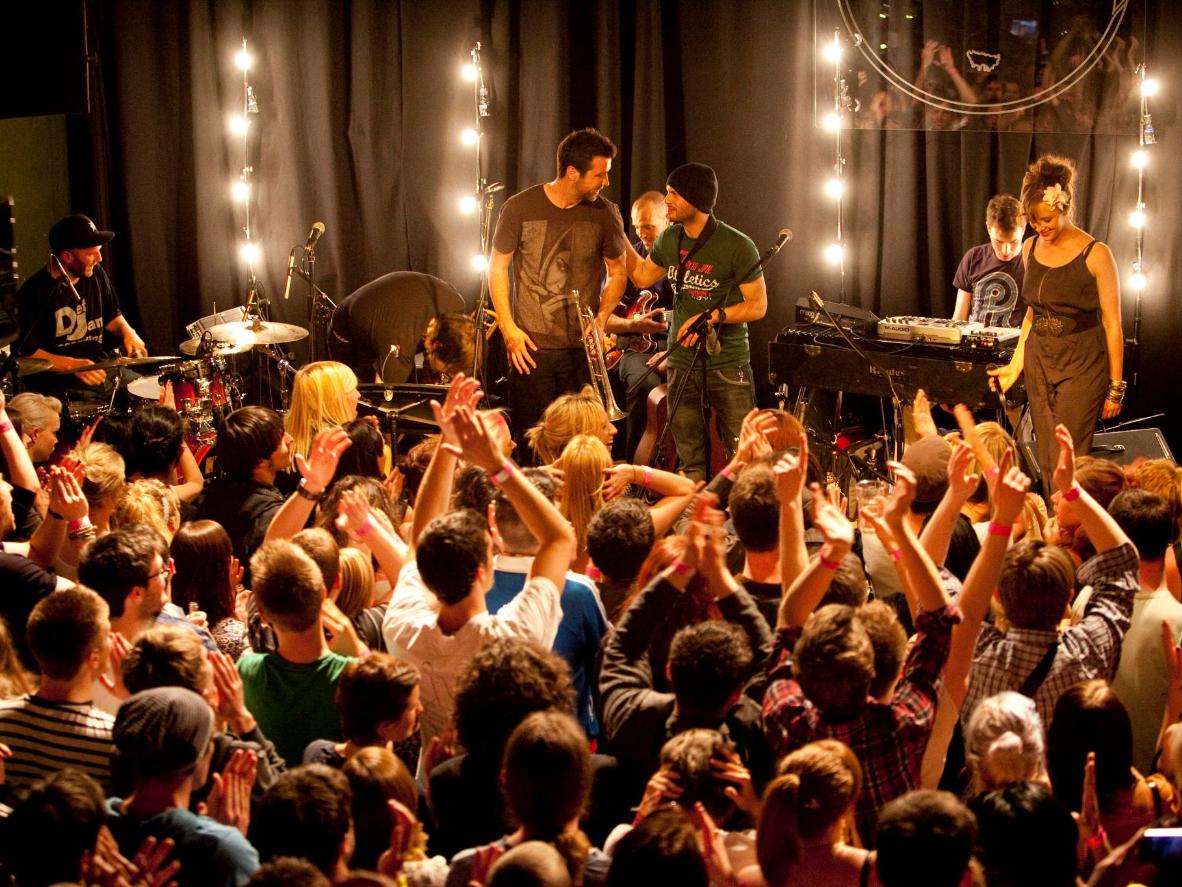 Dance the night away at the many venues with live music
An hour away from Liverpool is Manchester, your next stop on your weekend adventure. For groups who are keen to get up and dance to some local live music, Manchester is the place to go. This city isn't unfamiliar with producing famous bands such as The Chemical Brothers, The Smiths and Oasis, just to name a few. For small, live venues with up-and-coming performers, visit Band on the Wall. Or head to the O₂ Ritz, who has a reputation for amazing lineups. Stay at Jurys Inn Manchester City Centre, which is just a short walk away.
*We looked at the top 50 destinations booked by UK groups (five+ people) in 2019 and then checked distances between the two destinations.