As the avid football fans among us will know, UEFA EURO 2020™ will be staged in 12 countries across the continent for the first time in its history. To mark the 60th anniversary of the tournament, UEFA declared it a 'party all over Europe', with cities ranging from Dublin to Baku likely to get swept up in the summer football fervour.
Here, we introduce the cities and stadiums for UEFA EURO 2020™, which will be followed up by in-depth article guides on each destination.
Amsterdam
The recently renamed Johan Cruijff Arena
The Dutch capital will play host to several Group C and Round of 16 matches during UEFA EURO 2020™, at its 55,000-capacity, recently renamed Johan Cruijff Arena. This venue also hosted the EURO 2000 tournament, where Italy beat the Netherlands 3-1 after extra time, thus reaching the final. The Arena is located in the Bijlmer neighbourhood, southeast of central Amsterdam, so it's best to book accommodation in the centre of the city and take the 54 metro towards Gein for the football. After each match, head back into town to find canalside streets filled with revellers, thanks to the Netherlands' football-loving culture. Summer in Amsterdam is joyous as it is, and football festivities won't be hard to find. Check into B&B Keizers Canal, a highly rated accommodation minutes from the tourist hub that is Rembrandt Square.
Baku
Baku combines a weathered Old City with skyscrapers like its distinctive Flame Towers
Hosting Group A matches, Baku Olympic Stadium is the largest stadium in Azerbaijan, able to seat 68,700 spectators. A football development plan was drawn up with the help of UEFA several years ago, so by the time the tournament comes around the hype in the Azerbaijani capital will certainly be palpable. Baku is frequently compared to Dubai but truth be told, it's a unique mix of new and old, with a weathered Old City of sand-coloured stone domes and turrets contrasting with Zaha Hadid-designed architecture and skyscrapers like the distinctive Flame Towers; each of this trio of buildings is shaped like a flame and covered with LED screens that glint in the sunlight like fire. Do be aware that you may need a visa to visit Azerbaijan. Check into a suite or dorm at the central Freedom Hostel, or treat yourself to a stay at the glitzy Dinamo Hotel.
Bilbao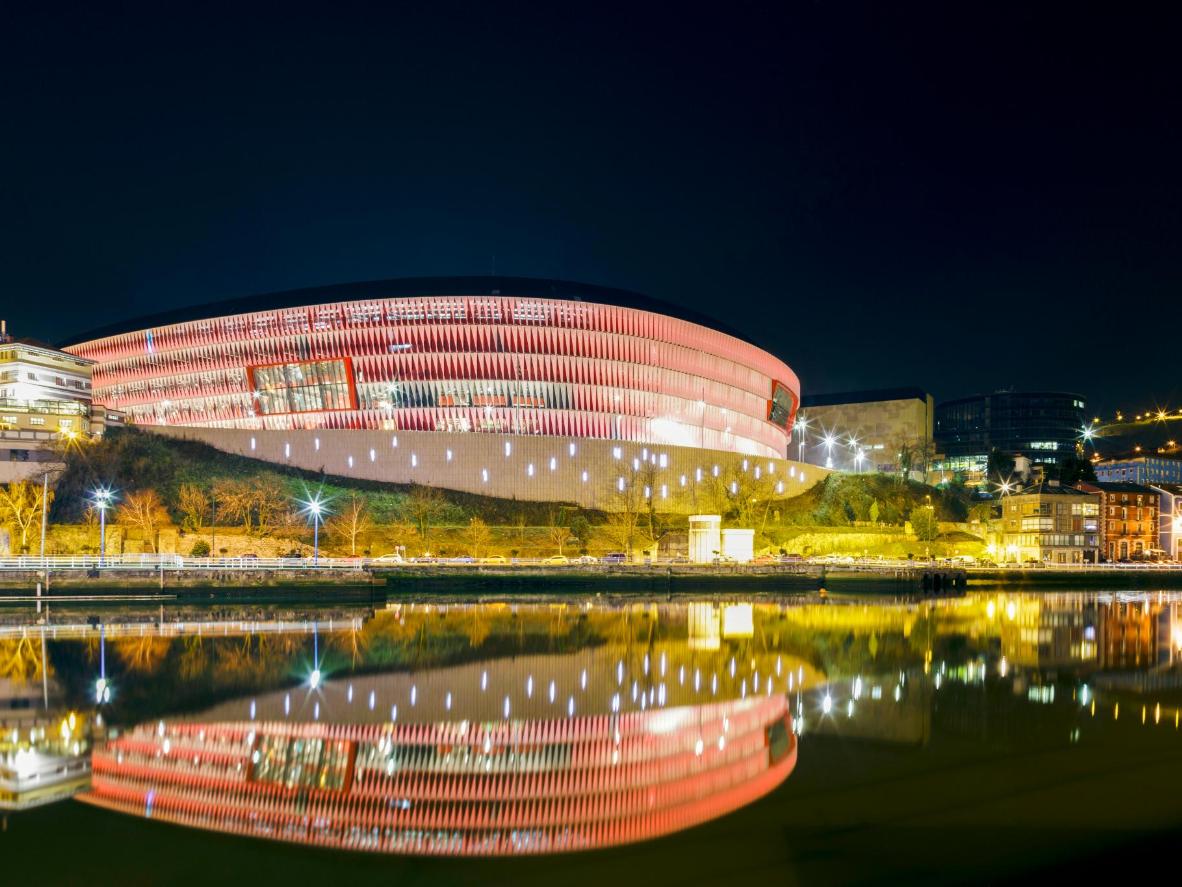 The San Mamés Stadium lights reflecting on the Nervión river
Bilbao will host Group E matches and also Round of 16 ties at its Estadio San Mamés, which is also the home of Athletic Bilbao. Inaugurated in 2013, San Mamés replaced the old venue of the same name and was constructed at a cost of €211 million. When you're not watching the football or partying in the aftermath, visit the city's Guggenheim museum, a futuristic, abstract architectural marvel made up of wave-like titanium panels and designed by pioneering architect, Frank Gehry. Stay in a contemporary suite at Hotel Tayko Bilbao, where raw concrete contrasts with steel light fittings and white bed linen.
Bucharest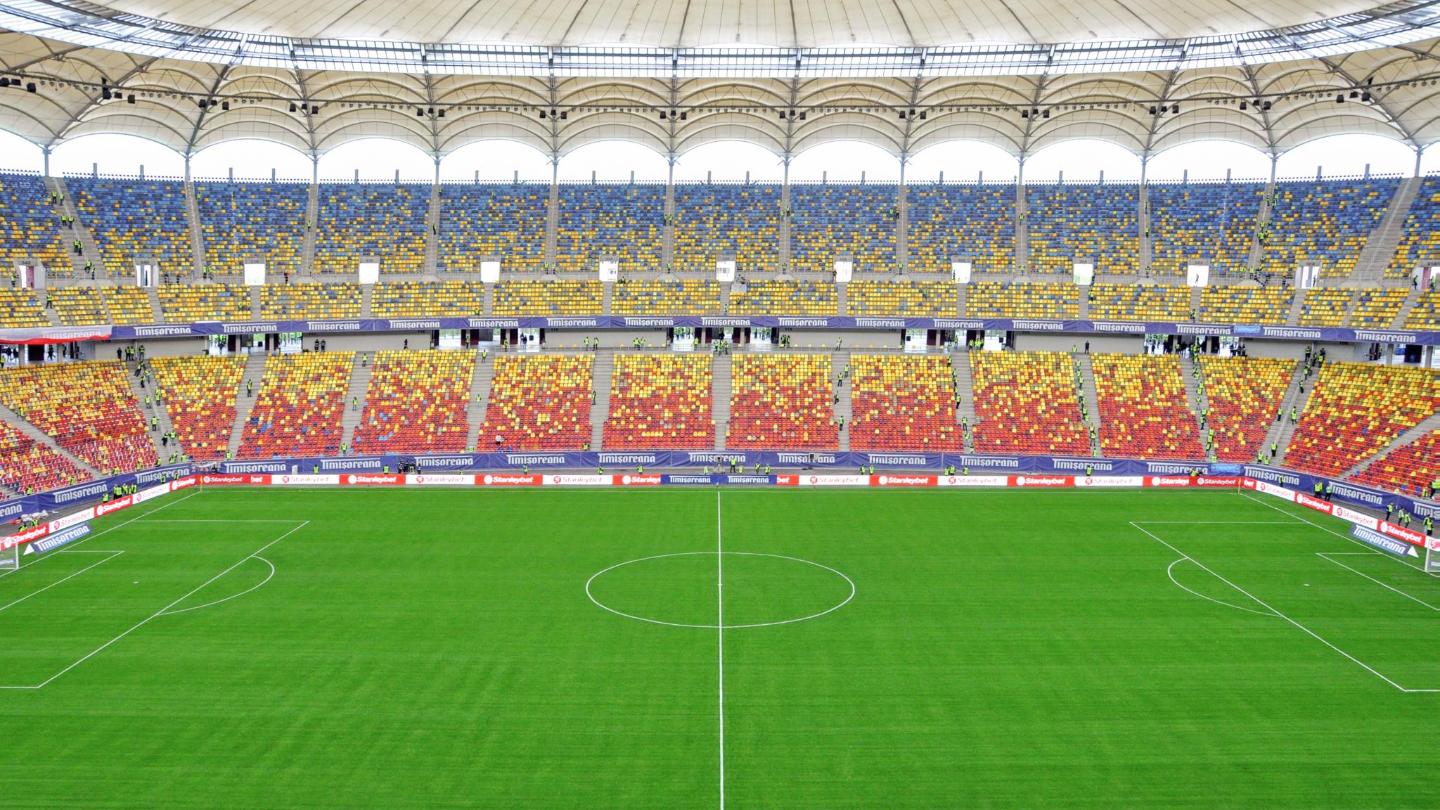 Bucharest's National Arena will serve as a quarter-final location
While Romania's national team may not be at the level they were when they reached the World Cup finals in 1998, football is still huge here. The capital of Romania and its esteemed Arena Nationala will be hosting UEFA EURO 2020™ Group C matches and will also serve as a quarter-final location. Another relatively new stadium, the Arena has a capacity of over 55,000 and a retractable roof. It's located outside central Bucharest so after the match, hop on the metro from the nearby Piaţa Muncii or Iancului station and head into town to celebrate/commiserate. Check into Luxury Rooms National Arena, less than 1km from the stadium.
Budapest
Spend time in central Budapest's world-famous thermal Szechenyi Baths
Budapest's Puskás Ferenc Stadium will host Group F matches and Round of 16 ties. Named after Hungary's most famous footballing export, it's the only completely new stadium among all the twelve host venues, with work expected to finish sometime in 2019. After you've shouted yourself hoarse watching a match in this 65,000-capacity space, head back to central Budapest to relax in its world-famous thermal baths. There are several to choose from, but Szechenyi Baths is probably the best, as a vast complex of steaming natural hot springs bordered by palatial, canary-yellow buildings. Enjoy panoramas of the city from your balcony at Vista Suites 1-2.
Copenhagen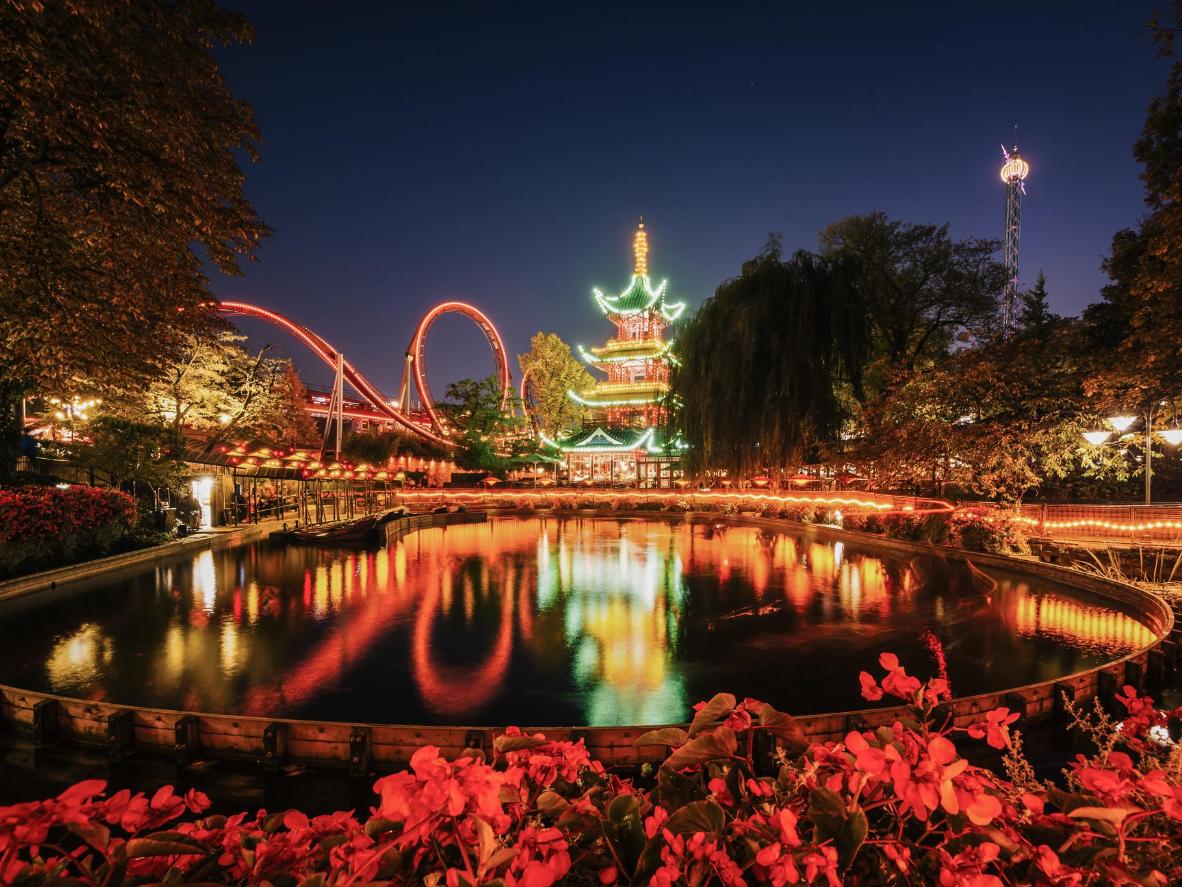 For post-match entertainment, head to historic amusement park, the Tivoli Gardens
When you're not watching a Group B match or Round of 16 tie in Copenhagen's Parken Stadium (the largest football stadium in Denmark), this bike-friendly city has plenty to keep you occupied. Make the most of the summer weather and the city's green spaces enjoying a kickabout in the central King's Garden, or in Fælledparken, a park not far from the stadium in the Indre Østerbro neighbourhood. You can also swim in certain spots around the city's harbour, and in the evening head to the Tivoli Gardens, a historic amusement park with sculpted gardens. Stay just two minutes' walk from Parken Stadium at Rye115 Hotel.
Dublin
After the match, head to the neighbourhood of Temple Bar for local live music
A popular European city break destination, Dublin has both plenty of entertainment and an easily discernible love for football. It's the biggest participation sport in Ireland and even if the country doesn't qualify, the atmosphere in the capital is bound to be electric. The 50,000-capacity Dublin Stadium will host Group E matches and one of the Round of 16 games. After the match, head to the busy riverside neighbourhood of Temple Bar to experience the local live music scene. Grafton Street Studios provides a haven nearby.
Glasgow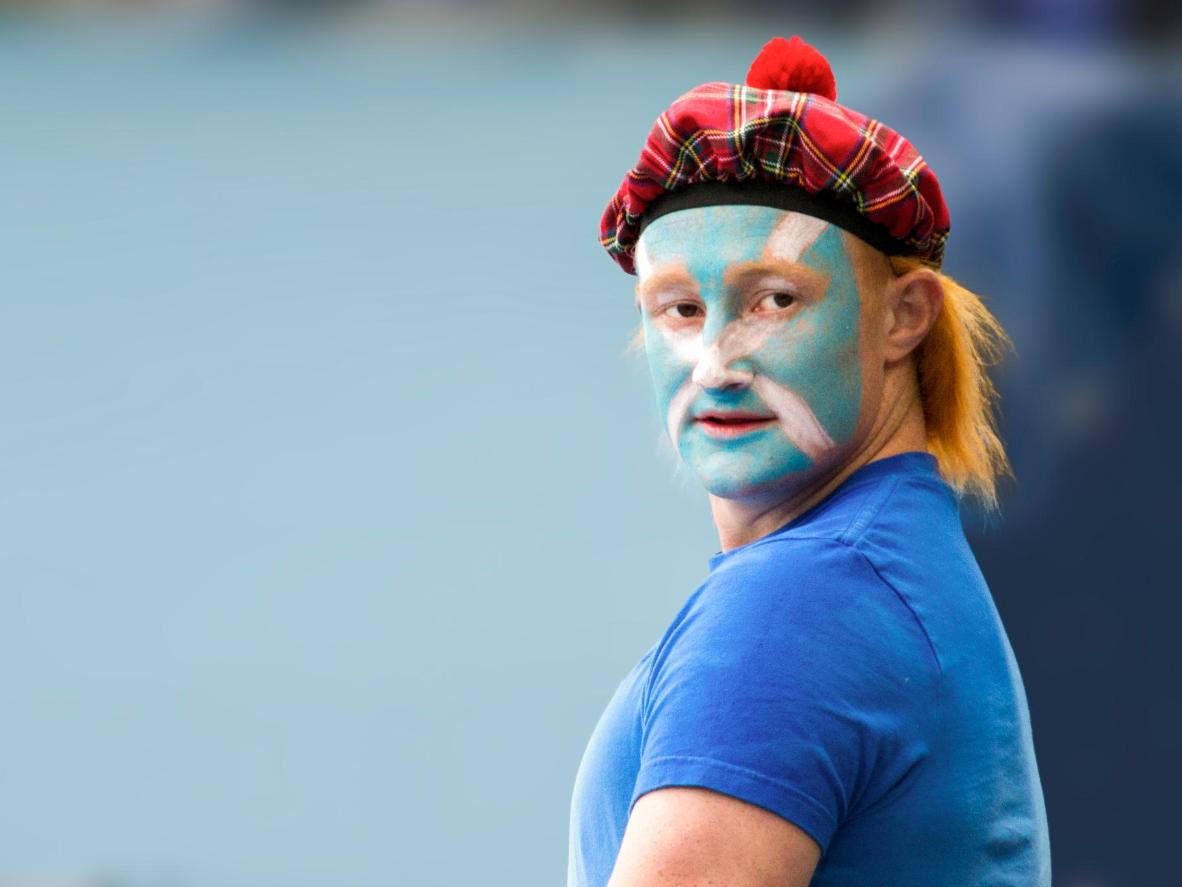 Glasgow's Hampden Park stadium was also the venue for several historic football moments
Glasgow's Hampden Park is a prestigious place to witness UEFA EURO 2020™. For starters, the city hosted the first ever international football game (between Scotland and England in 1872). And the stadium – able to seat 51,866 spectactors – is due to host Group D matches and one Round of 16 tie in this UEFA tournament. Check into Number 10 Hotel, located a 20-minute walk from Hampden Park.
London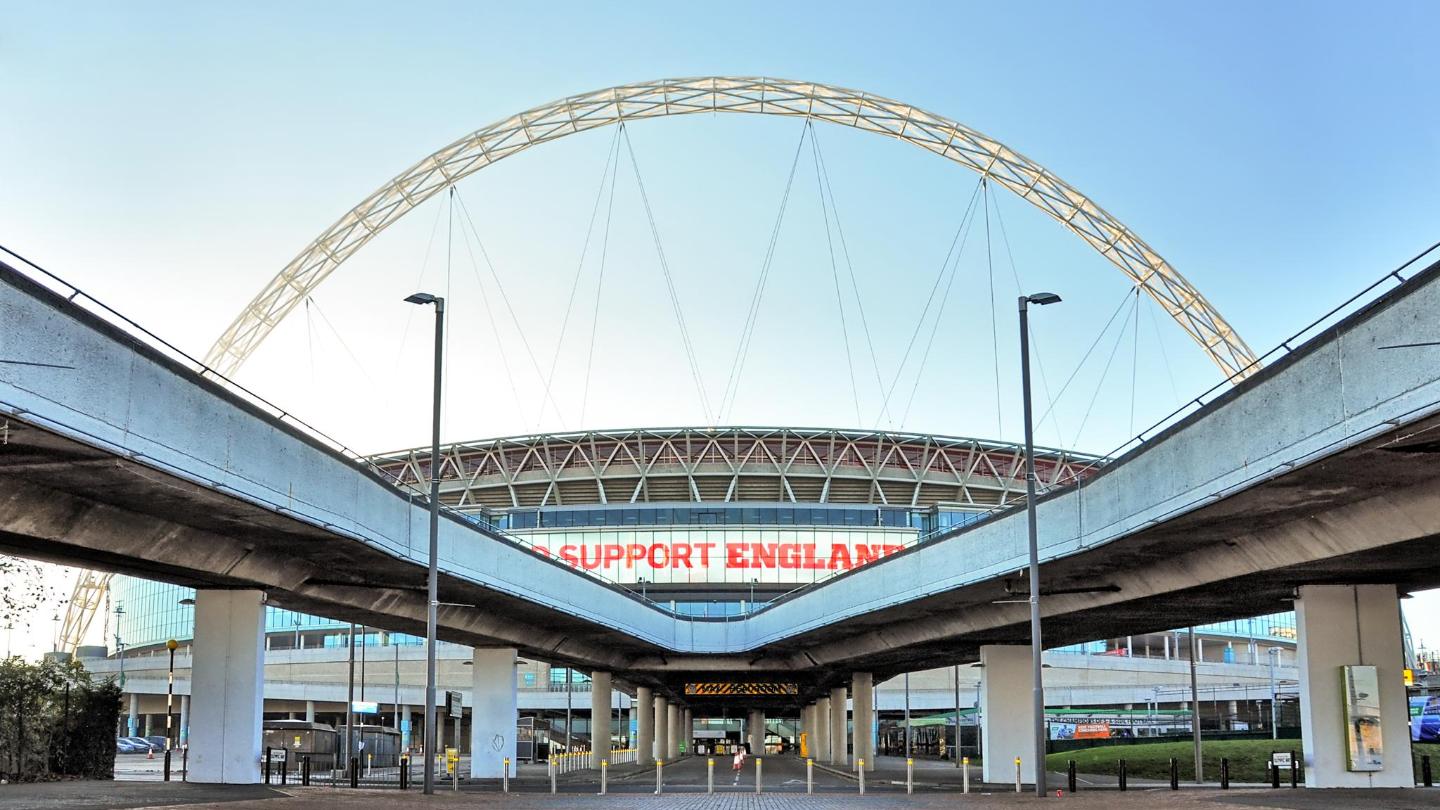 London's Wembley (the UK's largest stadium) will host the semi-finals and final
London's Wembley Stadium – the so-called 'home of football' – is due to host Group D matches but, most importantly, the semi-finals (7th and 8th July) and final (12th July) of UEFA EURO 2020™. The English capital's love of football hardly needs introducing and football appreciation here is currently as fundamental as ever. For those out of the loop, Wembley (the UK's largest stadium) was redeveloped and reopened in 2007 with cutting-edge results and no expense spared (the current-day cost of renovations equating to £1.17 billion). And London is overflowing with endless entertainment options, whether you decide to stick to the precincts of Wembley and the northern suburbs, or head into central London to join the inevitable throngs of football fans. Stay right next to the stadium at Hilton London Wembley.
Munich
Munich's Allianz Arena is home to Bayern München, the best team in Germany
Home to Bayern München, the best team in Germany, the Fußball Arena München in Munich will host Group F matches and a quarter-final game on the 3rd July. After the match, visit the Altstadt (Old Town) or the Englischer Garten, which will be in full bloom over summer and a great spot for a picnic and a kickabout. Stay in a light and airy suite at CORTIINA Hotel in the middle of the Altstadt.
Rome
Visiting Rome's ancient sights between matches is a must
Hosting the opening match of the tournament, three Group A matches and a quarter-final on the 4th July, Rome's Stadio Olimpico is a great place to be for UEFA EURO 2020™. It's staged the 1968 European Championship final, which saw Italy win against Yugoslavia 2-0 – and many more, significant matches. If you haven't yet been to Rome, visiting its ancient sights is a must – including the Trevi Fountain, the Colosseum, the Roman Forum and the Vatican. The city in summer is truly magical, with stone pine trees scenting the sun-baked streets; enjoy a dose of culture combined with nature visiting the Villa Borghese and its manicured grounds. Wake up to breakfast on the terrace of L'attichetto di Ponte Milvio, an apartment just a 20-minute walk from the stadium.
Saint Petersburg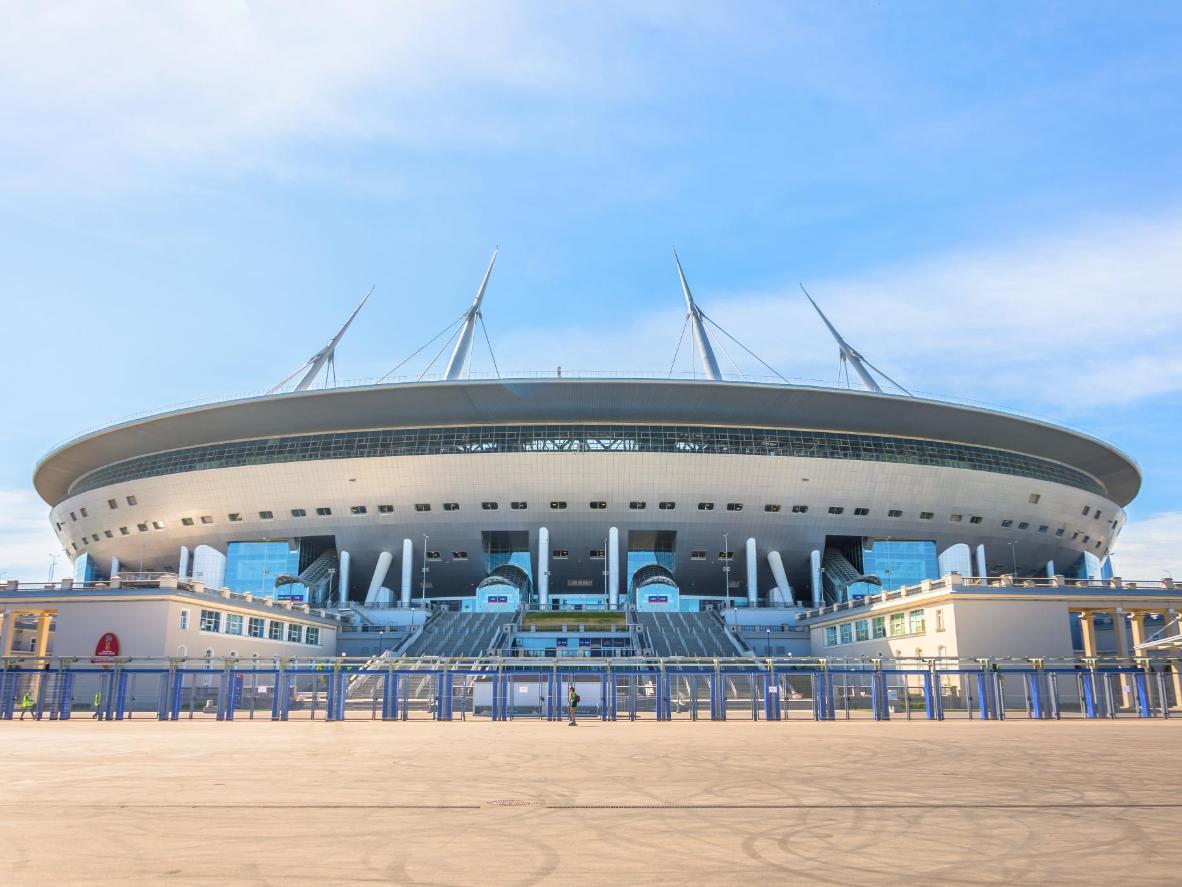 The Saint Petersburg Stadium, designed by Japanese architect, Kisho Kurokawa, to resemble a spaceship
Saint Petersburg is on a football high. The UEFA EURO 2020™ matches (three Group B games and a quarter-final on the 3rd July) will be held at the city's 68,000-capacity Saint Petersburg Stadium, a stadium standing on Krestovsky Island that was designed by Japanese architect, Kisho Kurokawa, to resemble a spaceship. The tournament coincides with Saint Petersburg's White Nights, a natural phenomenon due to the city's northern latitude whereby daylight can extend for up to 20 hours a day. Lasting from early June through to early July, these warm, bright evenings lend the city a celebratory feel and culminate in the White Nights music festival (this year beginning on the 11th July). Book an apartment with a projector and screen for watching more football when you get home at Agent Flat Apartment.
Booking.com is an official sponsor of the UEFA European Football Championship 2020