With four distinct coastlines along the Atlantic, Pacific, Gulf of Mexico, and Great Lakes that span 30 states, the US is home to an enormous variety of coastal spots waiting to be explored. Here we've picked out nine of the most beautiful beaches in North America.
Driftwood Beach, Georgia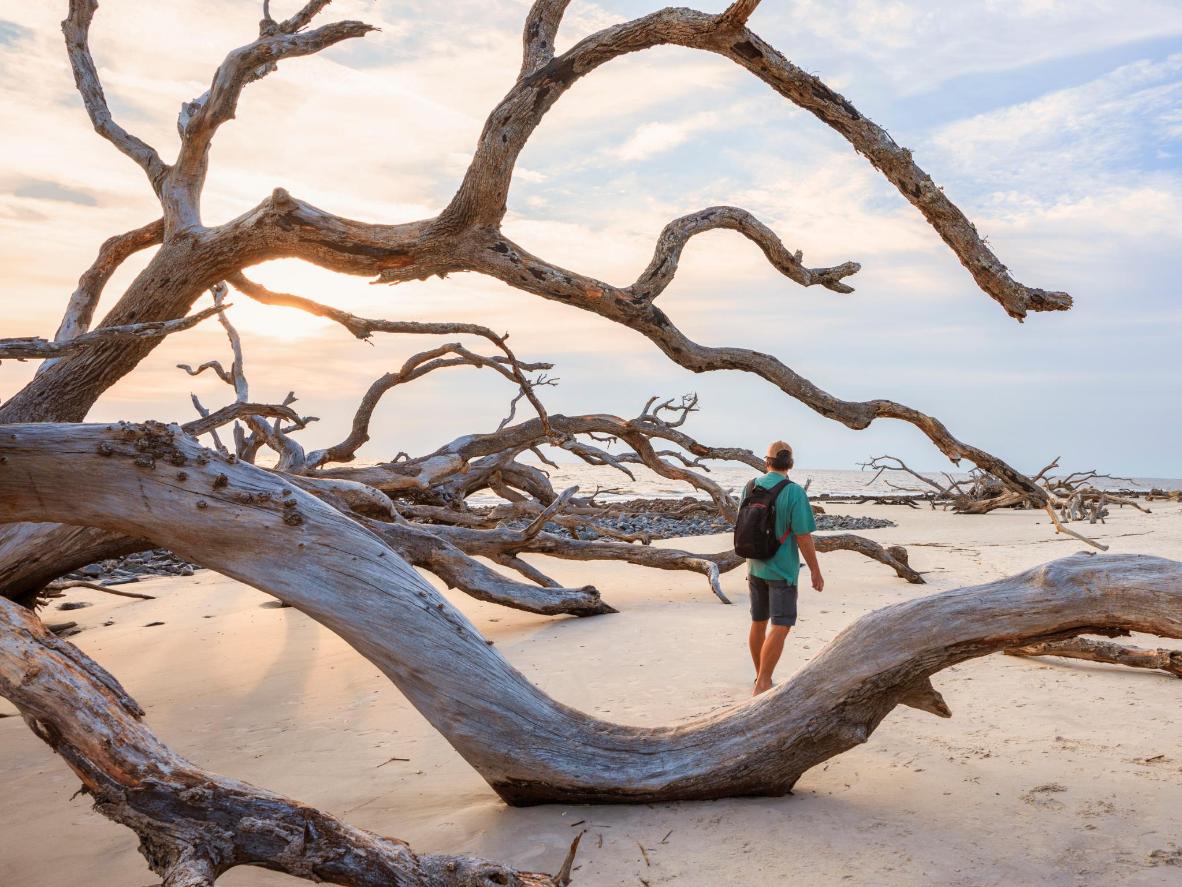 Driftwood Beach, Georgia
On the northern end of Georgia's Jekyll Island, Driftwood Beach is an eerie yet beautiful place. Constant erosion has created a landscape of gnarled dead pine and water oak trees, bleached by the sun and scattered across smooth sand. Thanks to this backdrop of twisted natural sculptures, sunsets here are incredible. Walk to the end of the beach where it gets emptier and more otherworldly the farther you go. The tiny tidal pools forming around each oak tree's remains are also worth exploring at low tide. Their clear waters are home to several species of crab, fish, and other sea creatures. Stay at the 19th-century Jekyll Island Club Resort, just a 10-minute drive from the beach.
Pfeiffer Beach, California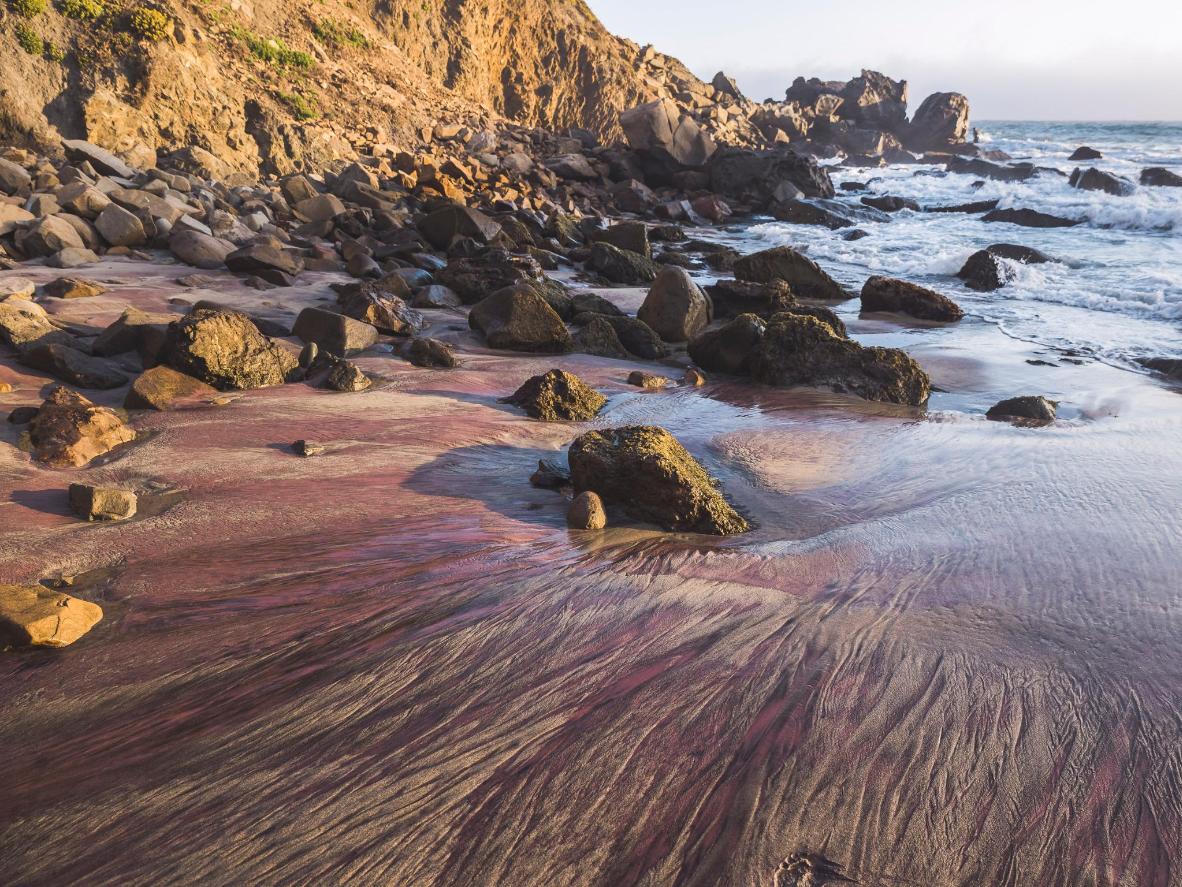 Pfeiffer Beach, California
At first glance, Pfeiffer Beach almost looks extraterrestrial, but it's bound to be one of the prettiest beaches you'll ever visit. The metallic purple sheen of the sand at Pfeiffer was caused by the erosion of nearby hillsides, leading to manganese mineral deposits on the beach. And an amazing vista. Stay tucked among the trees on a secluded hillside overlooking the coast at Ventana Inn & Spa.
Miami's South Beach, Florida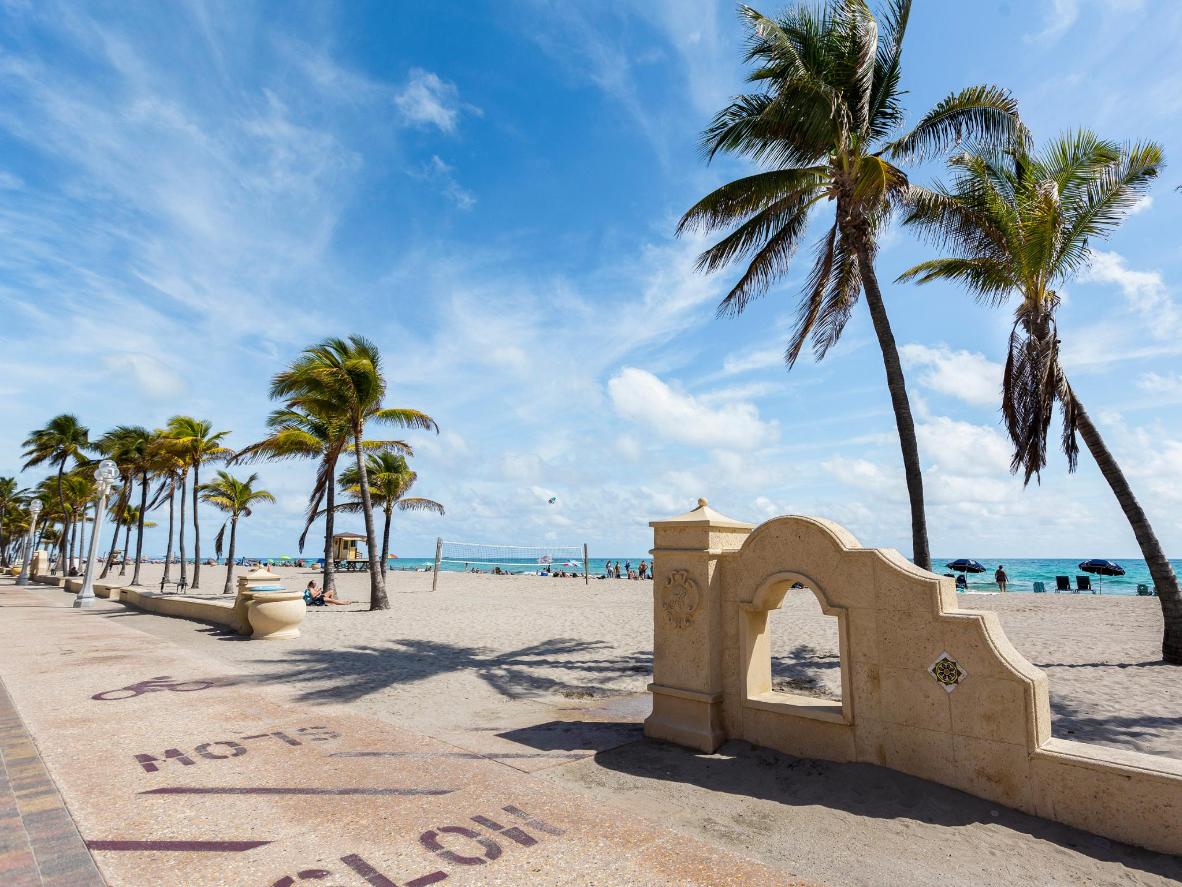 Miami's South Beach, Florida
At the southern tip of Florida, Miami's South Beach is one of the US's most famous strips of sand for good reason. The sand is as white, the sea as turquoise, and the vibe just as glamorous as you'd expect. Rollerbladers glide through beachfront parks backed by art deco architecture and neon signs, while sunbathers lie on the sand next to lifeguard towers painted lilac, yellow, or red with white stripes. You can surf and parasail here, or sunbathe and try some of SoBe's Latin cocktails – this neighborhood's Hispanic heritage means that visitors have plenty of choice when it comes to Cuban cuisine and drinks. Try ropa vieja (shredded beef in a spicy tomato sauce served with tortillas) and yuca (a vegetable dish marinated in lime and olive oil) at eateries like Havana 1957. Head home to 1 Hotel South Beach to enjoy the sunset from the sleek beachfront pool area.
Folly Beach, South Carolina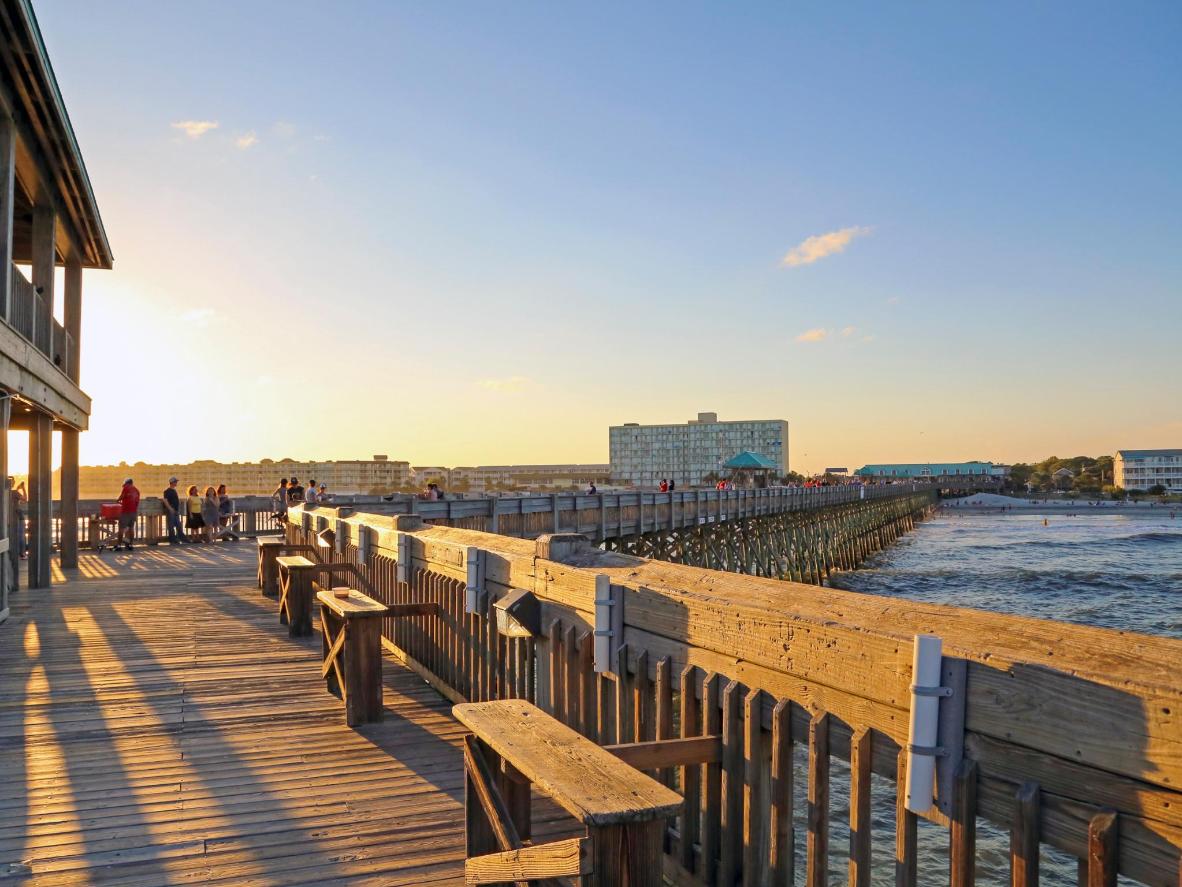 Folly Beach, South Carolina
With its wooden pier extending 1000 feet into the Atlantic and culminating in a grand, diamond-shaped pavilion, Folly Beach captures the classic charm of South Carolina. It's located on an island south of Charleston and fills up with beachgoers and surfers escaping the city once the weather warms up in April. Watch the sun set over the golden sands or take a boat tour around the island to spot dolphins and the Morris Island Lighthouse standing in shallow waters, though the building is slowly sinking into the sea due to erosion. For dinner, Bowens Island Restaurant sits behind the beach toward Charleston. It dates back to the mid-1940s and serves up some of the finest fresh oysters and shrimp in the area. Book a suite overlooking the pier at Tides Folly Beach.
Kill Devil Hills, North Carolina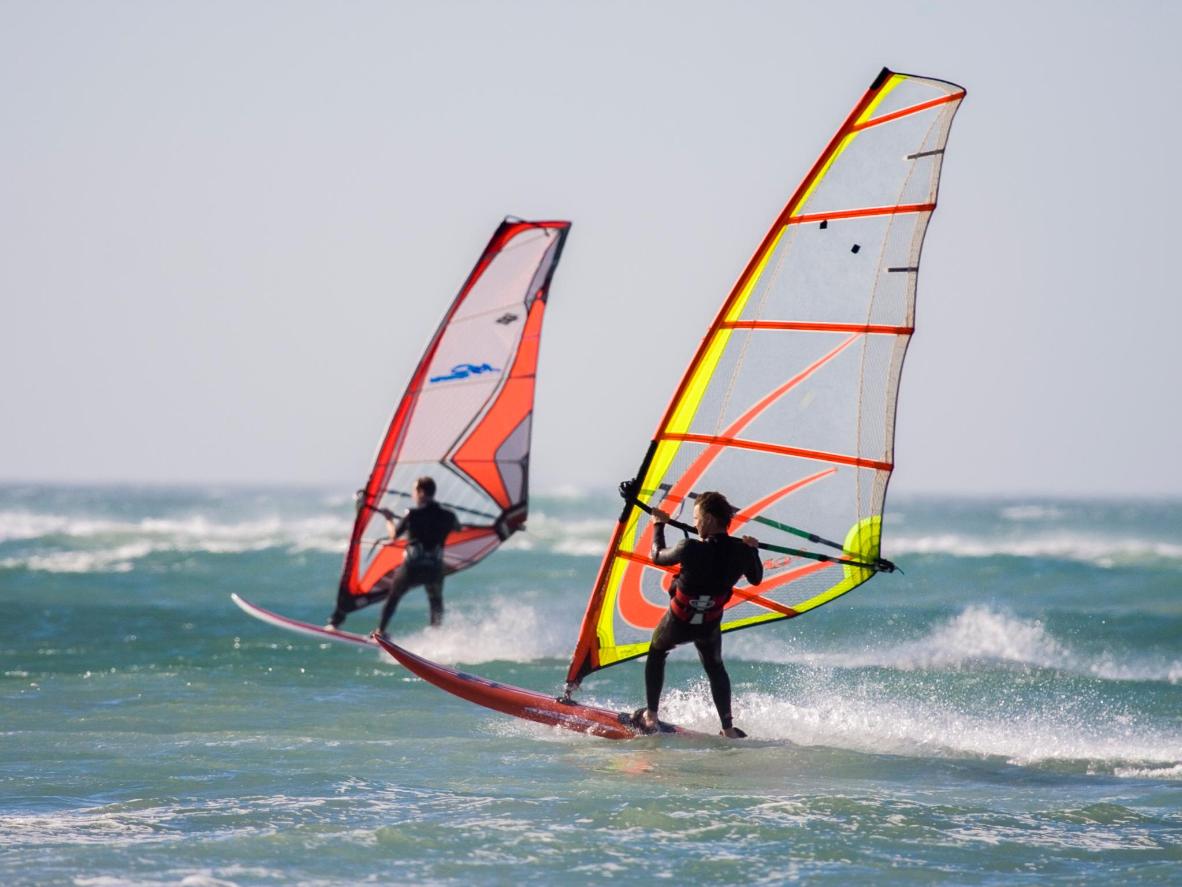 Kill Devil Hills, North Carolina
Kill Devil Hills is a town on North Carolina's Outer Banks that's flanked by numerous impressive beaches. It's also a haven for surfers, with a variety of wave heights and intensities that promise solid swells for riders of all skill levels. These days the Atlantic winds attract windsurfers, but over 100 years ago they also brought in the Wright Brothers to conduct the first controlled, powered airplane flight in 1903. With private beach access, the Colonial Inn has a cozy terrace where you can end the day with an ocean sunset.
Siesta Key Beach, Florida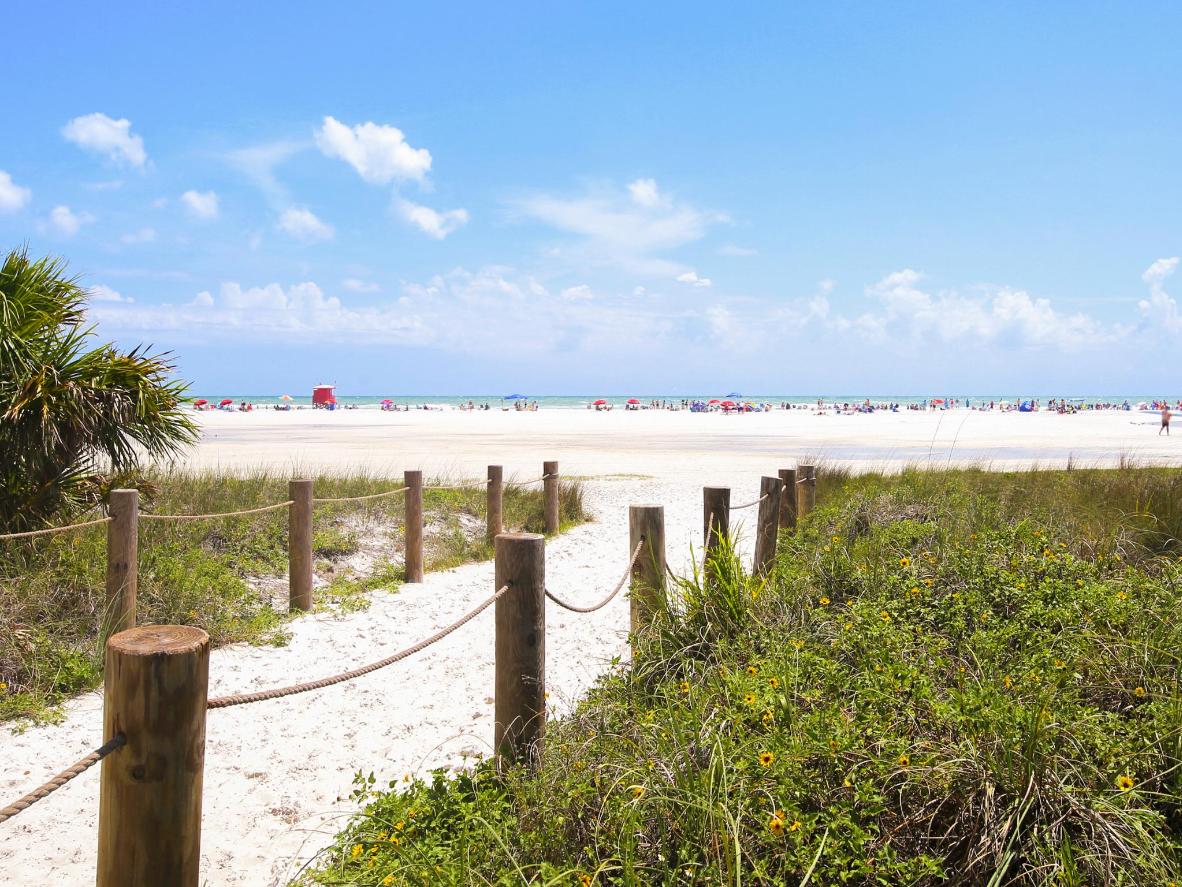 Siesta Key Beach, Florida
Often described as the best beach in Florida, Siesta Key is on a small barrier island off the Sunshine State's west coast, not far from the city of Sarasota. The sand here is powder-fine, 99% quartz—meaning it doesn't get too hot in the sun—and a white color that glimmers in contrast with the mint-green sea. The beach is long and wide enough to promise plenty of space to spread out. Spend the day playing beach volleyball and jumping through the waves. In the evening, drive to downtown Sarasota to check out its restaurant scene, such as Southern pecan-crusted trout with crawfish butter and shrimp jambalaya at Owen's Fish Camp or the ceviche at Selva. Guests at The Capri at Siesta get to enjoy the property's outdoor swimming pool while also being just a few steps away from the beach.
Gulf Shores, Alabama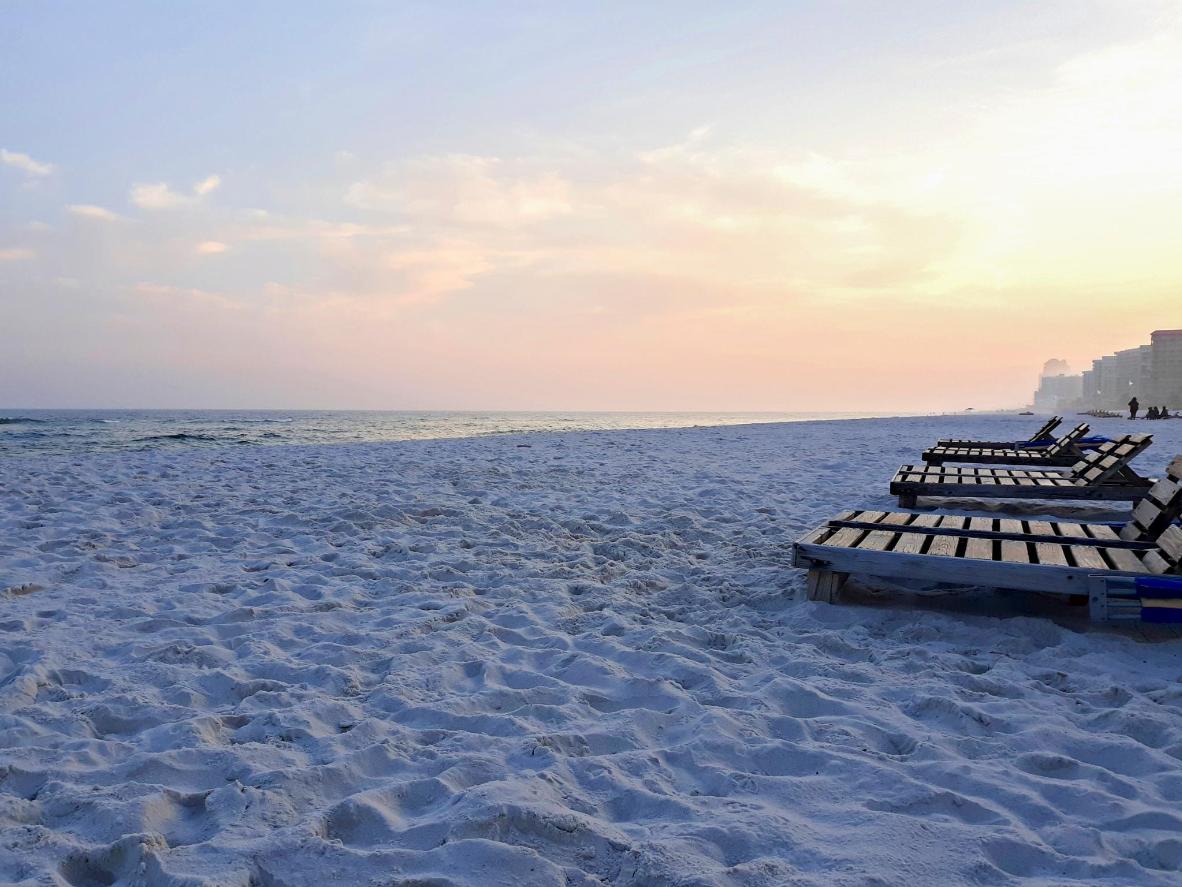 Gulf Shores, Alabama
With 32 miles of white sandy beaches lapped by turquoise waves, Gulf Shores is one of Alabama's most popular coastal spots. Spend your days basking in the sun or swimming in the balmy waters. Or you can head to Gulf State Park to go fishing or on a dolphin-spotting boat cruise. There are lots of pelicans that flock around the public pier when fishermen return with their catches. The seafood is especially good here, with oysters being the local specialty. Gulf Shores also prides itself on its accessibility and sustainable approach, with programs and campaigns to ensure the beach is kept clean. Stay right on the sand at The Beach Club Resort and Spa II.
Waikiki Beach, Hawaii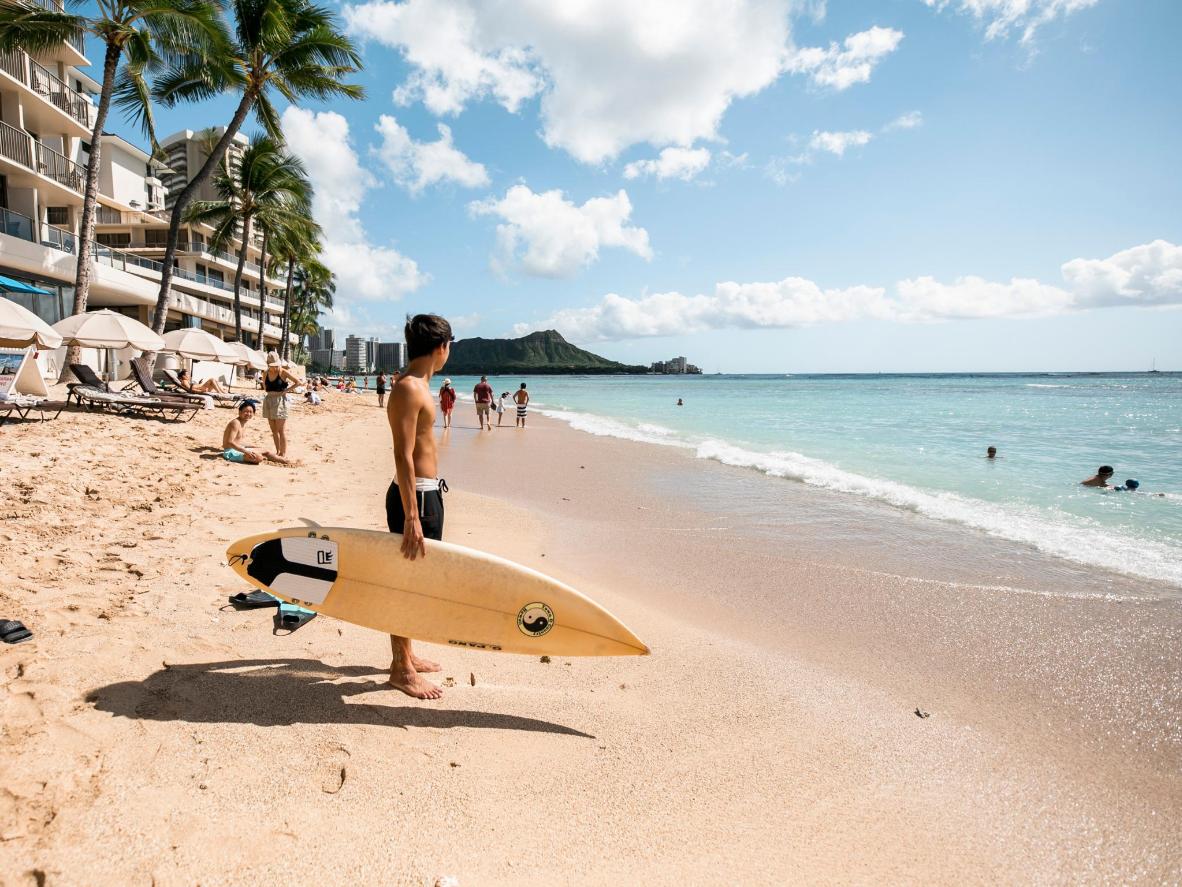 Waikiki Beach, Hawaii
Waikiki is one of Hawaii's biggest and most beautiful beaches. Activities here include greeting the island sunrises with oceanside yoga classes, surfing lessons among world-class waves, and moonlit dinners at one of the many beachside restaurants. Stay at the luxurious and famous The Royal Hawaiian, A Luxury Collection Resort, established in 1927.
Oxnard Beach Park, California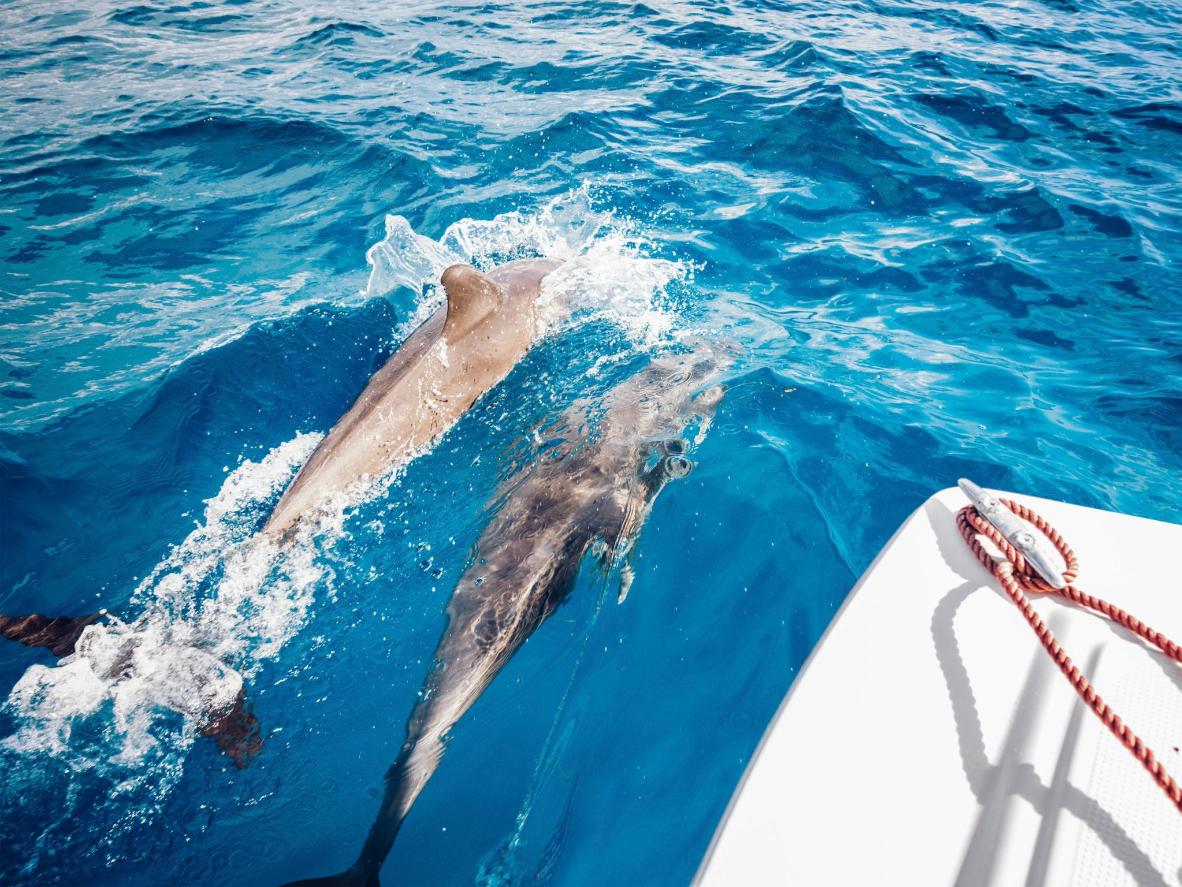 Oxnard Beach Park, California
Just an hour up the coast from LA, Oxnard Beach Park often serves as a gateway to the Channel Islands, a National Park archipelago rich in wildlife and natural beauty. You can take a dolphin-spotting boat trip around the islands, but don't forget to explore Oxnard's downtown, with its heritage houses, churches, and turn-of-the-century streets. Stay at the highest-rated accommodation in Oxnard, Homewood Suites.