Songkran is Thailand's traditional new year and its biggest, most important public holiday. Also known as the Thai Water Festival, it sees celebrants take to the streets with water guns, cannons, and buckets for one of the biggest water fights you'll ever encounter.
It takes place April 13 to 15—the hottest time of year in Thailand—so being doused in water is welcomed.
Get a taste of the action in one of these top Thai Songkran destinations.
Chiang Mai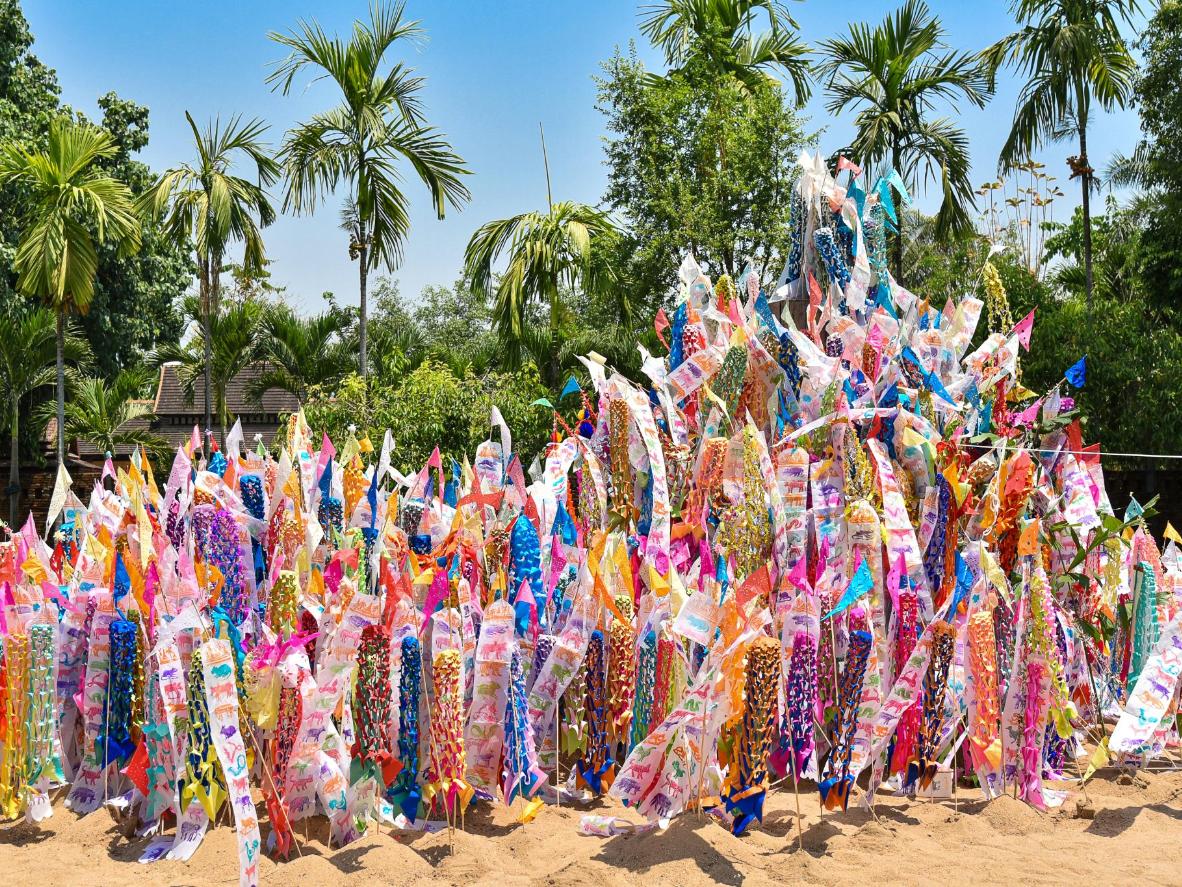 Paper flags on a pile of sand pagodas in Songkran festival
The ancient northern Thai city of Chiang Mai hosts one of the biggest Songkran celebrations of all. While the festival takes place throughout the rest of Thailand over a few days, Chiang Mai stretches it out for a full week.
Follow the parade around the tree-lined streets of the Old Town, bordered by a misty moat, and join the locals pouring jasmine-scented water on Buddhist statues. Build sand pagodas on the streets, watch dance performances, and taste Thai street food.
You could get in on the rowdier side of the fun by joining people lowering buckets on strings into the moat to fill up and splash passersby, or use supplies from tuk-tuks loaded with barrels of water. Rest up in the serene Inn Oon Chiang Mai Home, right in the center of the city.
Bangkok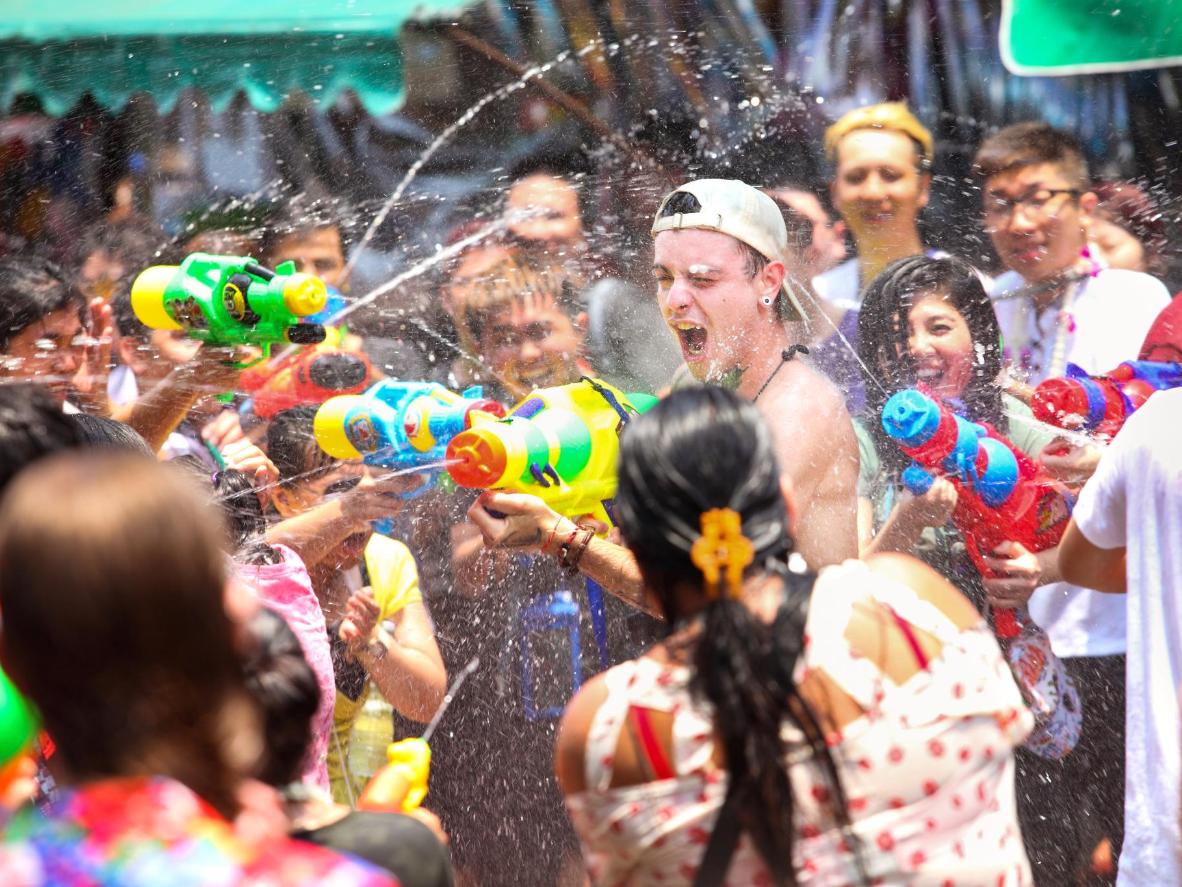 During Songkran, tourists dance to DJs and soak each other along the Khao San Road
Heading to the Thai capital will guarantee a lively Songkran, with enormous water fights taking over the normally traffic-filled streets. Khao San Road and Silom Road—an especially popular spot for LGBTQ+ visitors—is where tourists gather, dancing to DJs while soaking each other in water under the hot sun.
Switch it up with a day at Banglamphu Market, which tends to attract a more local crowd and hosts a traditional Songkran. Wherever you go, parades will showcase Thailand's cultural diversity, elaborate costumes, and celebratory atmosphere. The LOL Elephant Hostel provides immaculate dorm accommodations just a few minutes from Khao San Road.
Phuket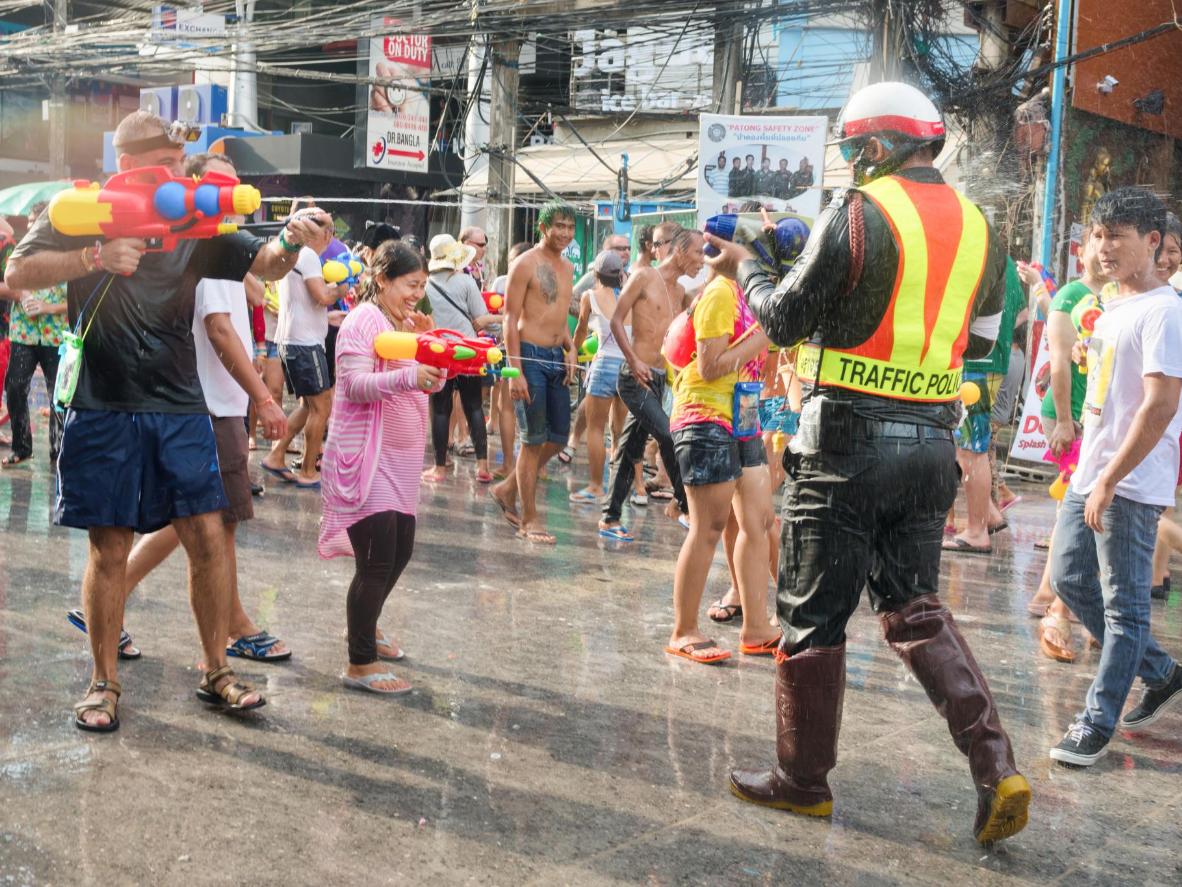 The water-soaked streets of Phuket during Songkran
For a beach-based Songkran, the mountainous and rainforest-covered island of Phuket is your best bet. Here, the festival is a day-and-night affair and the biggest of its kind in the south of Thailand.
Patong Beach throws the wildest parties, and Bangla Road the most intense water fights. The streets are filled with trucks loaded with ice-cold water, with revelers unleashing water guns, cannons, and buckets on each other.
If you need a timeout, check out the celebrations in the island's capital, Phuket City. In Phuket Old Town, things tend to be more local-oriented, with fragrant water spritzed on shrines and traditional Thai dance performances. La Piccola Patong is a highly rated hotel just a 10-minute walk from Patong Beach.
Pattaya and Bang Saen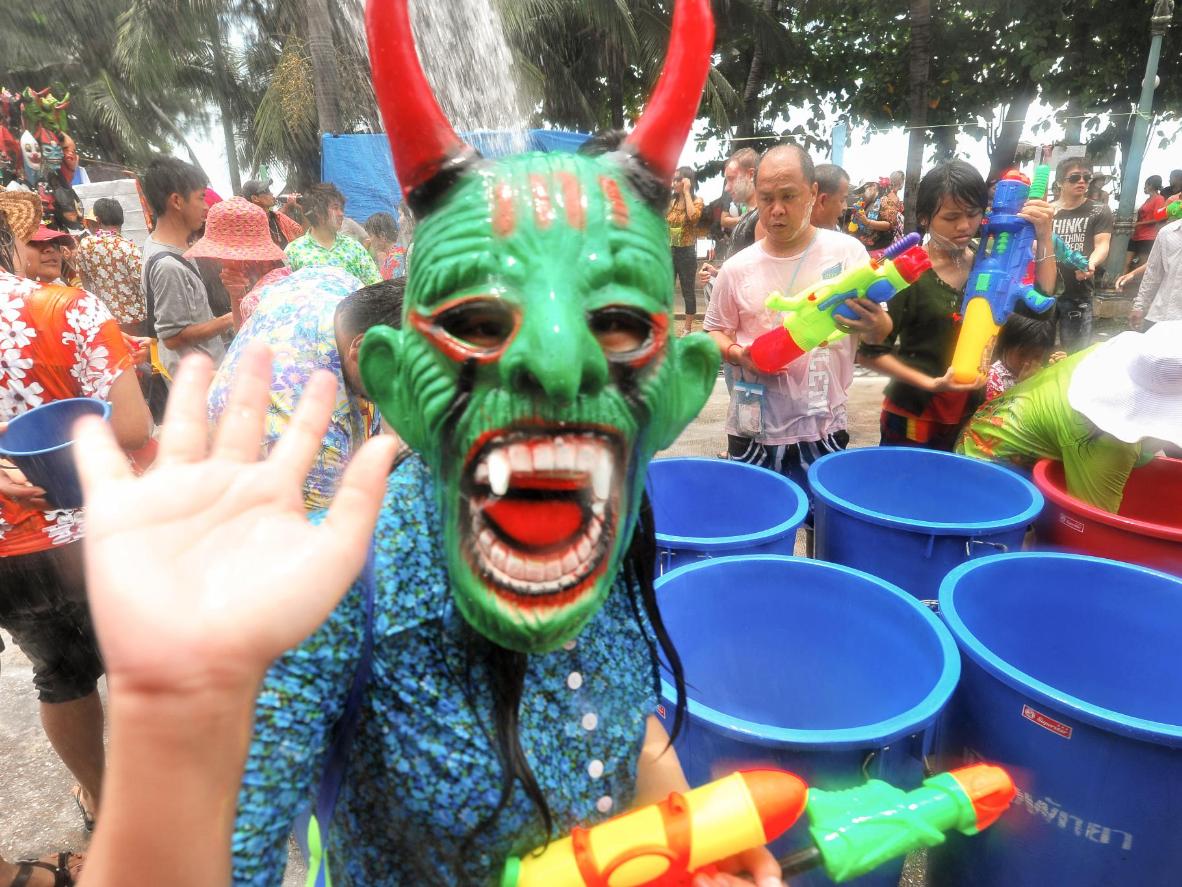 Split your time between the beach and the water fight in Pattaya
Like Chiang Mai, Pattaya's Songkran extends for about a week, sometimes longer. Lined with beautiful beaches, this coastal city makes a nice setting for the raucous scenes of the festival to unfold.
Get ready for the water fight of your life until the 19th. In previous years, the fire department has joined the fun as well, filling up tanks of water as ammo for everyone. With an outdoor pool and tropical garden, Wave Hotel Pattaya offers an oasis away from the wild celebrations.
If you've had enough of getting soaked, pop over to nearby Bang Saen beach to check out the famous sand sculptures. You can find up to 100 impressive sculptures crafted from sand and adorned with gold paint and flowers. One of the most unique sights in Bang Saen is the chedi sai – intricate sand pagodas built by teams of artists.
Khon Kaen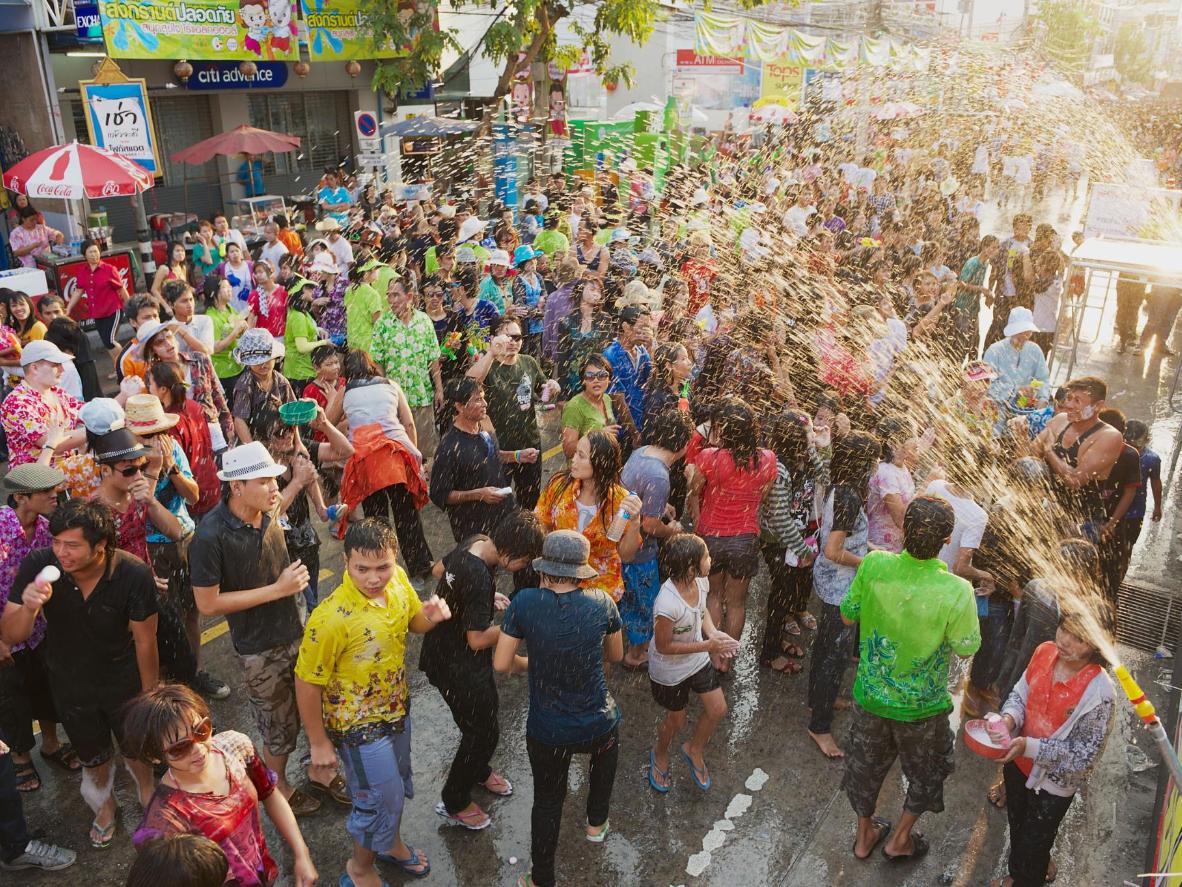 Young people celebrate the traditional Songkran festival on the street
For one of the biggest Songkran festivals in Isaan (the northeast region of Thailand), check out the celebrations in Khon Kaen. Khon Kaen's beautiful lakeside vistas are relaxing, but they come alive for Songkran.
Khao Niao Road, which translates to Sticky Rice Road, is a well-known local spot and home to the world's longest human wave during Songkran 2019. Who knows – this might be your chance to break a world record.
For a different pace, stroll the lush shores of Kaen Nakhon lake, where you'll find folk performances and a food festival brimming with delicious treats. For a relaxing retreat that's still centrally located, stay at the friendly Mai Thai Guest House.
Koh Samui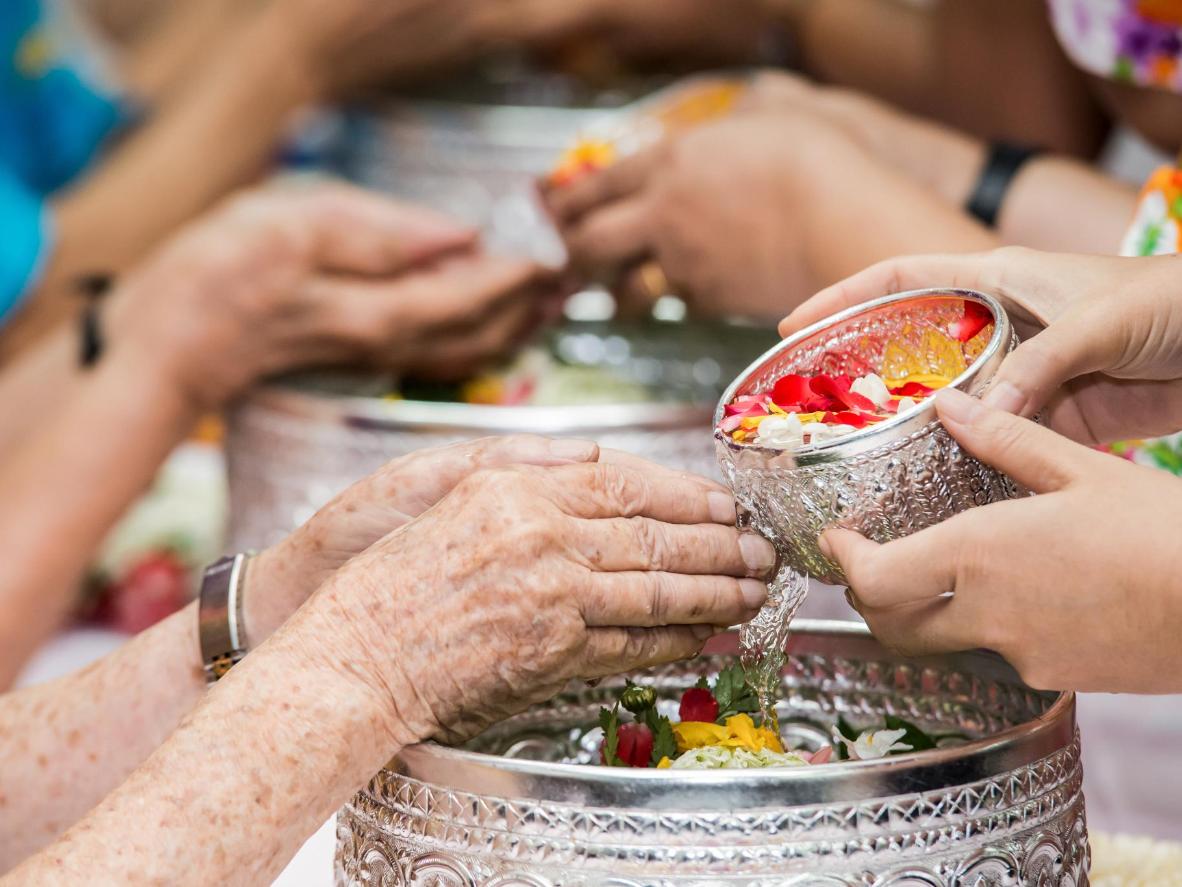 Locals give blessings during Koh Samui's low-key, traditional Songkran festivities
If you're up for a beach Songkran on a smaller scale, Koh Samui's celebrations are relatively tame but infinitely entertaining. Everyone joins in the fun, with the obligatory buckets, hoses, and water guns.
However, significantly fewer people participate and the atmosphere is more toned down. Local children often add dye into the mix for an added thrill, and the water they throw tends to be melted ice – a pleasant relief from the humid April heat.
If you want an even more authentic island experience, certain parts of the west coast host quiet celebrations where you can join local fishing families for a traditional Songkran. Check in to The Hideaway Suites for the ultimate tropical retreat among the colorful celebrations.
Nakhon Si Thammarat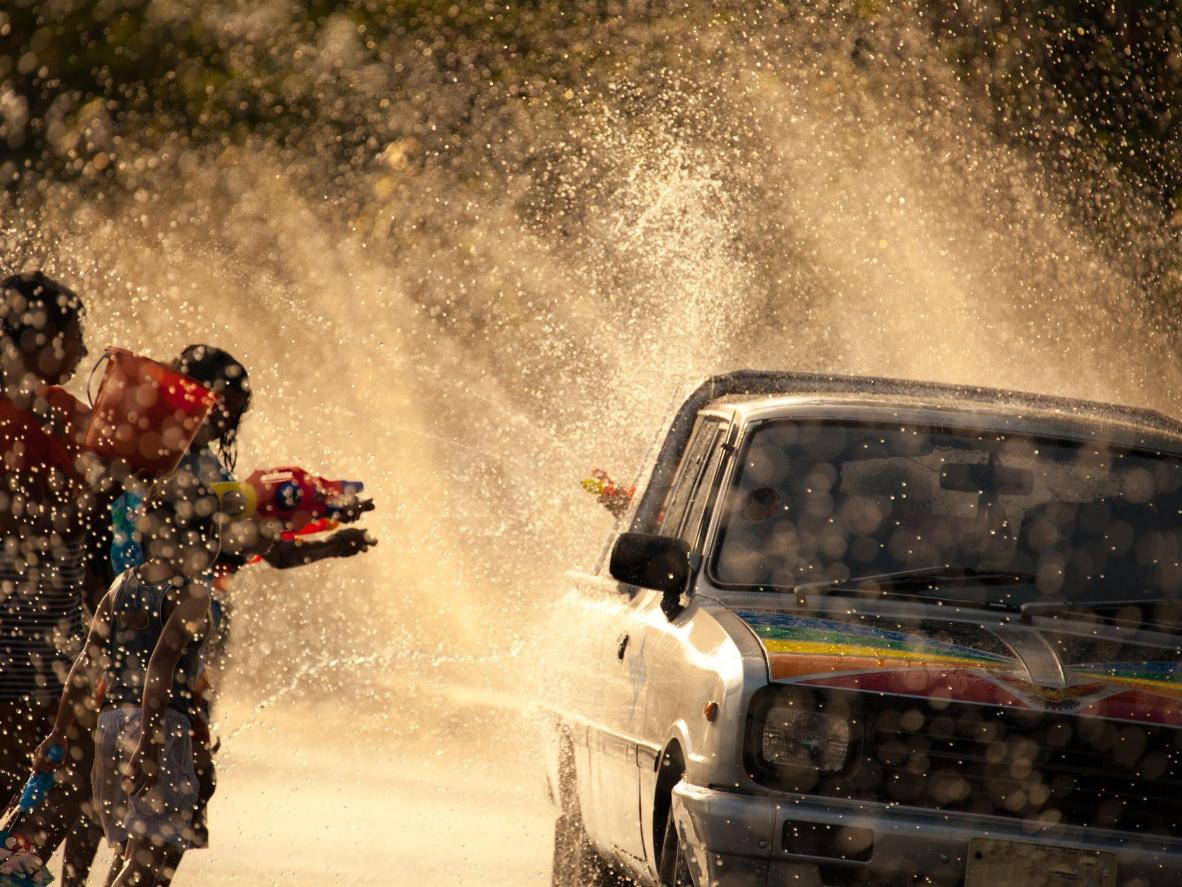 People use plastic water guns to splash others during the Songkran festival
Head south to Nakhon Si Thammarat to catch the one-of-a-kind Hae Nang Kradan festival. Hae Nang Kradan happens at the same time of the year as Songkran, but it's rooted in the region's Brahmin and Hindu communities.
This unique festival celebrates the god Shiva, known in Thai as Phra Isuan, by welcoming him to earth with parades and ceremonies. The climax of the festival is a dazzling light and sound show at Ho Phra Isuan temple. The Navakitel Design Hotel is a stylish stay with stunning city views.
Phra Pradaeng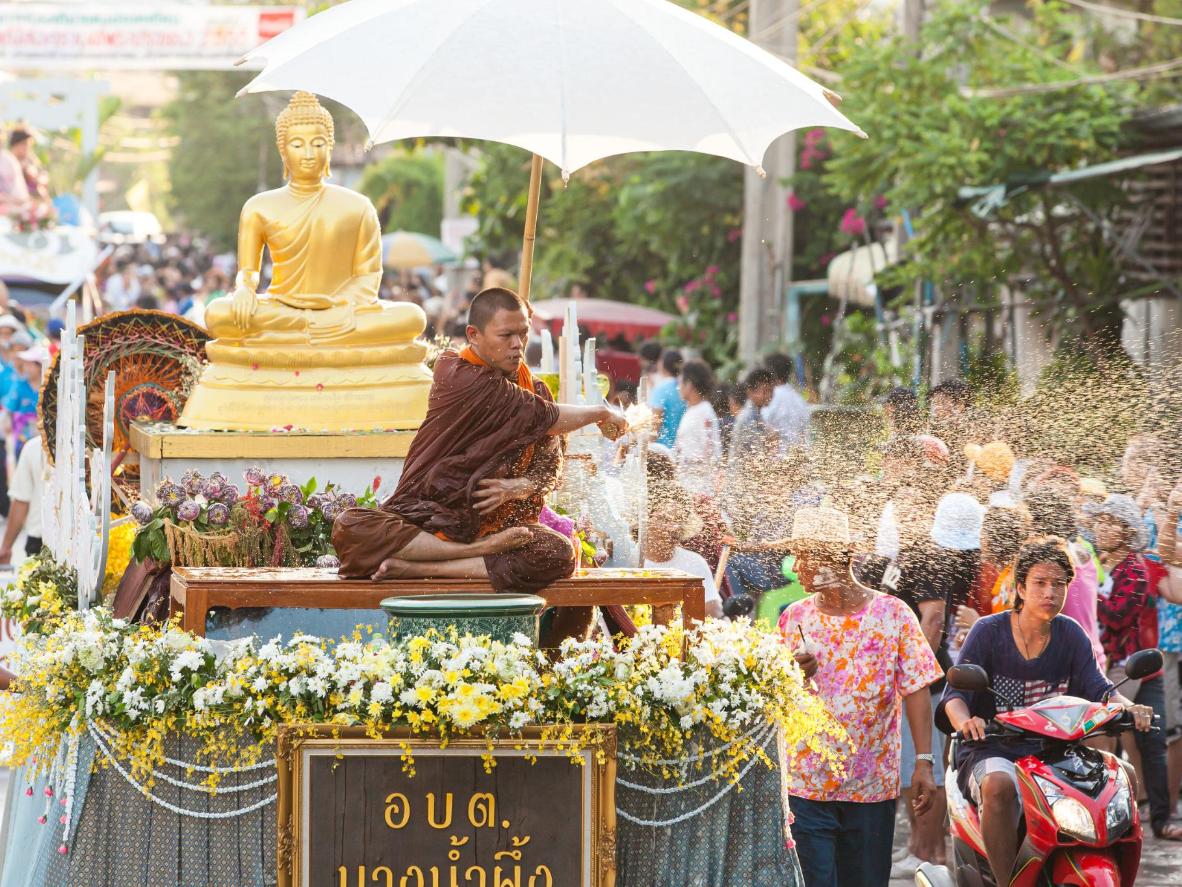 Buddhist monk sprinkling holy water during Songkran festival
Extend your Songkran in Phra Pradaeng, where the festival is celebrated slightly later than other places. In 2023, the event will take place April 21 to 23.
While Phra Pradaeng lies on the outskirts of Bangkok, its Songkran festivities pack in just as much fun and beautiful cultural experiences as the capital's. On top of the spirited water fights, you can see colorful parades of flowers and entertainment from live performers.
One of the most unique aspects of Phra Pradaeng's Songkran are the traditional ceremonies of the local Mon people. Sleep close to Thailand's rich history at Rimkhobfa Urban Resort, located next to the Samut Prakan Ancient City museum – one of the world's largest open-air museum complexes.