Labor Day is more than an annual tribute to American workers and their achievements. It's a celebration for the end of summer, full of barbecues, parades, road trips, and time with the family. There's also plenty of great sales going on, and Bookers can cash in on Labor Day deals across the country. Check out some of our favorite cities for celebrating Labor Day.*
New York City
Catch samba dancers perform at the West Indian Day Carnival
Even though New York is the city that never sleeps, it tends to wind down over Labor Day. Lots of locals leave the city for the weekend, thinning out the crowds (but not an ounce of the fun) at various annual events across town.
Celebrate at the West Indian Day Carnival, which falls on Labor Day itself this year. It's a whirlwind of color and costumes, offering Carribean favorites like jerk chicken and a lively parade.
For something a little more low-key, check out the Washington Square Art Exhibit, a free sidewalk show where hundreds of local artists exhibit their work.
Since the city is quieter, it's also the perfect opportunity to rent a bike and cruise around Central Park or over the Brooklyn Bridge. You could even pair your cosmopolitan bike tour with a visit to NYC's beaches or public pools, since most stay open over the weekend. Treat yourself to a stay at the Chambers Hotel, right off of Central Park.
Atlanta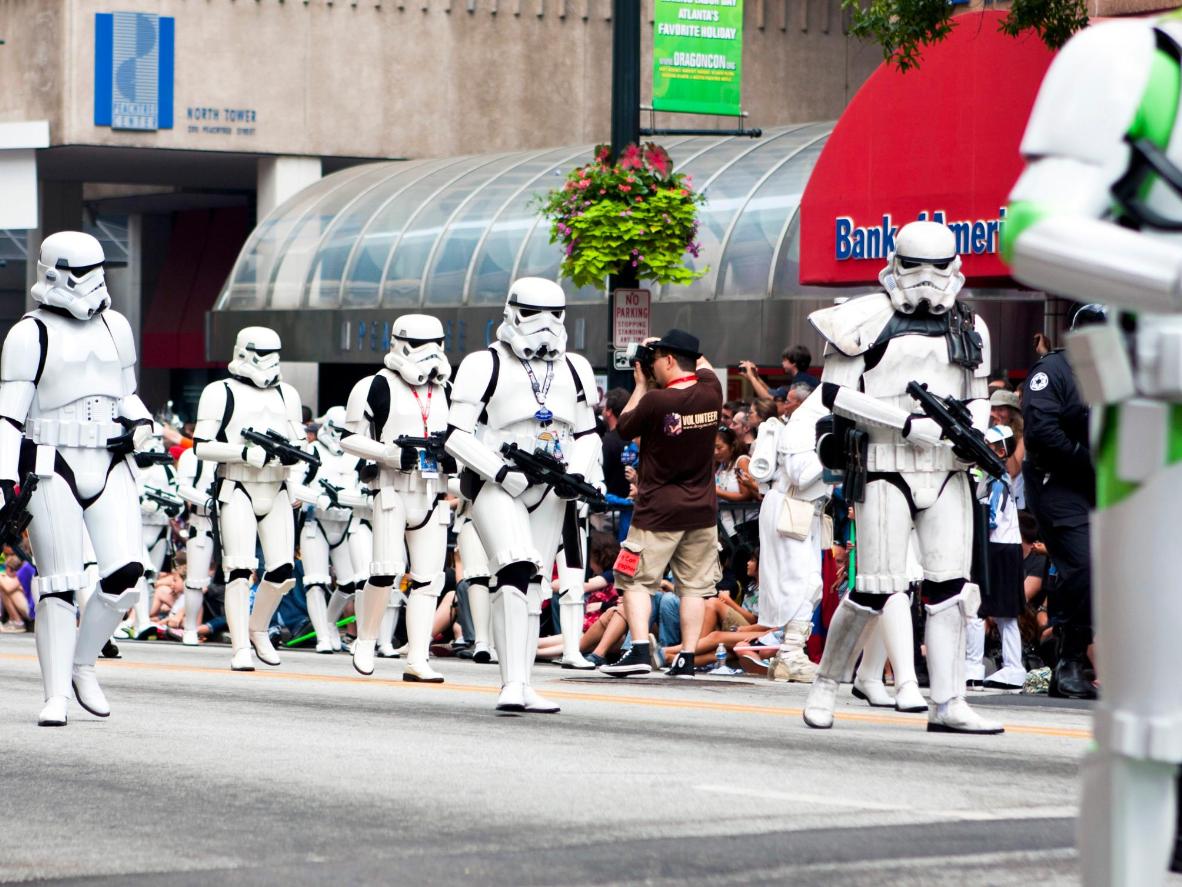 Superheroes and wizards at the Labor Day Dragon Con parade
Atlanta—also known as the Big Peach—is always vibrant town, and even more so thanks to all the events happening over Labor Day Weekend.
Sports fans will love the Chick-Fil-A Kick-Off Game (Aug. 31), a Labor Day tradition where two of the nation's best college football teams face off to kick off the season.
For the sci-fi fans, there's Dragon Con – the largest multimedia convention in the world. Catch everything from Stormtroopers to superheroes marching in the parade, play your favorite board- and videogames, meet top industry figures, pick up merchandise from your favorite franchises, or just use it as an excuse to dress up as your favorite character.
Check out the nightly Labor Day lazer show and fireworks at Stone Mountain Park
Black Pride is another staple weekend-long event for Labor Day in Atlanta, celebrating the African-American LGBTQIA+ community.
No trip would be complete without catching the nightly lazer and fireworks show at Stone Mountain Park, only a 30-minute drive from the city. Book Kasa Atlanta Apartments as your base for the weekend, where you can spend your downtime at the on-site pool.
Chicago
The windy city is world-famous for its music scene, and Bookers will see why with all the concerts going on during Labor Day Weekend.
The Chicago Jazz Festival (Aug. 31–Sep. 2) is the city's oldest lakefront celebration, a free festival dedicated to jazz legends and contemporary greats alike. This year it's turning 41 and will include a tribute to Nat King Cole by his brother, Freddy Cole, so head to Millenium Park and grab a seat.
There's also the North Coast Music Festival on Chicago's Northerly Island (Aug. 30–31), which features tons of famous electronic music acts in its lineup.
Feast on lobster and grilled corn at Chicago's Great American Lobster Fest
But it doesn't end there: Enjoy live music at Navy Pier and grab a bite at the Great American Lobster Fest (Aug. 30–Sep. 1) It's the Midwest's largest seafood festival, an all you-can-eye experience dishing up steamed lobsters, corn on the cob, kielbasa sausage, and lots of butter sauce. Sticking around for the fireworks display on Aug. 31 is easy if you're staying at the Cambria Hotel, just a 5-minute walk from Navy Pier.
Los Angeles
LA's Labor Day agenda makes the most of the city's weather with outdoor film screenings
If you spend Labor Day Weekend in LA, you'll quickly see how all the events around town revolve around the city's sunshine and cinema-centric culture.
Check out the outdoor movie screenings (many hosted by Rooftop Cinema Club), which include a sing-along edition of Grease (Aug. 30) and a showing of La La Land (Aug. 31).
There's also the Cinecon Classic Film Festival (Aug. 29–Sep. 2), a nostalgic journey through black-and-white Hollywood classics that's hosted in the extravagant Grauman's Egyptian Theatre.
Beyond the movies, head to the LA County Fair for a fun, family-friendly experience, packed with fun rides, games, and classic carnival treats.
For the foodies looking for something besides deep-fried carnival snacks, The Taste (Aug. 30–Sep. 1) is an annual food festival showcasing the city's thriving culinary scene. It's hosted by the LA Times and Paramount Picture Studios and features cooking demonstrations performed by local chefs. Afterwards, return to the stylish Standard, Hollywood.
#BeABooker and book your trip today.
** The data scientists at Booking.com used internal data to find the most-booked cities in the US for Labor Day Weekend.