Get your adrenaline pumping by visiting the world's most highly rated adventure travel destinations, according to global travellers.
Waitomo Caves, New Zealand
Nicknamed the Glowworm Caves, bioluminescent bugs light 30-million-year-old Waitomo
Intrepid travellers will find a wealth of adventurous experiences in Waitomo, a labyrinth of caves hidden beneath fern-covered hills and waterfalls whose name also lends itself to a village and wider region. This subterranean network of 30 million year-old limestone rock formations was first explored in 1887 by local Maori Chief, Tane Tinorau, accompanied by English surveyor, Fred Mace. The caves are lit by thousands of glowworms that cling to the walls and ceiling. You can take a guided tour that includes a boat ride illuminated by these bioluminescent bugs. There are also dedicated black water rafting tours, which involve floating along underground rivers in an inflatable rubber ring. If that's not your thing, head above ground for a hike through the bush. Check into Waitomo Boutique Lodge, a short drive from the Glowworm Caves and with views of the Coromandel Range mountains.
The best time to visit the caves is during the summer months – between November and April in the Southern Hemisphere. Rent a car in Auckland and make the 2.5 hour drive to Waitomo.
Phong Nha, Vietnam
Phong Nha is home to the largest cave in the world, Hang Son Doong
Phong Nha-Ke Bang National Park is an adventure wonderland of ancient karst mountains and jungle. These mountains are around 400 million years old and contain a network of caves to explore. They're also home to the largest cave in the world – Hang Son Doong – a gargantuan underground cavern that was only discovered in the 1990s. If you'd rather not take the pricier tour of Hang Son Doong, you can cycle alongside tropical rivers and past rural villages and lime green carpets of rice paddies and terraced hills. You can also take a guided trek, looking out for macaque monkeys and rare birds. Take in the views of the impressive karst landscape from the sun terrace of Phong Nha-Tuan Garden House.
The best way to get to Phong Nha is to fly into Dong Hoi Airport. There are daily domestic flights from Hanoi and Ho Chi Minh City, as well as a few weekly flights from Chiang Mai in Thailand. You can also opt for the longer but more scenic train from Hanoi.
Leh, India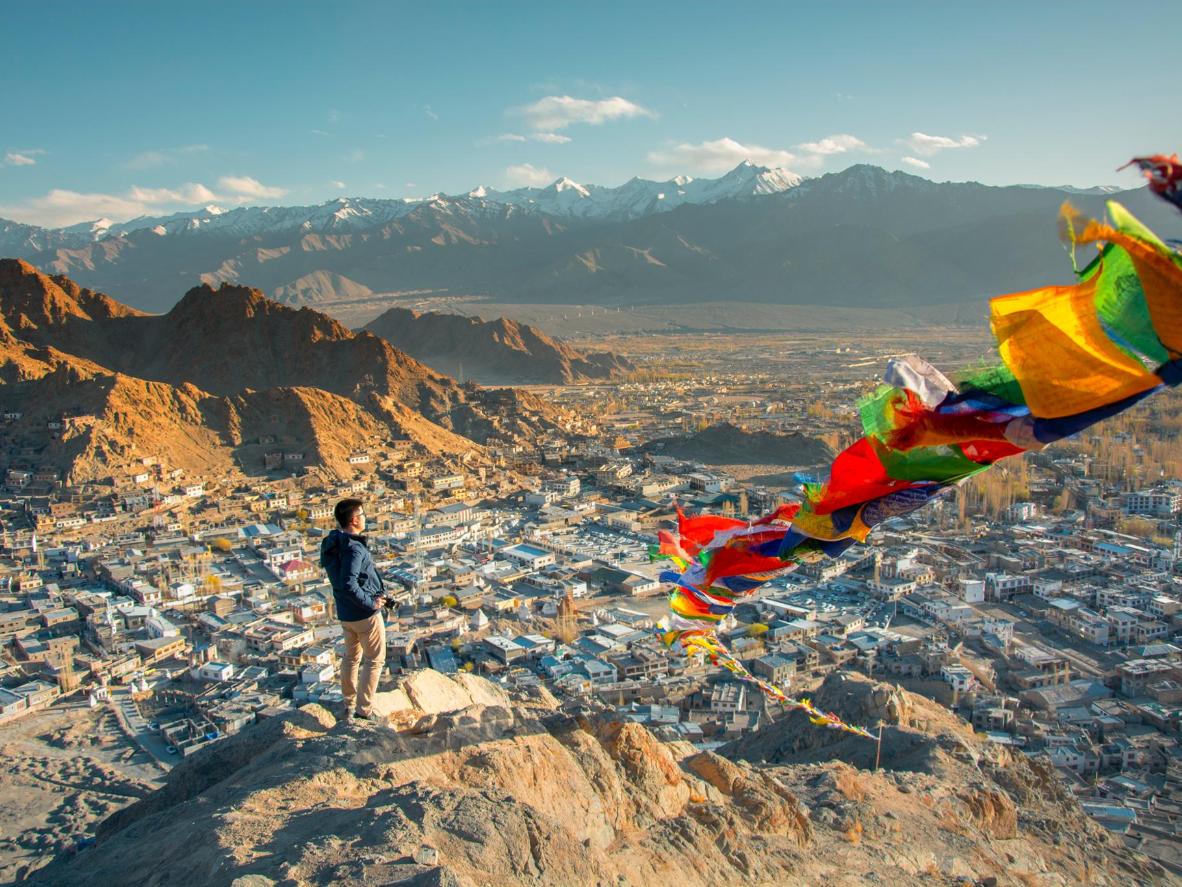 Shanti stupa in Leh Ladakh with colorful omani prayer flags
With its ochre, bare rocky mountains offset by jade-green rivers and lakes, the landscape around Leh is one of India's most surreal. Aside from its natural beauty, it's also a popular destination for daredevils. Partake in one of the many adrenaline-pumping activities available across the high-altitude and rough desert terrain, including mountaineering, cycling and river rafting. But perhaps the best way to appreciate the scenery is on foot, via the hundreds of pristine hiking trails covering mountains dotted with Buddhist gompas – monasteries or shrines. Stay at the Mentokling Guest House and Garden Restaurant for its courtyard filled with prayer flags and trees, as well as its breathtaking mountain views.
While there are flights to Leh, the most common way to travel there is by road. There are local busses that connect Leh to surrounding cities, including Chandigarh, Delhi and Manali. If you prefer the comfort of your own car, renting one is another great option.
San Gil, Colombia
Paraglide over the extraordinary, 6,500 feet-deep Chicamocha Canyon in San Gil
For a small city in the Colombian Andes, San Gil has a huge array of available adventure experiences, including whitewater rafting, kayaking, paragliding, bungee jumping, skydiving and horseback riding. As a launchpad for exploring the Parque Nacional de Chicamocha, San Gil's surroundings make a sublime setting for all of these thrilling activities. If you're feeling gutsy, don't miss the chance to paraglide over the extraordinary Chicamocha Canyon. This involves running and jumping off a steep cliff to float down to the bottom of this 6,500 foot-deep natural wonder. Enjoy some post-adventure downtime in the sunny, hydrangea-filled courtyard of Meraki Boutique Hostel.
The easiest way to reach San Gil is by local bus. They depart frequently from Bogotá and take around seven hours. There are less regular bus connections from Barranquilla, Medellin and Cartagena. If 13 hours on a bus is pushing it, you might want to consider renting your own car.
San Ignacio, Belize
Caves, cascading rivers and peaceful rainforest lakes await in San Ignacio
San Ignacio is one of the most popular ecotourism destinations in Belize, and also home to an extensive network of caves and rainforest. Explore this underground world of stalactites and honeycomb fossil formations before taking to the region's cascading rivers in a whitewater raft or kayak. It's worth spending several days here, so that you also have time to horseback ride to the nearby ancient Mayan temples and – if you're feeling brave – go potholing down one of the many dark limestone sinkholes. Unwind from all the adventure in a beautiful wooden bungalow at Vanilla Hills Lodge, in the jungle outside San Ignacio.
The drive from Belize City to San Ignacio takes a little under three hours and just under an hour from Belmopan, the capital.
Livingstone, Zambia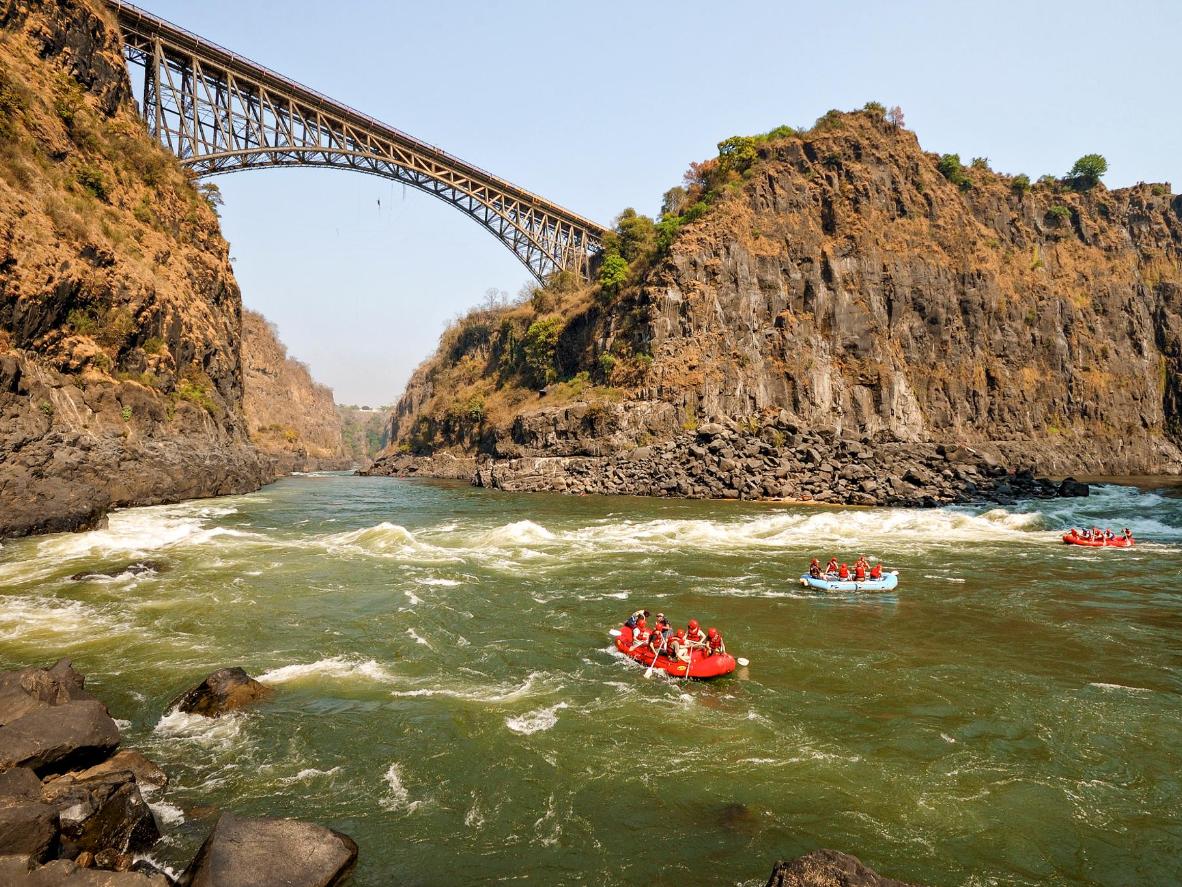 Bungee jump off the bridge spanning between Zambia and Zimbabwe or white water raft below
While it's mainly visited en route to Victoria Falls – the largest waterfall in the world – Livingstone is also an adrenaline-seeker's paradise. The rapids thundering out of the Falls provide some of the world's best whitewater rafting, which you can often combine with a camping trip or a nature safari. You can also bungee jump off the bridge spanning between Zambia and Zimbabwe, go canoeing, abseiling or ziplining. But the most unmissable experience of all is taking a dip in the Devil's Pool. This shallow, calm pool is located literally inches from the edge of the top of the falls, where rainbows form in the mist. Stay in a private bungalow at the Kayube River House, sheltered by an old indigenous tree, on the banks of the Zambezi River.
If you're looking for an easy, efficient way to get to Livingstone, then flying is it. There are daily flights from Lusaka and Johannesburg. The roads between Livingstone and Lusaka are among the country's best, so if exploring Zambia overland is something you're interested in then renting a car is a good idea.
Longyearbyen, Norway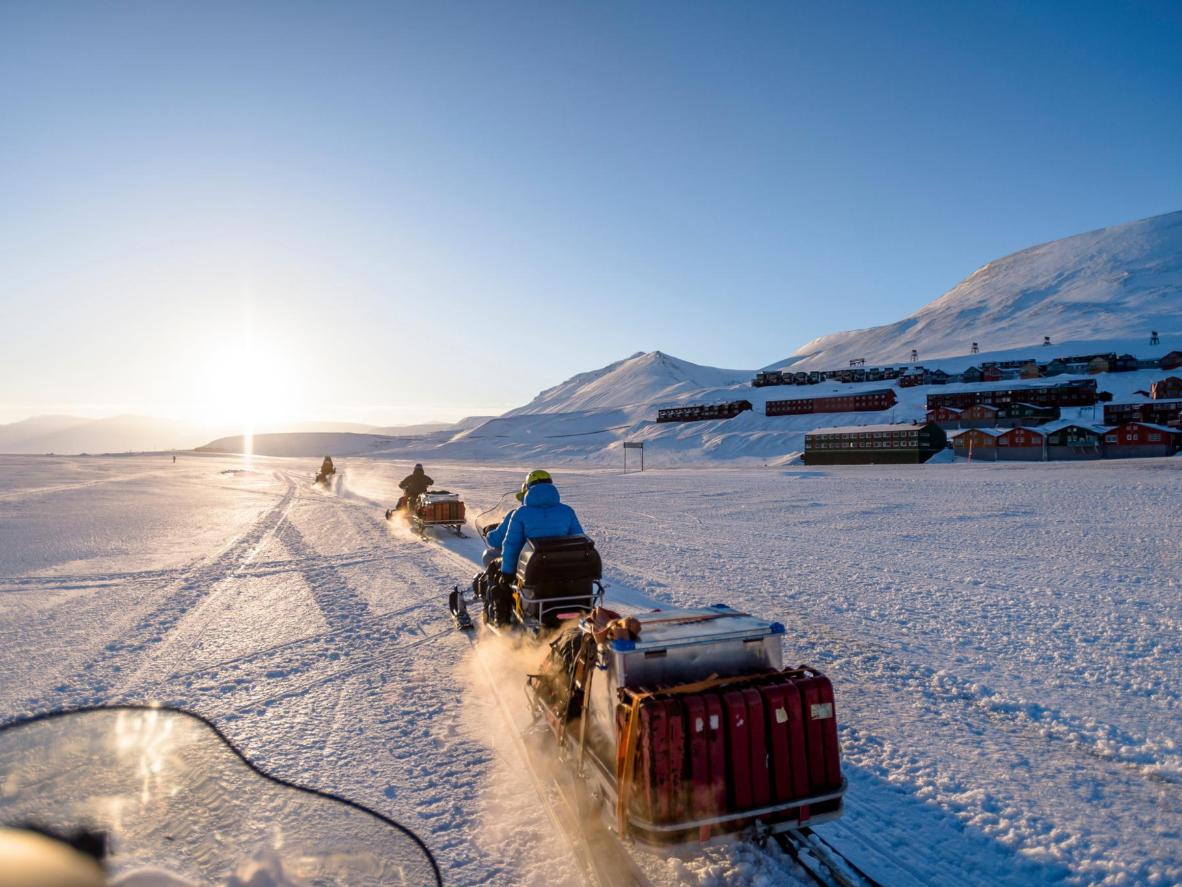 Group of snowmobilers leaving town at dawn in Longyearbyen, Norway
Located on the Arctic archipelago of Svalbard, the humble, coal-mining town of Longyearbyen is the world's most northerly town. 60% of the polar desert tundra is filled with glaciers that are perfect for trekking adventures. You can also snowmobile and dog sled past polar bears, arctic foxes and puffins for a once-in-a-lifetime experience. If you're still hungry for adventure after sampling all of that, go further afield by quad biking up and down the region's snow-covered mountains. Stay in a boxy, red wooden Nordic house at Haugen Pensjonat Svalbard.
Longyearbyen's port is only accessible in the summer months, so the most reliable way to reach the town is by air. There are daily direct flights from Oslo, Norway, which take three hours. You can also take a 1.5 hour domestic flight from Tromsø, which happens to be the most northerly airport in the world with regularly scheduled flights.