Road tripping is as American as it gets, but no road trip is as iconic as the great Route 66. This historic road is a staple of American culture, featured in hit songs, popular movies, and national folklore. Though its heyday has passed, traveling down all this famous road is a must for anyone exploring the west. So pack some snacks, fill up the gas tank (or charge your car's battery), and go get your kicks at these six Route 66 destinations.
Get Started by Millenium Park in Illinois
Get your journey started in Chicago, IL
You'll find the official starting point of Route 66 at the intersection of East Adams Street and Michigan Avenue in Chicago, Illinois. Here you can take pictures with the official "Begin" sign, or head to the nearby Millenium Park to see the famous Chicago Bean before hitting the open road.
Steps from Millenium Park is the Chicago Athletic Association – in The Unbound Collection by Hyatt. Get a nightcap at the rooftop bar and a good night's rest before embarking on your westward journey.
Explore Americana in Missouri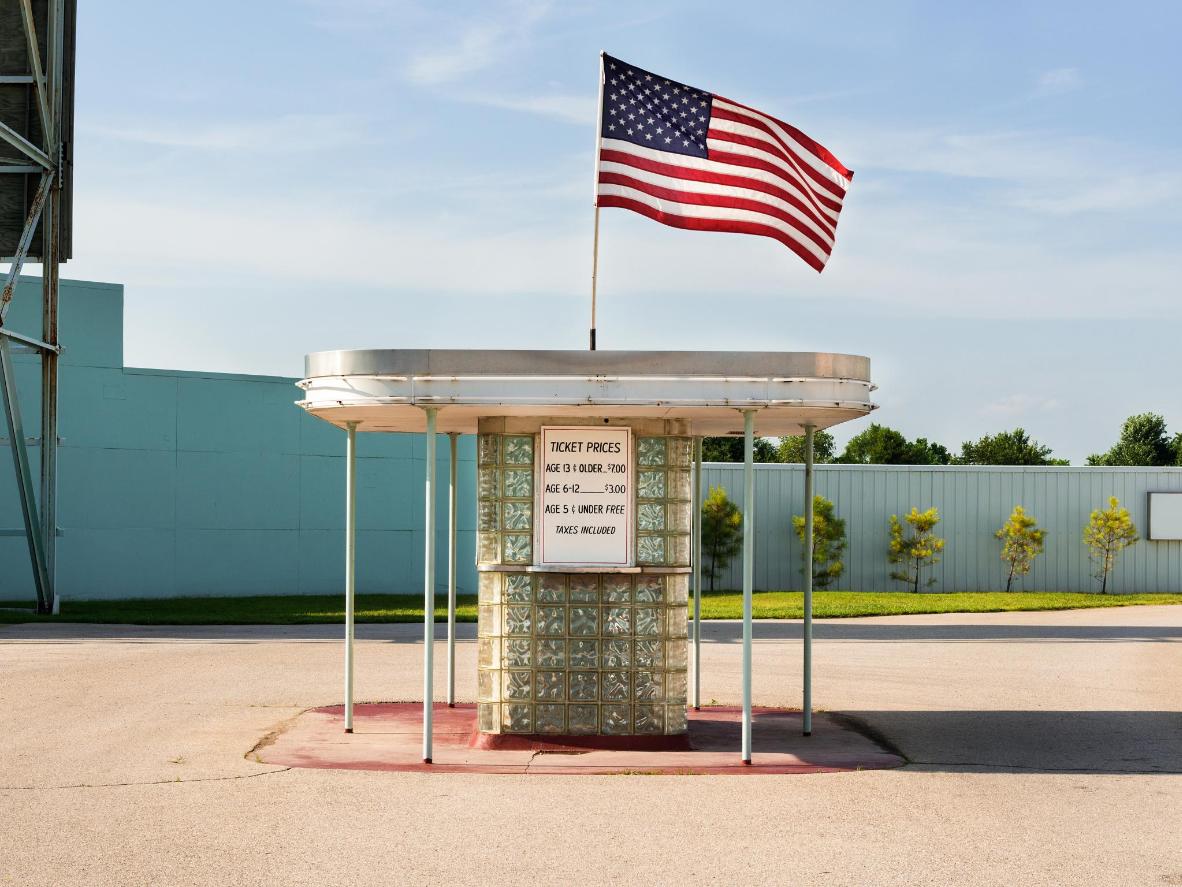 Enjoy a meal and a movie without leaving your car in Missouri
The Missouri leg of Route 66 offers plenty of options for Americana classics. Take a pit stop to watch a movie at the 66 Drive-in Theater in Carthage, MO or grab a bite in what is believed to be the world's first drive-through at Red's Giant Hamburg in Springfield, MO, revived to its former glory in 2019.
Drive a bit farther down to Joplin, MO for a no-fuss night at Drury Inn & Suites Joplin. Providing all the basics you need at an affordable price, this ideal road-tripping inn will have you fresh and ready to hit the road again come morning.
Get a little paranormal in Oklahoma
Visit to the infamous ghost lights or the Route 66 museum in Oklahoma
Pass through the shortest leg of Route 66 in Kansas (only 13 miles!) and check out the town Galena, Kansas, which inspired the Pixar movie "Cars," before heading into Oklahoma.
Here, if you have an affinity for the paranormal, you can check out the infamous Spook Lights. Just a few miles off of Route 66 between Baxter Springs, KS and Miami, OK, these lights are described as glowing orbs that grow in intensity while dancing through the air. If you're more of a history buff, pay a visit to the official Route 66 Museum in Clinton, Oklahoma for a glimpse into the past.
Stay halfway between the Spook Lights and the Route 66 museum in Tulsa, OK. Spend the evening exploring the city, and sleep in the beautiful Campbell Hotel. This luxury boutique will fit the mood for your historic trip with its uniquely decorated rooms, and you can loosen those up any long-haul cramps with a massage at their spa.
See strange sculptures in Texas
See a unique Route 66 oddity at the Cadillac Ranch
Amarillo is home to the Route 66 gem, Cadillac Ranch. This art installation is a group of Cadillacs half-buried in the dirt and covered with graffiti. Truly a sight to see, this oddity has Route 66 written all over it – and you can write something, too. Grab some spray paint because graffiti is encouraged.
Stay in Amarillo for the night at Country Inn & Suites by Radisson, Amarillo. This reliable spot has all the things you need for an overnight, including a pool and gym to get some exercise after being in the car, as well as WiFi and a business center to research where to stop along the road tomorrow.
Walk Around the Desert in Arizona
Get out and explore some nature in the Painted Desert in Arizona
A bit off of Route 66 in Arizona is the Painted Desert. This 160 miles of badlands is striped in an array of colors that make it look as if it was painted with a brush. The best way to get to the Painted Desert is through the Petrified Forest National Park. If you're willing to go even farther off the route, check out the Four Corners, where you can stand on the exact point where the borders of Colorado, Utah, Arizona, and New Mexico all meet.
For an Americana-inspired stay, go to Brad's Desert Inn, near the Petrified Forest National Park. This warm and welcoming motel has an authentic Route 66 vibe that's a must on your great American road trip.
Take in Ocean views in California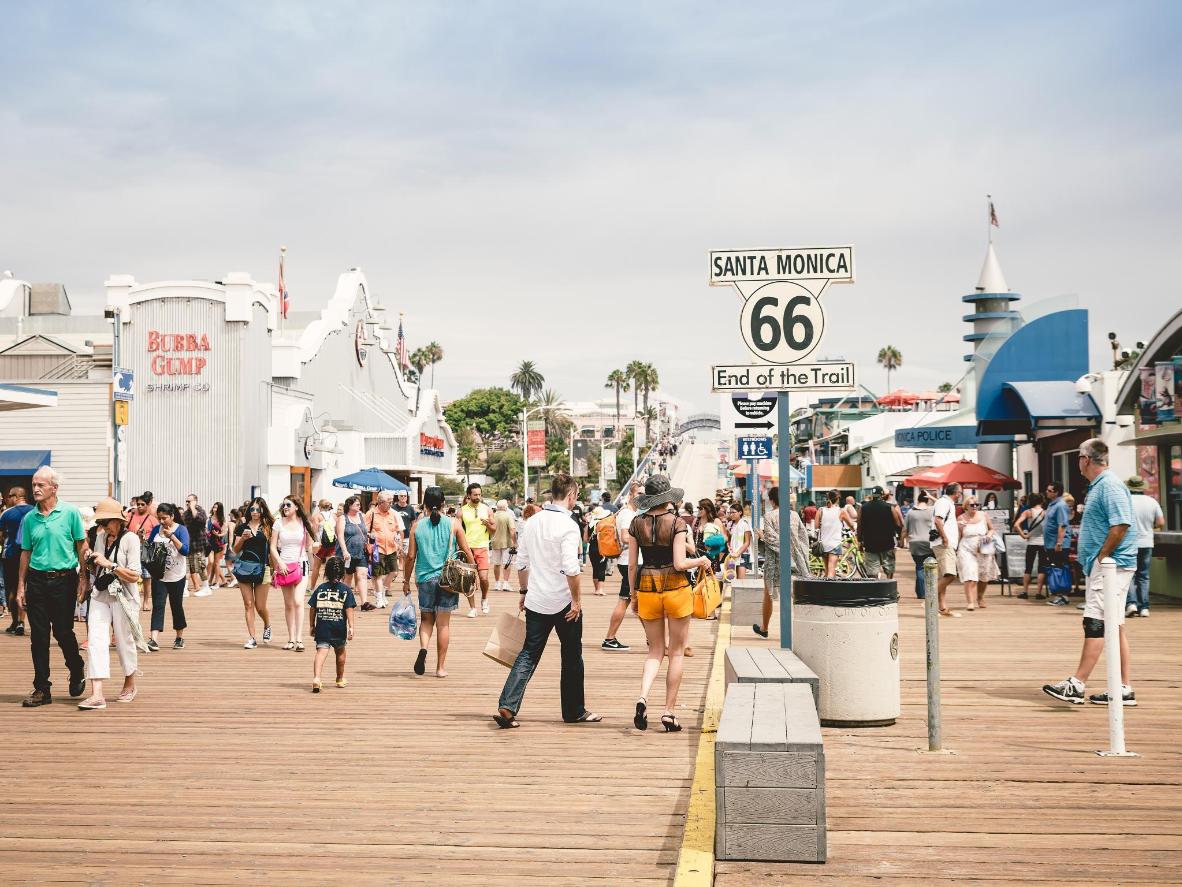 Enjoy the ocean views at your final destination in Santa Monica, CA
The route ends—or, depending on your direction, begins—in Santa Monica, California. After days in the desert, take a refreshing dip in the Pacific Ocean. Then head over to the Santa Monica Pier, where you can ride roller coasters, eat from food stands, and stretch out your legs with a walk down the iconic Pier.
After such a long trip, you deserve a luxurious stay. We recommend the Huntley Santa Monica Beach, which is located right by the Santa Monica Pier and offers amazing ocean views, modern finishes, and high-end service.