To immerse yourself in one of the world's most stylish cities, book an equally stylish stay. Here, we round up seven of the chicest places to stay in Paris; from opulent suites where decor is inspired by a 19th-century novel, to a boutique hotel in a classically Parisian building in the heart of the city.
COQ Hotel Paris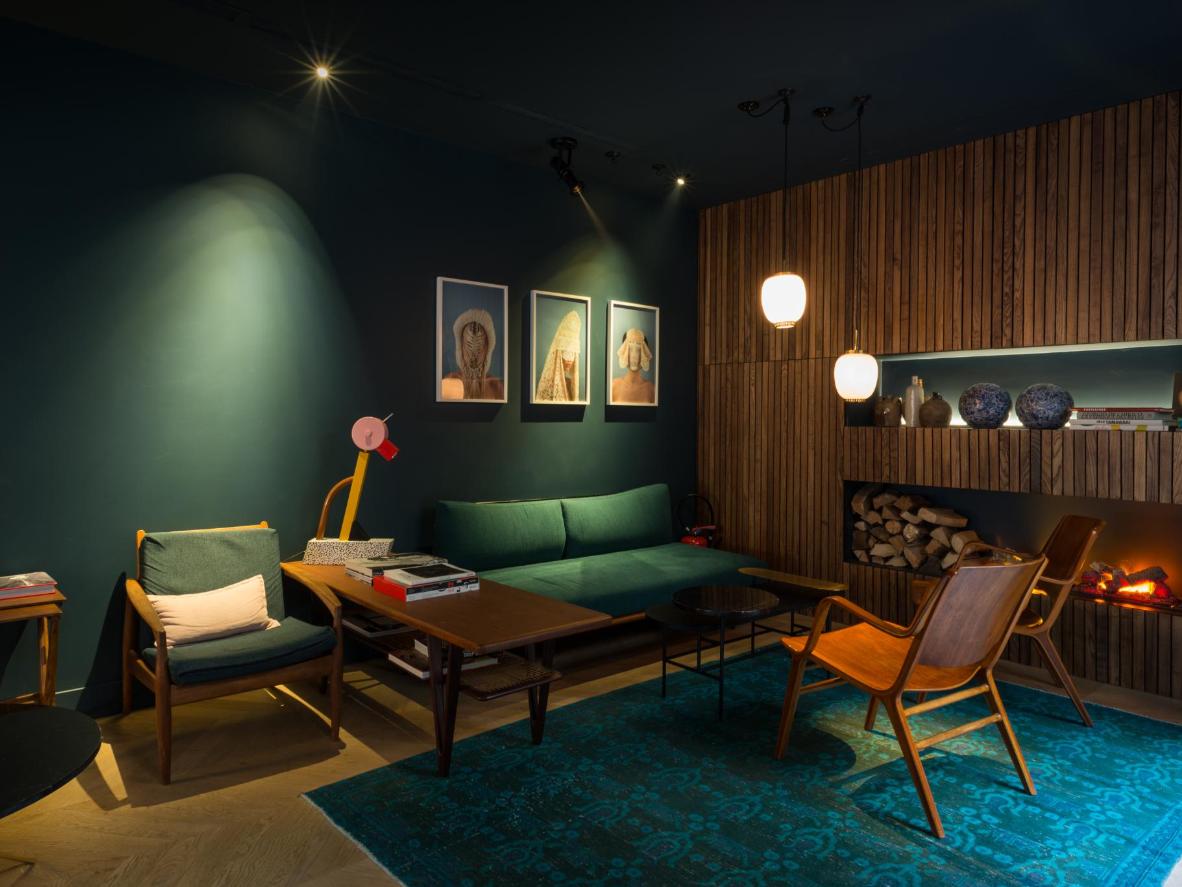 Located in the multicultural 13th arrondissement, COQ Hotel Paris' name stands for "Community of Quality." Its homely ethos is represented in the inviting communal areas, including a sun-filled, plant-lined conservatory, a cozy living room with fireplace, and a chic and minimalist breakfast room. Expect muted, natural colors and eye-catching mid-century furniture, in an exemplary showcase of subdued Parisian style. Plus, a fantastic French breakfast of fresh breads, croissants, fruit juices, and jams.
Hôtel Montecristo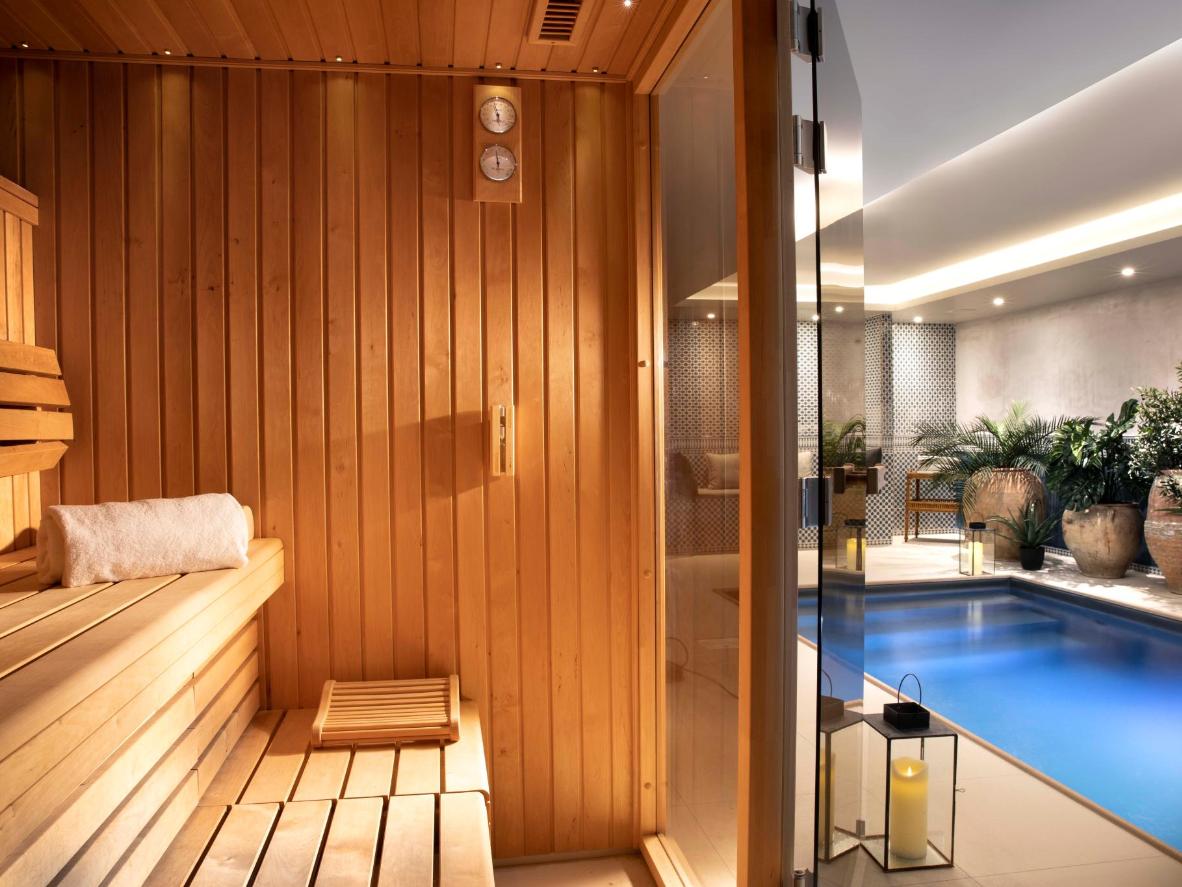 The resplendent decor at Hôtel Montecristo is inspired by The Count of Monte Cristo, the novel by celebrated French writer, Alexandre Dumas. Transporting you to a world of 19th-century adventure, the suites are decked out in tapestries, rattan furniture, and rich velvet upholstery. Fall asleep gazing at elaborate mural panels above your bed, or reading by the light of a painted ceramic lamp with a fringed shade. Don't leave before checking out the hotel's Bar 1802, home to the largest rum selection in Paris. Or the indoor pool, lined with tropical plants, candles, Moroccan-style tiling, and a sauna.
Hôtel Henriette
The lovely Hôtel Henriette sits on a quiet street bordering Paris' Latin Quarter. Inside, a soothing color scheme with floral-print fabrics and patterned wallpaper lend it a welcoming ambience, enhanced by small touches like vases with fresh flowers. Bordering the leafy little courtyard garden, rooms are bright, colorful, and characterful, with vintage mirrors and parquet floors. Wake up with a coffee served in a delicate porcelain cup before exploring nearby attractions including popular, pedestrian-only market street, Rue Mouffetard and The Luxembourg Gardens.
Chouchou Hotel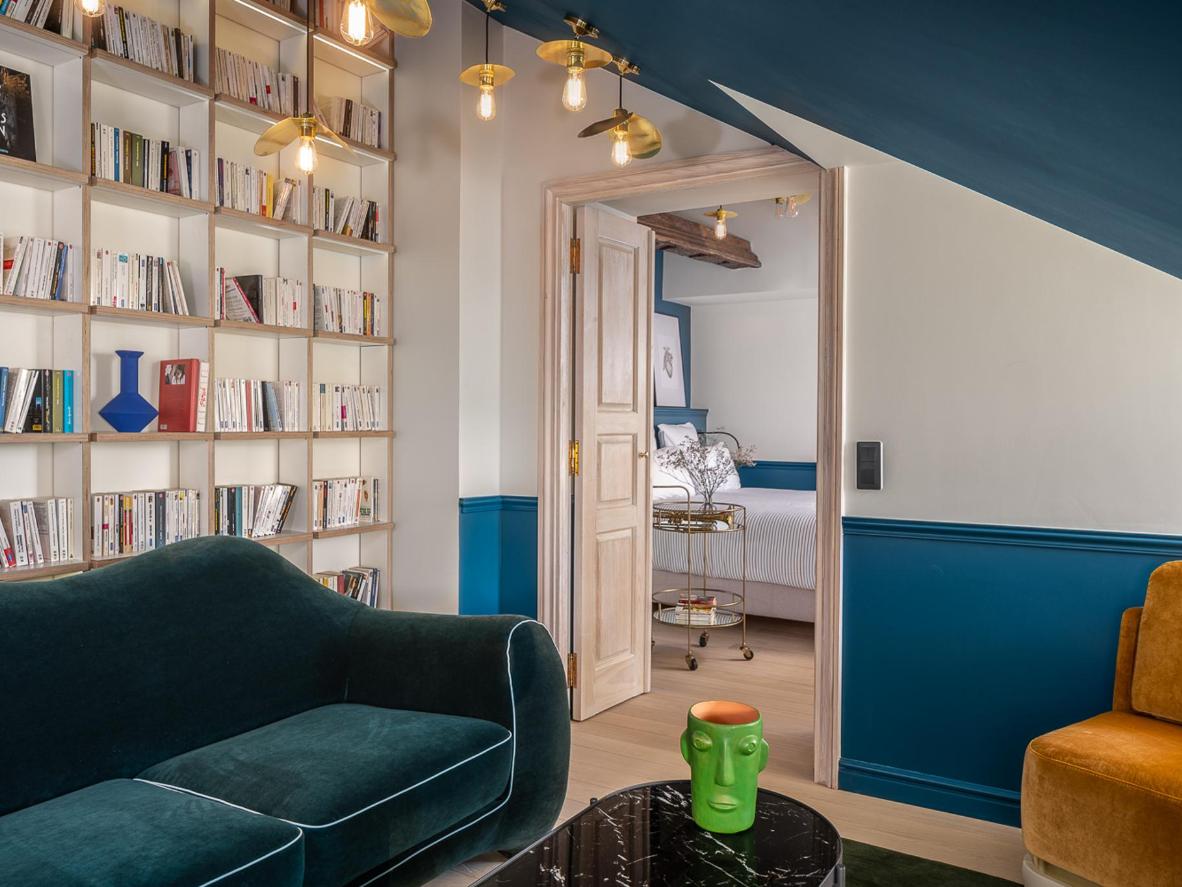 Named after a French term of endearment, the charming Chouchou Hotel is affectionately clad in blue and white (a characteristically French color scheme) – from the striped awnings gracing its attractive facade to the marble and wood-paneled bar. The hotel attracts locals and tourists alike to the regular live music events it hosts, as well as to its food hall-style restaurant where you'll find fine French wine and delicacies like oysters and saucisson (dry-cured sausage). Upstairs, suites named "La Vie en Rose," in tribute to singer Edith Piaf, or framed photos of French icon Serge Gainsbourg, pay homage to French culture.
Hotel Touraine Opera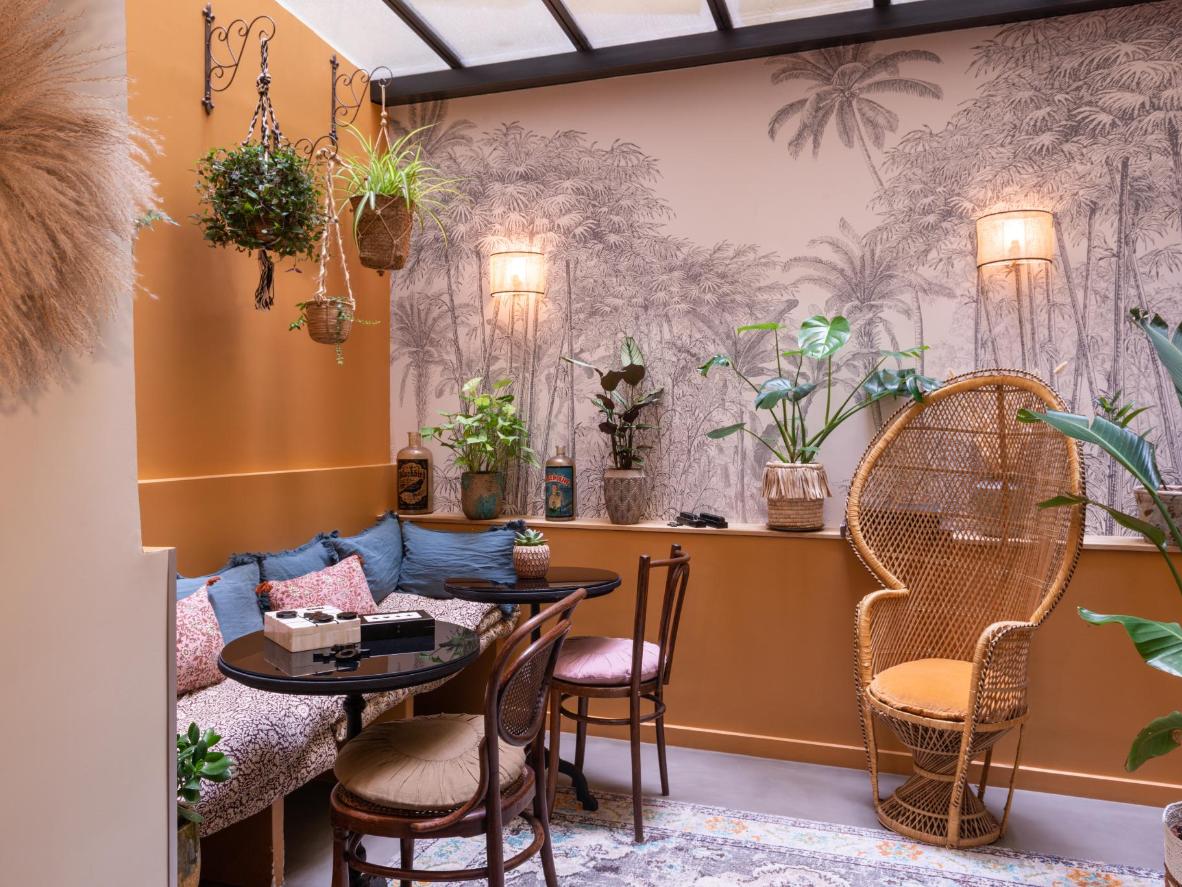 In the heart of the central ninth arrondissement, the Hotel Touraine Opera is a delightful boutique hotel in a pretty, traditionally Parisian stone building. Expect light-filled suites with wood-beamed ceilings, dainty picture-frames on the walls, and printed bedspreads. People-watch from your balcony overlooking a typical Parisian avenue, before heading just around the corner to high-end department store Galeries Lafayette for some serious shopping. Or simply relax within the confines of the hotel, making use of the sauna, gym, and elegant lounge.
Edgar Suites Louvre - Jour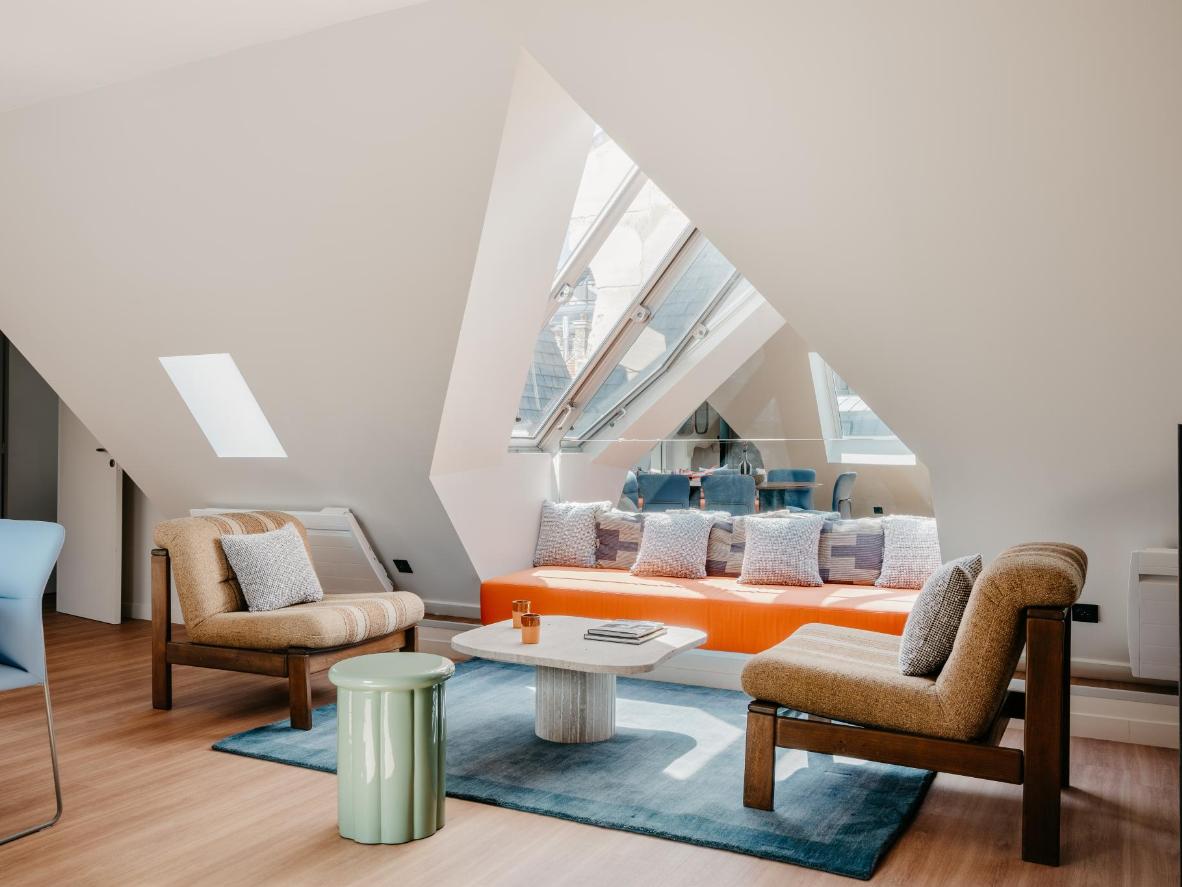 Just a 10-minute walk from both the Centre Pompidou and the Louvre, Edgar Suites Louvre - Jour is perfectly located for those who like to explore à pied (on foot). It's located just next to the Gothic St. Eustache Church and around the corner from famous shopping center, Forum des Halles. Break up sightseeing with scenic strolls around the Jardin des Tuileries or along the Seine river – both moments away. Stop for a café au lait on the Seine's captivating islands, Île de la Cité and Île Saint-Louis, before returning to your spacious and stylish apartment. Edgar Suites also offers stays over 30 nights and a discounted monthly rate, so it's a handy option if you're able to linger in Paris a little longer.
La Planque Hotel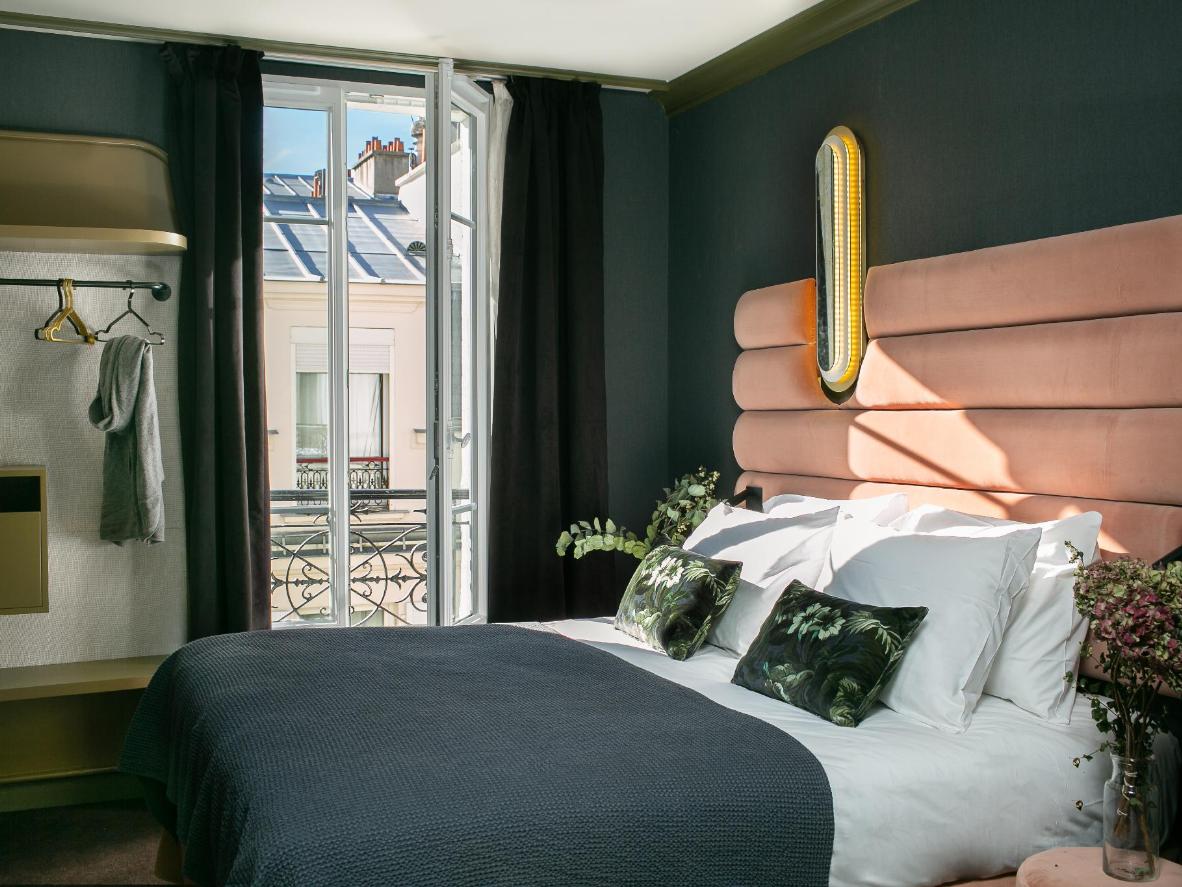 Between the hip areas of Canal Saint-Martin and Belleville, La Planque Hotel's fashionable aesthetic is all about retro chic. From the olive green and burgundy, brasserie-styled exterior, to the interior featuring bookshelves filled with antique oddities and furniture gathered from Parisian flea markets. Relax in suites where earthy, warm colors like mustards, greys, and blush pinks adorn the walls, while windows look out over the city's scenic rooftops. And enjoy a glass of wine in the terrace garden, decorated with potted ferns and a Moroccan, teal-colored tiled floor.