Where to stay during Amsterdam Pride? You may be overwhelmed by your choices. Then again, with a few hundred thousand other visitors catwalking into town arm in arm, you may need to be flexible. Demand is always high in the summer – even higher during Pride Week. But, this city has a lot of rooms to offer and you'll uncover more options as you move further away from the Canal Ring.
When searching for a place, consider some of these Booking.com accommodation partners. They've all attained Travel Proud certification, making them especially inclusive places to stay.
Medieval meets modern
Becoming Travel Proud-certified builds upon a long tradition of Dutch hospitality at The Sofitel Legend The Grand Amsterdam
History seeps from the foundations of The Sofitel Legend The Grand Amsterdam. This 600-year-old building, which began life as a convent, has served as a lodging house for royalty, headquarters for the Dutch Admiralty and even for many years as Amsterdam's City Hall. It's once again a lodging house, although nowadays, you don't need to be born of royal blood to receive majestic service.
The hotel combines Dutch historical grandeur with French-inspired service. The stunning stained-glass windows shine a heavenly light on the building's lavish interiors. A team of butlers will be on standby to offer guests a glass of champagne or summon a horse and buggy for a jaunt around the city. This place is indeed a legend – in particular in the LGBTQ+ community. Its ceremonial Marriage Chamber is a popular choice for lavish LGBTQ+ weddings.
A bucket-list worthy berth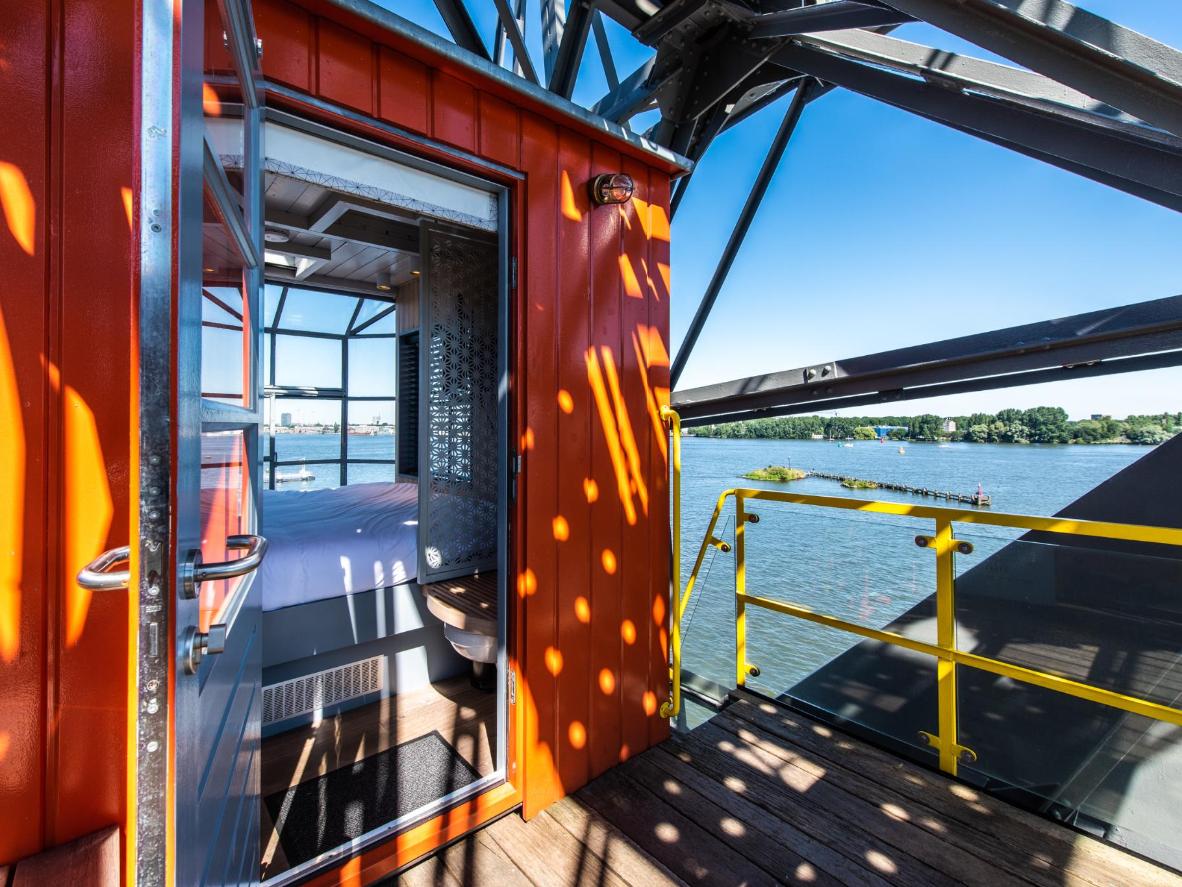 A panoramic bedroom view of the River IJ from The Yays
If you're drawn to the idea of staying at one-of-a-kind, alternative locations, you'll find plenty of houseboats in Amsterdam, but perhaps nothing more unique than The Yays.
This industrial crane located on KNSM Eiland has been transformed into a three-story apartment. If you think the seafaring life might be for you, but you'd prefer a more stable sleeping berth, you'll enjoy waking up to panoramic views of the River IJ from your bed. Central Station is just a short walk away, making this spot that's both relatively close to the action – and totally far out.
When you're here, they're family
Located just inside the outer Canal Ring, Hotel Asterisk is a family-run hotel that offers what Dutch people like to call a gezellig atmosphere: cosy, quaint and convivial – but not overly fancy. Far from the rowdy crowds of the Red Light District but still a short walk from the Museum Quarter, the hotel is run by Irma Bucker and her two children. Johan and Lisa are all grown up now, but they're the perfect pair to help you plan an itinerary. They've not only been around long enough to experience every Pride event, they've also lived in the building since they were toddlers.
A canal house compound
Don't be surprised if the first time you visit the Jordaan neighbourhood, your jaw drops and your mouth announces to no one in particular, "I could definitely live here". You may not be able to make this fairytale-like neighbourhood your forever home, but you can pretend during Pride Week with a stay at The Pulitzer.
The Pulitzer features 25 impeccably restored canal houses from the 17th and 18th century, all linked together via intricate gardens and interiors. The concierge staff is legendary, offering historical tours of the property and beyond. If your fantasy life in Jordaan involves bringing the whole clan, this might be the place. Their Very Important Kids Programme offers treasure hunts around the property and even bedtime stories.
There's no place like a home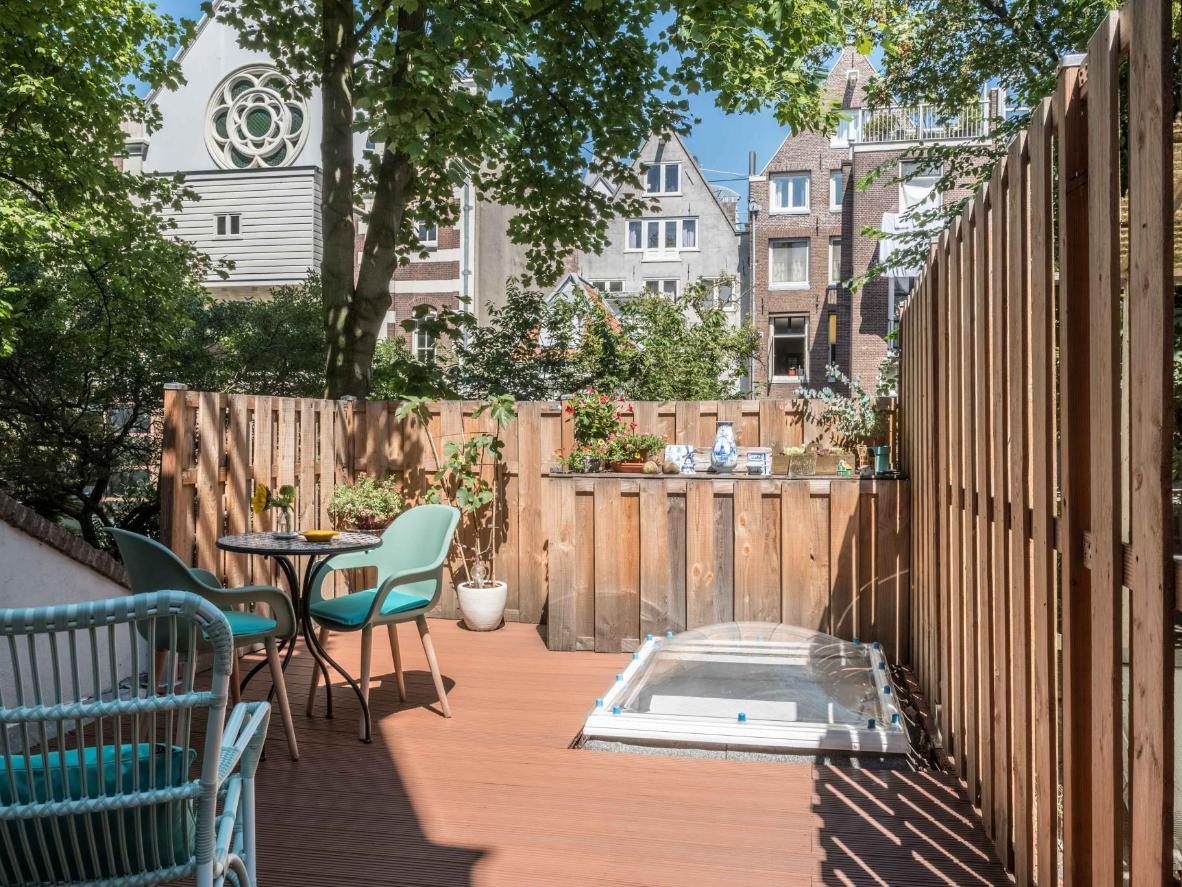 Roof terraces and balconies in Amsterdam are valuable amenities
You'll spot some familiar brand-name hotel chains in Amsterdam, but the local accommodation market is dominated by smaller, independent hotels, bed and breakfasts and homestays. If you've never stayed in someone's house before, this could be an ideal plan for Pride Week. Not only are homestays often a more economical choice, but they also allow you to get a feel for what it's like to live like a local. Located just inside the Canal Ring, @Jo's place is stylish, clean and has one of the most valuable amenities for hot summer nights: a roof terrace.
"When I went with my wife, we loved that in the hotels we did not get questions like, "Do you want two beds?" This simple thing makes a huge difference and makes you feel safe." – Recent Booking.com customer review