It's been a long year. You've been working really hard. It's time for a vacation, and, even if you're on a budget, you deserve to treat yourself at least once on your next adventure.
Here are some glamorous options to add a touch of luxury to your next vacation. Perfect for an anecdote at the next family reunion or to show off a bit on social media – because, let's be honest, that's what being fancy is really all about anyway.
Diamond massage, Chicago, IL
Relax like royalty with a gemstone massage at Trump Tower, Chicago
Nothing says luxury like a high-end spa day. A massage is the perfect way to relieve some tension and feel refreshed. But a normal massage? Yawn. Boring. Why do that when you could be rubbed down with emeralds, rubies, or even diamonds? That's right, the Trump Tower Spa in Chicago offers gemstone spa treatments that will make you feel as opulent as you are relaxed. Take that, seaweed wraps!
You don't have to go far to get some shut eye after your massage. Stay at the same hotel: Trump International Hotel & Tower Chicago. Right on the water, near shopping, and the hustle and bustle of the city – this is the perfect spot for your high-end adventure.
Thousand-dollar ice cream, New York City, NY
Eat like royalty at NYC's Serendipity3
I scream, you scream, we all scream when we see the price tag at NYC's Serendipity3's "Golden Opulence Sundae." You have to order this beauty 48 hours in advance, but for a taste of the Tahitian vanilla ice cream, caviar, sugar orchid, and 23-karat gold leaf all inside a $350 Baccarat crystal goblet with an 18-karat gold spoon, the wait may very well be worth it.
For a less pricier treat, this famous NYC spot offers a full menu, from pastas to pecan pie having you feeling like a thousand bucks without spending it.
Not too far from Serendipity3 is The Plaza Hotel. This famous NYC hotel, located right by Central Park, will have you living your Sex and the City/Gossip Girl/Eloise dreams all vacation long.
Cruise in an exotic car, Los Angeles, CA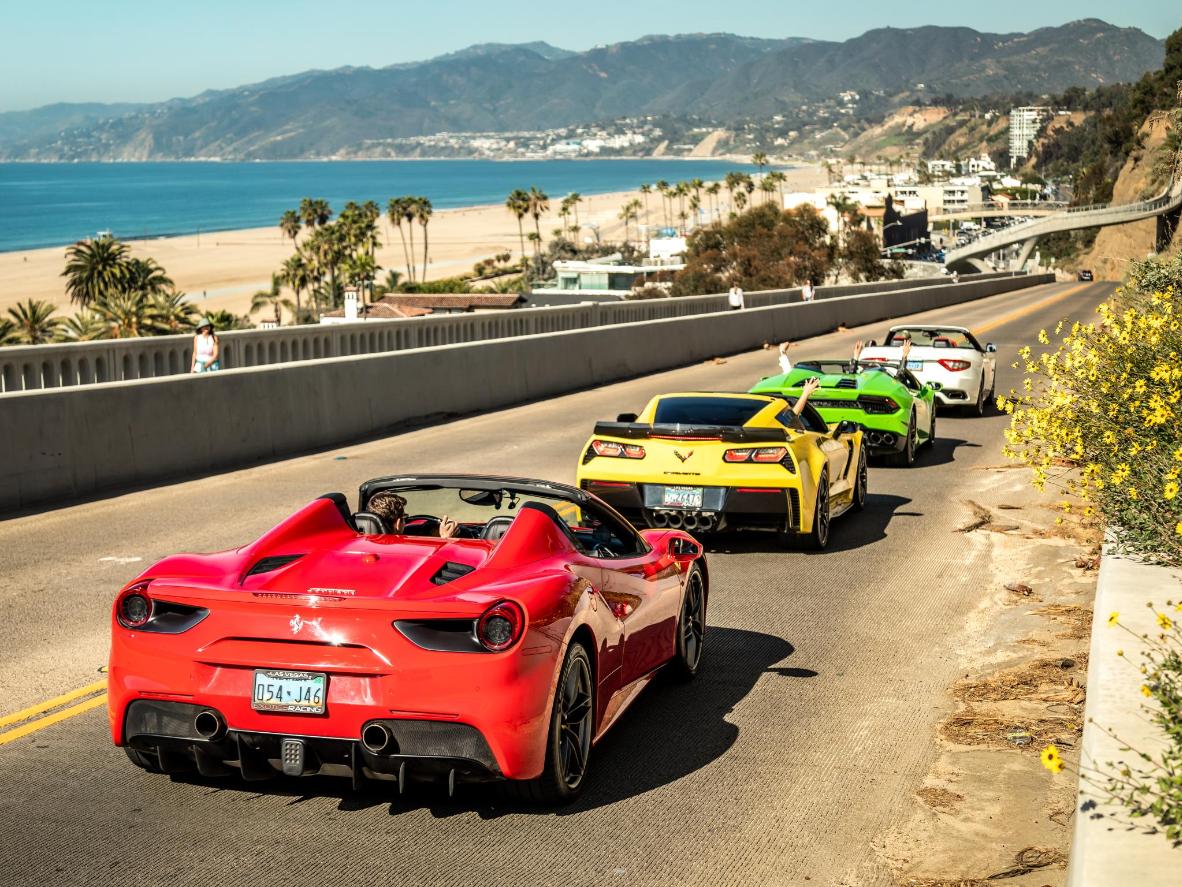 Cruise through LA in style with a Ferrari, Lamborghini, Corvette, or Maserati
If your luxurious side has a bit more need for speed, head to the Los Angeles Exotic Racing School for a tour through some of the city's most iconic locations while trying your hand at driving a Ferrari, Lamborghini, Corvette, or Maserati. Zoom past envious tour buses, get some sweet shots to post online (while parked safely), and live out that La La Land lifestyle, if only for an afternoon.
Stay right on the beach at Casa Del Mar in Santa Monica. It's perfect for travelers looking to live like a movie star or just get some R&R in style during their stay.
Hire a stylist to take you shopping, Miami, FL
Strut your stuff in a professionally-styled outfit in Miami
The Miami fashion scene has all the big names from famed resident Versace to Louboutin, and everything in between. But if all that luxury is a tad overwhelming – don't worry! You can hire your very own personal stylist to dress you up before you go out for the evening. Elysze Held and Kelly Saks are two of the biggest names in town, but there are countless others who can help you strut your stuff!
Stay close to your shopping at the on-the-water rental apartments, Mare Azur Design District Luxury Apartments. Have all the luxuries of home with a view you can't get anywhere else, and you won't have to go far to enjoy all the bags, shoes, and accessories your heart desires.
Eiffel Tower Dinner, Las Vegas, NV
Get a taste of the Parisian lifestyle at the Eiffel Tower Restaurant in Las Vegas
Whether you hit the jackpot at the casino or not, a dinner at the Eiffel Tower Restaurant in
Las Vegas
will make you feel like a winner for sure. Classic French cuisine, over 1400 wine options, and view of the Bellagio fountains – what are you waiting for? Put on some cocktail attire, and enjoy the very best of Sin City.
Continue your Europe-in-America adventure by staying at The Venetian® Resort Las Vegas. This Italian inspired resort and casino has beautiful architecture and even some canals – not to mention, it's eco-friendly.