The world-class facilities regularly built for each of the world's biggest sport events create a crucial legacy for the cities in which they're found. When it comes to swimming, there are multiple impressive pools that serve as monuments to history's greatest sporting moments. And many of them are open to the public.
Whether you want to dive off the boards of the London Aquatics Centre pretending to be Tom Daley or swim a lap or two in the Helsinki pool where a father jumped into the water fully clothed to congratulate his gold medallist son – it's time to pack your swimming costume and visit one of these historic pools.
Sydney Olympic Park Aquatic Centre, Sydney
Visit the pool where Eric Moussambani (nicknamed 'Eric the Eel') swam his way to a surprise victory
Sydney's Olympic Park Aquatic Centre still feels state-of-the-art despite being nearly 20 years old. The venue witnessed one of the world's most memorable sporting moments in 2000 – the surprise victory of Equatorial Guinean swimmer, Eric Moussambani (nicknamed 'Eric the Eel' by the media). Moussambani had never swum in a 100-metre pool before, yet – after two of his competitors were disqualified for false starts – he raced solo to gold, receiving a thunderous ovation. Today, the pool makes a great day out and caters to experienced swimmers, those who prefer gentle lengths and families alike; there are 10 lanes, a whirlpool, a health club (with personal training available), kids' slides and various programmes for children. There are also underwater windows for any members of your party who prefer spectator sport and sitting in the café to working up a sweat. Walk nine minutes home to the highly rated Pullman Sydney Olympic Park.
Piscina Municipal de Montjuïc, Barcelona
Enjoy panoramic views of the city from Barcelona's Piscina Municipal de Montjuïc
In 1929, a spectacular swimming pool was built on the slopes of Barcelona's Montjuïc hill, with panoramic views of the city (including the surreal Spanish Gothic spires of Gaudí's La Sagrada Familia basilica) from the grandstands. Since then, the pool has been refurbished twice – most recently in 1992, when an additional diving pool was added and the capacity was boosted to 6,500 spectators. The main pool (not the diving pool) is open to the public in July and August and serves as a sublime spot to cool down under the blazing Barcelona summer sun (in fact the backdrop is so iconic that the pool was used as the setting of Kylie Minogue's music video, Slow). You can easily get there from the city centre via the funicular train at Paral·lel metro station, meaning you can stay anywhere in the city. But you may well want to be in the nearby Gothic Quarter anyway – the beautiful, minimalist TOC Hostel Barcelona has dorms, private rooms and family suites.
Helsinki Swimming Stadium, Helsinki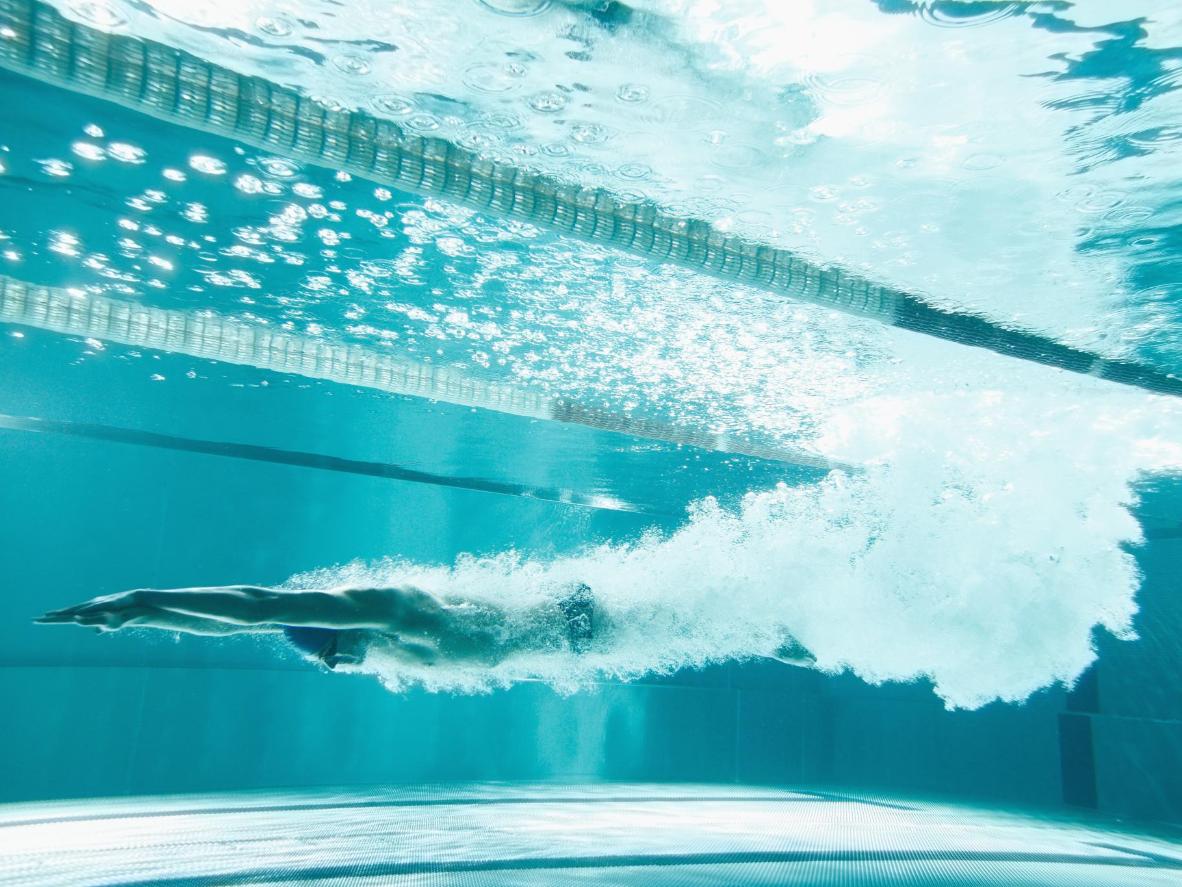 Finland's outdoor Helsinki Swimming Stadium is a popular summer escape for locals and tourists alike
Finland's outdoor Helsinki Swimming Stadium was built to host the Olympic Games in 1940 but due to the outbreak of WW2, the pools were used to store food rations instead. The venue eventually found fame during the 1952 event, when French swimmer Jean Boiteux won gold in the 400m freestyle, his father Gaston jumped into the water fully clothed to embrace him. The pools are now open to the public from May until September and make a popular summer escape for locals and tourists, with coloured flags draped across the breadth of the pool and beige border tiles lending it a nostalgic, retro feel. In addition to the main 50-metre pool, there's a children's pool and play area, a diving pool, saunas, slides and more. Check into Art Deco-themed, boutique Hotel Lilla Roberts in the centre of town, minutes from Helsinki's South Harbour.
London Aquatics Centre, London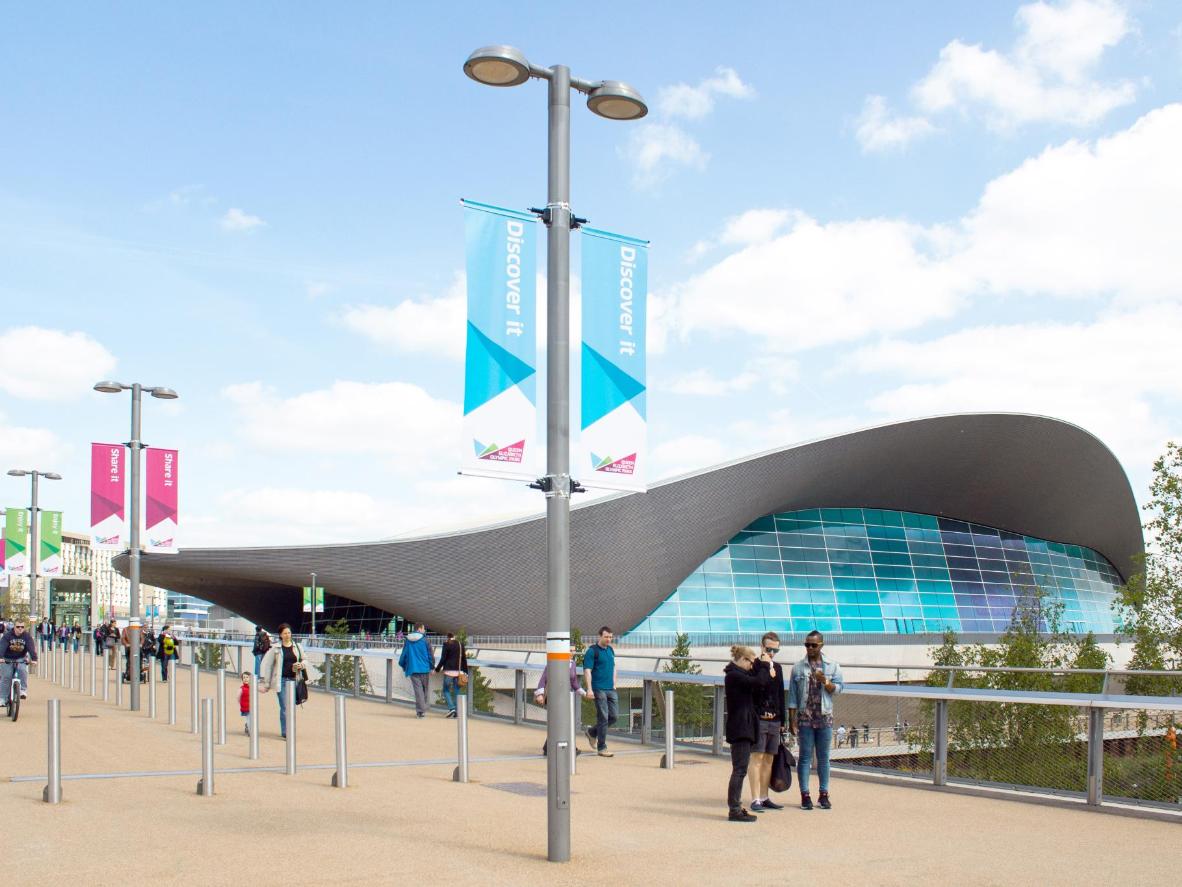 The undulating roof of The London Aquatics Centre was designed to resemble a wave
The London Aquatics Centre was designed by the late, renowned British-Iraqi architect, Zaha Hadid, for the Olympic Games in 2012 – its undulating roof was designed to resemble a wave (the building has also been nicknamed 'The Stingray'). Inside, the cutting-edge, bright space contains two 50-metre heated swimming pools and a 25-metre diving pool, lined with vast glass windows that stretch the length of the building and a large spectator area. Whether you're a novice or a seasoned swimmer, you're welcome to swim lengths solo, use the diving boards or book a private swimming lesson. There are also clubs ranging from water polo and diving to disability swimming. And 'Ultimate Aqua Splash', an inflatable obstacle course set up during UK school holidays with slides that plunge into the pool from the dive platforms (there's no upper age limit so kidults can have a go, too). The centre can be found within London's Olympic Park in the east London district of Stratford. Just a 12-minute walk away, you'll find the industrial-chic MOXY London Stratford.
Parc Olympique, Montréal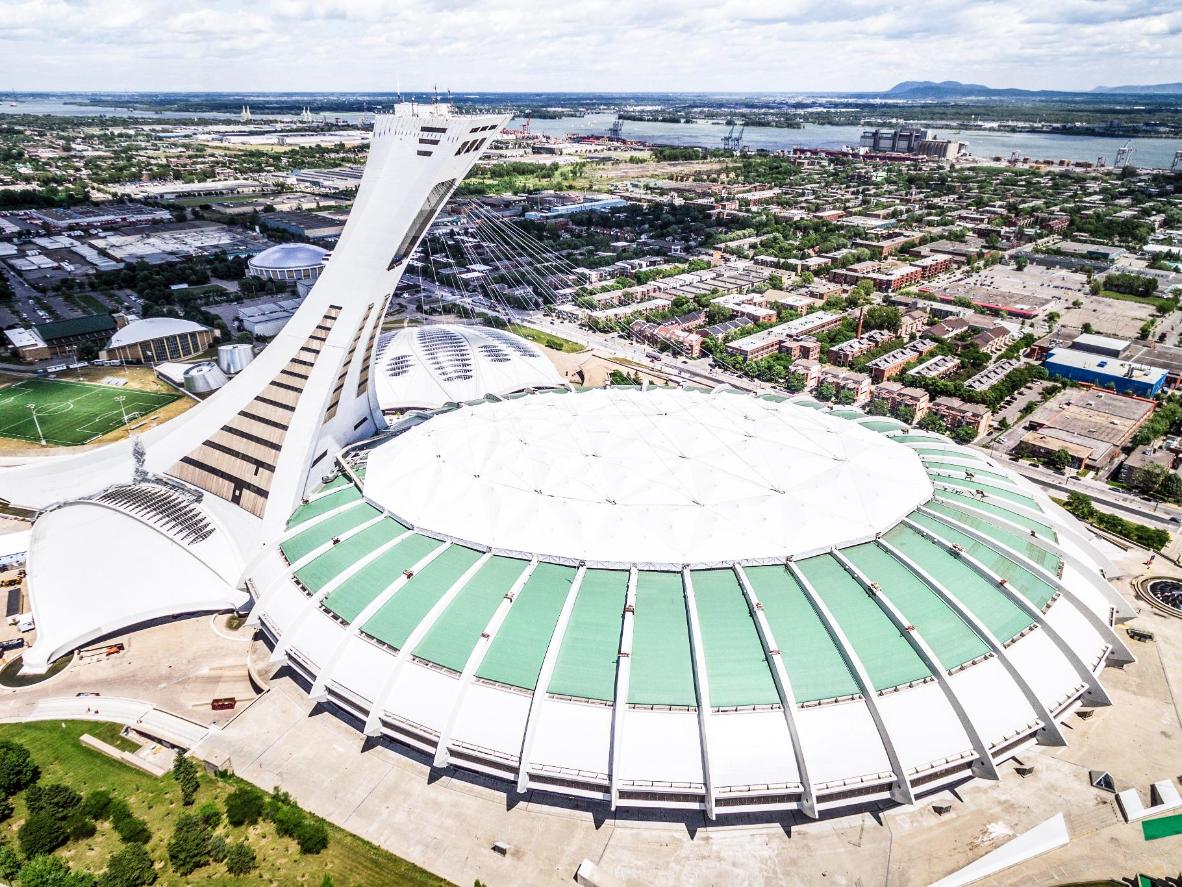 The Montréal Parc Olympique swimming pool hosted in 1976 but underwent major renovations in 2015
The Montréal Parc Olympique swimming pool was built in 1976 but underwent major renovations in 2015, bringing it up to date as an urban training ground and community centre. There are six pools altogether, including the enormous competition pool, a diving pool and a relaxation pool, as well as two gyms and a spinning room. The diving and swimming classes are available for all age groups and ability levels, or you can join a group session for the social aspect. And all of the facilities are fully accessible, including a nice café slash boutique perfect for fuelling up with a smoothie or a snack before or after a workout. Stay in central Montréal at the Auberge de La Fontaine overlooking La Fontaine Park, a 9-minute drive from the Olympic Park.