Chile is one of the world's preeminent destinations for nature-lovers, its landscape encompassing everything from forests, mountains and glaciers to geysers, deserts and beaches. But among its lesser-known natural wonders, Chile has a selection of islands that enthral all who visit their shores – with solemn stone monuments, grandiose fjords and endemic species of flora and fauna.
Isla Grande de Tierra del Fuego
Wander through The Big Island of the Land of Fire
The name Isla Grande de Tierra del Fuego translates to 'The Big Island of the Land of Fire', a description fitting of its larger than life scenery. The island forms the tip of the South American continent, separated from the mainland by the Strait of Magellan and shared between Chile and Argentina (with the western side being Chilean and the eastern Argentinian). Nature-loving visitors will be awed by Isla Grande's Karukinka Natural Park, which is a sprawl of gnarled lenga forests, peaks haloed with snow and rolling carpets of wildflowers. Then there's the Tierra del Fuego National Park, where the natural drama continues to unfold with waterfalls, glaciers and swathes of beech forest – all of which feature nearby hiking trails that provide superb island views. Make your base on the Chilean side at the wonderfully remote Parador Russfin inn.
Easter Island (Rapa Nui)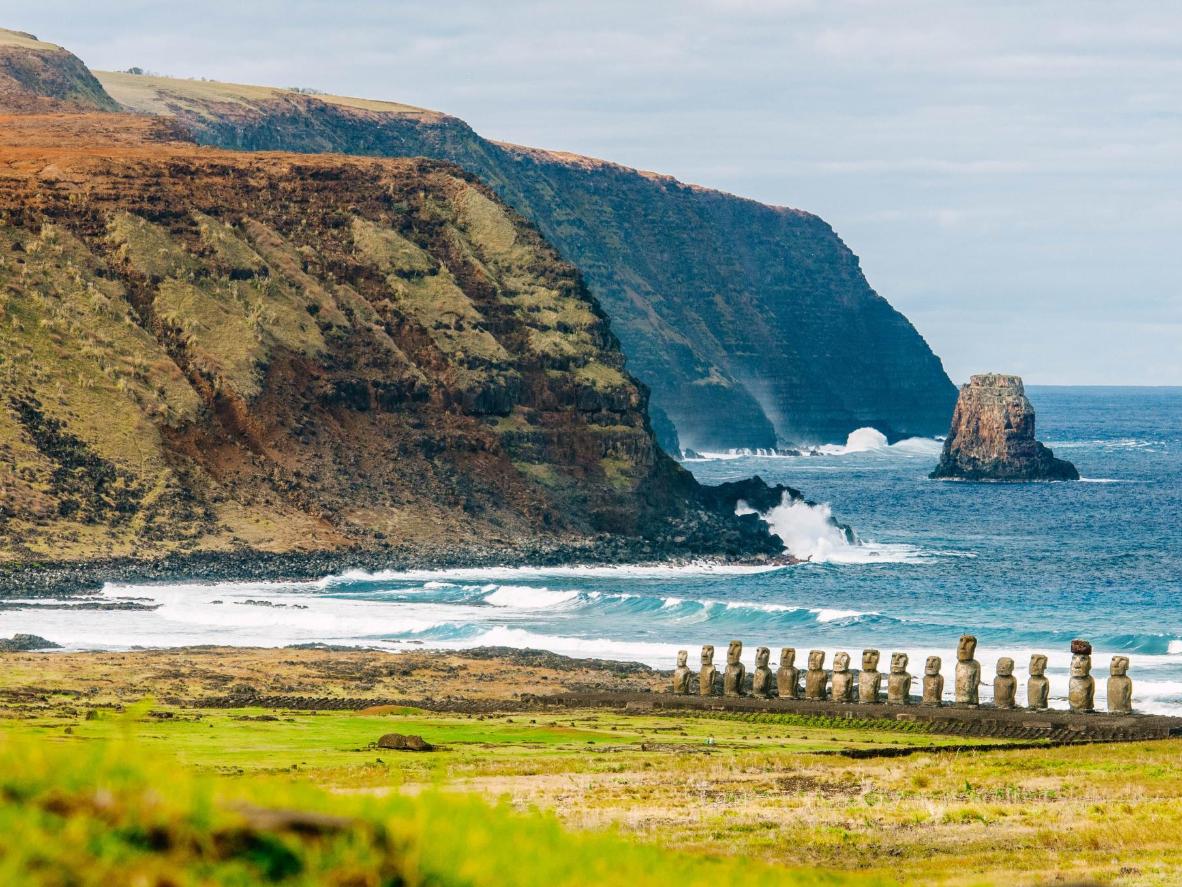 Marvel at the moai statues that were carved here between 1400 and 1650 AD
One of the world's most remote islands, Easter Island (Rapa Nui) is located over 3700km to the west of the Chilean coast. Its remoteness plays into a feeling of otherworldliness, enhanced by the presence of massive, monolithic moai statues that were carved here between 1400 and 1650 AD. These mysterious and solemn stone human figures are numbered at around 900 across the island, many as tall as 12 metres. There's no scholarly consensus as to why they were built but it's believed that they were meant to pay tribute to the leaders and ancestors of the indigenous Rapa Nui people. They make for an arresting sight, perched on steep ridges above the black basalt shoreline – especially in the island's main quarry where you'll find the largest, El Gigante, standing at 72 metres-high. While the moai are the main draw, visitors will also discover that the island is home Rano Kau, an extinct volcano crater containing a freshwater lake, as well as the palm-fringed, coral sands of Anakena Beach. For coastal views, stay at Hotel Hare Noi Rapanui.
Chiloé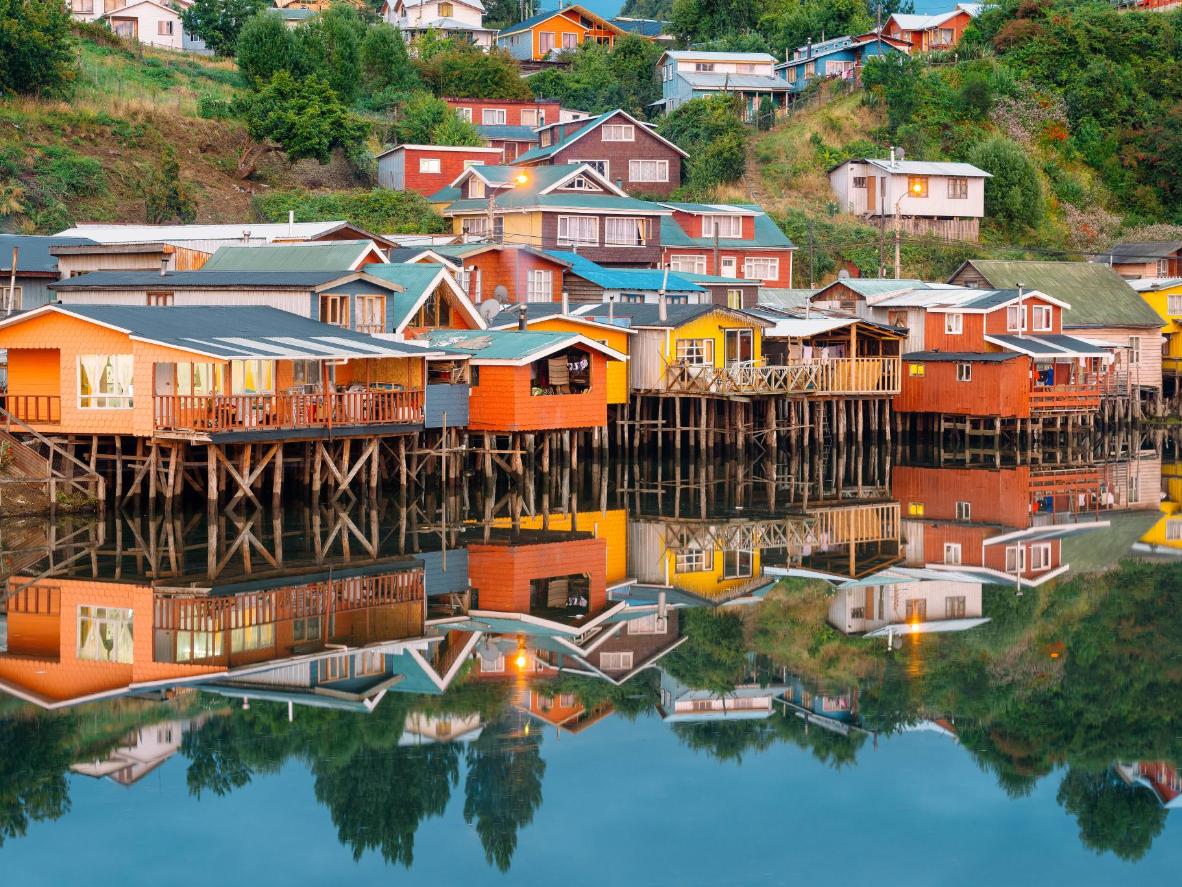 Chiloé is home to colourful stilt houses
Chiloé (also known as Islas Grande de Chiloé) is one of Chile's largest islands and the biggest of the eponymous archipelago. It's a pretty island, especially the provincial capital, Castro, home to colourful palafitos – otherwise known as stilt houses – stacked along the shore. Here and beyond, you'll find examples of the nautical churches native to Chiloé, which were built by shipbuilders entirely out of local timber and wood shingles. Each has its own unique colour scheme, from sea blues to canary yellows, and 16 of them are now classified as UNESCO World Heritage Sites. In addition to the architecture, note the distinct local food culture that features multiple incarnations of the humble potato (not surprising considering there's allegedly over 400 varieties of the vegetable on the island). Expect helpings of these, saddled with shellfish and meat when you try curanto, a potato, meat and seafood dish cooked over hot coals with large leaves for steaming. Castro has a range of restaurants to choose from, and you can stay in the midst of the action at Hotel & Cafe Veliche.
Juan Fernández Archipelago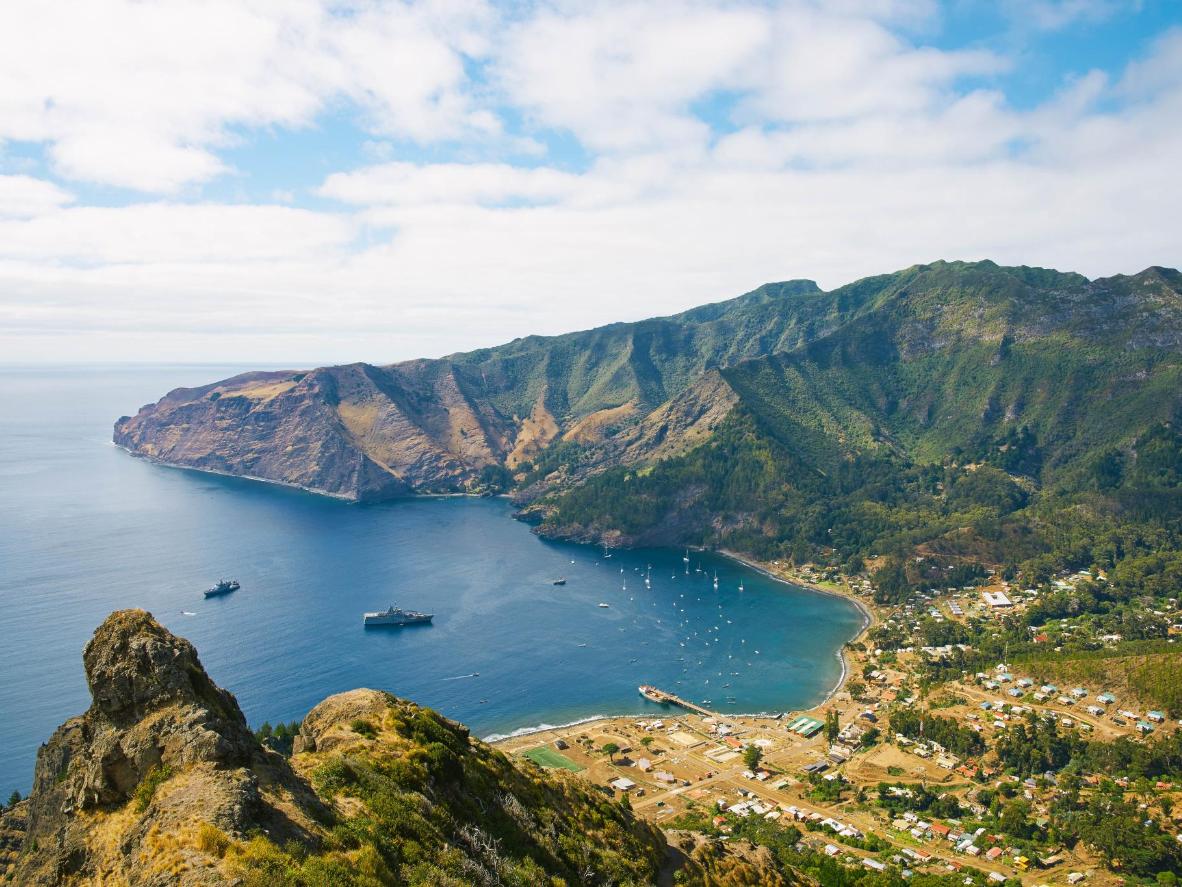 Many rare, endemic species can be found on these three islands
Juan Fernandez is an archipelago that also serves as a national park, consisting of three islands: (Santa Clara, Robinson Crusoe and Alejandro Selkirk) located 600 kilometres west of Chile. The islands are known for having been home to marooned Scottish sailor, Alexander Selkirk, who lived as a castaway on Isla Robinson Crusoe for four years from 1704 – supposedly inspiring Daniel Defoe's novel of the same name. What makes this archipelago so distinctive, however, is its ecosystem. Many rare, endemic species reside here, including the Juan Fernández fur seal, the Juan Fernández hummingbird and two special species of the petrel seabird. You can also follow treks through eucalyptus forests past the Fuerte Santa Barbara (a ruined fort used as a lookout in the 17th and 18th centuries when the islands were used as a hideaway for pirates), all the way up to El Mirador de Selkirk – where Selkirk used to scan the horizon for ships. You can take a short flight or long boat journey here from Santiago. Return to Hostal Rio Amazonas.
Magdalena Island
The only inhabitants on Magdalena Island are penguins
If there's one thing worth mentioning about Magdalena Island, it's penguins. In fact, its only inhabitants are penguins (it's where you'll find one of Chile's most important colonies) And it's home to Los Pingüinos Natural Monument. The penguins are Magellanic penguins and there's thought to be over 50,000 breeding pairs on Magdalena. Visit between October and March and you're guaranteed sightings of these little creatures, bobbing through the water and waddling across the beaches. Catch a ferry here from Punta Arenas and stay at Hostal Boutique Patagonia Mística.