Halloween (also known as All Hallows' Eve or All Saints' Eve) can be traced back to the ancient Celtic festival of Samhain (pronounced sow-in), making it one of the world's oldest festivals. But its modern day incarnation is something rather different, involving fancy dress parties, trick-or-treating and carving pumpkins into lanterns in countries like the USA, while you'll find ghost tours, fortune-telling and bonfires in countries like Romania and the UK.
Here are six different Halloween or similar celebrations around the world.
Bran Castle, Romania
Bran Castle feels like a vampire's home
Bran Castle is pretty creepy, whether or not it really was the home of fictional character, Count Dracula. Atop a 200-foot rock in Romania, this 14th-century fortress peeks out of the pine tree tops with red tiled, turreted roofs and weathered grey stone walls. Speculation has it that the Castle inspired author Bram Stoker, who based Dracula on the real life adventures of notorious Romanian hero, Vlad the Impaler. But truth be told, there is likely no connection – just considerable coincidence that this 14th-century fortress certainly feels like a vampire's home, with dungeons, dark, wood-panelled rooms and dusty artefacts. Make the most of the castle's atmosphere by signing up to a night tour on Halloween via a private company. Stay at Trattoria Al Gallo, a highly rated accommodation just a few minutes' walk from Bran Castle.
Sleepy Hollow, USA
A Jack O'Lantern patrolling the streets of Sleepy Hollow
Washington Irving's Legend of Sleepy Hollow novella about a headless horseman is so popular in the village of Sleepy Hollow that the residents spend all of October celebrating it. Tributes include 'haunted' hayrides, midnight tours through the Sleepy Hollow Cemetery, live music, and both daytime and nighttime street fairs, depending on visitors' appetite for horror. Not only can you spend Halloween hanging out at Irving's grave, there's also the Jay Ghoul's House of Curiosities at the nearby and achingly atmospheric Gothic Revival Country House. The nearest accommodation to the town is the suitably spooky Castle Hotel.
Corvinesti Castle, Romania
See the well built by 12 Turkish prisoners who met their fate at Corvinesti Castle
The 14th-century Corvinesti Castle is one of Romania's most magnificent fortresses. Approached via an impressive wooden drawbridge, Its Gothic-Renaissance buttresses, chapel, dungeons and sumptuous dining halls are engrossing. It also features a 100-foot well dug into stone, which is believed to have been built by 12 Turkish prisoners who were promised to be set free if they could reach water. After 15 whole years of labour, they finally did – but were not freed. An inscription on this particular well has been translated to 'you have water but no soul.' Check-in to the nearby Hotel Krystal.
Mexico City, Mexico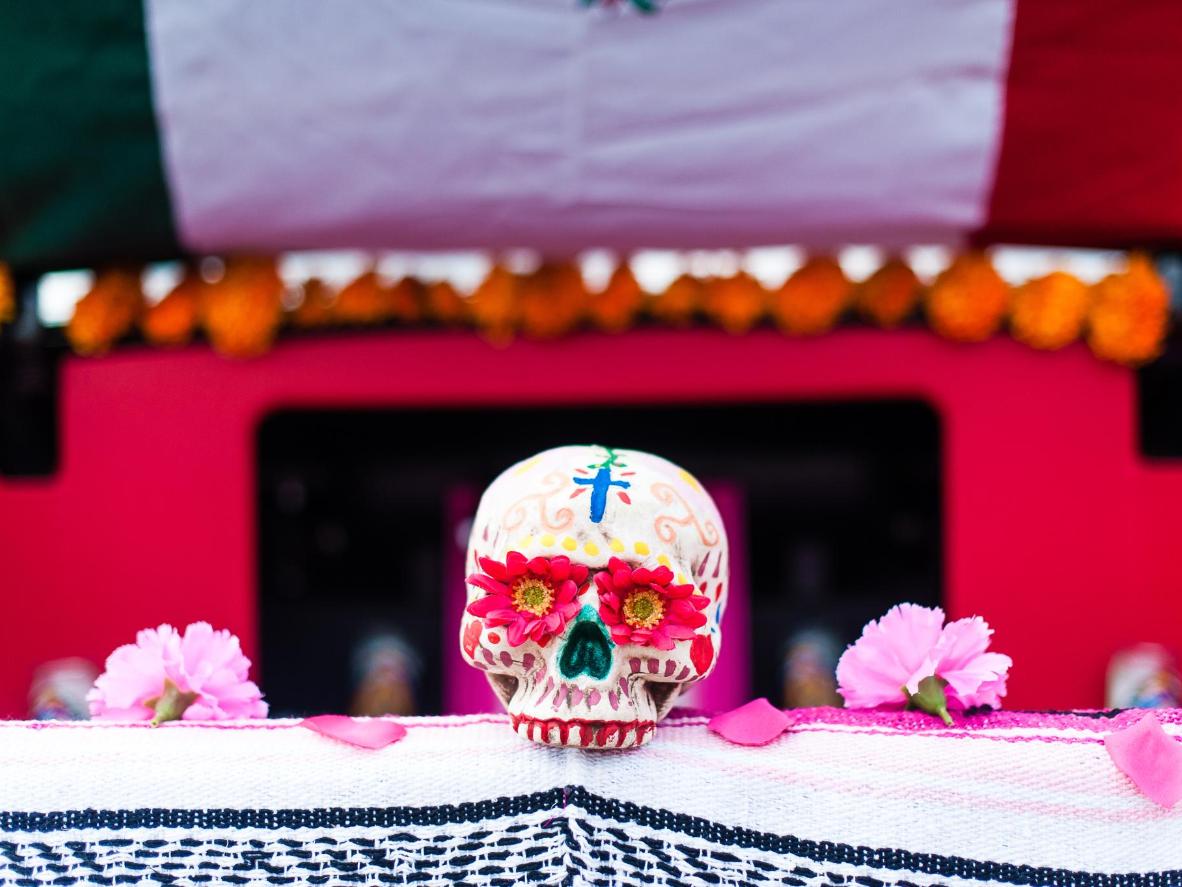 Though separate to Halloween, Día de los Muertos' painted and flower-adorned skulls make for a spooky trip
Though it's a separate cultural event to Halloween, Mexico's Day of the Dead (or Día de los Muertos) seems to be ever on the rise as a theme for spooky fancy dress. This traditional Mexican celebration originally fell at the beginning of summer but gradually it was moved later in the year to coincide with Christian traditions and now takes place on November 2nd each year. A holiday marked by painted faces and skulls decorated with vivid marigolds, Día de los Muertos sees family and friends gather to celebrate deceased loved ones, and is a surprisingly uplifting and happy tradition. Head to Mexico City to see festivities unfold; you'll find an infectiously celebratory atmosphere, ofendras (remembrance altars) assembled in the streets and activities ranging from gatherings at cemeteries to the city's parade, 'Desfile de Día de Muertos'. This parade has become a big event, drawing hundreds of thousands of spectators to see a display of large skeleton puppets, alebrijes (mythical spirit creatures), traditional dancers, and more. But the parade is actually a relatively new tradition, having only started in 2016 – after a staged Day of the Dead parade in Mexico City featured in the opening sequence of 2015 James Bond film, Spectre, the goverment organized a real-life one to tap into interest in the film. And it's been going ever since. Stay at the Hotel Histórico Central.
Salem, USA
The Salem Witch Memorial in Massachusetts
Another North American town with a powerful, haunted history, Salem in Massachusetts became famous in the 17th century for the Salem Witch Trials and inspired American playwright, Arthur Miller, to write his seminal play, The Crucible. Today, the town is full of memorials and museums to the women who lost their lives during the witch hunts. But there is a slightly more lighthearted side to the town's celebrations, as the Annual Psychic Fair and Witchcraft Expo runs throughout October and finishes with the Salem Witches' Halloween Ball at the Hawthorne Hotel. Both the Expo and the Ball are a great opportunity to meet modern day Wiccans, mediums, psychics and crystal ball readers.
Edinburgh, Scotland
Dalhousie Castle Hotel
The 13th-century Dalhousie Castle has so many ghosts – including Hollywood favourite, the Grey Lady – that the current day owners have set up their own ghost tours (a Halloween edition will be particularly thrilling), in a bid to make sure that visitors don't miss any of the many, many, opportunities for spirit-spotting. Another of the famous deceased residents (and a highlight of the ghost tour) is Sir Alexander Ramsay, who was reportedly starved to death in 1342 by the castle's then-owner. However, visitors don't have to join the official tour to meet Sir Ramsay or the Grey Lady, with many guests reporting incidents of moving furniture, ghostly hands, unsettling noises and unexplained footsteps all of their own accord.