Midsummer (otherwise known as the summer solstice) is when the sun hits its highest point in the sky, making it the lightest day of the year. In the northern hemisphere this happens in June and it marks a period of celebration, especially in the Nordic region. It's a time for donning floral garlands, recounting mythical sagas and singing around bonfires. Plan a visit to one of the Nordic countries when the light's on your side for festivities that will buoy you through the coming winter.
Sweden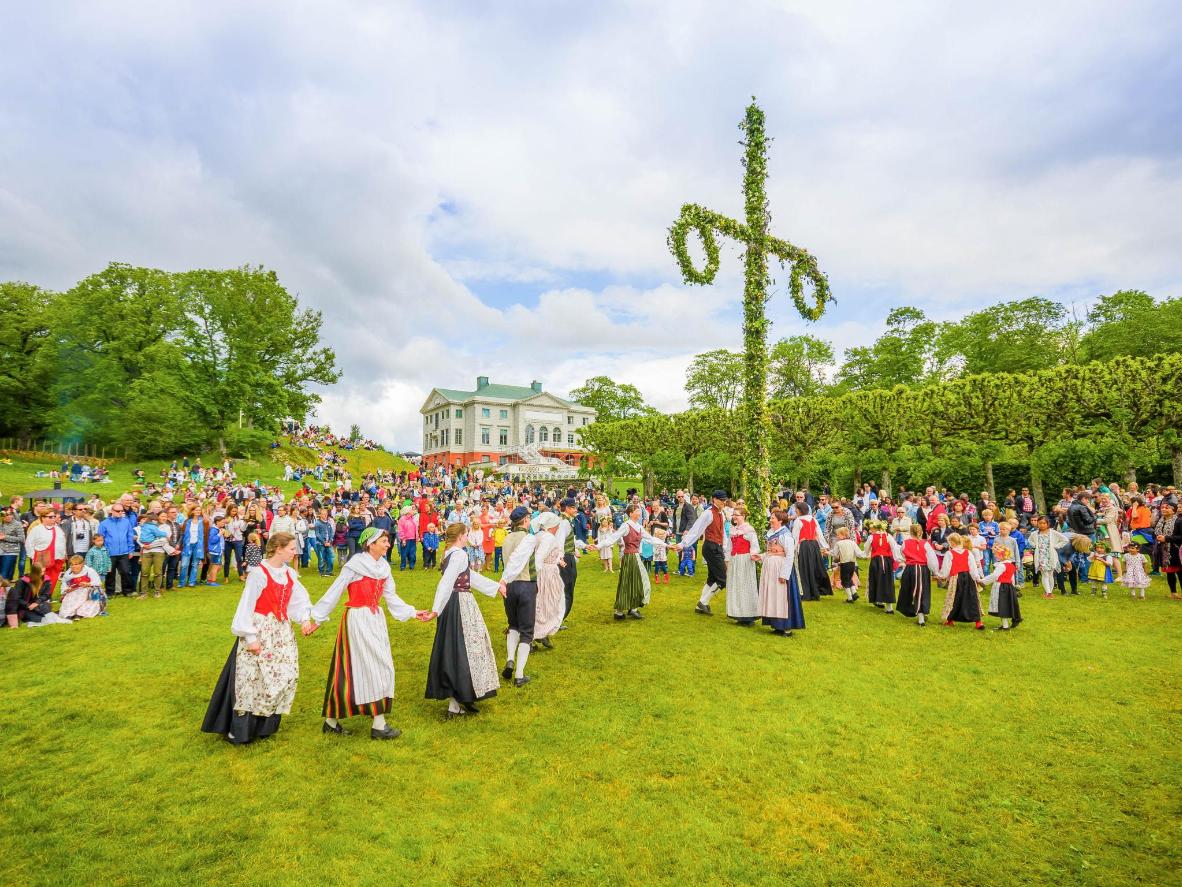 Dancing around the maypole is an essential part of Swedish Midsummer
Sweden has some of the most convivial Midsummer (Midsommar) celebrations of the Nordics. Celebrations are flower-filled affairs occuring on the Friday before the summer solstice. On Midsummer's Eve, Swedes flock to summer houses in the countryside to dance around the maypole. Groups head out into the woods in search of wildflowers, which later become pretty garlands for everyone to wear when the maypole 'frog dancing' commences (where Swedes circle the pole imitating frogs). Other activities include potato sack races, tug of war and plenty of eating; think mounds of herring, new potatoes and boiled eggs, followed by a generous slice of strawberry cake and schnapps. Knowing a local is the best way to get involved and invited to a summer house. But if you're simply visiting for the weekend there's a range of public celebrations that are equally good, such as those at the open-air museum of Skansen in Stockholm or in the Darlarna region in the middle of Sweden for a more traditional experience. If you choose the latter, book a stay this country store-turned-bed and breakfast.
Denmark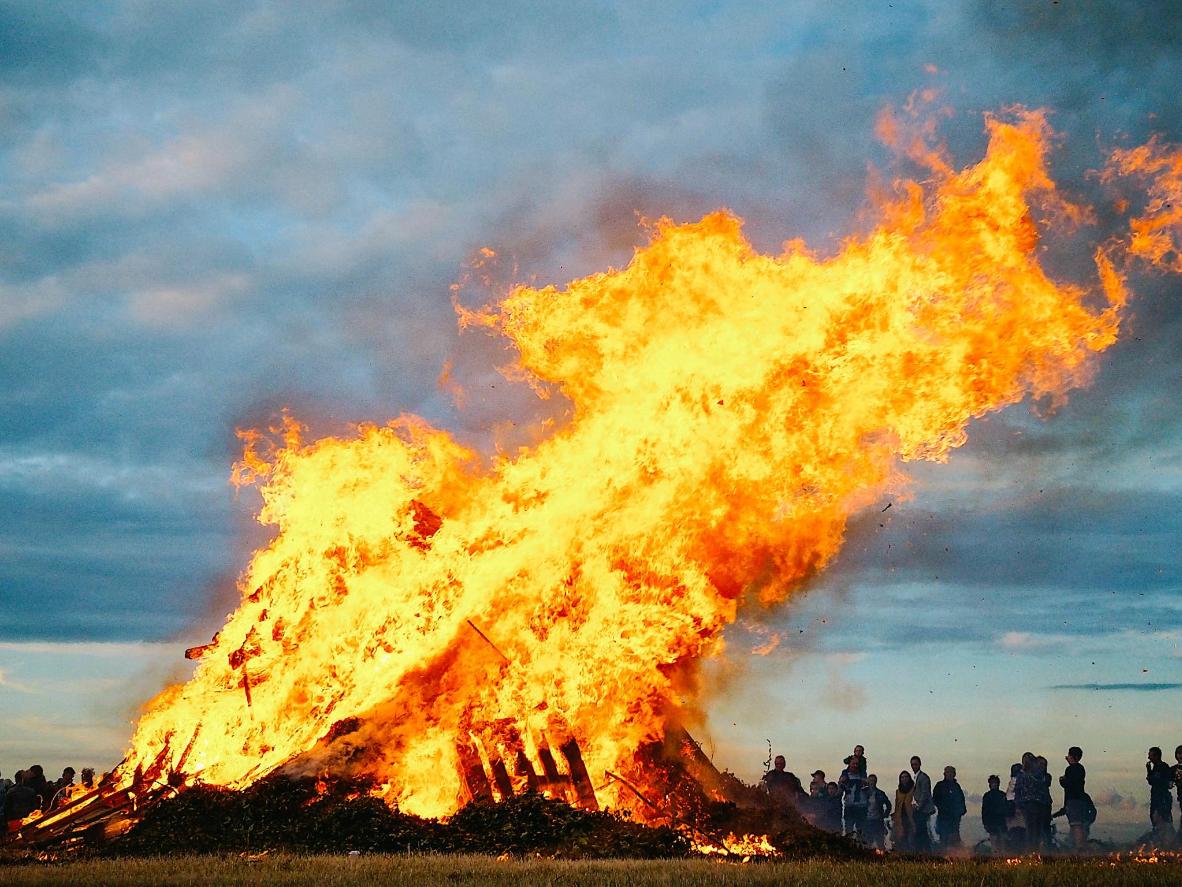 Bonfires are lit all along the Danish coast
Midsummer in Denmark is known as Sankt Hans Aften (St John's Eve) and is always celebrated on the evening of 23rd June. Since medieval times, the day before Midsummer was the day doctors and physicians of the time would go out to gather herbs needed for the year ahead, as it was around this time that the herbs' medicinal properties were at their most potent. There's plenty more myth tied up in the Danish celebration; across the country, you'll find bonfires spring up and straw witches being burned – another tradition derived from medieval times where burning a witch was seen as a way of warding off evil spirits. It's less sinister than it sounds and many of these bonfires take place along the Danish coast, where flames and smoke stacks lick the sky like little beacons on the shore. Head to Copenhagen and the North Zealand coast where you can skinny dip after the bonfire, eat snobrød and pølsen (hot dogs) and sing Midsommervisen – the traditional Midsummer song. Rungstedgaard by Rungsted harbour is a great spot for a coastal view.
Norway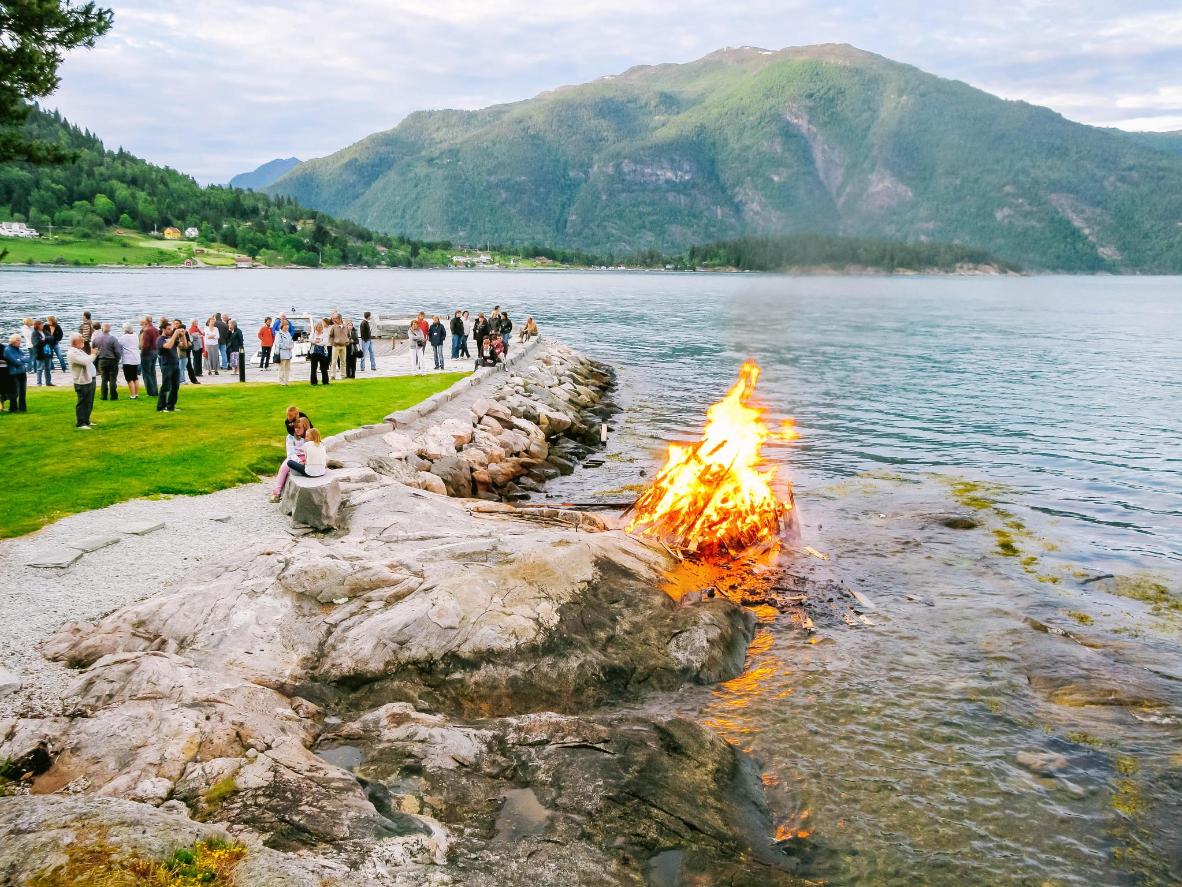 Light a bonfire and head out onto the water for the best views
Norway, like Denmark, celebrates Midsummer on 23rd June and it's also known as Sankthansaften or Jonsok depending on where in Norway you're from. Jonsok means 'John's Wake' and refers to the pilgrimages made to churches and holy springs back in medieval times, and the Christian connotations still linger today. They celebrate with bonfires too, but there's a focus on optimism and new life, through mock weddings which are organised to celebrate the blossoming of a prosperous life ahead. Other traditions include barns being decorated in birch branches, rowanberries and cherry branches in order to prevent trolls from stealing the cows. Celebrating out on a boat in the fjords is a popular and picturesque way to spend Midsummer; head to Bergen where you'll be within reach of a range of fjords and towns. Stay at Opus XVI.
Finland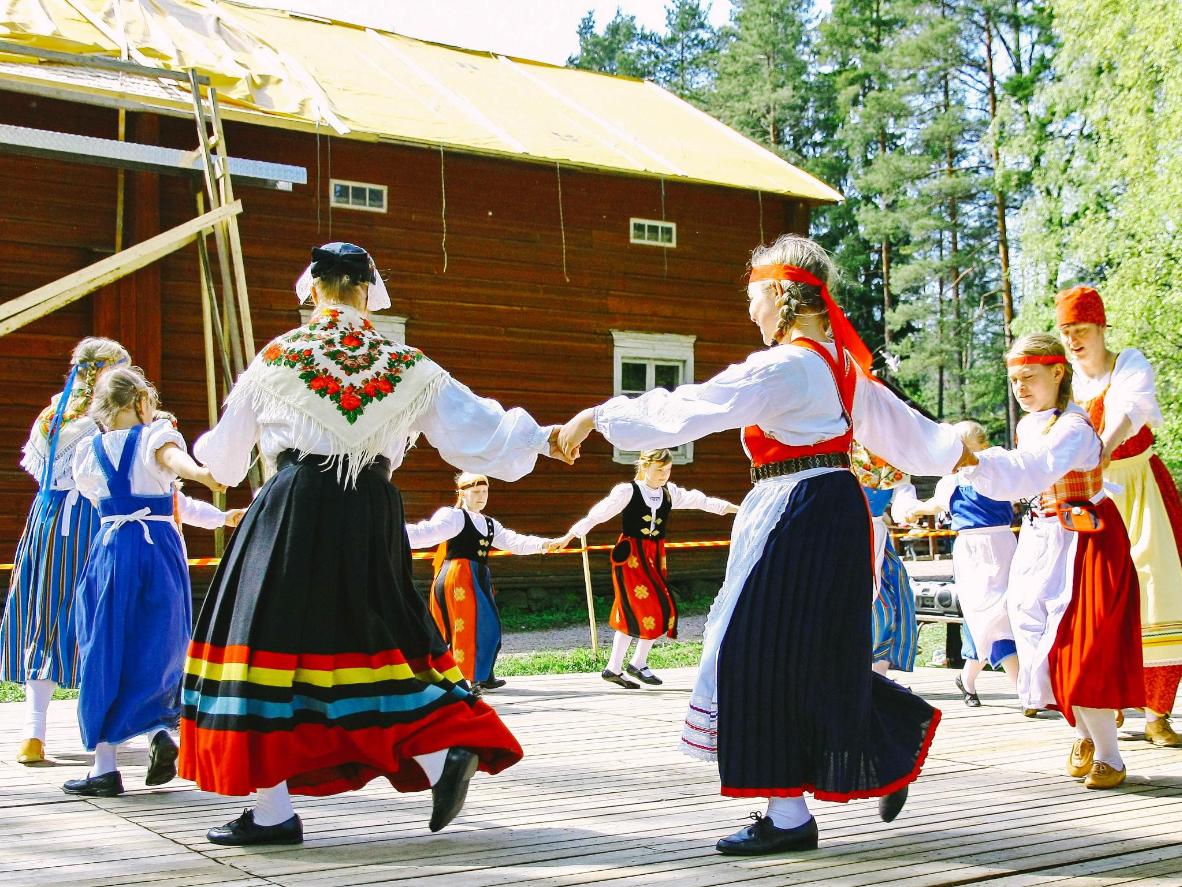 In Finland, the louder you sing at Midsummer the luckier you'll be for the coming year
The Finns, like the Swedes, prefer a weekend escape come Midsummer rather than a one-night-only celebration. Most head to cottages near the water where you'll never be too far from a sauna – the essential first stop for any Finn. Expect bonfires (known as kokko) to be lit followed by rounds of boisterous singing; the Finns follow the tradition that the louder you sing, the luckier you'll be for the coming year. Aside from this, expect the barbeque to be roaring and to join in on a game of mölkky, a type of Finnish lawn bowling. One of the best places for a Finnish Midsummer is the island of Seurasaari, just outside the capital Helsinki, which has hosted public celebrations for 60 years. These modern apartments in central Helsinki are a good base.
Iceland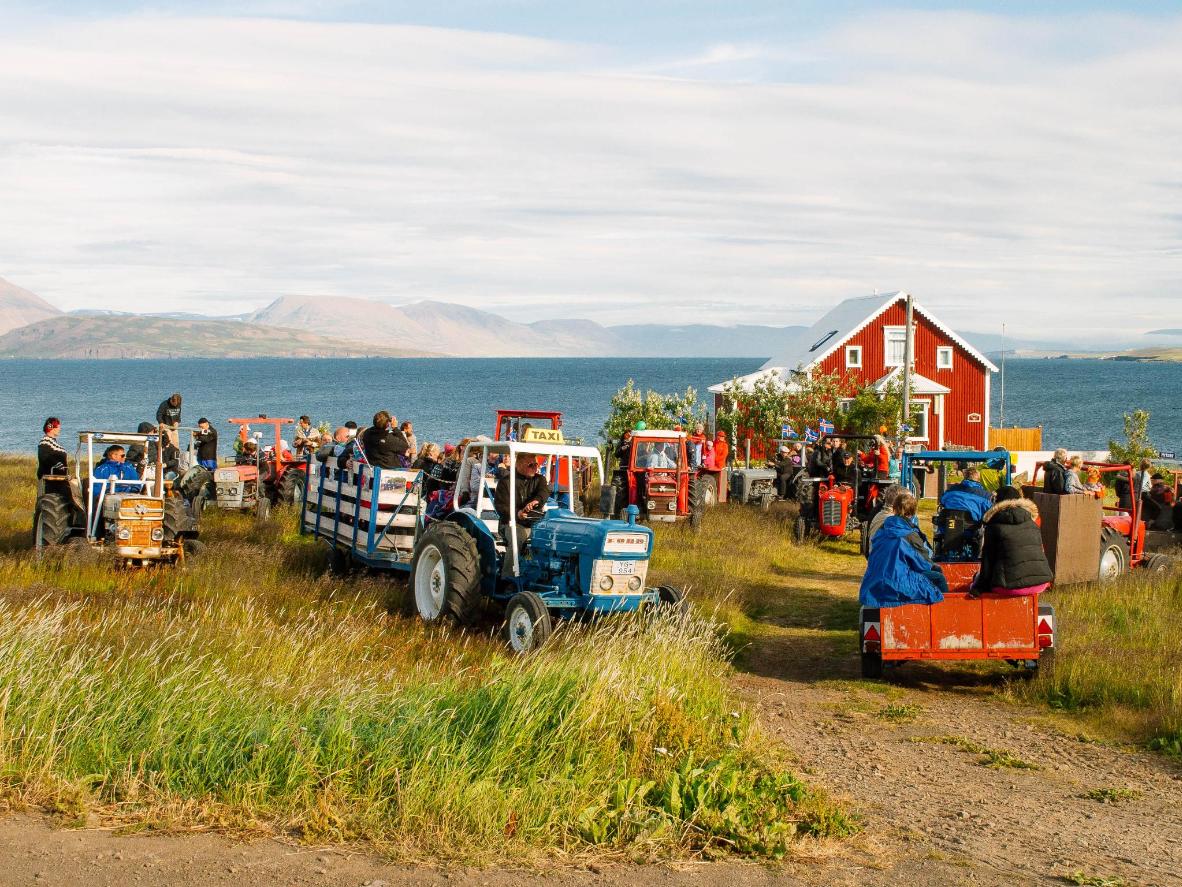 Iceland is full of alternative Midsummer celebrations – incluing tractor trips
Jónsmessa (Midsummer's Night) is celebrated on 24th June and true to Iceland's heritage, it's an event built on folklore and stories (Iceland is the home of the saga after all). Allegedly on this night, cows develop the ability to speak and seals take on human form. Better yet, it's recommended that Icelanders roll naked in the dewy grass on Jónsmessa, which is believed to cure any medical ailments individuals may be suffering from. It's a day and night of fantasy and fun and should you find yourself unsure of what to do that's ok; another very literal and specific belief here is that if you wait at an intersection where each road leads to a church, elves will approach you and seduce you with gifts. Begin in Reykjavík with a night at the Sand Hotel, where there will be plenty of festivals in town if the elves don't lure you away.