South Korea has long been known for balancing futuristic urbanism with traditional culture and natural beauty. All these elements come together to create some of the world's most stunning resorts.
Whether you're looking for a rejuvenating, nature-filled escape or a more hedonistic romp, South Korea has a getaway for you to relax and indulge.
The Shilla Seoul
Relax at The Shilla Seoul, a retreat surrounded by the beauty of the outdoors
Looking for a hotel that combines traditional Korean elegance with refined modern design? Stay at The Shilla Seoul, nestled in the heart of South Korea's capital city and just a few minutes' walk from the beautiful, historic Jangchungdan Park.
The Shilla is sure to be a hit with foodies – don't miss the popular apple mango bingsu (a shaved ice dessert) or the world-class whiskey selection in their lounge, The Library. After you've had your fill, take a dip in the Urban Island Outdoor pool—which changes themes depending on the season—or treat yourself to some luxury by renting a private cabana to relax in.
JW Marriott Jeju Resort & Spa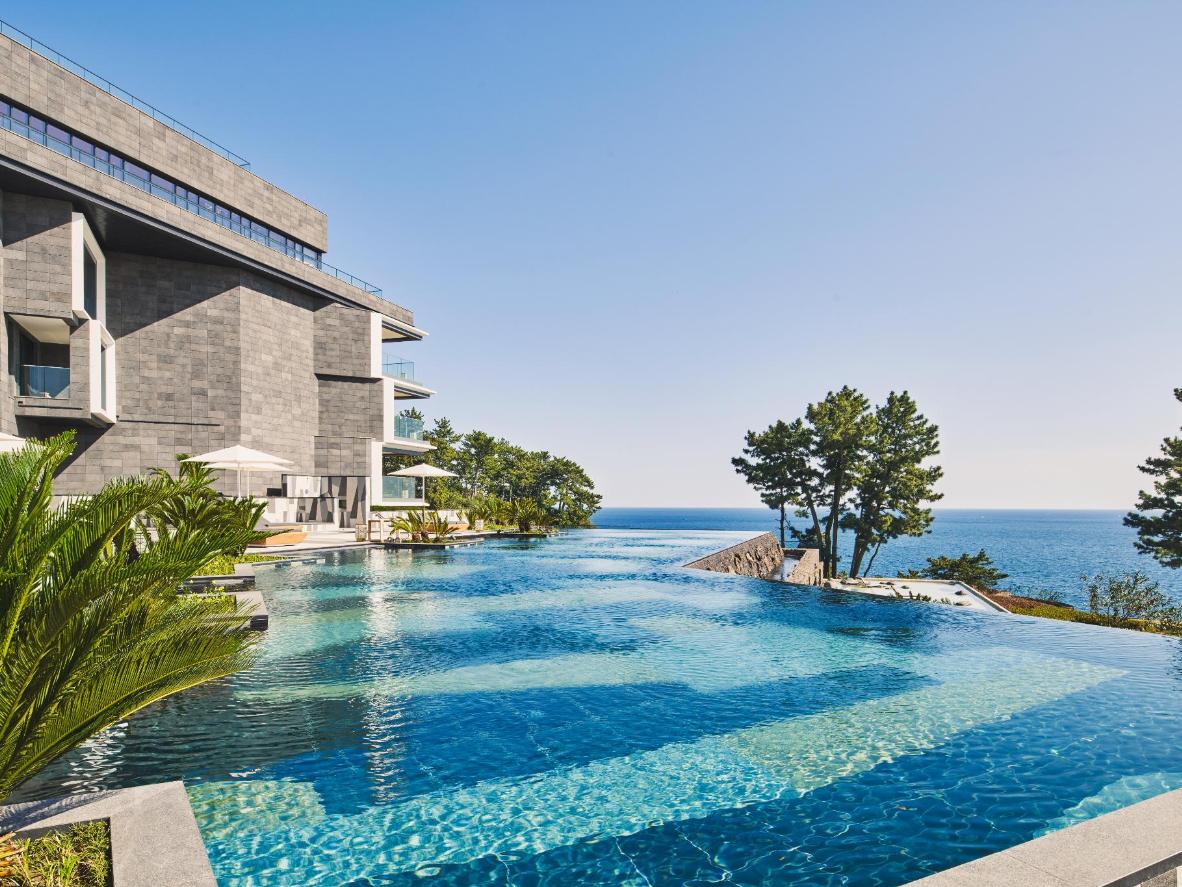 Enjoy stunning sea views at JW Marriott Jeju Resort & Spa
Escape the bustle of Seoul with a trip to Jeju Island, a subtropical island south of the South Korean mainland. Take in Jeju Island's dramatic landscapes and pleasant climate at the cliffside JW Marriott Jeju Resort & Spa, which boasts three swimming pools – including an infinity pool that overlooks the azure ocean.
Families with children can take advantage of the colorful Kids' Camp. Meanwhile, food lovers of all ages can enjoy a leisurely brunch at the excellent Island Kitchen, which features local flavors and ingredients to showcase the bounty of Jeju.
Ananti at Busan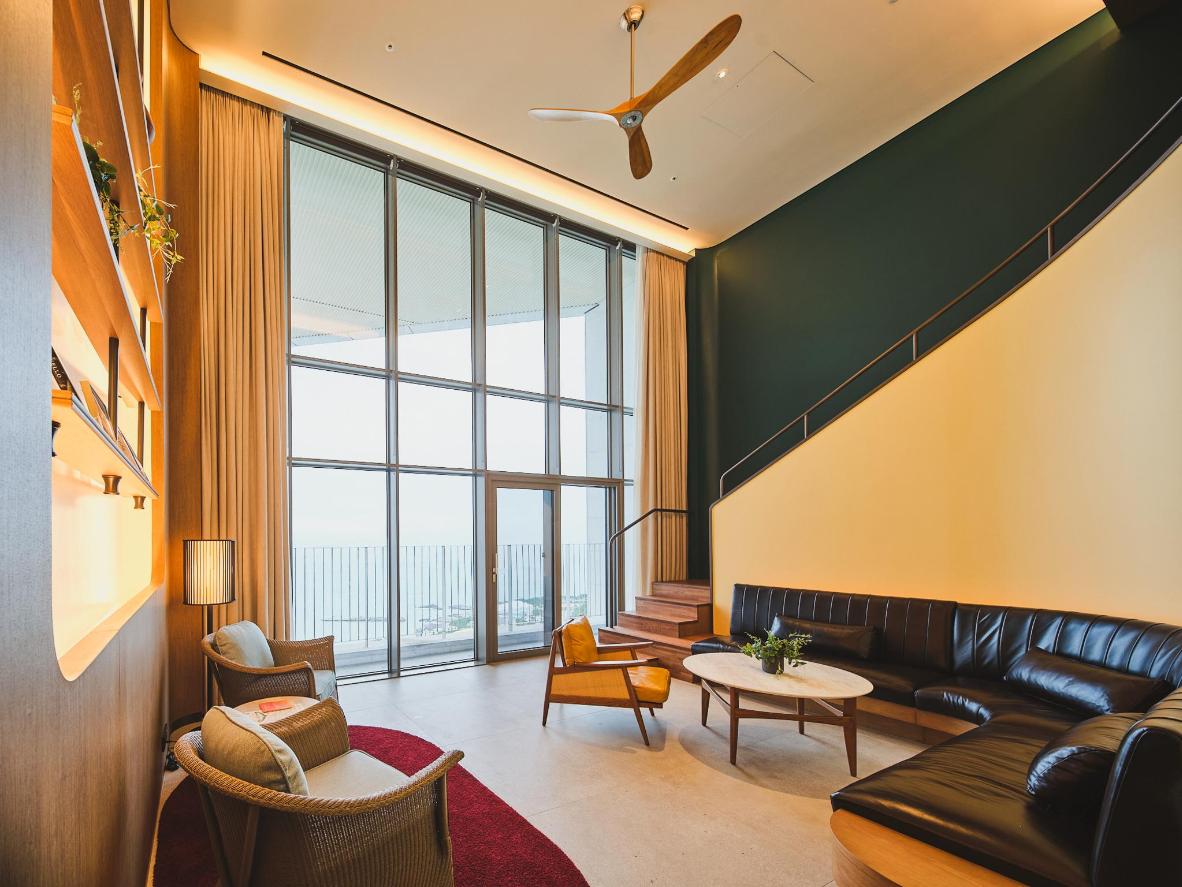 Indulge in the opulence and breathtaking views of Ananti Resort
Oceanside relaxation and iconic design come together at Ananti at Busan. Ananti at Busan is the ideal getaway if you're looking for a little extra space to spread out. They have a selection of suites and cabins, each with a unique design and layout.
While you could spend your entire vacation lounging beside the massive Spring Palace pool or exploring L.P. Crystal, the stylish in-hotel mall, the hotel is also a perfect jumping-off point to explore Busan and the coastline. Take the beach train from Songjeong Beach to Haeundae Beach to catch the views, or embrace your wild side and try out the nearby Skyline Luge.
Lotte Resort Sokcho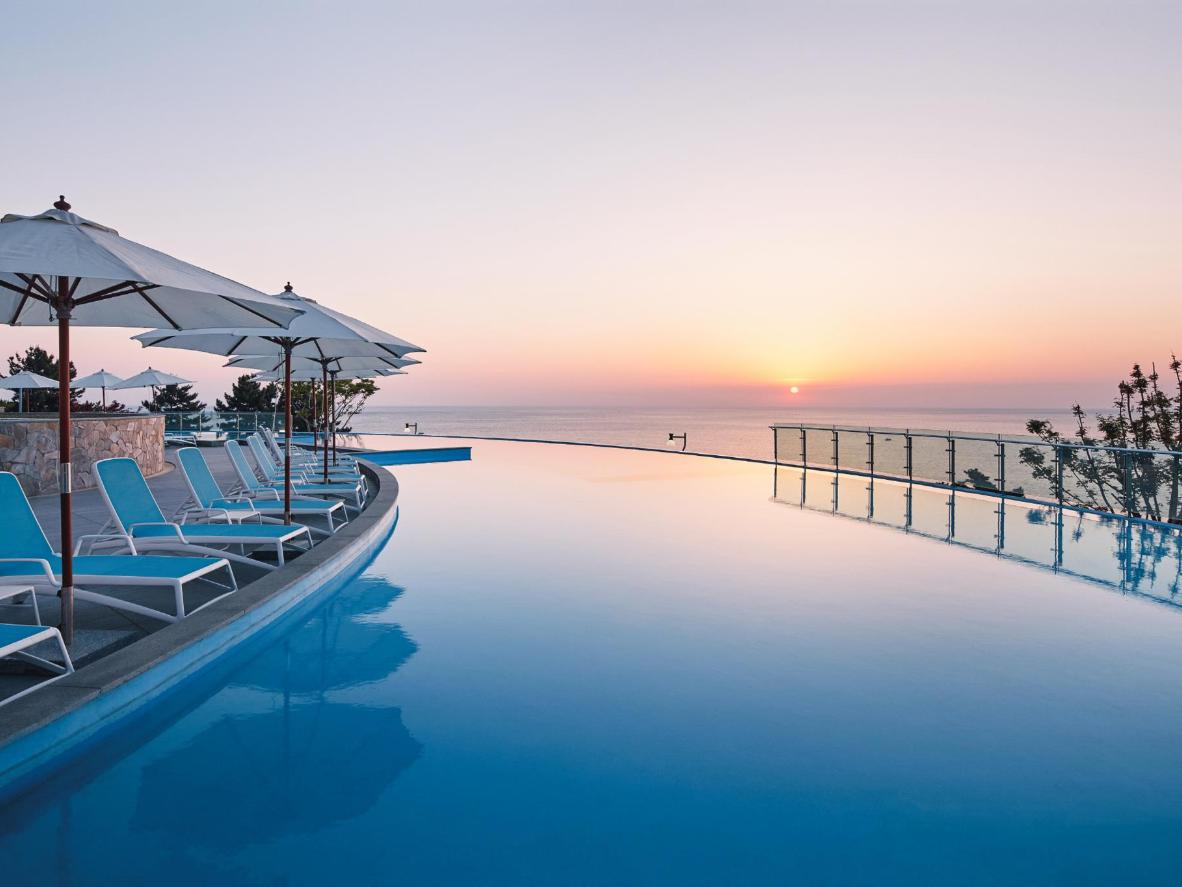 Discover a world of serenity at Lotte Resort Sokcho
Surrounded by sea views on three sides, this peninsula escape features stunning views and thrilling activities for the whole family. Dive into the Lotte Resort Sokcho's luxurious outdoor infinity pool, or visit the on-site water park, complete with a wave pool, water slide, and more to entertain the kids.
Explore the walking trails and Sokcho beach around the resort, or if you're looking for a day-trip, head to Seoraksan National Park and wander the many tree-lined trails. Seoraksan is known for its variety of rare flora and fauna, as well as being home to five Buddhist temples.
Park Roche Resort & Wellness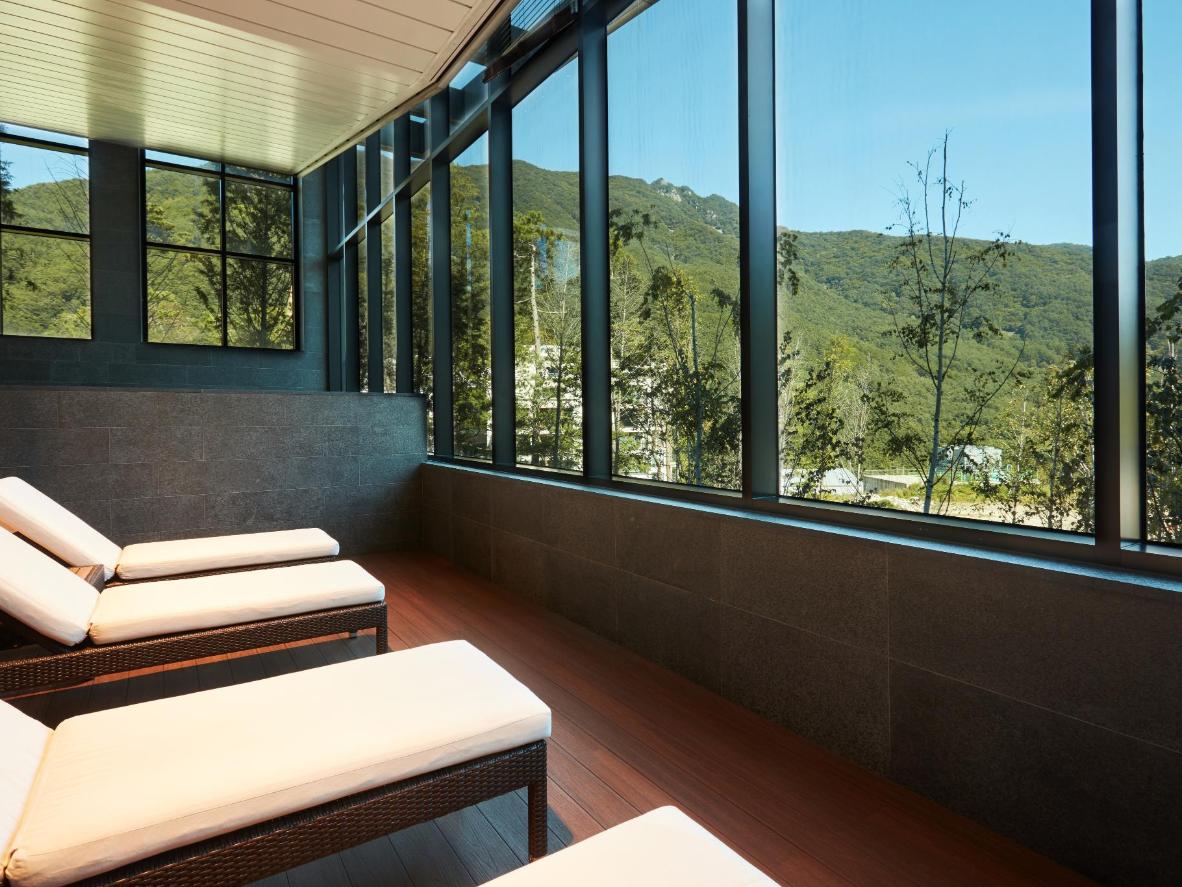 Rejuvenate your spirit at Park Roche Resort & Wellness
The ultimate wellness retreat awaits you at Park Roche Resort and Wellness. This resort lies among the rolling hills of the Gangwon-do province, creating a serene spot to disconnect from the world and recharge.
Park Roche offers immersive wellness programs including yoga, meditation, spa treatments, and on-site wellness specialists to consult with. Jeongseon, the resort's location, is known for its natural beauty, traditional "five-day market," and local foods like kotdeung-chigi-guksu, a delightfully springy buckwheat noodle dish.
Paradise City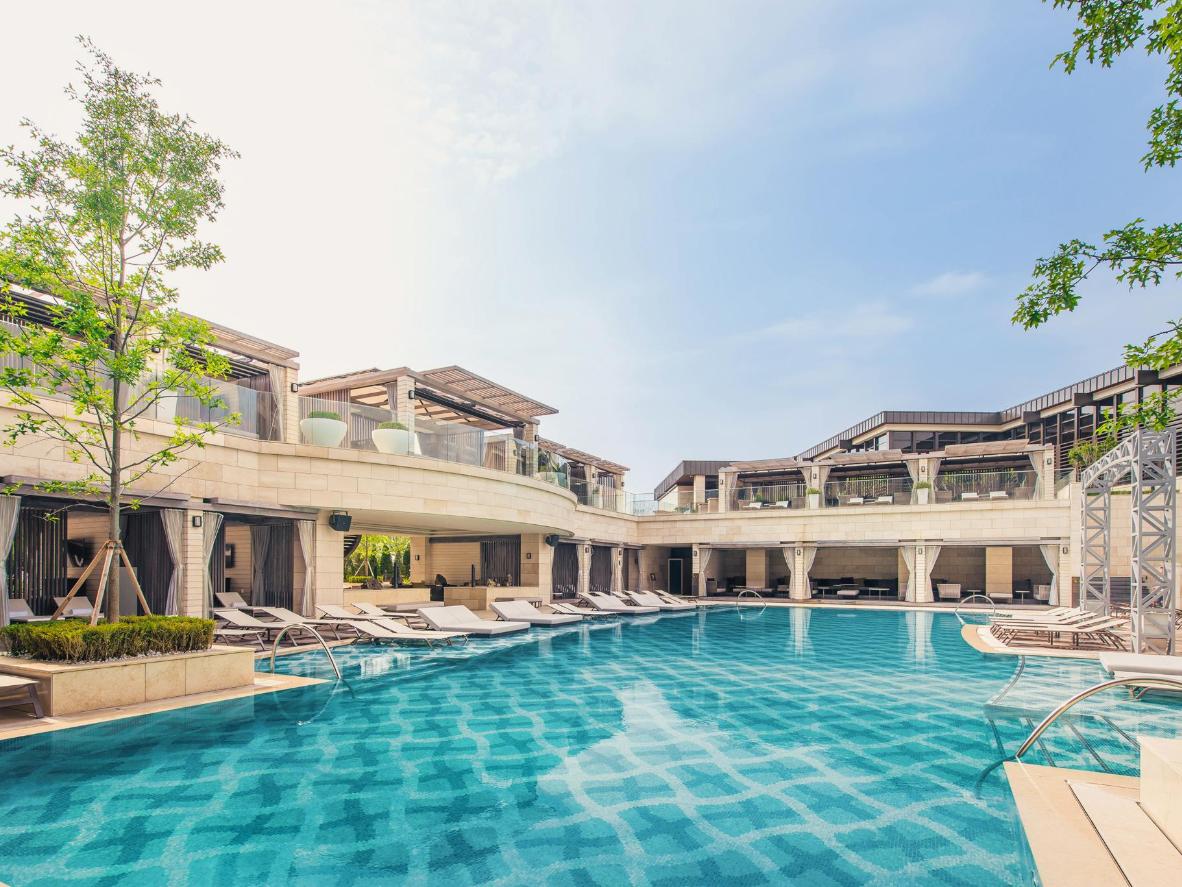 Unwind at the elegant and entertaining Paradise City
You'll never run out of art, culture, and good times at Paradise City. Located beside Incheon International Airport, Paradise City is a dizzying playground of what they refer to as "art-tainment." Immerse yourself in the Wonder Box indoor theme park, styled after a night carnival and featuring rides, live performances, and other attractions.
The resort also boasts an art gallery, rejuvenating spa, and multiple dining options to suit your tastes. For adults-only indulgence, dance the night away at the hotel's Chroma Club or head into Incheon to check out the BMW Driving Center.